The flavor combination of this Italian Sausage with Balsamic grapes is phenomenal! Savory seasoned Italian sausage links nestled in a sweet, dark balsamic glaze with roasted red and green grapes.
The grapes provide just the right amount of sweetness, which balances beautifully with the tangy balsamic glaze and the salty sausage.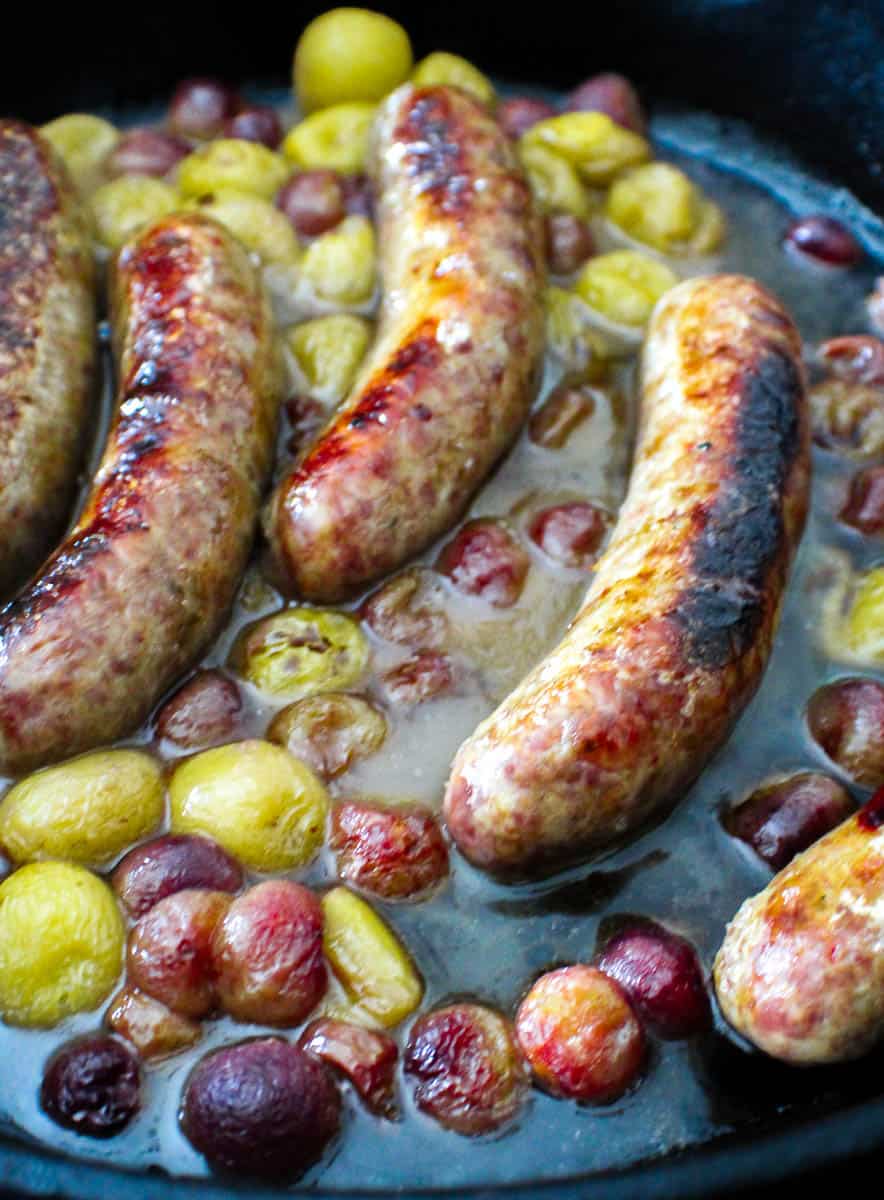 Make this easy Italian dinner in one pan and it's ready in about 30-minutes! Your taste buds are gonna be dancing!
This particular recipe is inspired by the fabulous Ina Garten (aka "The Barefoot Contessa") who featured this dish on The Food Network years ago.
In that episode, the owner of Il Forno indicated that this was a family tradition and authentic Italian sausage recipe from Italy. When I heard that, I knew I had to try it!
The Italian cuisine ingredients are the same as her recipe but in different proportions, and the cooking method varies a bit from hers. I hope you'll like this quick and easy version!
Why this recipe works
This is one of my favorite Italian sausage recipes because of the unique flavor combination.
If you've ever traveled to Italy, you know that grapes are on just about every Italian restaurant menu; afterall, Italy IS wine country and Italian cooks are known for using every ingredient available to make the perfect dinner!
This easy sausage and grape recipe comes together in no time, doesn't require a meat grinder or homemade italian sausage, and is perfect for a one-pan dinner or a busy weeknight dinner.
Quick and easy - no fancy prep and just one-pan!
Gluten-free-no flour, no wheat
Great flavor - the combination of sweet grapes with the salty sausage and tangy balsamic vinegar is a match made in heaven
Unique - one of the few Italian sausage recipes that doesn't include olive oil, red wine, white wine or tomato sauce - just a mild or spicy sausage mixture with sweet grapes
Versatile - pairs well with mashed or scalloped potatoes, grits or pasta
Inexpensive - nothing fancy or costly; budget-friendly
Here's what you'll need
If you can't get high-quality Italian sausage links made from your local butcher, you'll have to rely on the grocery store. There are a few brands I recommend, but Johnsonville links are most prevalent in the United States and have a nice Italian seasoning to them. If you can't find this brand, just use a good sausage brand and get the best quality sausage you can find.
One package of Johnsonville™ Italian sausage links has 4-5 links. You can use whatever type sausage you like - sweet Italian sausage, mild sausage, hot Italian sausage, (or a combination of mixed flavored links), ½ pound of red seedless grapes, ½ pound of green seedless grapes, unsalted butter, dark Balsamic vinegar, thyme (optional), salt and pepper.
I prefer using hot sausage because it contrasts well with the sweet/tangy sauce, but if heat isn't your thing, sweet, or mild Italian sausage works just as well. Or, use a combination of mild and hot pork sausage.
You can also use sausage links that have ground fennel or fennel seeds in them, which enhances the flavor of this Italian favorite even more!
As for the grapes, if you can't find seedless grapes, no big deal; just buy grapes with seeds.
This Italian Sausage and Grapes recipe originated from the owners of Il Forno, a renowned Italian restaurant in Midtown West Theater District in New York City. Il Forno is right near Times Square, so it's busy before and after theater shows; if you're going, plan on making reservations in advance. If not, make this popular Italian dish at home.
How to make Italian sausage and grapes
I make this easy Italian Sausage with balsamic grape recipe when I'm on a budget because it's relatively inexpensive. The grapes take a few minutes to soften, but after that, this recipe goes lickety-split-fast. There's no lengthy or complicated meal prep, either.
Rinse the grapes and pull them from the stem; set aside
Heat the sausage links in a cast iron or stainless steel skillet and cook them until their lightly golden browned on the outside
Once the Italian sausage links are browned, either remove them from the large skillet or scoot them over to the side.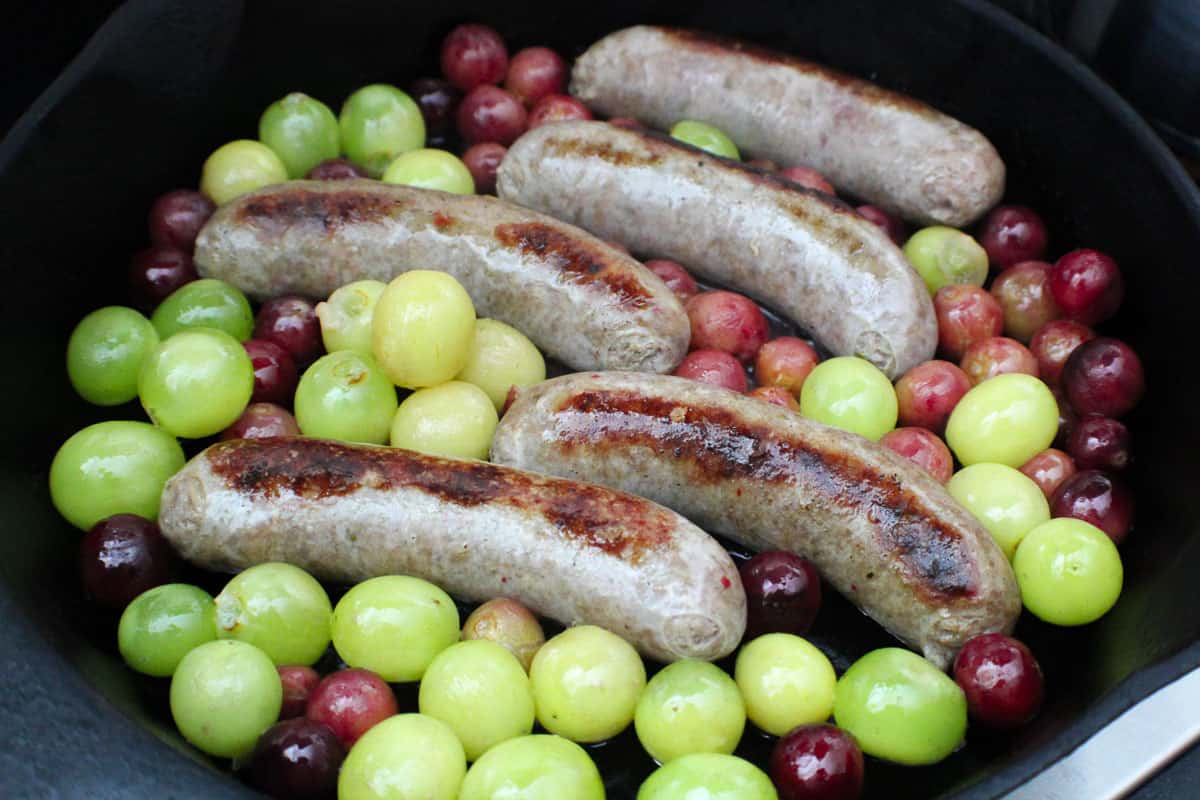 Then, add the unsalted butter on low heat then add the rinsed grapes. If you took the sausage out of the pan, add it back in after the grapes have cooked about 5 minutes; turn the sausage links frequently and roll the grapes around until they soften
Cooking the grapes on a low heat slowly releases their natural sugars into the melted butter, creating a delicious balsamic glaze for the sausage links.
The last step is to pour a little dark balsamic vinegar into the sausage and grape mixture and, if you like, add a little fresh or dried thyme (optional)
Allow the mixture to cook on medium low heat, until the balsamic vinegar begins to thicken and form a glaze. (The natural sugars from the fruit will release and the sauce will begin to thicken.)
Once links are browned and reach an internal temperature of 160°F, they're done!
Taste for salt and ground black pepper; if you want to add a little heat to the dish, sprinkle in some hot red pepper flakes. Then, plate and serve.
Recipe FAQ
How to prep the sausage links
If you use grocery store sausage, the sausage casings on the Italian sausage will dissolve in the hot skillet; however, if you buy your meat from a butcher, that sausage casing is different than packaged sausage from the grocery store.
If you use "butcher-made" sausage, boil the links about 5-minutes before cooking on the stovetop to dissolve the casing, then transfer links to a large skillet and brown.
What kind of grapes and how many?
Use about one pound (about 2½ cups) of whole red and green seedless varieties. I use ½ pound red grapes and ½ pound green grapes for this recipe when I cook 5 Italian sausage links. If you're cooking more than 5 sausage links, you might want to increase the amount of grapes.
Do I buy Balsamic vinegar or Balsamic glaze?
For best results, use a high-quality, dark Balsamic vinegar to drizzle over the sausage and grapes. When cooked, the grapes release natural sugars and the vinegar and sugar form a light sauce or glaze.

Note, there are dark balsamic "glazes" and balsamic "vinegars" - this recipe uses balsamic vinegar. When combined with the butter and sugars from the grapes, we are in essence making a homemade balsamic glaze.
Serving suggestions

and substitutions

Italian Sausage with Balsamic Grapes pairs well with a starchy side dish like pasta, scalloped or mashed potatoes, polenta, creamy cheese grits, and perhaps a green- broccoli rabe, green beans, Brussels Sprouts or asparagus.

You can substitute the Italian sausage links with any type of sausage or use ground sausage (beef or ground turkey sausage); however, if you use turkey sausage, the sausage meat will probably not be as flavorful as a seasoned Italian pork sausage.
Storage and reheating
If you happen to have any sausage and grapes leftover, I recommend you put the sausage in an airtight container and pour the grapes and balsamic glaze in another container. Refrigerate up to 3 days.
The best way to reheat this dish is to wrap the sausage links in foil and place them in a 300°F oven on a baking sheet (on the middle rack) and reheat the grapes and sweet glaze on the stovetop on medium-high heat.
Ths glaze may thicken upon refrigeration, so you may need to add a little water and maybe a little butter when reheating.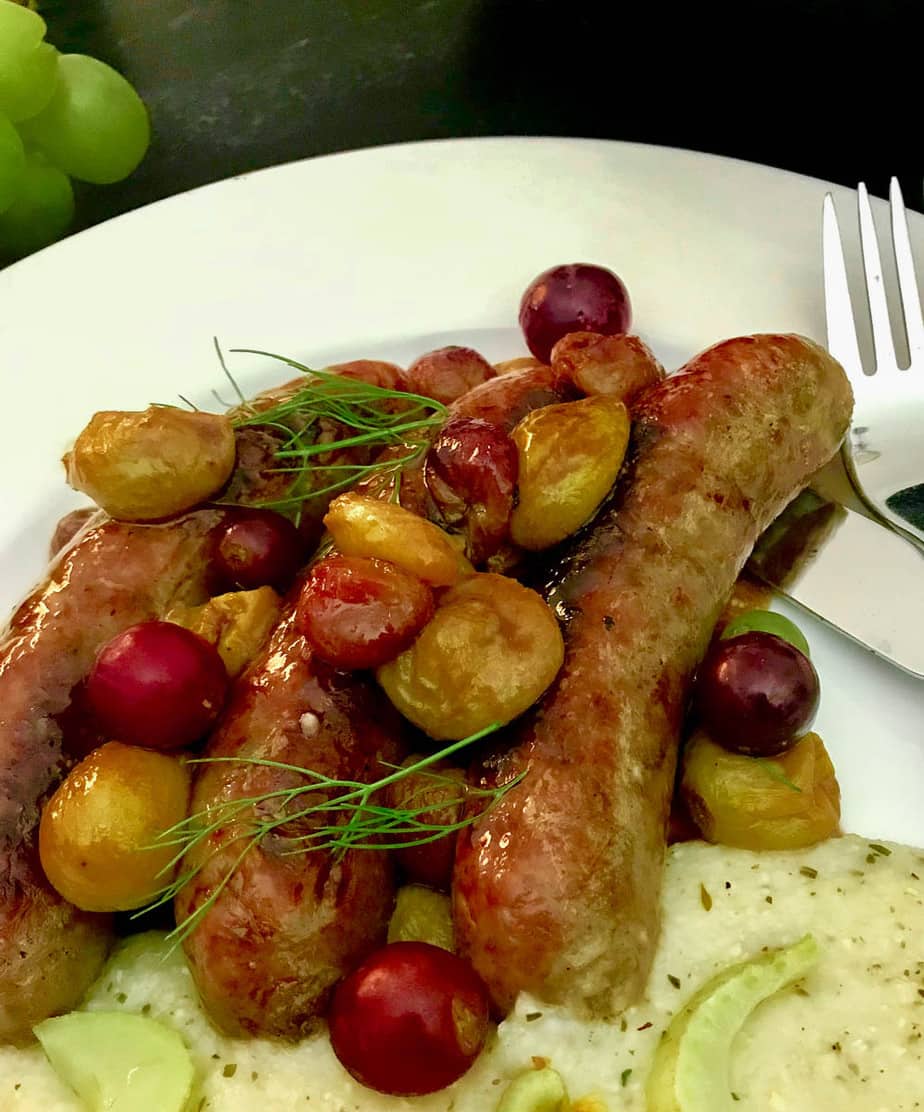 This quick and easy Italian sausage and grape recipe is budget-friendly, delicious and a one-pan dinner you can make in minutes!
Related recipes
♥ If you make this recipe, please leave a comment and rating below! Thank you!
📋 Recipe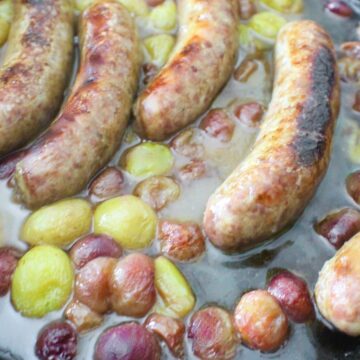 Italian Sausage with Balsamic Grapes
Savory Italian sausage links nestled with sweet roasted grapes in a tangy balsamic glaze.
Print
Rate
Ingredients
1

lb.

Italian sausage

hot or mild, or a combination; See Recipe Notes

½

lb.

red seedless grapes

½

lb.

green seedless grapes

4

tablespoons

unsalted butter

½

teaspoon

thyme (dried or fresh) ; Optional

¾

cup

dark balsamic vinegar

salt and black pepper to taste
Instructions
Brown sausage in a skillet; rotate links until their brown

Add butter and grapes; toss to coat well; allow to cook 10 minutes

½ lb. red seedless grapes,

4 tablespoons unsalted butter,

½ lb. green seedless grapes

Add balsamic vinegar and thyme; continue to cook until fruit begins to soften, sauce thickens and sausage links reach 160ºF internal temperature; taste for salt and pepper

½ teaspoon thyme (dried or fresh) ; Optional,

¾ cup dark balsamic vinegar,

salt and black pepper to taste

Plate sausage and grapes and drizzle the balsamic glaze over them
Notes
If you use "grocery store" sausage, the sausage casing will dissolve in the skillet; however, if you get sausage links from a local butcher, you'll need to boil the links in hot water for about 5 minutes to dissolve the casing. Why? The casing the butcher uses is different from the one sausage companies use.
A pound of sausage links is about 4-5 links, which, in our house will serve 1 hungry man and two women:)
This recipe makes about ½ cup of sauce which enough to drizzle over 5 links; however, if you want more sauce, double the amount of grapes and butter
Nutrition Estimate
Serving:
1
link
Calories:
491
kcal
Carbohydrates:
24
g
Protein:
14
g
Fat:
38
g
Saturated Fat:
16
g
Trans Fat:
1
g
Cholesterol:
93
mg
Sodium:
754
mg
Potassium:
450
mg
Fiber:
1
g
Sugar:
20
g
Vitamin A:
349
IU
Vitamin C:
5
mg
Calcium:
39
mg
Iron:
2
mg
♥ Please leave a comment and rating below! Thank you!