You'll be surprised how fast this easy Pork Schnitzel comes together!
Tender boneless center-cut pork, lightly breaded and served with a lemon butter sauce!
In less than 15-minutes, you can have dinner on the table.
What is a schnitzel?
"Schnitzel" refers to a thin, breaded and fried piece of meat...typically a boneless, center-cut pork.
You'll often find this on American restaurants that serve German food...usually with a side of warm German potato salad and Spätzle and gravy (noodles with brown gravy.)
Interestingly, pork schnitzel is an Austrian dish with a German name...go figure:)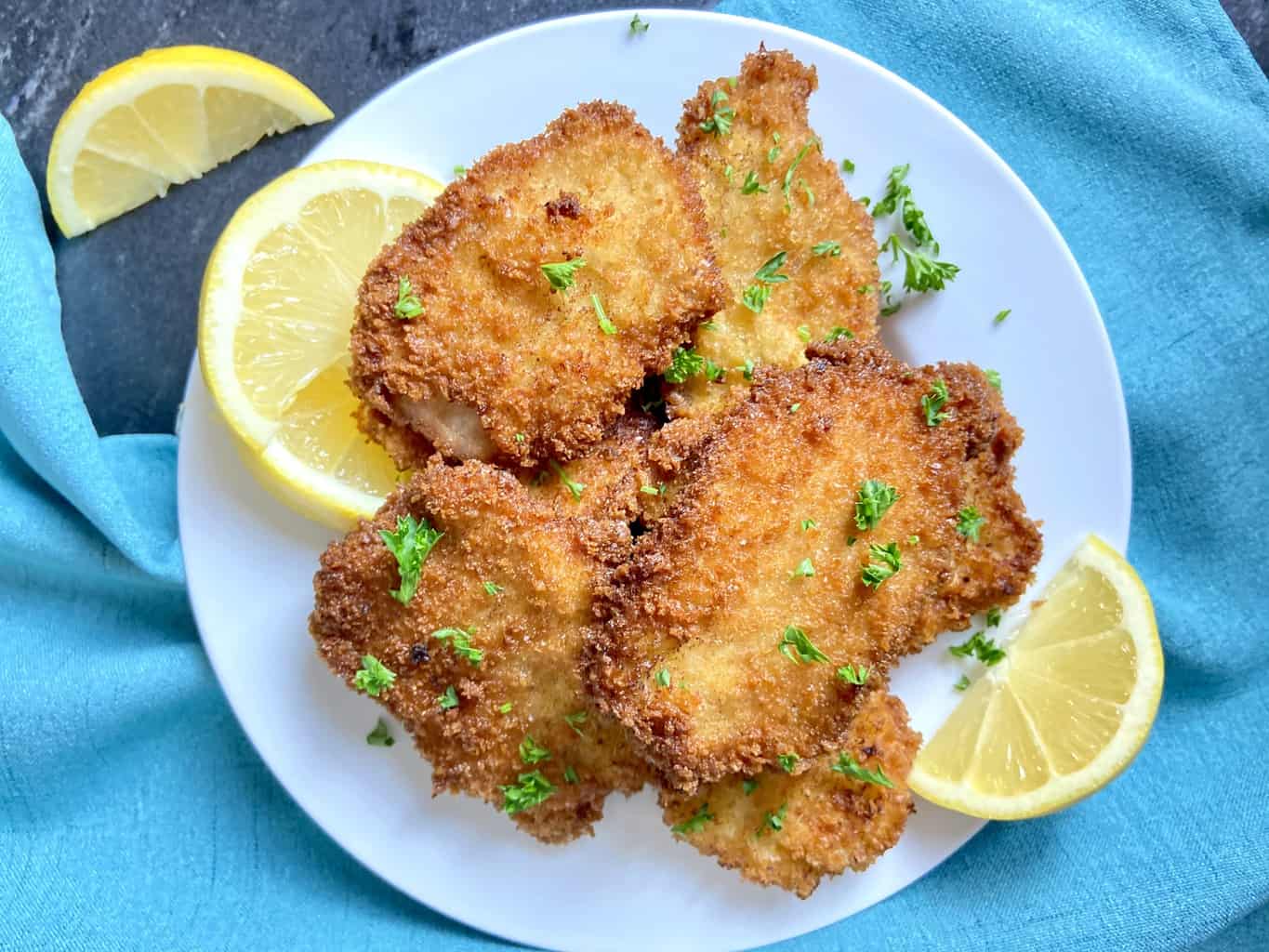 You'll love this recipe!
Wicked fast - each pork chop takes about 4-minutes to cook
Light - pork, "the other white meat" is relatively lean and pairs well with lemon
Budget-friendly - center-cup pork chops are pretty inexpensive which is good if you're on a budget
Here's what you'll need
For the easy Pork Schnitzel, you'll need: Boneless, center-cut pork chops, eggs, panko bread crumbs, flour, onion and garlic powder, cayenne powder (optional), salt and pepper; oil for frying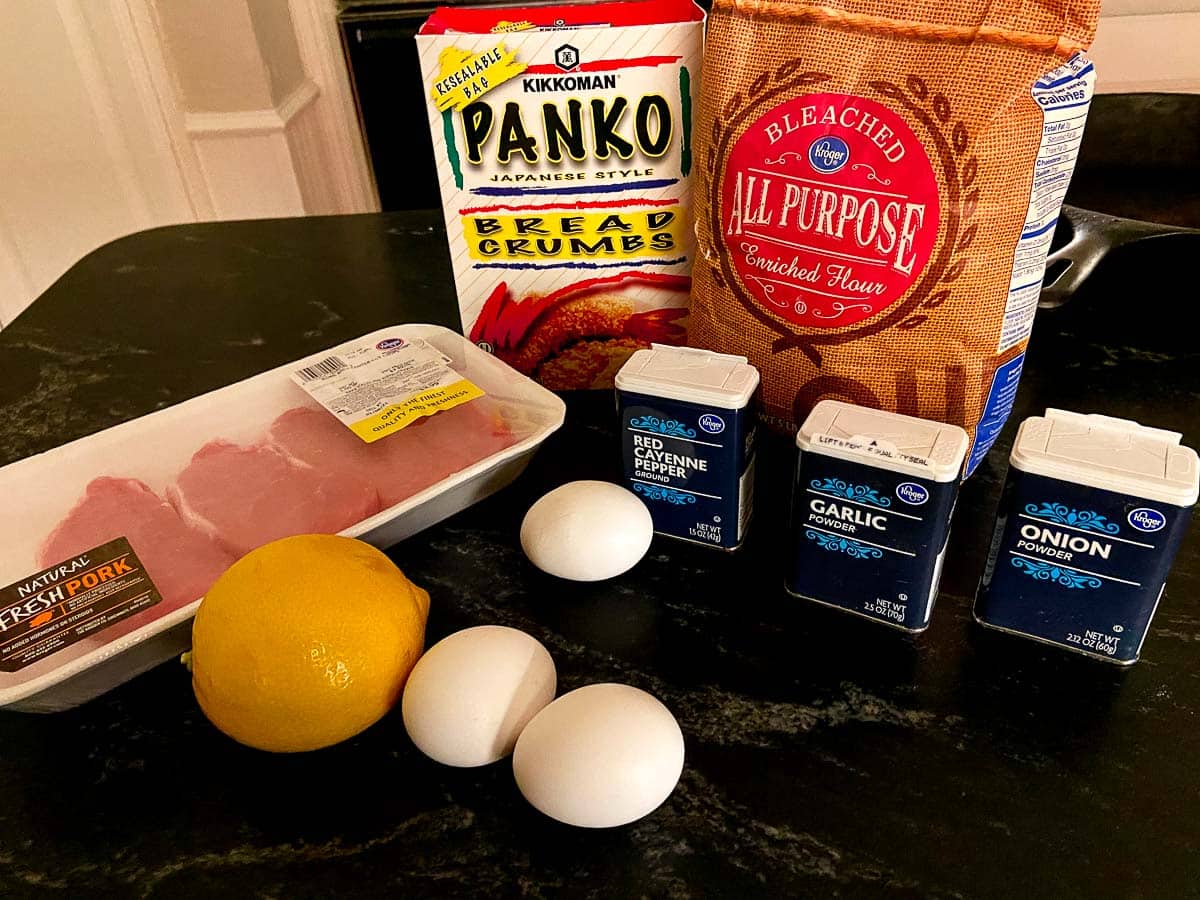 For the lemon sauce, you'll need: butter, cornstarch, lemons and salt
How to make it
These easy pork schnitzels cook up really fast because the first thing you do is pat them dry then slice them in half lengthwise.
This makes them super-thin, fork-tender and fast-cooking!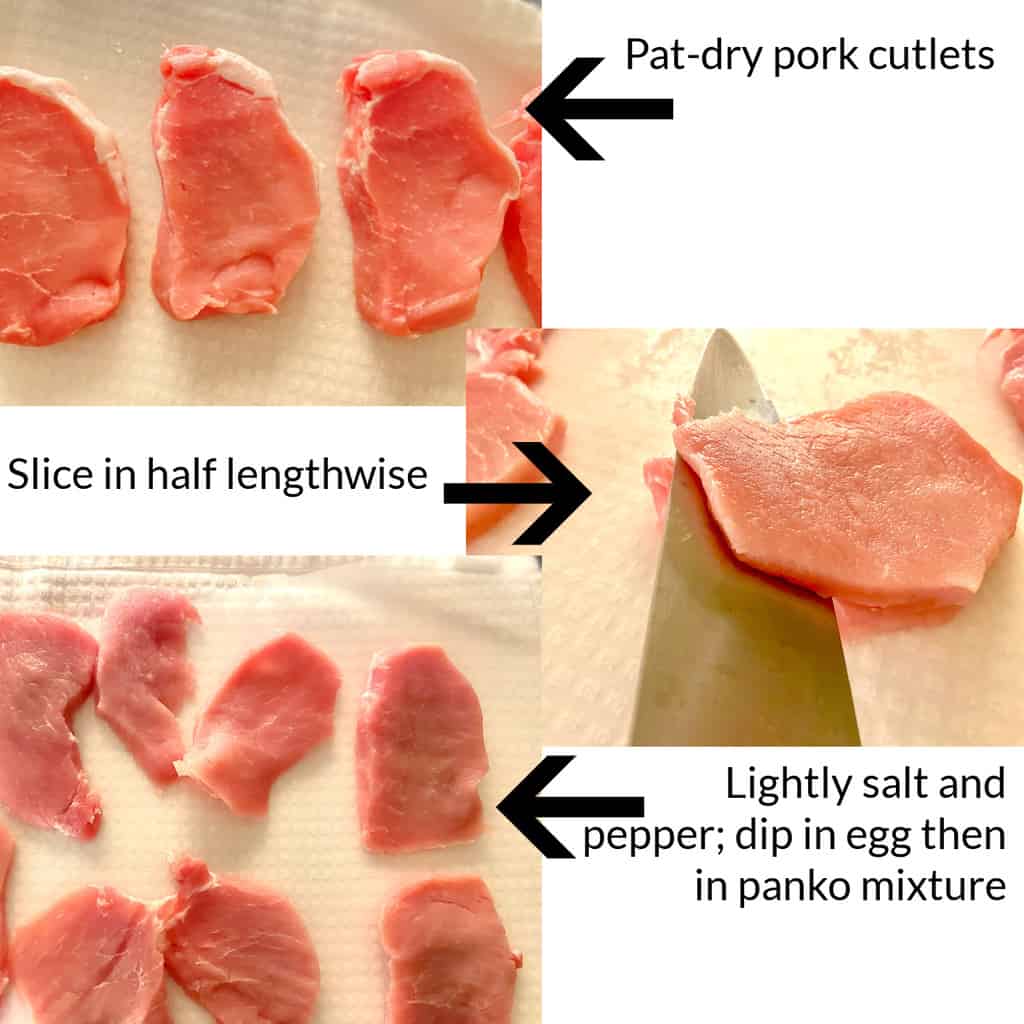 Set up a dredging station: one flat pan with lightly beaten eggs and another flat pan with panko, flour, and seasonings.
Heat a high-heat oil in a cast-iron skillet. Dredge pork cutlets in egg, then in panko mixture. Place in hot oil (about 300ºF); cook 2-3 minutes per side; remove and place on rack to drain.
A 10-inch skillet needs about 1½ cups of oil...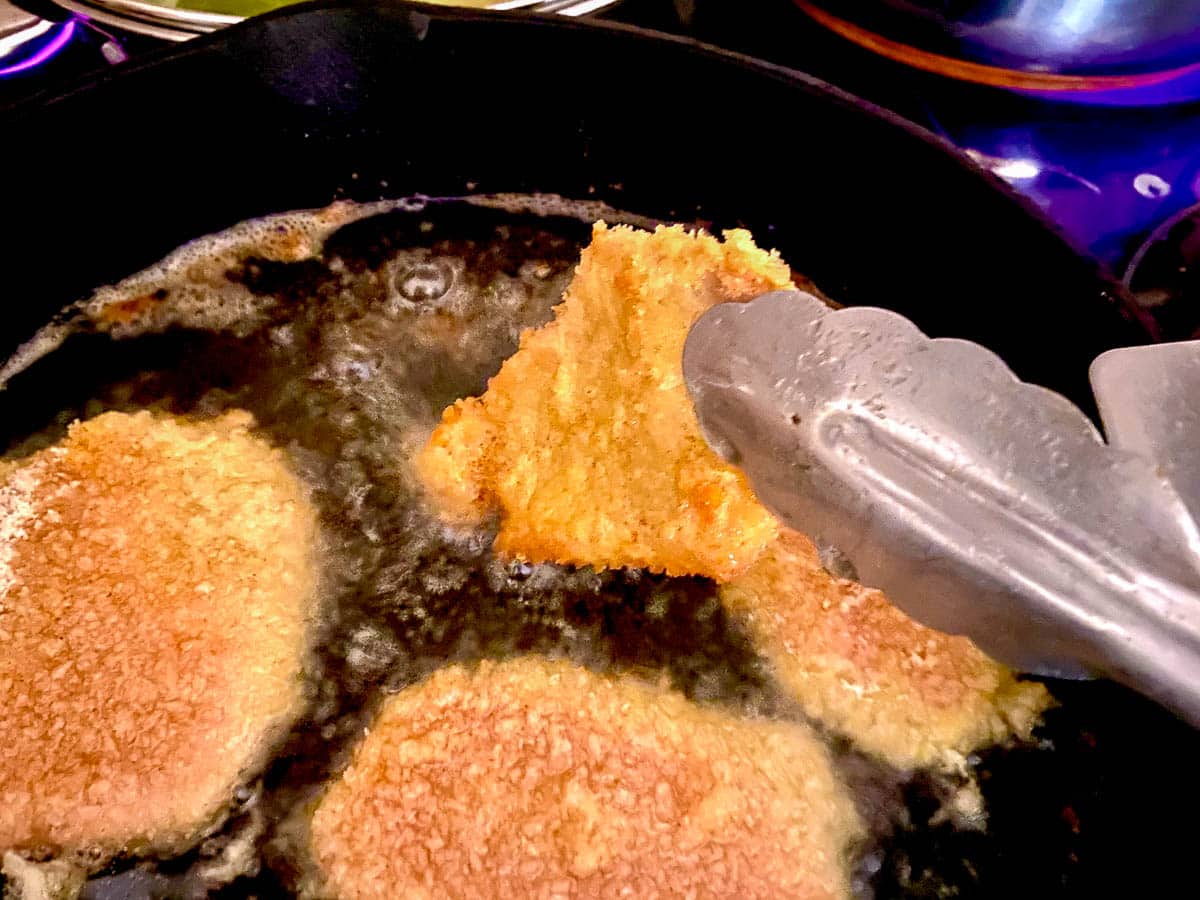 How to make the lemon sauce:
Make the quick and easy lemon sauce while the last batch is cooking! In a small saucepan, melt butter, whisk in cornstarch, remove from heat, add lemon juice and add salt to taste.
Tips
Slice the meat in half lengthwise; this ensures a nice, thin slice which will be fork-tender
These cook fast so if you're making side dishes, make them first, then fry the pork schnitzel last.
Use a high-heat tolerant oil: canola, vegetable, peanut - do not use olive oil...it's not tolerant of high-heat.
Once you place the pork cutlet in the hot oil, don't move it for at least a minute or two; peek and see if the bottom is golden brown; if it is, turn it over
Pork is done when it reaches an internal temperature of 145ºF; you can use a meat thermometer if you want, but these cook in about 4-minutes when the oil is about 300ºF
How to properly thaw pork
As with any other meat, you want to thaw it either in the fridge or in a bowl of tap water; change the water every 30-minutes until meat is thawed
Do not re-freeze thawed meat
What cut of pork to buy
Buy boneless, center-cut pork chops or slice a pork tenderloin into ¼"-inch slices. Do not buy "breakfast chops" or "bone-in" chops.
Reheating
Turn oven to 375-400ºF and place pork schnitzels on a baking pan uncovered for about 15 minutes or until they're warm throughout.
Serving suggestions
Serve crispy pork schnitzel with German or Southern Potato Salad and braised cabbage. Or, serve it over lemon infused noodles with a side of broccoli or asparagus!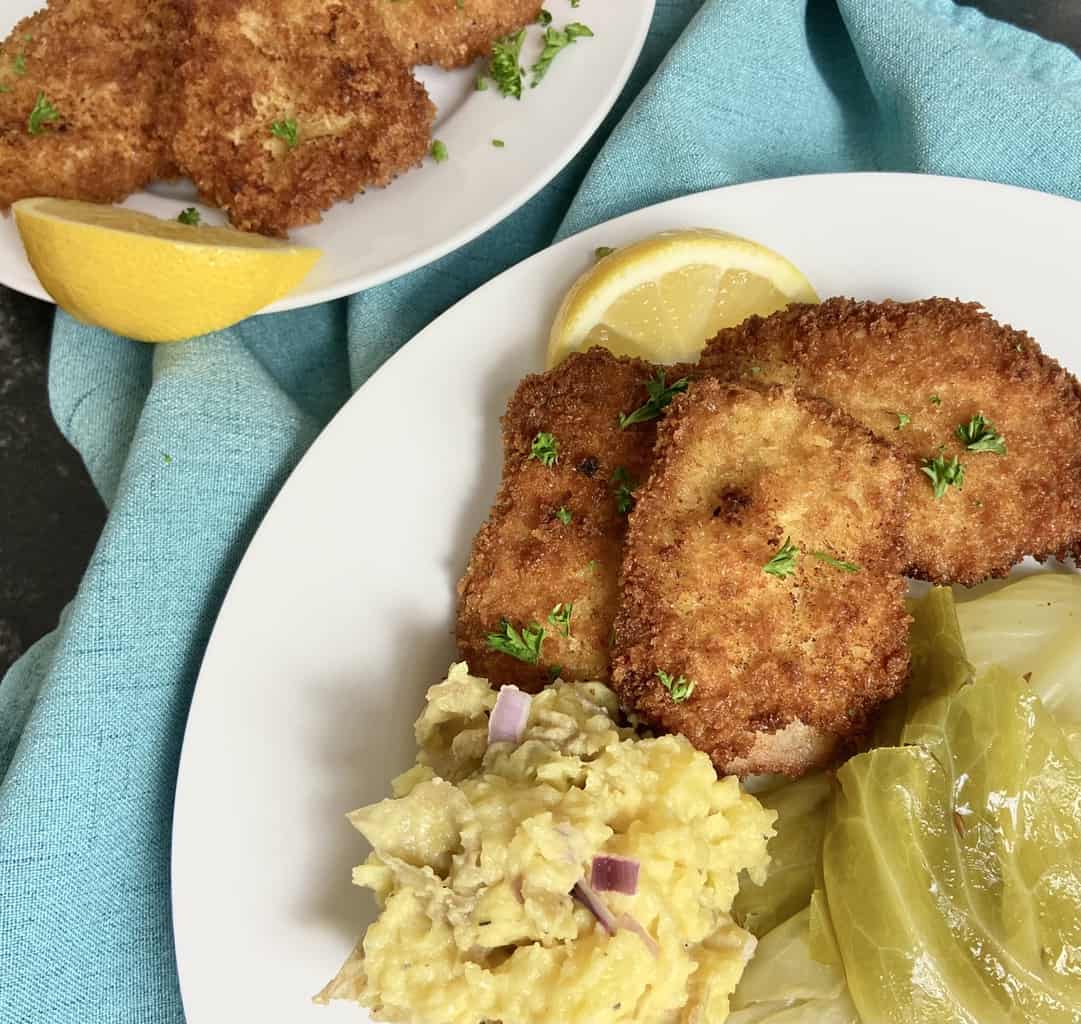 This easy pork schnitzel is perfect for a busy weeknight or a quick dinner.
Related recipes
If you make this recipe, please scroll down and leave a rating and comment! I love to hear from you!
📋 Recipe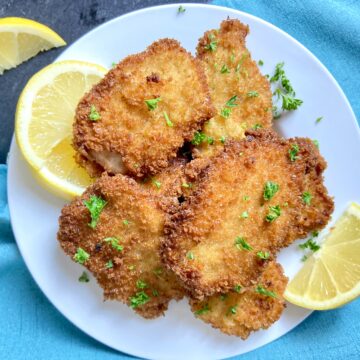 Pork Schnitzel
Pork Schnitzel is a light German or Austrian dish consisting of a thin slice of center-cut pork, breaded in a crusty panko coating and served with a lemon butter sauce.
Print
Rate
Ingredients
Pork Schnitzel Ingredients
1

lb.

boneless pork chops

, (about 4 center-cut pork loins)

1

cup

oil

,canola or vegetable, not olive

3

whole

eggs

,slightly beaten

2

cups

panko crumbs

2

tablespoons

flour

, all-purpose

⅛

teaspoon

onion powder

⅛

teaspoon

garlic powder

⅛

teaspoon

cayenne pepper

(optional)

⅛

teaspoon

salt

, kosher
Lemon Sauce Ingredients
8

oz.

butter

2

tablespoons

cornstarch

2

large

lemons

juiced

salt to taste
Instructions
Pork Schnitzel Preparation
Set up dipping and dredging station: 1 flat pan with slightly beaten eggs and another flat pan for the panko crumbs, flour, onion and garlic powder, salt and cayenne; combine well

3 whole eggs,

2 cups panko crumbs,

2 tablespoons flour,

⅛ teaspoon onion powder,

⅛ teaspoon garlic powder,

⅛ teaspoon salt,

⅛ teaspoon cayenne pepper

Using a sharp knife, cut the pork cutlet in lengthwise; lightly season cutlets with salt and pepper on both sides

Heat a heavy bottomed skillet with 1 cup oil on medium to medium-high

Dip each cutlet into eggs, then dredge it in the panko crumbs; make sure both sides are well coated; add panko coated cutlet to hot oil. Do not move the cutlet until it has browned on the bottom

1 lb. boneless pork chops

Repeat process; work in batches; if the cutlets start to get too brown, pour the old grease into the trash, wipe out pan with paper towels, and add fresh oil; repeat until all cutlets are done. (Have a cooling rack nearby so as each cutlet can drain; cover cooked cutlets with foil).
Lemon Butter Sauce Preparation
In a skillet on medium heat, melt butter; whisk in cornstarch; remove from heat; allow to cool a few minutes; add lemon and stir well; season for salt

8 oz. butter,

2 tablespoons cornstarch,

2 large lemons,

salt to taste

Drizzle lemon butter sauce over pork schnitzel and serve
Notes
This recipe is for four cutlets cut in half, eight total pieces of protein
Cook them in batches, 3-4 at a time, depending upon the size of your skillet and burner
Pork should be cooked to an internal temperature of 145º F
A note about yield and servings:
I used four small cutlets (about 2" x 4") and sliced them lengthwise for a total of 8 small pieces.
I served two sides with the pork schnitzel and my husband had 3 pork pieces; keep this in mind if you're serving a larger group
There's not much shrinkage on pork cutlets due to the fact that they're so lean in fat
Nutrition Estimate
Serving:
1
cutlets
Calories:
606
kcal
Carbohydrates:
17
g
Protein:
16
g
Fat:
54
g
Saturated Fat:
8
g
Polyunsaturated Fat:
14
g
Monounsaturated Fat:
30
g
Trans Fat:
1
g
Cholesterol:
39
mg
Sodium:
443
mg
Potassium:
302
mg
Fiber:
2
g
Sugar:
2
g
Vitamin A:
1035
IU
Vitamin C:
14
mg
Calcium:
47
mg
Iron:
1
mg