This Slow Cooker Corned Beef and Cabbage recipe is not only a delicious Irish recipe, but it's also a Southern New Year's tradition believed to bring good luck in the New Year!
This recipe is about as easy as it gets! Place the brisket and seasonings in the slow cooker and walk away.
The funny thing is, you won't find this "traditional Irish dinner" on the tables in Dublin or Cork!
In Ireland, traditional St. Patrick's Day dinners typically consist of lamb or mutton Shepherd's Pie, coddle, colcannan and champ.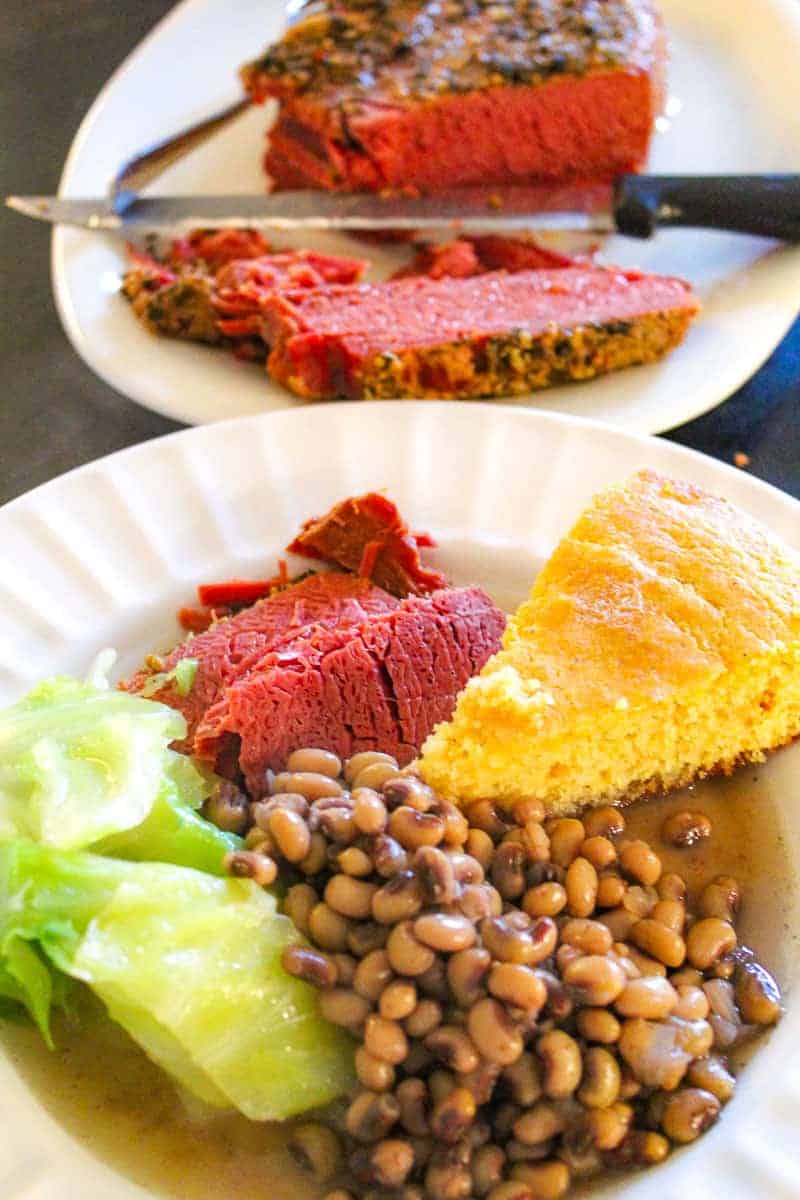 In the South, we often pair corned beef and cabbage with purple hull peas and cornbread for a New Year's Day "Good Luck" dinner!
Jump to:
You'll love this recipe!
Everybody's Irish on St. Patrick's Day, but there's no need to wait till March to enjoy this dish!
Easy - no big mess to clean up
Flavorful - seasoned brisket with a variety of spices
Balanced meal all-in-one: beef, green cabbage and potatoes
What is corned beef?
It's actually a brisket--a cut of meat from the front lower portion of a cow. It is one of the toughest cuts of meat, so you'll want to cook it low and slow.
The term "corned" refers to the corning, or brining process where the meat is cured and brined in salt.
Why is it pink?
Pink curing salt is responsible for the pink color of the pre-packaged corned beef. Pink curing salt is not the same as Himalayan salt.
The brisket is pink due to the process of curing and brining in a mixture of pink curing salt and sodium nitrite.
If the pink color bothers you, purchase a flat-cut brisket and use the recommended seasonings. Your slow-cooker brisket will turn out as flavorful as the pink version, only it will not be pink, but brown.
As for the pink liquid in a pre-packaged brisket (corned beef), you can rinse it off the meat or not - it won't hurt you if you don't rinse. I rinse mine, but it's up to you.
How to make easy slow cooker corned beef and cabbage
Place the point-cut meat in the slow cooker with the fat side up. Add 2 ½ - 3 cups of beef broth. Add spice packet and additional spices. Top corned beef with sliced onions (optional). Cook on low for 6-8 hours.
An hour before serving, cut a head of cabbage into quarters and place the cabbage in the slow cooker around the brisket. (If you want to add potatoes and carrots, add them two hours before you're ready to serve.)
You know the meat is done when it is "fork tender" or use a meat thermometer; when the internal temperature is 145ºF, it's done!
Use a heavy duty spatula to remove the corned beef from the slow cooker. If you find your brisket falls apart, or begins to shred when removing it from the crockpot, just use tongs to remove the tender shreds of beef.
How to slice corned beef
Slice corned beef against the grain. If you're not sure which way to slice it, look at the direction of the "threads" in the meat; hold your knife perpendicular to the threads and slice.
If you cut against the grain, the beef is easier to chew; if you slice the corned beef with the grain, you'll find it harder to chew.
How many servings from a point-cut brisket?
Generally speaking, most of the pre-packaged briskets are around 2-3 lbs. During the low and slow cooking process, the meat shrinks resulting in a yield of about 40-50%.
So, a 3 lb. brisket shrinks to about 1.5-2.0 lbs. If you allow 6 oz. per person, you'll get a little over 5 servings per piece of meat.
An easier way to determine the yield is to buy one pound per person. That way, you know you'll have plenty and there will be some leftovers! And don't forget the Irish Soda Bread!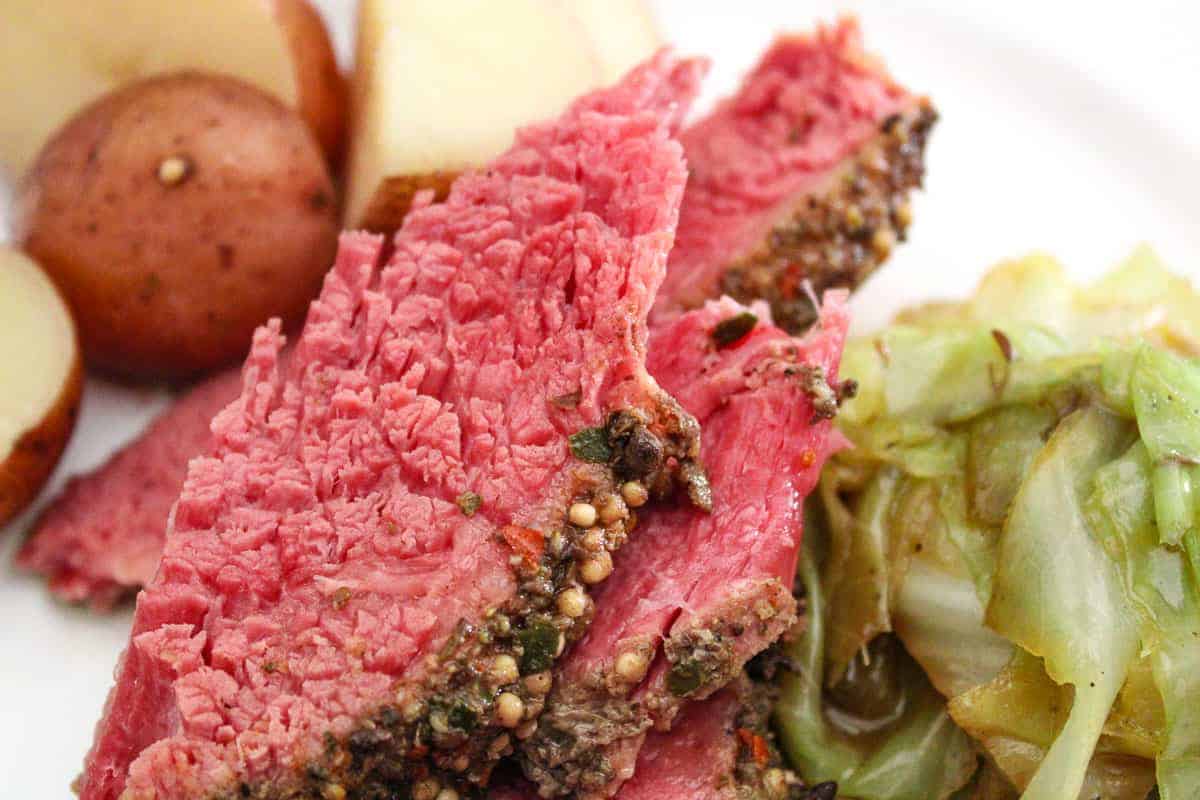 Do the Irish eat corned beef and cabbage on St. Patrick's Day?
Early Irish immigrants to America were generally poor. Their traditional fare on St. Patrick's Day in their native homeland was boiled bacon, but when they got to America, they couldn't afford pork, so they opted for a cheaper, tougher cut of meat--brisket.
Today in Ireland, traditional St. Patty's Day fare includes Shepherd's Pie, lamb stew and a host of potato dishes like champ and colcannon.
What are the spices?
If you buy a pre-packaged version for your St. Patrick's Day celebration, you'll notice it includes a small spice packet. This packet consists of allspice, peppercorns, coriander and mustard seeds.
This tiny packet is rarely enough spices to thoroughly season the corned beef, so I usually add a teaspoon more of each spice, plus a few bay leaves, cloves, nutmeg and a dash of cinnamon.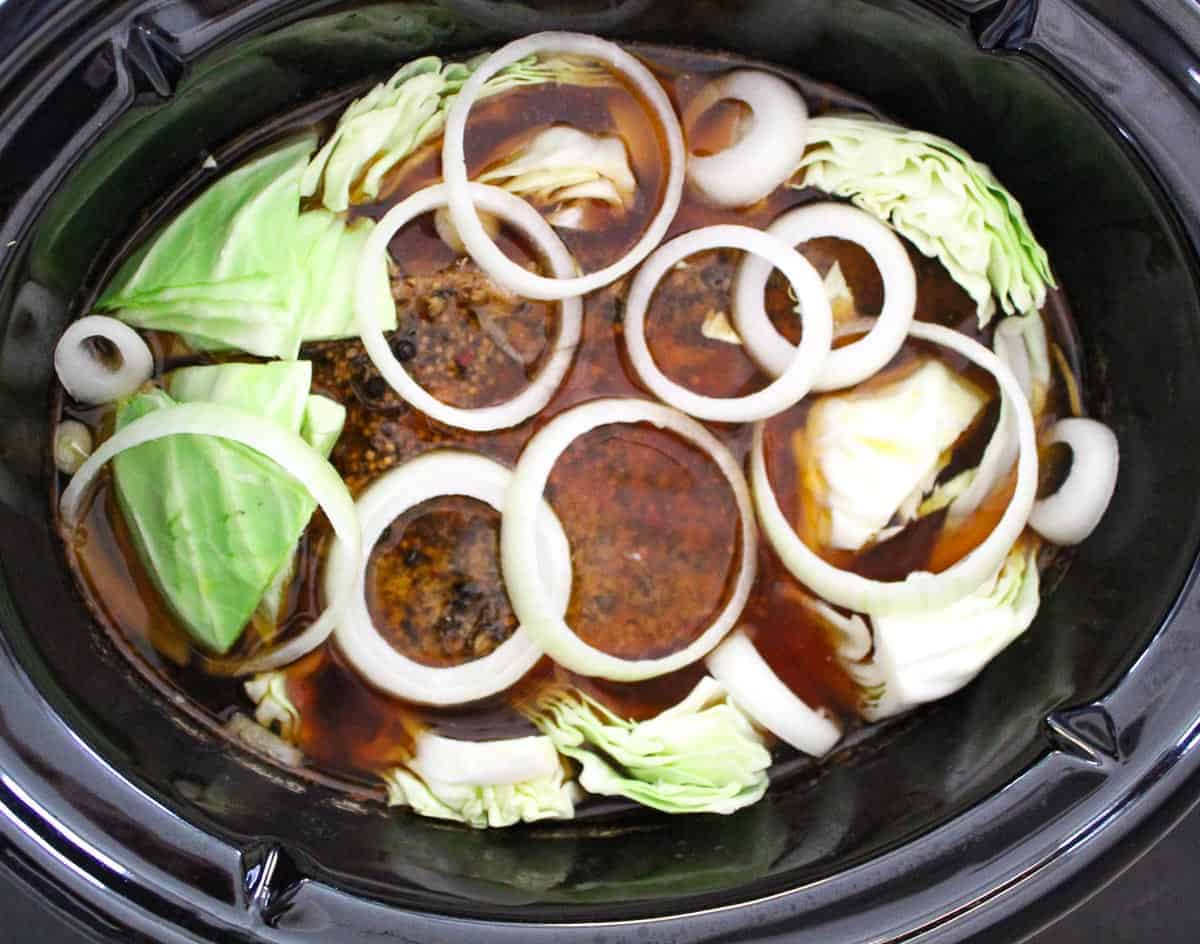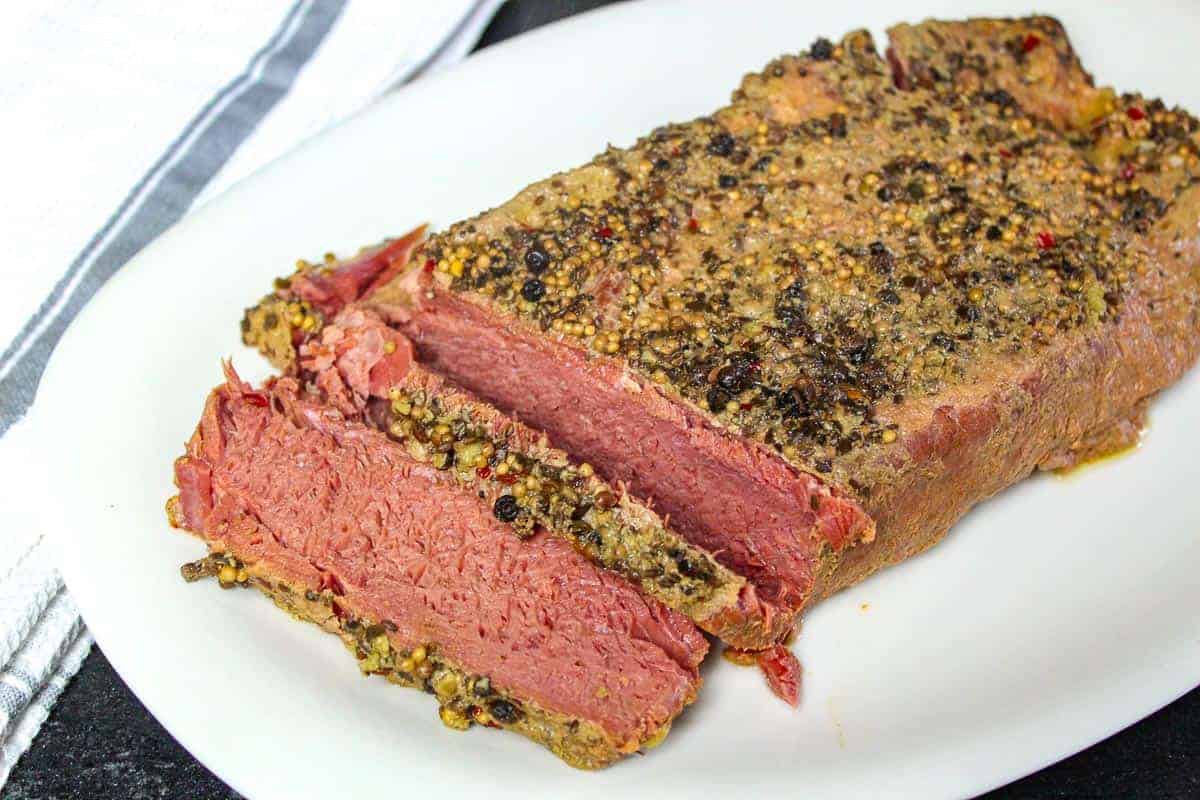 What can I make with leftovers?
As with any other type of braised meat, sandwiches are usually the easiest way to use leftovers.
Buy a nice sesame seed bun and add a little corned beef, sauerkraut, provolone cheese and 1,000 Island Dressing and you've got a great pseudo-Hot Pastrami sandwich!
Or, re-heat in a skillet with diced potatoes and onions, making a breakfast hash. Serve with eggs and toast and call it breakfast!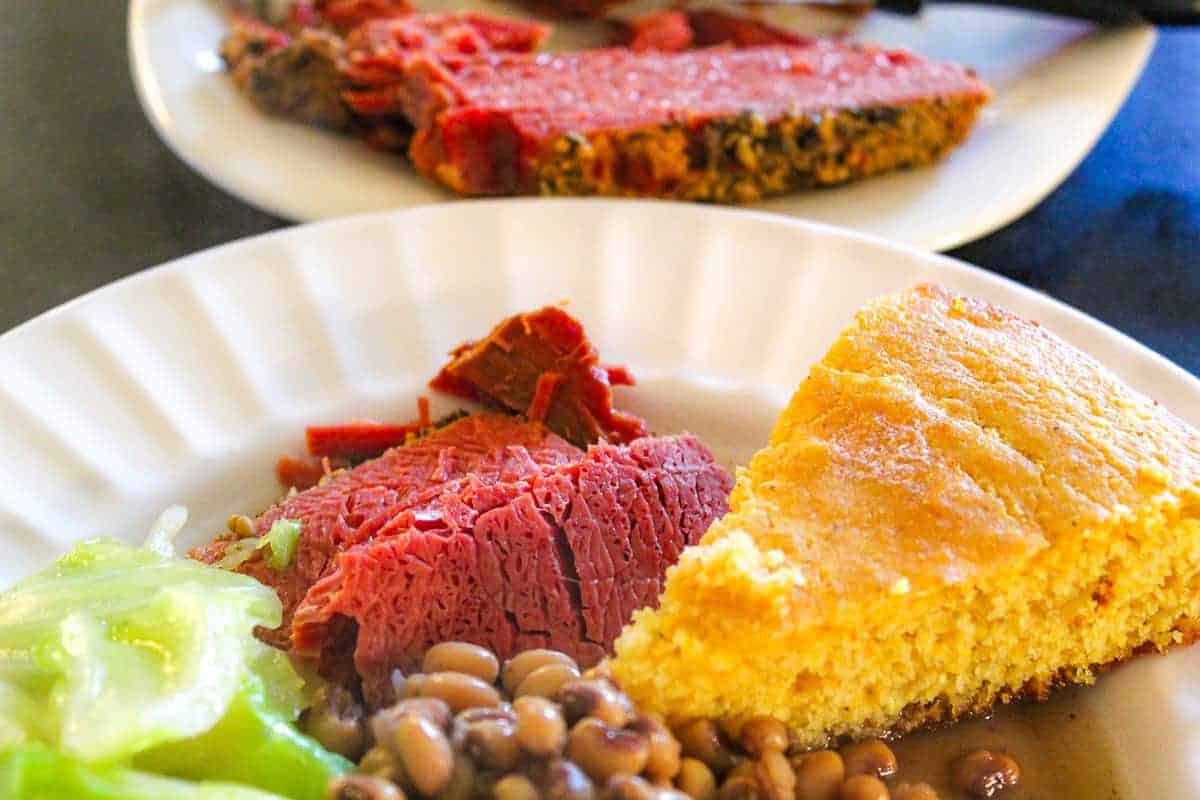 Some folks believe Corned Beef and Cabbage represent good luck and prosperity in the New Year!
The green cabbage represents cash and the corned beef represents health!
Add a side of blackeyed peas and cornbread and you're in good shape for a propserous New Year! Perhaps you'll have a little luck of the Irish, too!
Related recipes:
If you make this recipe, please scroll down and leave a rating and comment! I love to hear from you! Thank you!
📋 Recipe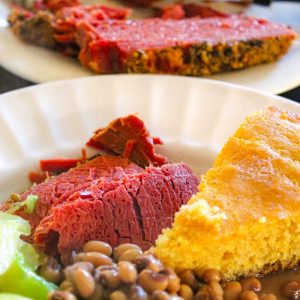 Easy Slow Cooker Corned Beef and Cabbage
Deliciously flavorful and tender corned beef, seasoned just right, with a side of cabbage.
Print
Rate
Yield:
5
servings (about 6 oz. per serving)
Ingredients
3

lbs.

point-cut corned beef brisket

4-8

cups

beef broth

, low-sodium

1

large

cabbage head

, quartered

1

large

onion

sliced (optional)

1

pound

potatoes

(optional); use Yukon Gold or Red Creamer (see notes)

6

large

carrots

(optional); sliced
Seasonings
1

teaspoon of each:

Ground allspice, dried bay leaves, ground coriander, ground cloves, ground cinnamon, mustard seeds, ground nutmeg
Instructions
Combine seasonings in a small bowl and set aside

1 teaspoon of each: Ground allspice, dried bay leaves, ground coriander, ground cloves, ground cinnamon, mustard seeds, ground nutmeg

Place corned beef in slow cooker, fat side up (See Recipe Notes below)

3 lbs. point-cut corned beef brisket

Add 4-8 cups of beef broth (just enough to cover the meat)

Add carrots and potatoes now if you're using them

1 pound potatoes,

6 large carrots

Sprinkle seasonings over meat and liquid

Add sliced onions on top of meat (optional)

Cook on low for 6-8 hours

One hour before you're ready to serve the meat, add cut cabbage to slow cooker

Cook one additional hour on low heat

Remove corned beef using spatula or tongs; slice against the grain; serve with cooked cabbage
Notes
Corned Beef:
If you buy a pre-packaged corned beef with the pink liquid in it, you can rinse the meat or not. I usually rinse mine, but if you don't it won't hurt you.
Yield:
A 3-pound brisket yields about five 6-ounce servings.
Spices:
If using whole bay leaves instead of ground bay leaves, use three large leaves. Just put them in the beef broth over the corned beef.
Cabbage:
Add cabbage 1 hour before serving time
Potatoes and Carrots:
Use waxy potatoes like Yukon Gold or Red Creamer potatoes. I do not recommend using Russet or Idaho potatoes because they're more starchy and tend to dissolve in the broth.
Add potatoes and carrots when you add the broth
Nutrition Estimate
Serving:
6
oz.
Calories:
626
kcal
Carbohydrates:
18
g
Protein:
45
g
Fat:
41
g
Saturated Fat:
13
g
Cholesterol:
147
mg
Sodium:
3895
mg
Potassium:
1364
mg
Fiber:
7
g
Sugar:
9
g
Vitamin A:
245
IU
Vitamin C:
167
mg
Calcium:
141
mg
Iron:
6
mg