If you've never made Irish Soda Bread, you'll be amazed at how easy it is to make. In less than ten minutes, you can have a delicious, authentic Soda Bread to go with your Irish Beef Stew!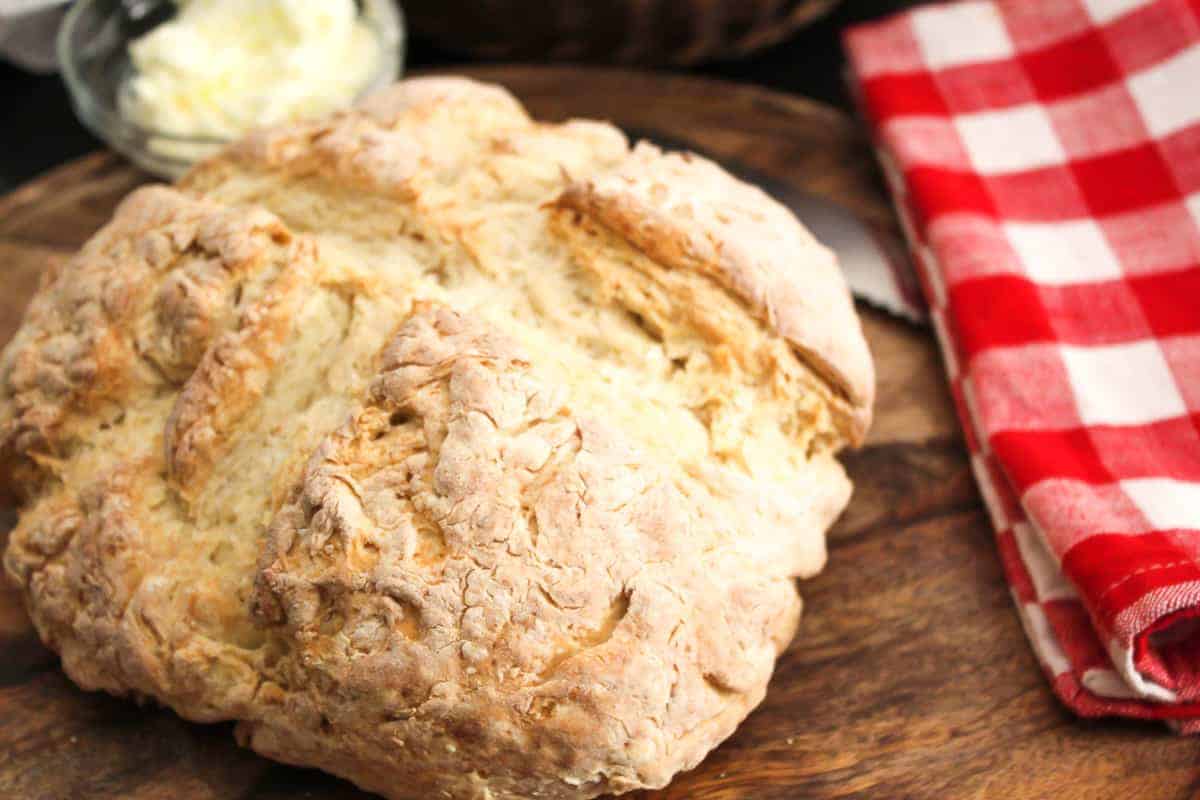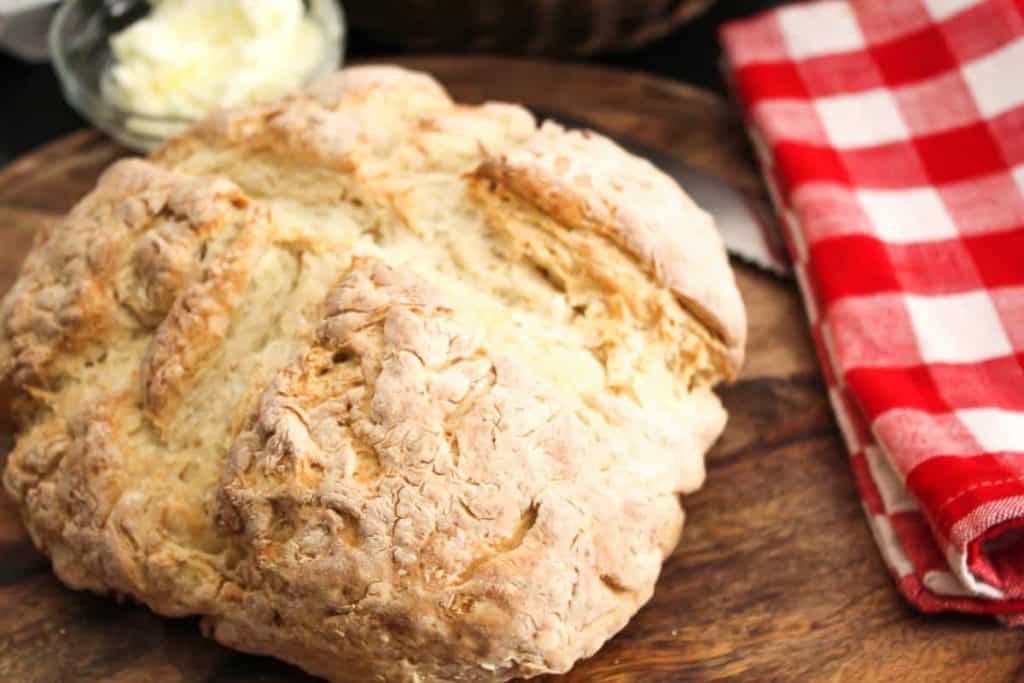 You won't believe how quick and easy this traditional Irish soda bread is to make and it contains no eggs! This rustic bread has just the right amount of flavor and is easy to slice and serve. You can make the "loaf" of bread in any shape you like, but I prefer to make mine in a round disc shape. The result is a delicious, homemade, rustic, artisan bread good enough to eat alone with a dollop of Kerrygold butter!
Ingredients for Irish Soda Bread
Other than butter and buttermilk, you can just swing down the baking aisle and pick up the remaining dry ingredients: all-purpose flour, cake flour, baking soda, cream of tartar, sugar and salt. Note there is cake flour in this recipe. Cake flour has less protein than all-purpose flour, which results in a more dense texture–perfect for buttering!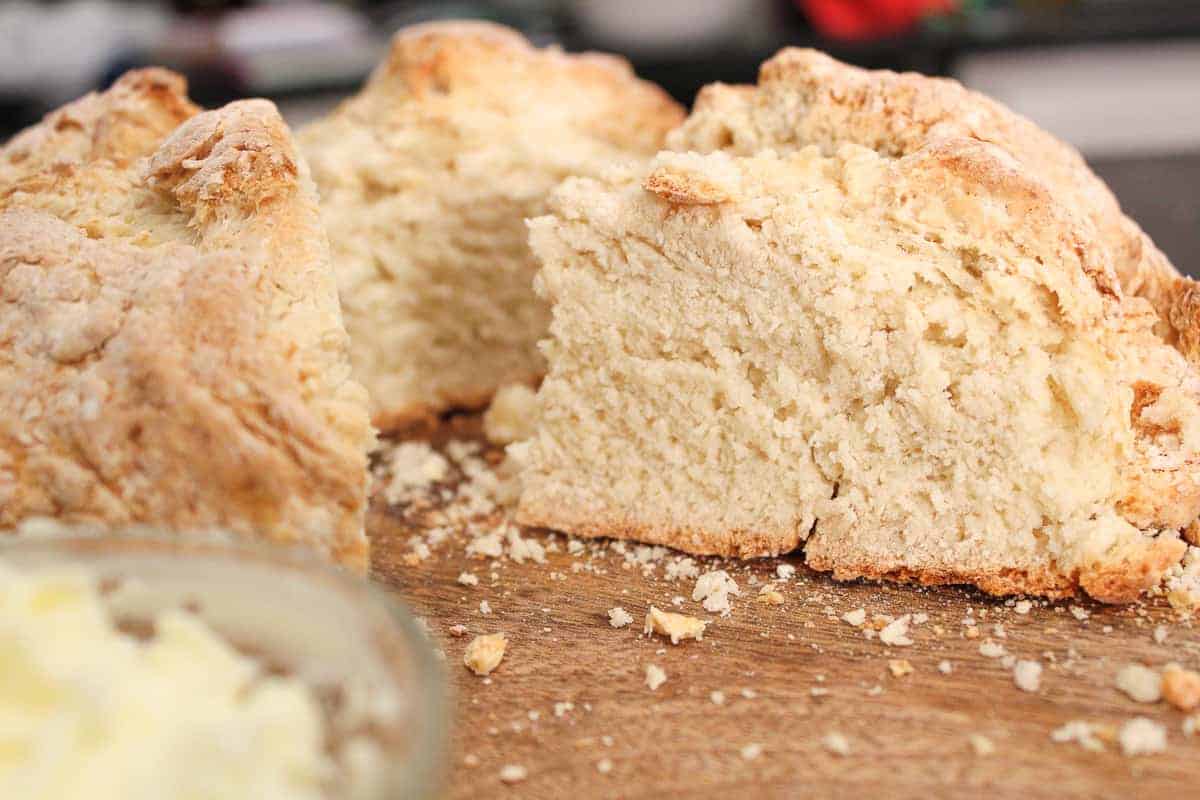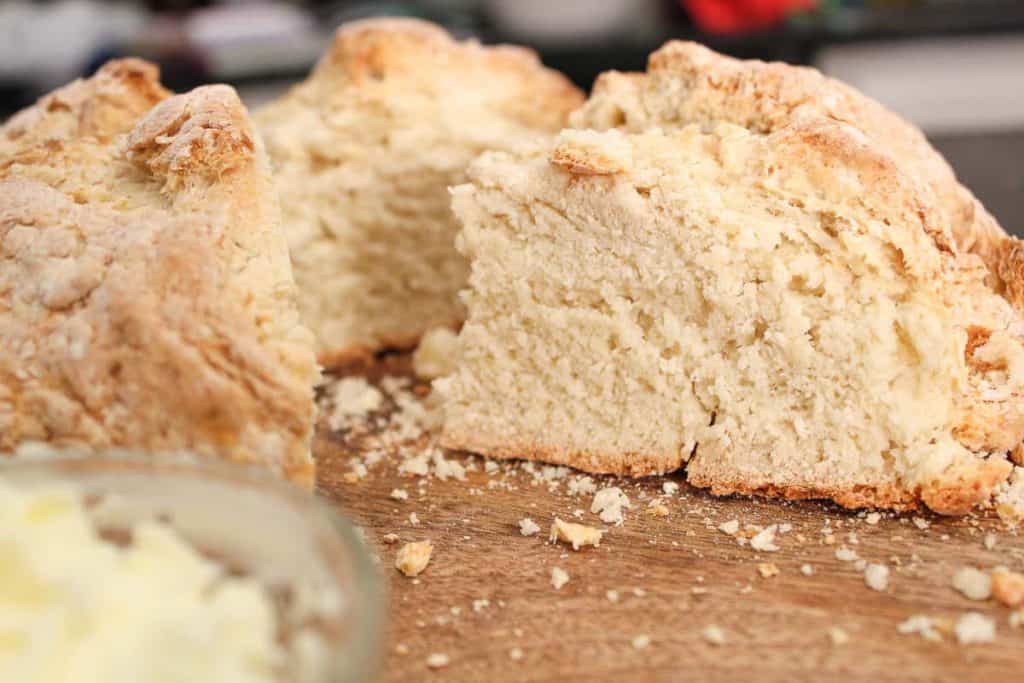 How to Make Irish Soda Bread
Irish soda bread is really easy to make and it doesn't require a bread maker or a lot of time! Combine the dry ingredients in a large bowl; add in room temperature butter and buttermilk. On a lighly floured surface, knead the dough about 15 turns, form it into a disc, and bake! It takes about 45 minutes to bake because it is baked at a low temperature of 180ºF.
Out of Buttermilk?
No problem! Make your own. Add 1 tablespoon of fresh lemon juice to one cup of milk. Stir and let it sit for about five minutes. Now you have buttermilk!
Don't Have Cake Flour?
This recipe calls for one cup of cake flour in addition to 3 cups of all-purpose flour. If you don't have any cake flour, simply sift one cup of all-purpose flour twice. The difference between all-purpose and cake flour is the amount of protein each contains. All-purpose flour has more proteins than cake flour and is generally used in most baking recipes because of its versatility. Cake flour, with its fewer proteins, absorbs more water and offers a finer textured product.
The combination of all-purpose and cake flours ensures the air and fats are distributed throughout, resulting in a rustic, artisan Irish soda bread a perfect side with Corned Beef and Cabbage!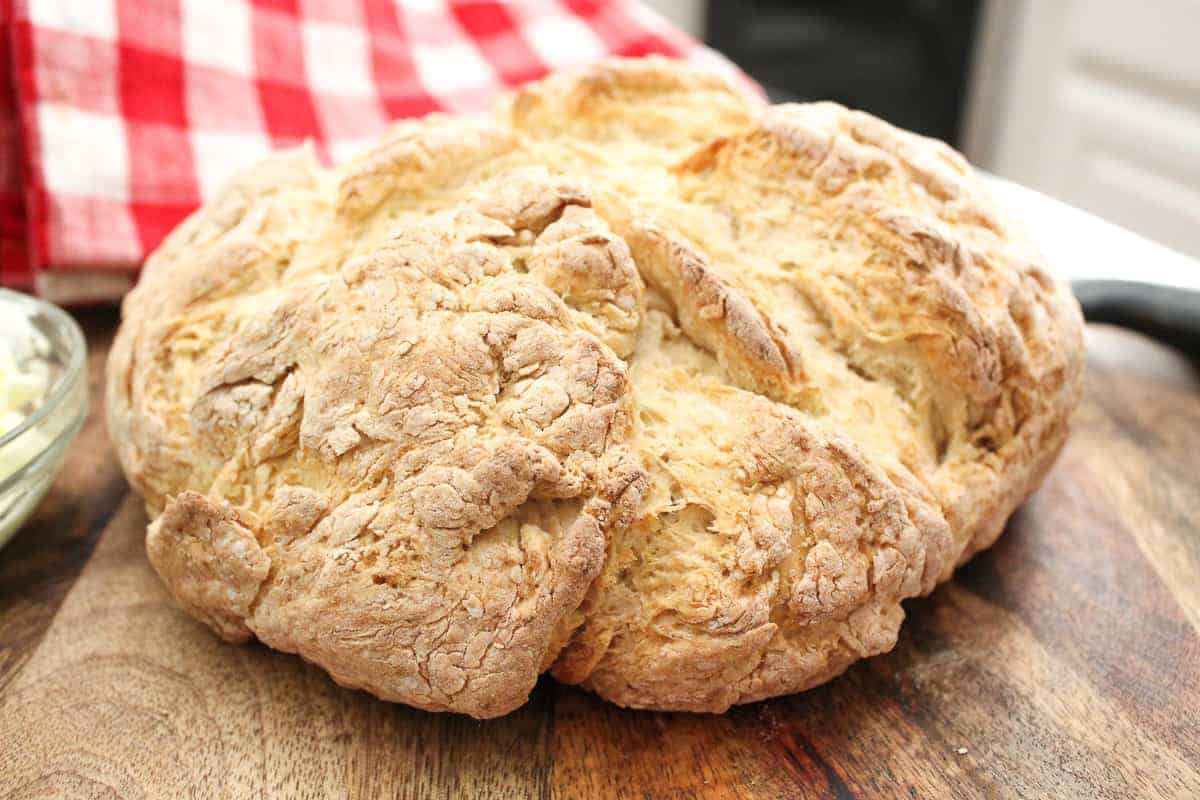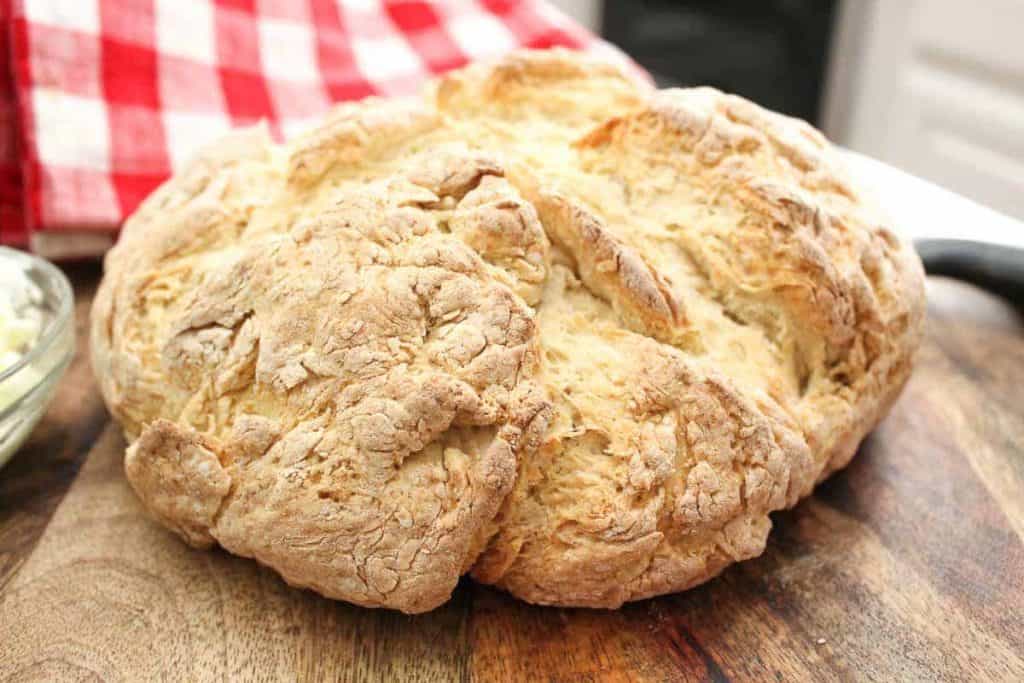 Make a few loaves of Irish Soda Bread to go with your Irish American Guinness Stew!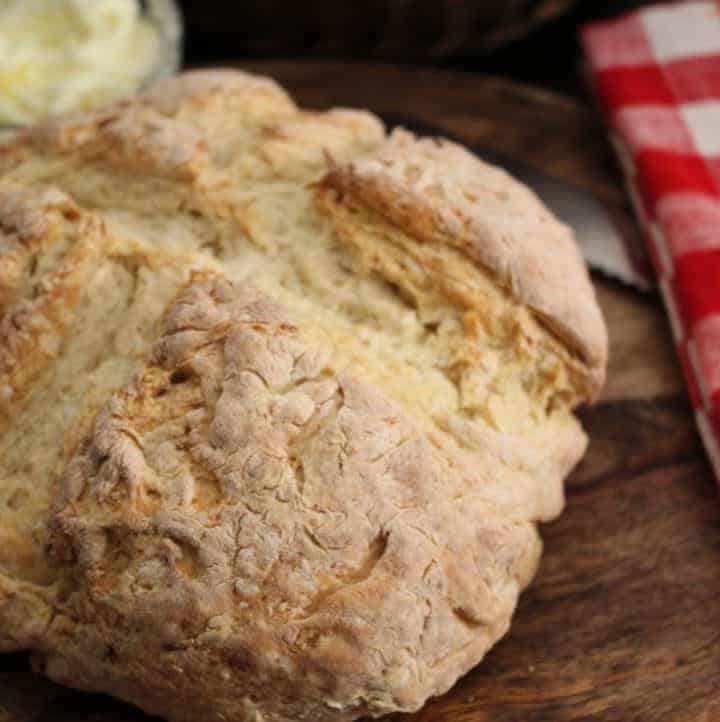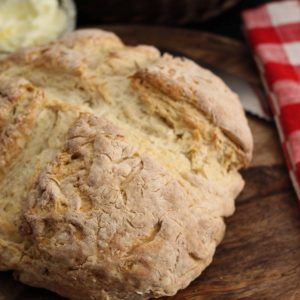 Irish Soda Bread
Irish Soda Bread is a quick and unbelievably easy bread to make and contains no eggs!
Print
Pin
Ingredients
3

cups

flour

all-purpose

1

cup

cake flour

1 1/2

teaspoons

baking soda

2

teaspoons

cream of tartar

2

tablespoons

sugar

1 1/2

teaspoons

salt

2

tablespoons

butter

room temp

1 1/2

cups

buttermilk
Instructions
In a large bowl, combine dry ingredients

Add butter; using your fingers, work the softened butter into the dry ingredients; work in butter until the mixture looks slightly crumbly

Add buttermilk to dry mixture and combine well;

Once the buttermilk is completely combined with the dry ingredients, pour the dough mixture onto a lightly floured surface

Begin to knead the dough until it begins to stick together; this is about 15 turns of the dough; the finished product will be bumpy and lumpy; do not knead the dough until it is smooth or you will create too much gluten and the bread will be mushy

Form a 6" disc with the dough (about the size of a salad plate); using a knife, score an"X" on the top of the dough

Place dough on parchment lined baking dish and bake until the center temperature reaches 180ºF (40-50 minutes, depending upon your oven)
Notes
Irish Soda Bread has a rustic-look to it; it is not a smooth bread, like French bread

Store leftover bread in an air-tight container for up to 3 days

If you don't have cake flour, use all-purpose flour; just sift the flour twice before adding it to the recipe