Brie en Croûte with pear compote and a hint of thyme is an easy and impressive appetizer to serve at your  next gathering!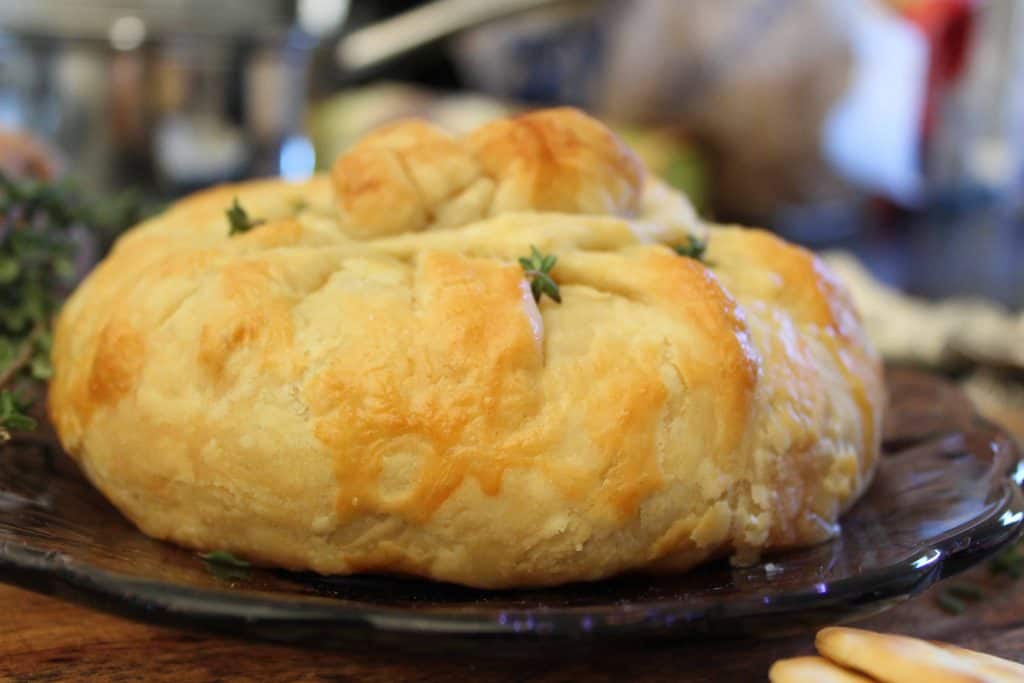 The term "Brie en Croute" is French for "brie baked in a pastry crust." This easy, but impressive appetizer is always a show stopper, particularly during the holidays.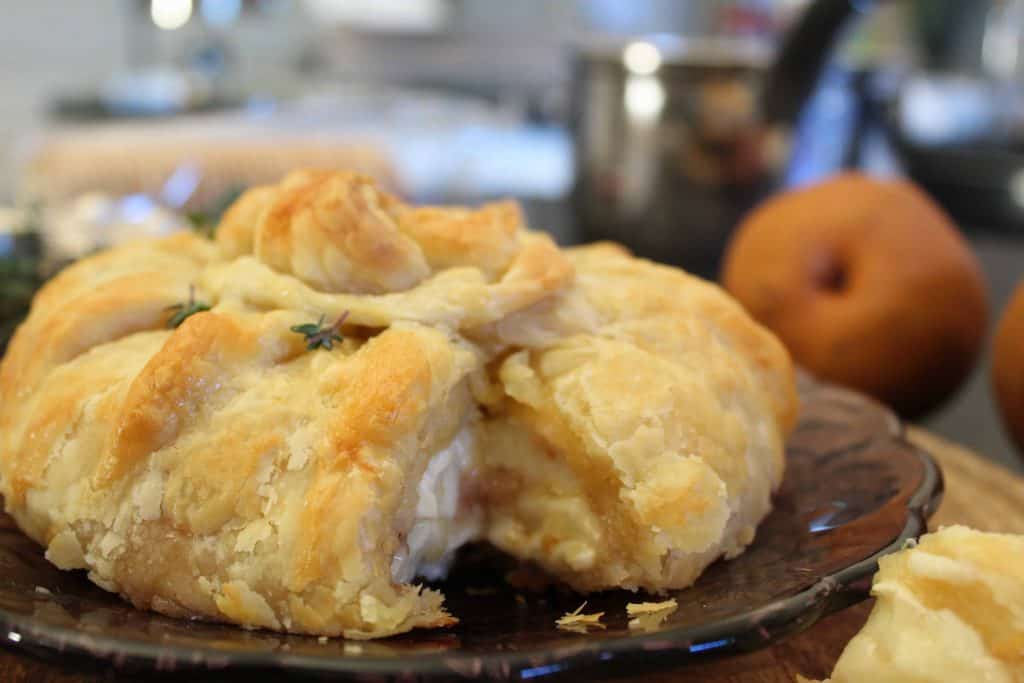 Brie is a French cheese made from cow's milk and is from the region of Brie. It's an extremely creamy cheese with a bit of a fruity, nutty and tangy flavor. Unfortunately, the brie cheeses we have in America probably do not compare to the fresh cheeses of France, however there are some nice brie cheeses in the gourmet cheese section of your grocer that work great for this recipe!
Do I Remove the Brie Rind When Making Brie en Croute?
No. Leave the rind on the brie.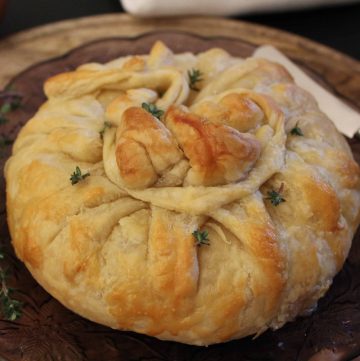 Brie en Croûte with Pear Compote
Delicious brie cheese accompanied with pear compote, baked in a puffed pastry.
Cuisine:
American, French
Keyword:
Baked Brie, Baked Brie en Croute, Brie with Puffed Pastry
Ingredients
1

wheel

brie cheese

2

pears

peeled, cored, chopped

1/4

teaspoon

Apple Pie Seasoning

1/4

teaspoon

vanilla extract

1/2

teaspoon

lemon juice

1

sprig

fresh thyme

1/4

teaspoon

ground white pepper

pinch of salt

1

pkg.

puff pastry

one sheet

1/4

cup

sugar

1/4

cup

water

1

whole

egg

1

teaspoon

water
Instructions
In a saucepan on medium heat add pears, sugar, water, spices, seasonings and the thyme sprig

Allow pear mixture to cook until the pears have broken down; use a whisk or fork to mash the pears; add lemon juice; remove the thyme sprig

Slice cold brie wheel in half and return it to the refrigerator

Roll out puff pastry sheet on lightly floured surface

Preheat oven to 425º F; line baking sheet with parchment paper

Once compote has cooled, remove it and the brie from the refrigerator

Place a heaping spoonful of the pear compote on one half of the brie

Replace the other (top) half of the brie over the compote

Place brie wheel on pastry dough

Gently pull the sides of the dough up over the brie; work around the brie, bringing up the sides of the dough; pinch the dough together on top

Combine egg and water in a small bowl

Using a brush, gently brush the egg wash over the pastry

Place brie on parchment lined baking dish and bake 15-25 minutes, or until golden brown

Use a spatula to slide under the brie and place it on a serving dish; allow for the brie to cool a bit before serving
If you like pears, you might try Wine Poached Pears.
0