If you've never made homemade marshmallows, you're in for a real treat! These soft, sugary, puffy marshmallows are so much better than store bought, and believe it or not, pretty easy to make! If you can boil water and use a stand mixer, you can make these delicious sugary treats!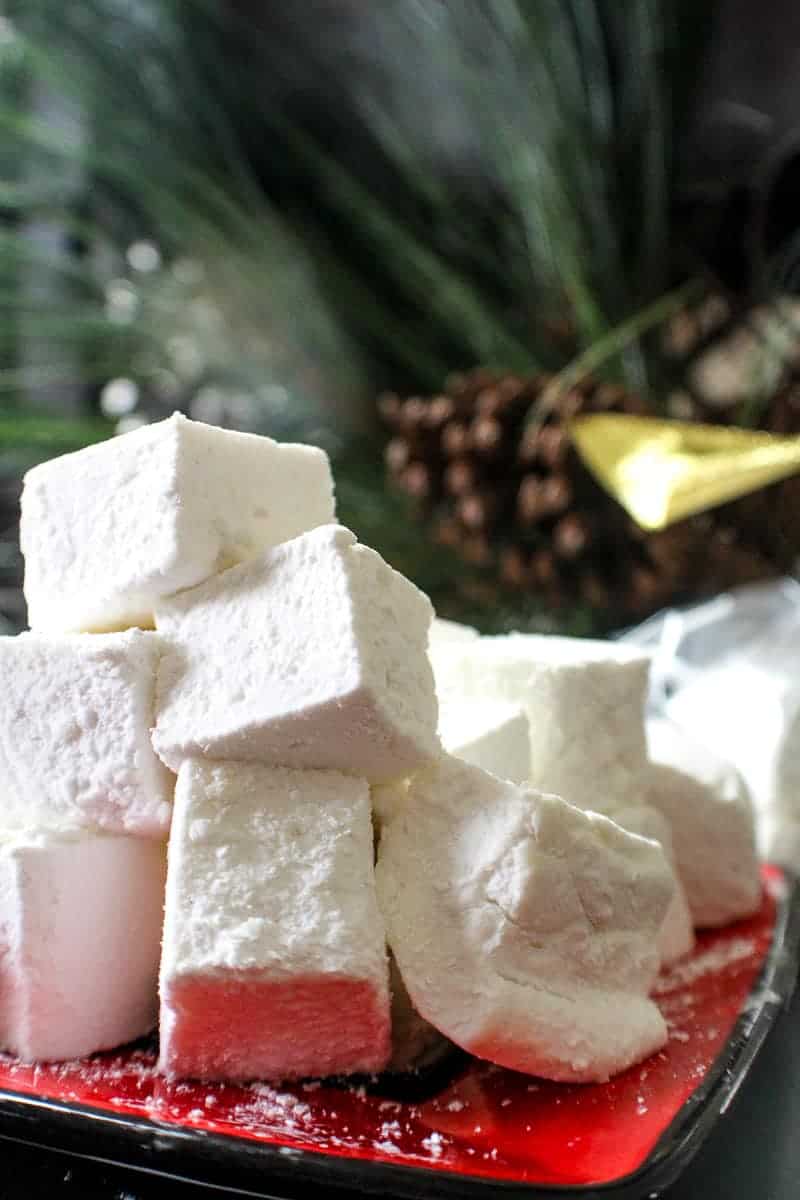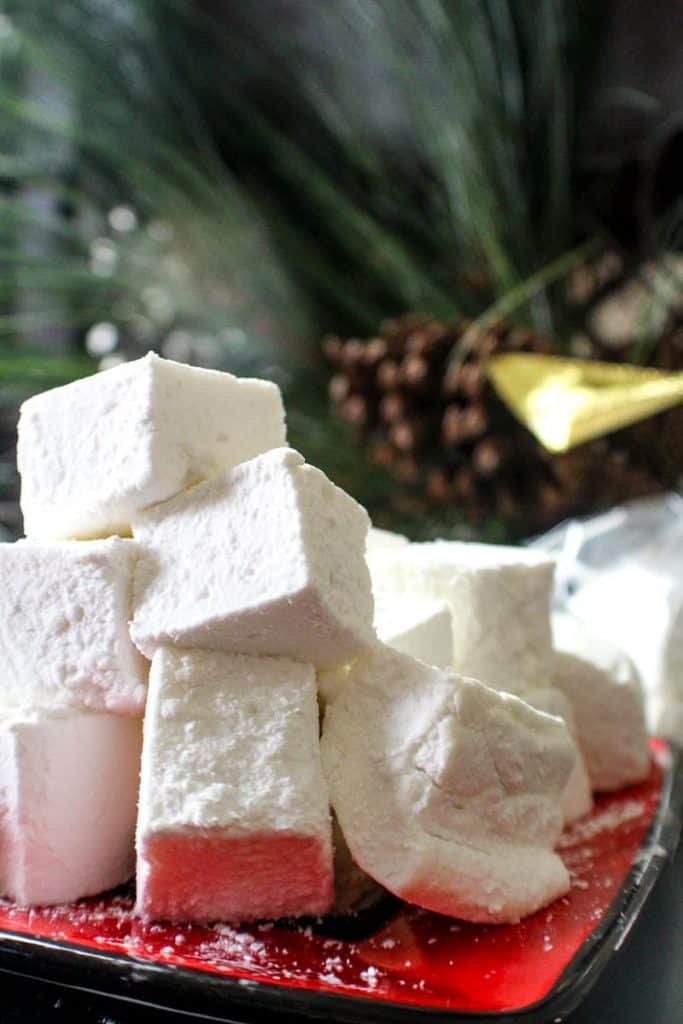 If never occurred to me to make homemade marshmallows until I ate one! Oh my goodness! These fluffy, vanilla-flavorful puffs of confection are absolutely divine! The thing I like about them is they aren't too sweet, but sweet enough.
How Long Does it Take to Make Marshmallows?
The cooking and preparation time for easy homemade marshmallows is only about 30 minutes! This makes for an ideal "cooking" event for kids! The resting time is a minimum of 4 hours, (I recommend 8 hours.)
The corn syrup, sugar and water cook on the stove top for about 20 minutes, or until the mixture reaches the "soft-ball stage" in candy making, (temperature of the sugar mixture is between 235 – 245ºF.)
Necessary Equipment for Making Marshmallows
Even though making homemade marshmallows is relatively easy, there are a few tools you must have. 1) a stand mixer; the mixer must run for 15 minutes and that's a long time with a hand-mixer 2) a good, accurate thermometer; it doesn't necessarily have to be a candy thermometer, but you want one that's highly accurate. 3) Large pizza cutter; I've tried cutting marshmallows with oiled twine, wire and scissors, and a large pizza cutter works the best.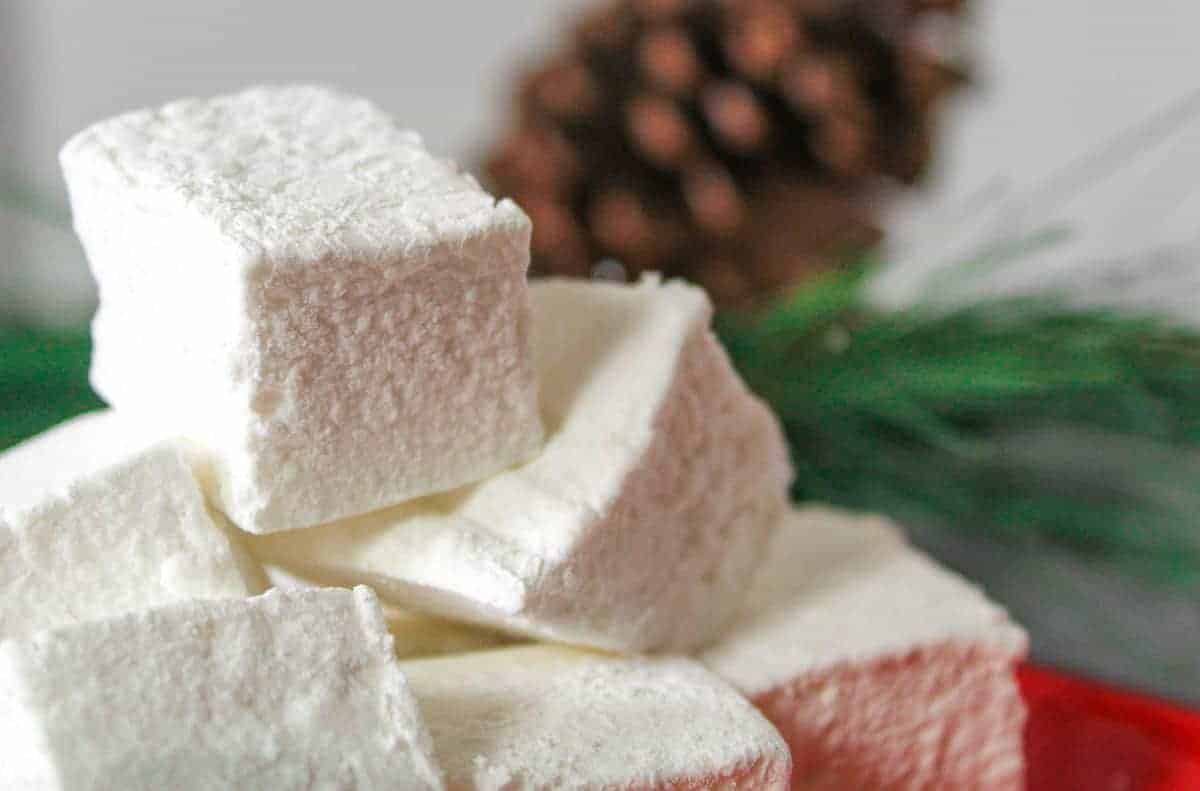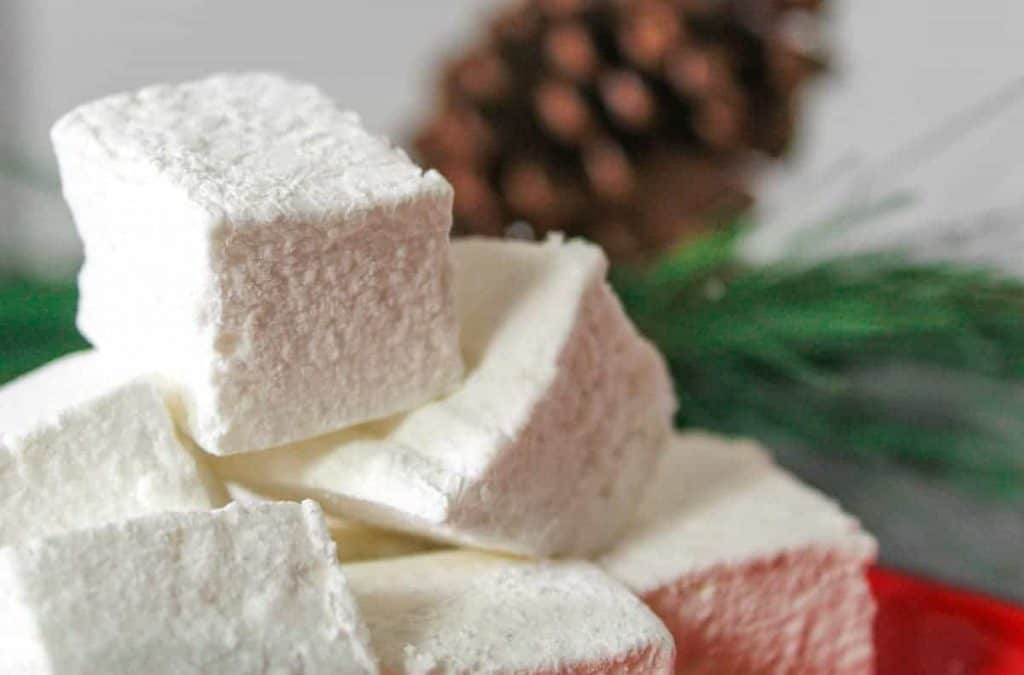 Are Homemade Marshmallows Healthier then Store Brands?
While these easy homemade marshmallows are not technically "all-natural," they are a little bit healthier than the manufactured versions. National brands, like Kraft, contain "tetrasodium pyrophosphate" and "artificial color blue #1." I don't know about you, but I avoid consuming anything "tetra" or "phosphate."
The binding ingredient, gelatin, is derived from animal collagen so…these are definitely not vegetarian or vegan. This recipe calls for Karo light corn syrup– clear corn syrup vs. dark corn syrup.  Karo is gluten-free with salt, high-fructose corn syrup and vanilla extract. The folks at Karo now have a "Lite" Karo Light Corn Syrup with ZERO high fructose corn syrup. Of course, there's a generous amount of sugar in marshmallows (that's what makes them so good!!), but as in life–all things in moderation.
Ingredients for Easy Homemade Marshmallows
The ingredients are pretty simple–in fact, you probably have most of these in your pantry. You'll need:
Sugar
Confectioner's Sugar (powdered sugar)
Cornstarch
Water
Clear Vanilla extract
If you can't find clear vanilla extract, no biggie–use dark vanilla extract.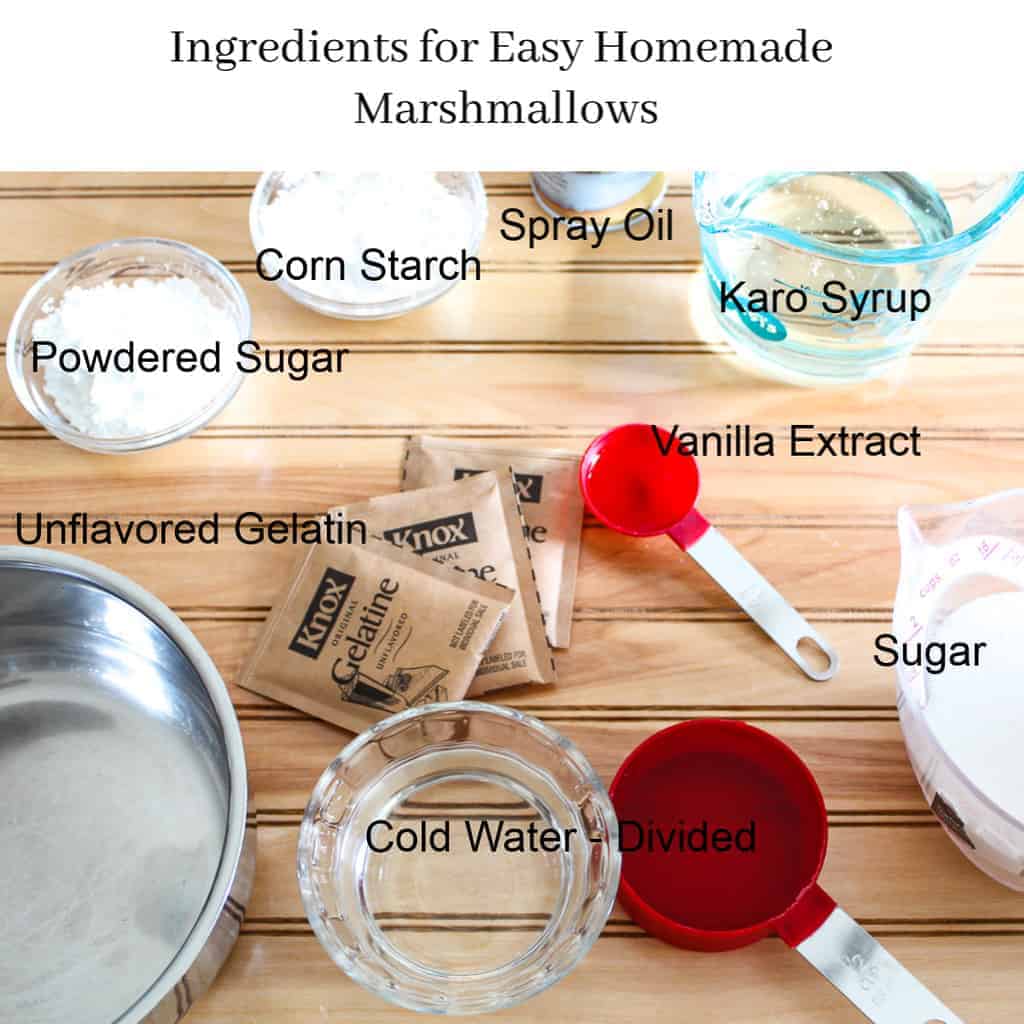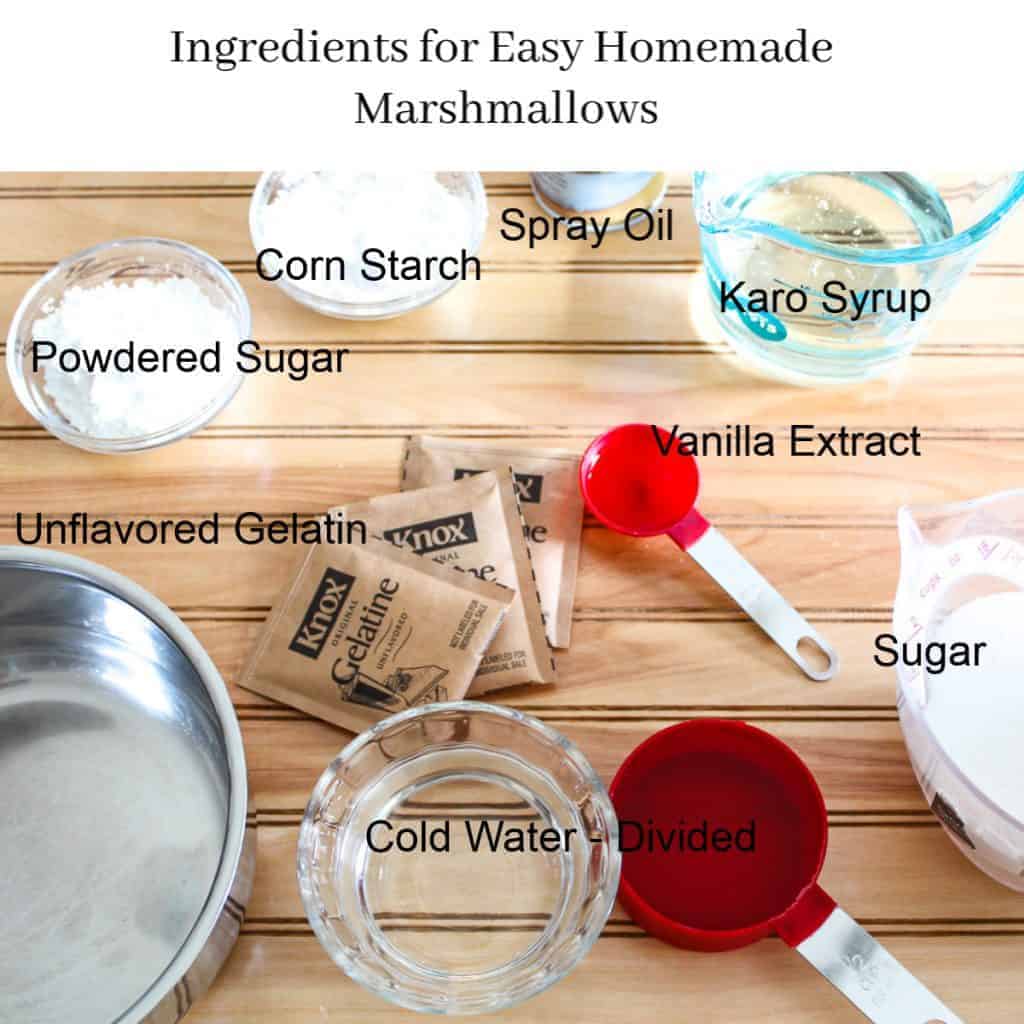 What Equipment do I Need to Make Marshmallows?
Making homemade marshmallows is pretty easy, but there are a few kitchen tools you must have. You'll definitely need:
Meat or candy thermometer
Stand mixer
A timer
Parchment paper
Pizza cutting wheel
Steps for Making Marshmallows
The steps for making homemade marshmallows takes about 30 minutes. Once you've created the marshmallow cream, place it in a pan and let it sit uncovered for at least 4 hours (I recommend 8 hours.)
Lightly oil 9 x 13 or 9 x 9 pan; line with parchment paper; spray oil on parchment paper; set aside
Combine confectioner's sugar and cornstarch in small bowl; set aside
Pour 1/2 cup cold water and 3 gelatin packages into stand mixer; do not stir
In a large saucepan on medium high heat, add 1/2 cup cold water, sugar and Karo syrup; cover and heat until thermometer reads 240ºF;
Once sugar reaches 240ºF, immediately remove the pan from the heat and pour it into the stand mixer
Set timer for 14 minutes
Start mixer on low; as the mixture cools, gradually turn the mixer speed up to high; whip for 14 minutes
At 14 minutes, with the mixer still going, drizzle in the vanilla extract
Mix for 1 additional minute then stop
Using an oiled spatula, put marshmallow cream into prepared (oiled) pan
Smooth top with oiled spatula
Sprinkle a little of the cornstarch/confectioner's sugar mixture over the top
Allow to sit overnight uncovered
The next day, gently remove the parchment paper and marshmallow block from the pan
Light sprinkle a little confectioner's sugar/cornstarch onto countertop
Gently pull parchment paper away from marshmallow block and place the block on the sugar/cornstarch mixture
Oil a sharp knife, scissors or pizza cutter and slice into strips about 1/4 inch wide; clean and oil tool in between each cut
Cross cut marshmallows; you will have about 70 quarter-inch cubed marshmallows
Place marshmallow cubes (a few at a time) in the confection sugar/cornstarch- coating all sides; repeat process until all marshmallow cubes are lightly coated
Store homemade marshmallows in an air-tight container
How To Cut Marshmallows
The trickiest part of making homemade marshmallows is cutting them. You can use a sharp kitchen knife, scissors or a pizza wheel (I find the pizza wheel the most efficient.) Note that whatever slicing tool you use, you will want to clean it between cuts.
Two Ways to Keep Your Cutting Tool Clean Between Cuts
There are two ways to keep your slicing tool clean when cutting out homemade marshmallows. You can either:
wipe the tool clean and spray it with oil after each cut or,
spray the tool with oil, then sprinkle a little of the cornstarch mixture on the tool after each cut
Storing Marshmallows
If the marshmallows are cut, they keep well in an air-tight container in the refrigerator up to about a week. After that, their texture begins to change. They're still good, they just get a bit hard. Let them come to room temperature before serving.
Freezing marshmallows is another way to preserve these sweet treats! Cut them into cubes and place in an air-tight container in the freezer for up to three months. Note that frozen marshmallows will harden, so you'll want to let them get to room temperature before serving or consuming.
Make Easy Homemade Marshmallows a family event! Perfect for kids and adults! While the marshmallows are resting, make a gingerbread house or a Scandinavian Almond Cake!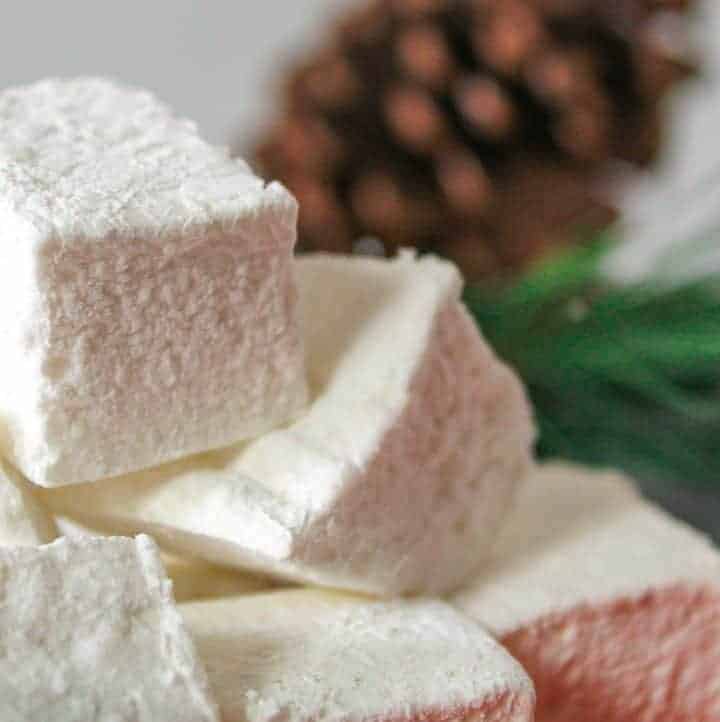 Homemade Marshmallows
Fluffy homemade marshmallows are perfect for hot cocoa!
Print
Pin
Rate
Servings:
70
marshmallows
Equipment
Stand Mixer

Meat or Candy Thermometer

Spatula

Spray Oil

9 x 13 or 9 x 9 dish

Pizza cutting wheel
Ingredients
3

packages

unflavored gelatin

1

cup

ice cold water

(divided)

¼

cup

confectioner's sugar

(powdered sugar)

1½

cups

granulated sugar

(table sugar)

¼

cup

corn starch

1

cup

Light Corn syrup

1

tablespoon

Vanilla extract

(get clear if available); if not, get the 'normal' vanilla extract
Instructions
Prep
Lightly spray oil in 9 x 13 pan; line with parchment paper; spray parchment paper with oil; set aside

Measure one cup water and add ice; allow to sit

Combine cornstarch and confectioner's sugar in a small bowl; mix with fork; set aside

Set up stand mixer with whisk attachment
Make the Marshmallows
Pour 1/2 cup cold water and 3 packages of gelatin into stand mixer bowl; DO NOT STIR

In a large saucepan on medium-high heat, add: corn syrup, sugar and the other 1/2 cup of cold water; DO NOT STIR

Cover and allow to cook until the sugar mixture reaches 240ºF

Once the sugar mixture reaches 240ºF, immediately remove the saucepan from the heat

Pour the hot sugar mixture into the mixing stand and start mixer on low

As the sugar mixture begins to cool, gradually turn the mixing speed up to high; mix on high for 14 minutes

At 14 minutes, drizzle in the vanilla extract; mix for one more minute; turn off mixer

Spray spatula with oil and scoop marshmallow mixture into prepared pan

Smooth top of marshmallows with lightly oiled spatula

Sprinkle about 1/3 of the the cornstarch/confectioner sugar over the top of the marshmallows

Allow marshmallows to rest, uncovered, for at least 4 hours
Cut The Marshmallows
After marshmallows have rested for at least 4 hours, gently pull the parchment paper from the baking pan

Sprinkle a little of the cornstarch/confectioner sugar mixture on the counter

Remove parchment paper; place marshmallow on the cornstarch mixture

Use an oiled sharp knife, pizza cutter or kitchen shears to cut marshmallows into squares

Once marshmallows are cut into cubes, place them in a big bowl or zip bag; sprinkle remainder of confectioner sugar/cornstarch mixture; coat marshmallows with dry mixture