Cheeseboards, often called "Charcuterie boards" are the new chip and dip and they're so fun to make!
Perfect for entertaining or when it's too hot to cook!
Read on to learn how to create the perfect cheeseboard!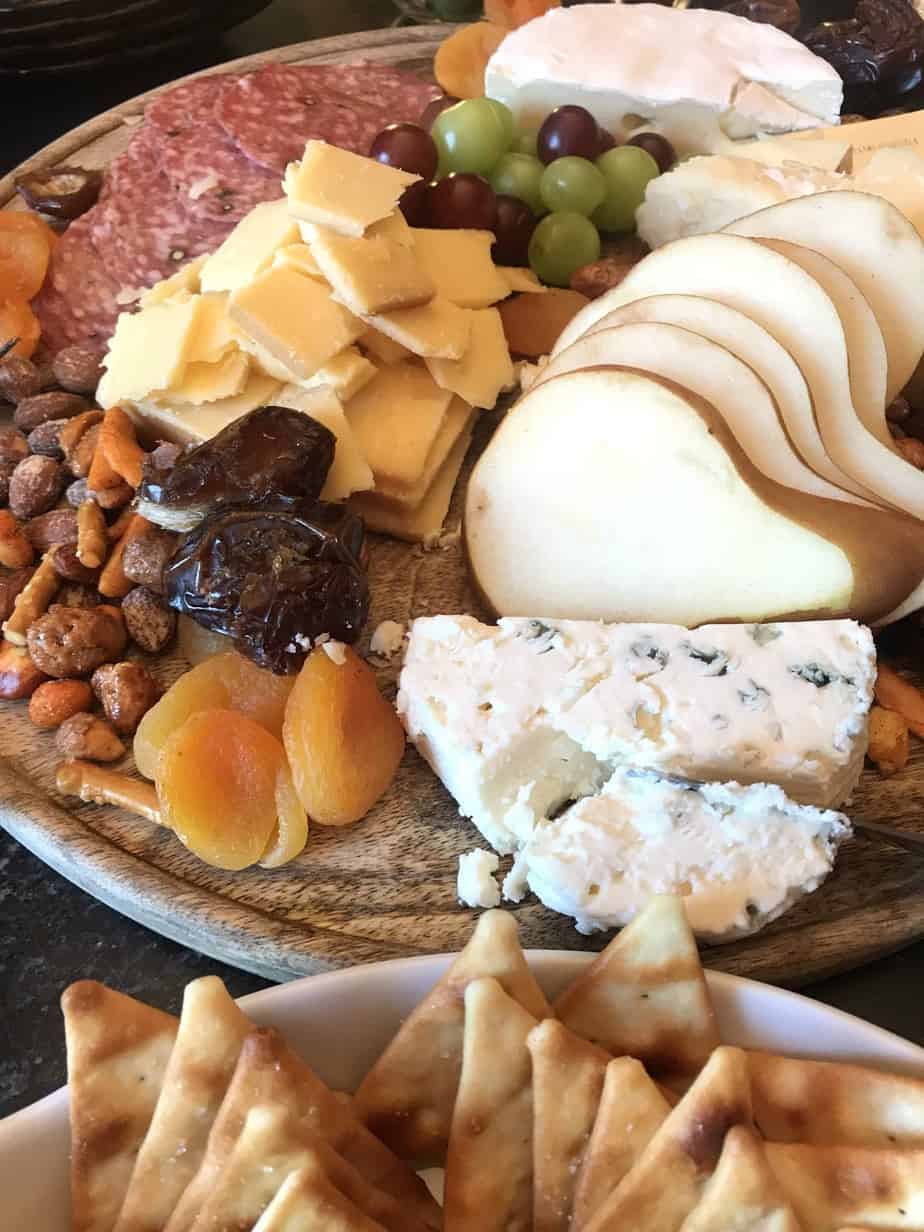 Why you'll love this!
Hassle-free: the perfect way to provide appetizers without a lot of fuss and utensils!
Affordable: doesn't have to cost a fortune, and with a little planning, you can offer an array of cheeses, nuts and fruit on a dime!
Jump to:
How to create the perfect cheeseboard
A really impressive and delicious cheese board offers a variety of foods that pair well with one another.
Cheese, dried fruit, candied, salty and spicy nuts, smoked almonds, fresh fruit, jams, mustards, olives, dark chocolate and perhaps a dried meat such as Genoa salami.
You'll want the presentation to be stunning and inviting, so envision the entire board covered in tasty goodies
Consider the purpose of your cheeseboard--is it meant to be served as snacks during cocktails, as an appetizer, or is it the only food you're offering?
For snacks and appetizers, a light, but ample portion of ingredients will suffice; however, if it is intended to be your only offering, you'll want to think about adding more meats and heavier grains, such as French, Sourdough or an artisan bread.
Select the Vessel
The perfect cheeseboard doesn't have to be on an actual "board", it can be a beautifully painted plate, a charger, an elongated dish, a serving tray, a shallow serving bowl or even a framed mirror!
Look around your house and use your imagination! Once you've selected the 'board', begin to envision how three to four cheeses might look on the board.
At this point, I like to consider going "around the world with cheese."
One stop in France for a bleu cheese, a stop in Spain for a Manchego, an overnight in Italy for some tangy Parmesan and a final stop in Vermont for a classic cheddar.
Cheese 101
Selecting cheeses can be overwhelming because there are so many different varieties. If you're interested in exploring "everything you ever wanted to know about cheese," then visit The American Cheese Society
For our purposes, we're going to focus on simplicity. We'll look at four types: soft-ripened, cheddar, bleu and Italian aged cheese.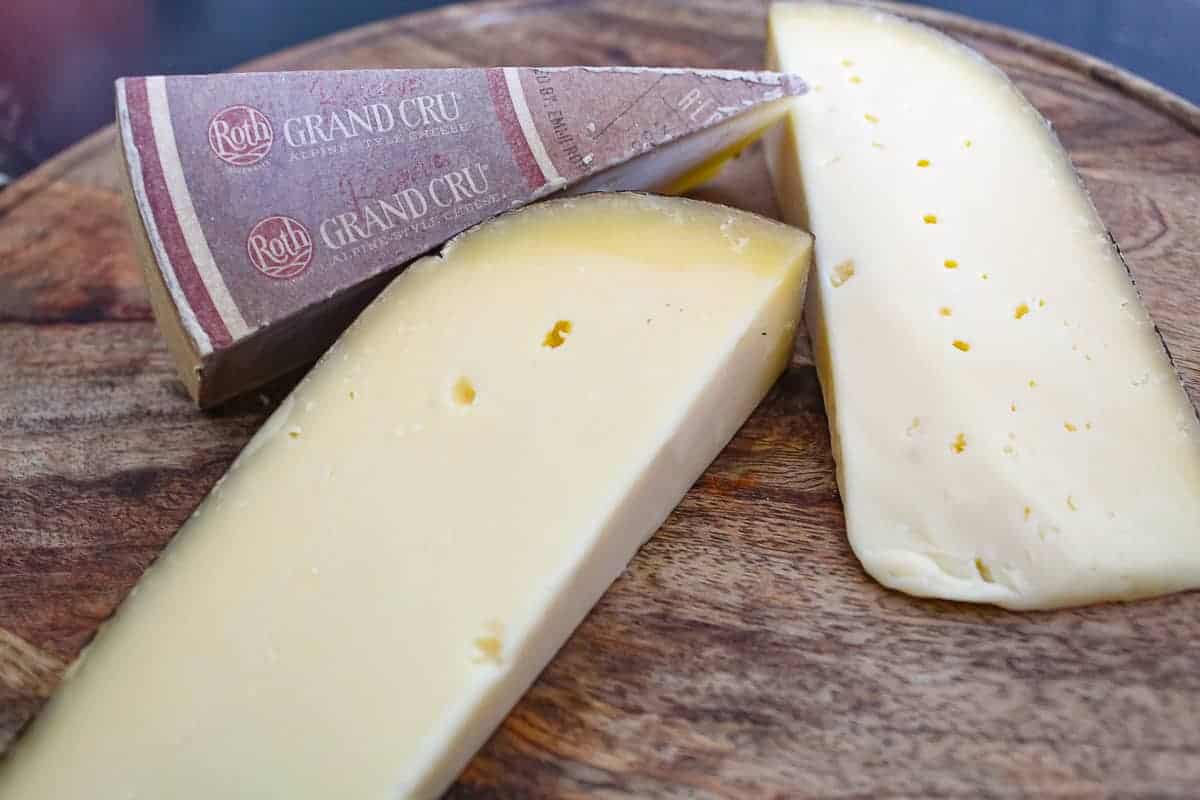 1 Soft-Ripened
Types of soft-ripened cheese include Brie, Camembert, Humboldt Fog, or French classics such as St. Andre, Coulommiers or Explorateur.
2 Cheddar
The cheddar group is a block cheese and includes white, yellow-aged, international and smoked cheddar. There are many more varieties to consider, but this is a good start.
3 Bleu
Bleu cheese is typically found in crumbles, so you may have to visit the Specialty Cheese section of your grocer to find a block of bleu. Varieties include Stilton, Roquefort, Stilton, Bleu d'Auvergne and Point Reyes Original Blue.
4 Italian
The final cheese is a hard aged Italian cheese as in Parmesan, Asiago, Peccorino-Romano and Sardo.
Accoutrements
Once you've selected your vessel and cheese, it's time to pair those cheeses with something tasty! Let's start with the soft-ripened cheese, brie. Brie is a mild flavored cheese with a buttery flavor and typically goes well with fresh fruit.
Consider adding pears or apple slices to the board. Note: if you use fresh fruit, sprinkle a little fresh lemon juice on the fruit before placing it on the board. The lemon juice will prevent the fruit from browning!
Our second cheese is a smoked cheddar. Consider adding some candied nuts, dark chocolate or dried apricots to complement the smokey flavor. Grapes are also an excellent flavor enhancer for smoked cheese.
The third selection is tangy and creamy bleu cheese which pairs well with smoked almonds, spicy nuts and sweet dates. The final cheese, an aged Parmesan, is sharp and tangy to the palate. Again, dates or figs go well, or perhaps an apricot or blackberry jam.
Breads & grains
Most cheese boards are 'finger foods', meaning no fork required. In some instances, as with soft-ripened cheeses, you might want to offer a vehicle for that soft cheese or include a cheese spreader.
Consider crunchy breadsticks, whole grain crackers or crostini.
Now that the vessel, cheese and accoutrements are identified, it's time to plate our masterpiece! Again, consider the vessel and place the cheese in format. In this case, we're using four cheeses, so place them in a square or rectangle. If using three cheeses, form a triangle.
Expert tips
Consider slicing or cubing the cheddar and Italian cheeses. It's challenging for your guests to slice cheese on the board, so have some already cubed (cheddar) or shaved (aged Italian)
Another idea is to cut any cheese rounds into halves; this allows your guests to get to the center of the cheese without having to slice away the rind
Next, place any accoutrements that are liquid in nature (jams, jellies, spreads) in small ramekins and place them within the shape or on the outer edges of the shape. I like to use the rule of halves here
Don't put anything on the cheeseboard that's not edible
Place the cheeseboard in an area where at least three people at a time can easily get to it with ease
Set the cheeseboard out at least an hour before your guests arrive--you want the cheese to be room temperature so it's at its optimum flavor
Slice fresh fruit, douse with a little fresh lemon to prevent browning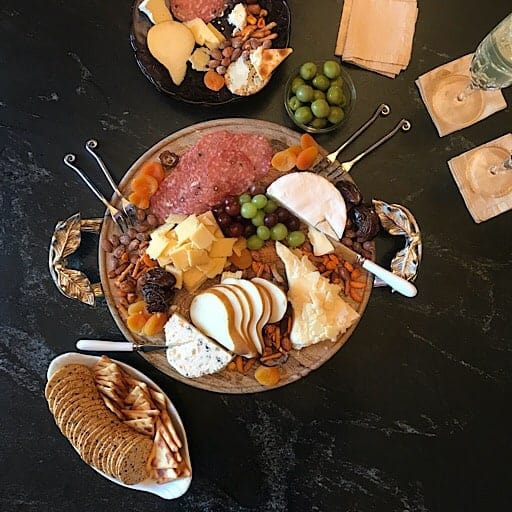 Once you learn how to create the perfect cheeseboard, considering these items on the side:
Related recipes: