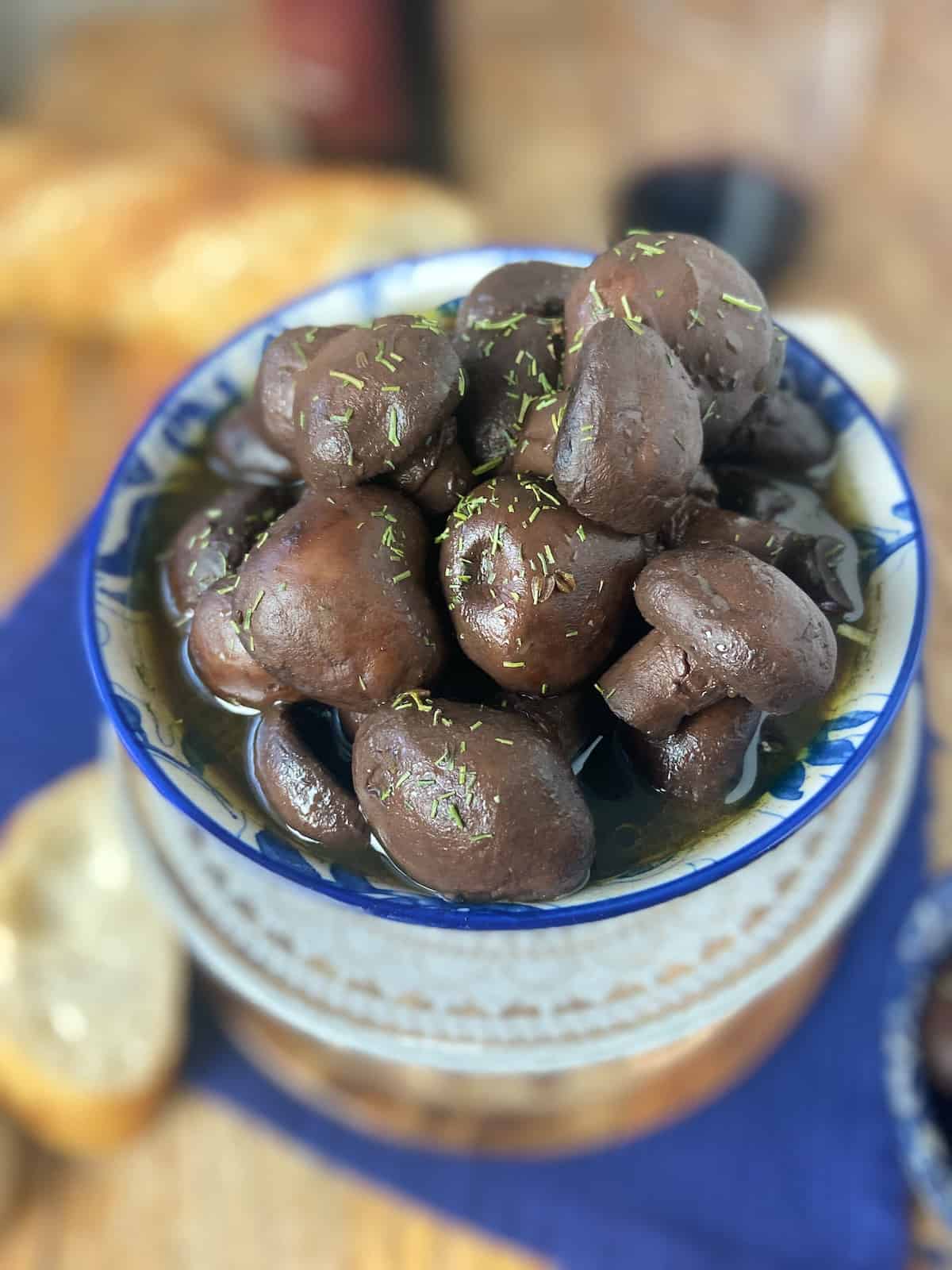 These Red Wine Mushrooms are savory bites of dill and garlic-infused mushrooms that have marinated in a rich wine broth for hours. They are the quintessential side with turkey, filet mignon, beef tenderloin or prime rib!
I was first introduced to these delicious wine-soaked mushrooms a few years ago at a Thanksgiving dinner...oh my... they are out of this world delicious and totally worth the 9 hour marinade. Yes. These beauties simmer all day and turn out delicious, especially when served with warm French bread for dipping in the wine sauce...
Why this recipe works
The wine marinated mushroom recipe belongs to Ree Drummond, aka The Pioneer Woman. I adapted her recipe and reduced it to fewer servings and changed out bouillon cubes for a little bit of a reduced sodium alternative.
Serve these marinated mushrooms as side dish, appetizer or include a bowl on your holiday charcuterie board. They pair beautifully with Beef Tenderloin, Beef Wellington, Pork Tenderloin or Pork Schnitzel.
Keto-friendly - mushrooms, broth, wine, herbs-that's it! No carbs at all.
Hassle-free! Throw everything in a slow cooker or Dutch oven and walk away...One pound of button mushrooms serves as a nice side for about 4 people.
Why you'll love these!
This recipe yields restaurant-quality marinated mushrooms and you can use some of the red wine sauce for steak, individual beef wellington or beef tenderloin

Put this easy mushroom marinade in a slow cooker or on a Dutch oven on the stove top and in a few hours, you'll have the most tender, delicious and savory mushrooms ever and your kitchen will smell amazing

These make a lovely hostess gift during the holidays! Just put the marinated burgundy mushrooms in a pretty jar with a bow (be sure to include a little liquid, too!)
Here's what you'll need
For this recipe, I use two 8-ounce packages of mushrooms-white button mushrooms, but you can use portobello or "Baby Bellas."
The ingredients are simple: button mushrooms, red wine, dill seed, beef and chicken bouillon, unsalted butter, Worcestershire sauce and fresh garlic cloves. I sprinke a little dried dill weed as a garnish before serving, but that's optional.
As for the red wine, use any dry red wine-Cabernet Sauvignon, Merlot, Pinot Noir or a Red Blend. The red wine doesn't have to be expensive.
How to make

marinated mushrooms

Wipe the button mushrooms with a damp paper towel to remove any debris. I cut a smidgen off the bottom of the stem but you can remove the whole stem if you like. If the mushrooms are huge (bigger than bite-size), you may want to slice them in half.

Next, pour all the ingredients into a large stockpot, Dutch Oven or slow cooker, add the mushrooms, stir and walk away for 9 hours. Yes. NINE hours. These beauties go from white to gray to a beautiful dark purple color, but it takes a long, slow-cook to achieve perfection.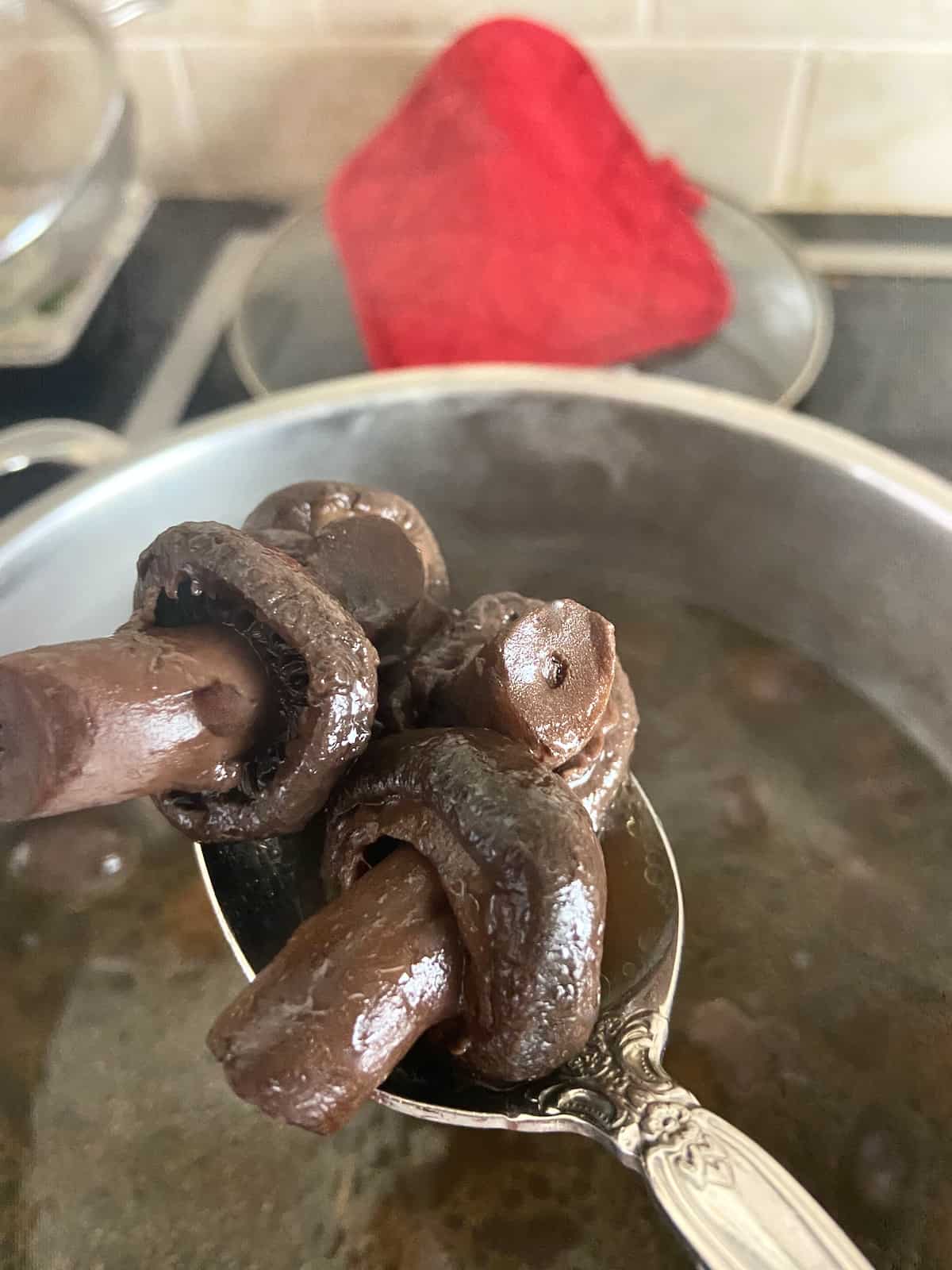 The mushrooms absorb all the flavors they've been nesting in for a whole day and when you bite into one, you'll realize why they are well worth the wait. I make a big batch of these marinated mushrooms to offer as gifts near the holidays! They look so pretty when put in a pretty jar (definitely include some of the liquid for reheating.)
Make ahead
If you don't want to tie up your stove burner or slow cooker all day, make these ahead of time. Store the red wine marinated mushrooms and liquid in airtight glass jars in the refrigerator for up to 5 days.
For best results, I recommed storing the mushrooms and liquid separately. When you're ready to serve them, just put the mushrooms and liquid in a sauce pan and reheat on the stove on low to medium heat.
Slow Cooker Method
You can make the mushrooms in a slow cooker if you prefer. Just put all the ingredients in and cook on low for about 9 hours. Your house will smell amazing! Depending upon the size of your slow cooker, you may have to adjust the amount of liquid - you want enough to just cover the mushrooms.
Serving suggestions
These slow cooked mushrooms with red wine are delicious all on their own, or as a side dish. The seasoned broth makes a delicious type of "au jus" sauce that is perfect for dipping in a piece of warm French bread or serving as a red wine steak sauce.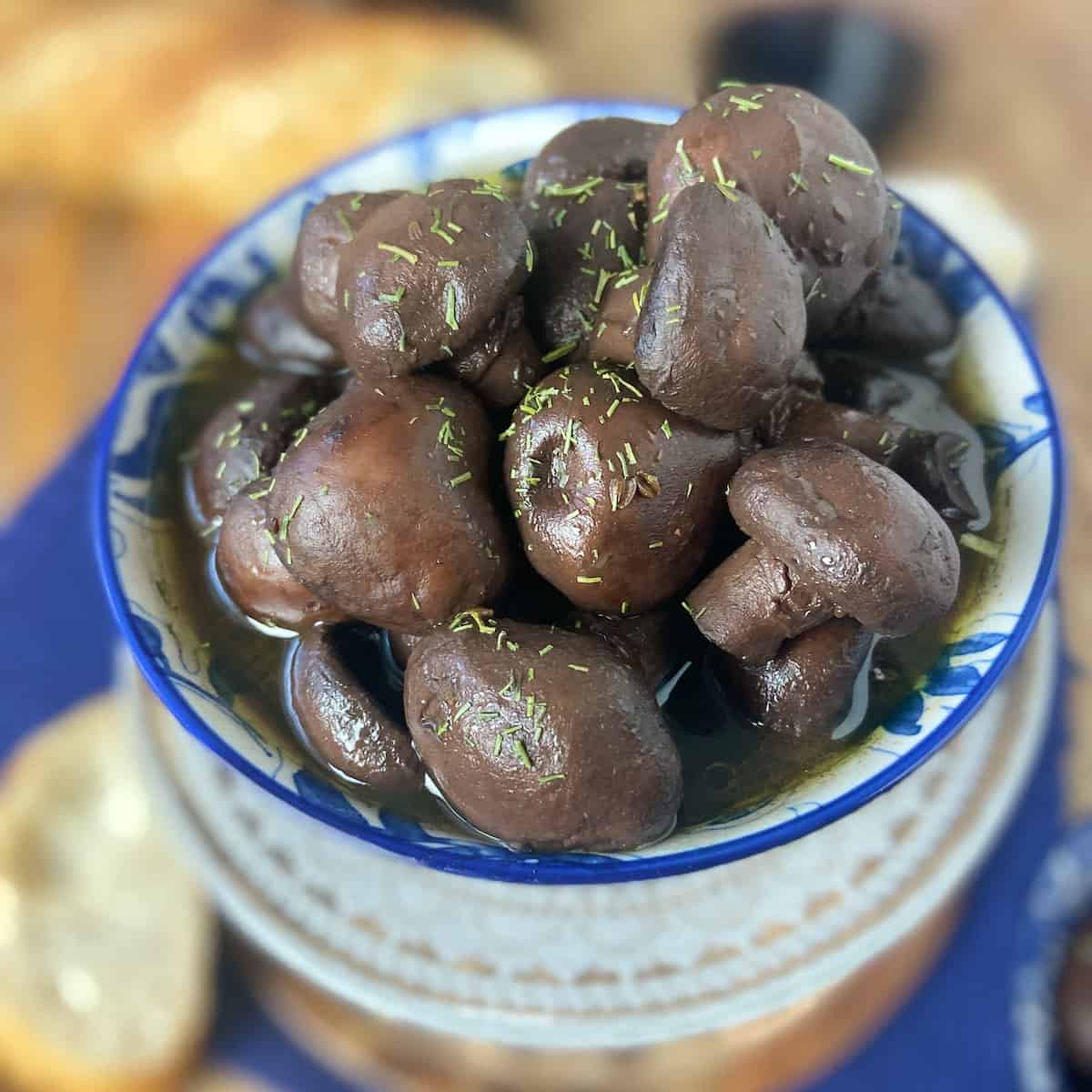 Serve these delicious red wine mushrooms alongside a fabulous cheeseboard as an appetizer, or as a side dish at Christmas or Thanksgiving - they pair beautifully with turkey and cornbead dressing!
Related recipes
If you make this recipe, please scroll down and leave a rating and comment! I love to hear from you! Thank you!
📋 Recipe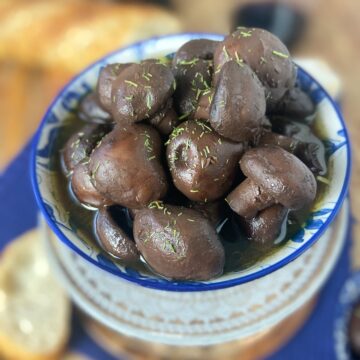 Red Wine Mushrooms
Mushrooms marinated in a savory herb and garlic infused red wine sauce.
Print
Rate
Ingredients
1

pound

mushrooms

, whole - not sliced; leave stems on (get two-8-ounce package of whole mushrooms); white or portobella

½

stick

butter

, unsalted

1

teaspoon

Worcestershire sauce

1

cup

red wine

dry - Cabernet, Merlot or Red Blend

1

teaspoon

Better Than Bouillon Chicken

, reduced sodium

1

teaspoon

Better Than Bouillon Beef

, reduced sodium

1

cup

water

, you may need a bit more if cooking in a slow cooker

¼

teaspoon

dill seed

1

clove

garlic

salt to taste

dried dill weed

, optional; as garnish
Instructions
Wipe mushrooms with damp paper towel; set aside

In a large stockpot or crockpot, melt butter; add remaining ingredients

½ stick butter,

1 teaspoon Worcestershire sauce,

1 cup red wine,

1 teaspoon Better Than Bouillon Chicken,

1 teaspoon Better Than Bouillon Beef,

1 cup water,

¼ teaspoon dill seed,

1 clove garlic

Add mushrooms (whole or sliced); combine well

Cook on stovetop on low for 9 hours, covered - OR - cook in crockpot on low 9 hours; salt to taste
Notes
Serving size:
The size of button mushrooms varies; you want to get some that are "one-bite" size; if you can't find any on the smaller side, use medium-sized
There's usually 16-20 medium-sized button mushrooms per pound; this allows 4-5 mushrooms per person or ¼ cup if sliced
If you're serving this to more than four people, I might recommend you double the recipe or, buy big mushrooms and slice them
Cleaning the mushrooms
Wipe them with a damp paper towel to remove any debris; you can remove the entire step or just cut off a little of the bottom of the stem
Nutrition Estimate
Serving:
1
pound
Calories:
182
kcal
Carbohydrates:
6
g
Protein:
4
g
Fat:
12
g
Saturated Fat:
2
g
Polyunsaturated Fat:
3
g
Monounsaturated Fat:
6
g
Cholesterol:
1
mg
Sodium:
398
mg
Potassium:
463
mg
Fiber:
1
g
Sugar:
3
g
Vitamin A:
508
IU
Vitamin C:
3
mg
Calcium:
20
mg
Iron:
1
mg