If you're looking for an easy and delicious recipe for Southern Speckled Butter Beans, look no further! With a few simple ingredients, you can make a pot of speckled beans in no time!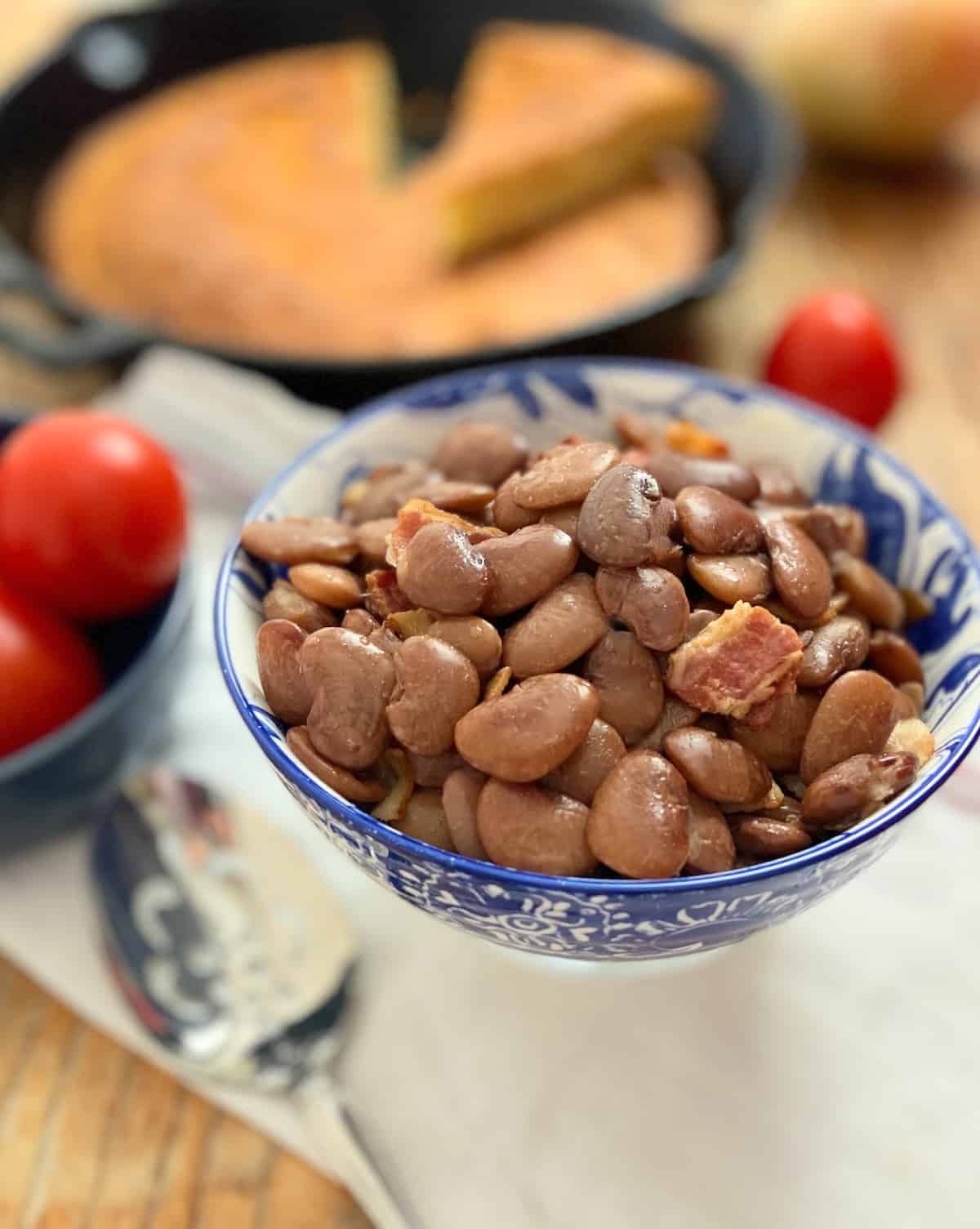 Why this recipe works
Simple recipe - basic ingredients for one of the South's finest comfort foods!
Healthy side dish -Nutrient-dense, chocked full of protein, vitamins, minerals and fiber
Hearty meal - add some smoked sausage and a little white rice (just like you would pinto beans), serve with a piece of hot cornbread and you've got dinner on the table fast on busy weeknights!
How to season Southern speckled butter beans
Sometimes, the best seasonings for beans and peas are the most simple ones! A little onion powder, garlic powder, salt and pepper. That's about it!
The secret to making delicious Southern Speckled Butter beans is to start with some type of fat as the primary seasoning. This recipe uses bacon.
Next, you'll need a few basic ingredients and basic seasonings you probably have in your kitchen right now.
Frozen speckled butter beans
Chicken broth / chicken stock
Bacon
Garlic powder
Onion powder
Salt and ground black pepper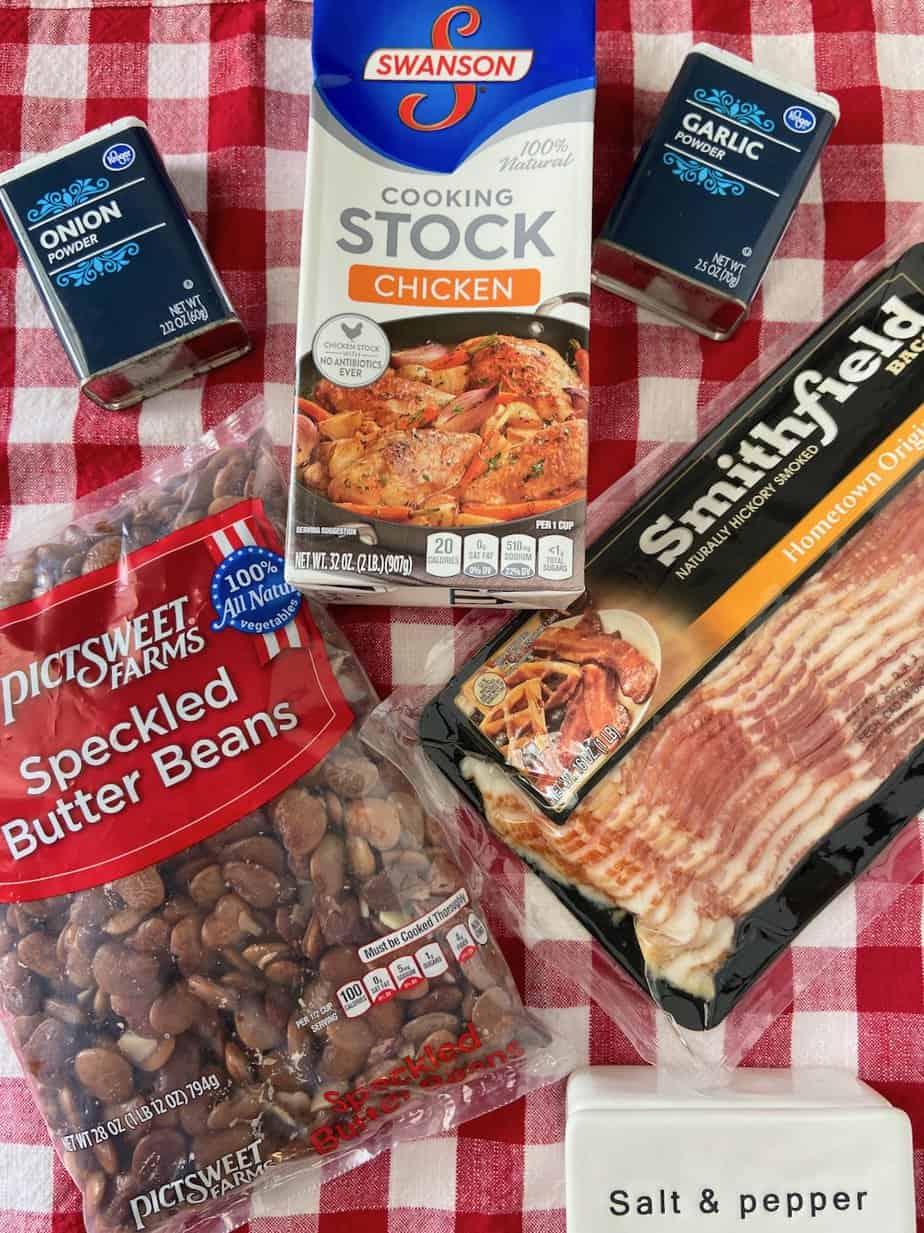 You can use a smoked ham hocks, (really, any smoked meat will work) salt pork, a ham bone, smoked turkey leg, cooked bacon (with the bacon grease), diced ham, turkey wings, reserved bacon fat or a few tablespoons of bacon dripping. The inclusion of some sort of fat is critical to seasoning and makes a huge difference in flavor!
I usually chop up about half a pound of bacon and fry it in a large stockpot, then add everything else in the recipe. If I don't have bacon, I'll put a smoked ham hock in the water/broth.
There are other southern speckled butter bean recipes that include garlic cloves, red onion, tomato sauce and / or tomato paste. Some include chopped bell peppers, cayenne pepper or red pepper flakes. This Southern speckled butter bean recipe is pretty basic, but feel free to add whatever you like to yours!
How to make it
Rinse the frozen beans with cold water and remove any rocks or debris.
Cook the bacon - Add chopped bacon to the stockpot and cook until crisp (at this point, you can remove the bacon pieces with a slotted spoon or leave them in the pan) - I leave the bacon pieces in the pan.
Deglaze - Add ¾ cup chicken broth or water to the stockpot and, using a wooden spoon, scrape up any bacon pieces in the bottom of the stockpot.
Add beans and broth - to the stockpot; season with garlic powder and onion powder
Simmer - On medium-low heat, cook until tender. I place the stockpot lid ajar and allow them to cook on low until tender.Taste for salt and pepper.
If you use a smoked ham hock or some protein other than bacon, bring the chicken broth to a rolling boil fand cook the meat for at least 10 minutes, then add the beans and seasonings. The longer the meat boils in the broth, the richer the flavor.
You can add in some sliced smoked sausage or andouille sausage about 20 minutes before you're ready to serve!
Recipe tips
Pro tip: check the liquid level occasionally; you may have to add a little water or broth as they cook
Frozen speckled beans will need to thaw and they'll be ready to eat in about 30-40 minutes. Canned beans take the least amount of cooking time but, in my opinion, offer less flavor.
Salt the beans last.
Recipe
FAQ
What's a speckled butter bean?
The speckled butter bean is in the lima bean family -"Phaseolus lunatus", which is native to South and Central America. It is brown in color, as opposed to the light green lima beans or beige "butter beans", as they're often referred to in the South.
The flavor is a little nuttier than a butter bean and, when seasoned properly, a bowl of speckled butter beans serves as a main dish or as a delicious and easy side dish!
Where do I find speckled butter beans in the grocery store?
Unless you're in the Deep South during harvest season, it's unlikely you'll find fresh butter beans at your grocery store. Some stores may carry dried butter beans (usually on the same aisle as the other dried beans and dried black-eyed peas.) You may find them in canned beans - as canned butter beans, canned large lima beans or canned baby lima beans, but most often you'll find speckled butter beans in the frozen vegetables section of your grocer.
Do I need to soak frozen speckled butter beans overnight?
No. During the harvesting and freezing process, the beans are parboiled, which eliminates the need to soak them like you would dried black-eyed peas or dried kidney beans.
Make ahead and storage
As with most slow cooked Southern beans, they usually taste better the next day. Store in an airtight container in the refrigerator for up to 3 days. You can freeze them for up to 6 months. In both cases, you may have to add a little water as they tend to thicken upon storage.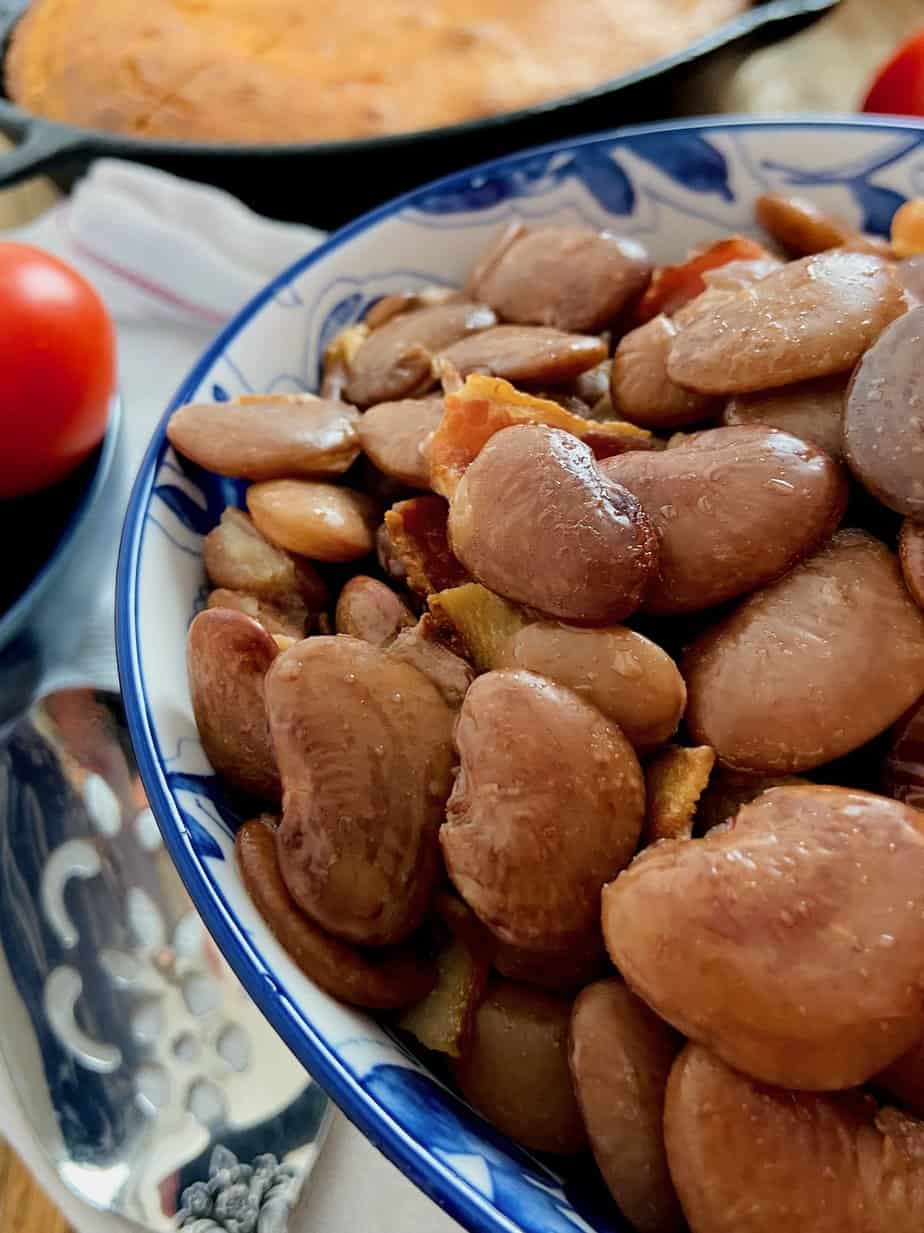 Enjoy these delicious southern speckled butter beans with just about anything, on any day of the week! They're hearty, filling and good for you!
Related recipes
📋 Recipe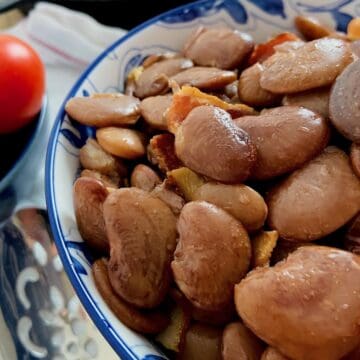 Southern Speckled Butter Beans
Southern Speckled Butter Beans with bacon and a few simple seasonings.
Print
Rate
Ingredients
1

pound

speckled butter beans, frozen

see recipe notes

6

pieces

chopped, cooked bacon

( about ½ a pound); see recipe notes

32

ounces

chicken stock or chicken broth

see recipe notes

½

teaspoon

onion powder

½

teaspoon

garlic powder

salt & pepper to taste
Instructions
In a large stockpot or Dutch oven on medium heat, add chopped bacon and cook until semi-crispy. Once the bacon is done you can either remove it with a slotted spoon, or leave it in the pan. I leave it in the pan.

6 pieces chopped, cooked bacon

Grab a wooden spoon and add ¾ cup of chicken stock to the stockpot with the bacon; then use the spoon to scrape the bottom of the pan, loosening any bacon bits

1 pound speckled butter beans, frozen

Add enough chicken broth (or water) to cover the beans by 1" inch (it's okay if you have a little more liquid than 1" inch)

32 ounces chicken stock or chicken broth

Add garlic powder and onion powder; stir, turn heat to low and cover; cook till tender (I like to cook 'em low and slow so the flavors can marry, but if you're in a hurry, you can turn the heat up and they'll be done in about 30 minutes)

½ teaspoon garlic powder,

½ teaspoon onion powder

Add salt and pepper to taste before serving

If you took the cook bacon out, you can either add it back to the pot before you serve the beans, or garnish individual bowls with it
Notes
The bag of frozen beans I got was Pictsweet Farms, which comes in a bag that 1 pound and 12 ounces. Just go ahead and use the whole bag.
Bacon:
I used 6 slices of thin original bacon; you can use peppered bacon or thick bacon - it's your call. If you don't have bacon, use another fatty protein like a ham hock or turkey let.
If you want to use chopped onions in your beans instead of onion powder, use about ½ cup of finely chopped yellow onion and add it to the stockpot with the bacon.
If you use chopped onions, you may not want to use the onion powder. Taste it and see!
Chicken stock:
If you don't have chicken stock or chicken broth, you can use vegetable broth or just plain old water.
Cook time
Frozen beans will be tender in about 30 minutes; however I usually turn the stove to low heat and let them simmer for another 30 minutes for the flavor to really develop!
Nutrition Estimate
Serving:
1
cup
Calories:
320
kcal
Carbohydrates:
54
g
Protein:
20
g
Fat:
3
g
Saturated Fat:
1
g
Polyunsaturated Fat:
1
g
Monounsaturated Fat:
1
g
Cholesterol:
5
mg
Sodium:
232
mg
Potassium:
1467
mg
Fiber:
14
g
Sugar:
9
g
Vitamin A:
5
IU
Vitamin C:
0.3
mg
Calcium:
67
mg
Iron:
6
mg