A quick and easy Southern favorite, No Bake Key Lime Icebox Pie is the perfect dessert or hostess gift for your entertaining! This creamy lime pie has an easy graham cracker crust and can be made in a 9 x 13 pan for large groups.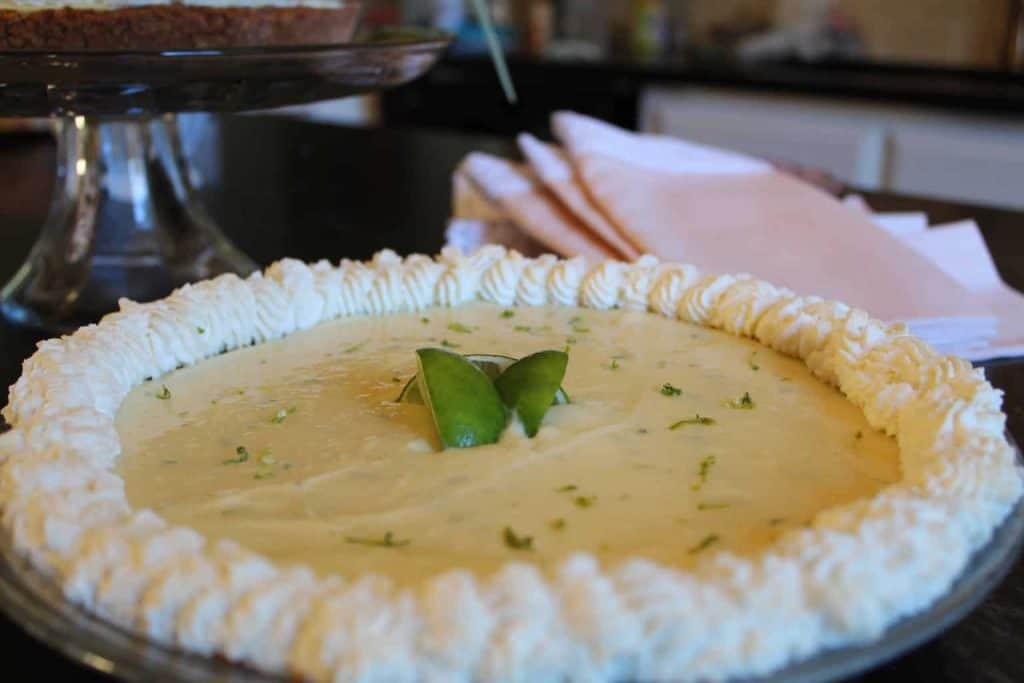 Key Lime Pie is the official State Pie of Florida and in just about every restaurant, you'll find a version of this local celebrity on the menu. The variations are across the board: pastry or graham cracker crust, whipped cream or meringue? Eggs or no eggs? One thing you will find is that the tiny Key Limes are totally responsible for this tasty treat.
Back in the 90's, the Florida State legislature set out to officially determine whether the official State Pie of Florida should be Sweet Potato or Key Lime Pie. Naturally, locals were outraged by the silly notion that the Sweet Potato would be Florida's State Pie, after all, Key Lime Pie originated in Florida! Or did it?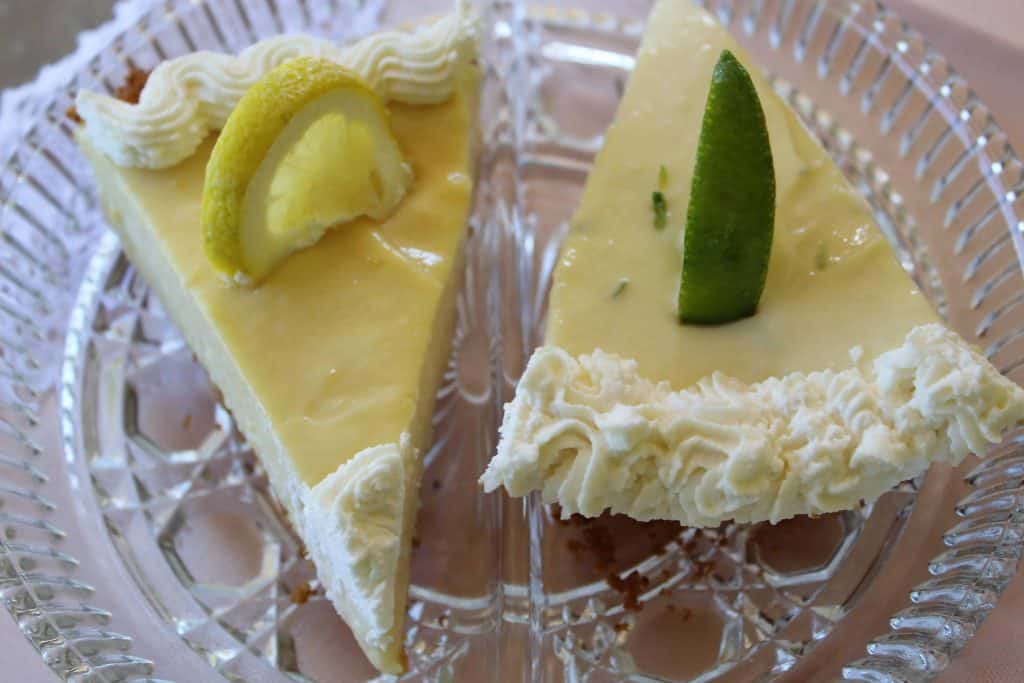 This government debacle instigated further serious questions about the origin of the Key Lime Pie and, like the Lemon Icebox Pie, no direct reference was found as to the origin of the pie. Local lore says the pie was developed by a woman known as "Aunt Sally" who created the pie for her Floridian millionaire boss, William Curry, aka "Rich Bill" in the late 1800's.
Naysayers discount the "Aunt Sally" notion and insist the earliest Key Lime Pie recipe wasn't published until 1933 in the Miami Herald, and was most likely invented by Gail Borden, founder of Eagle Brand Sweetened Condensed Milk. Whatever the source, the Key Lime Pie is a staple menu item in Florida and deservingly so.
It wasn't until 2006 that Key Lime Pie was named Florida's State Pie.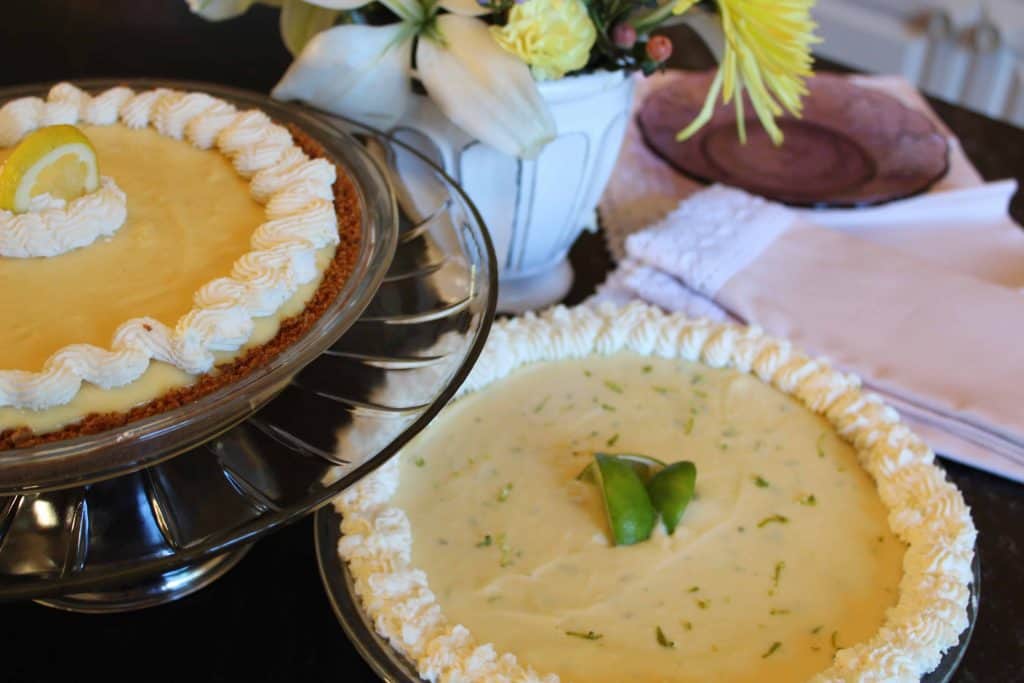 What's The Difference Between Regular Limes and Key Limes?
The limes we buy in the grocery store are generally "Persian" or "Tahiti" limes which are thick-skinned and seedless. Key Limes, originally brought to the States via West Indies and known as "Mexican" limes, are smaller, contain seeds and offer a more tart flavor. The majority of Key Limes in our grocery stores are grown in Mexico.
Can I Substitute Key Limes for Persian Limes in the Key Lime Icebox Pie?
Absolutely! Keep in mind that Key Limes are much smaller than Persian limes, therefore, you'll need to purchase and juice more limes–almost double the amount of Persian limes.
Can I Substitute Store Bought Key Lime Juice for the Key Limes?
You can, but make sure it's an authentic juice of the highest quality like Nellie and Joe's Key West Lime Juice. Some of the mass-produced "real lime juices" are too strong; key lime is a natural, subtle lime flavor which works best for this no bake icebox pie.
Notes for Baking in a 9 x 13 Dish
If you're making this no bake pie for a large group, double the recipe and use a 9 x 13 Pyrex dish. You can serve squares of pie and it will go a lot further than individual 8″ or 9″ pie slices.
Looking for More Southern Classics? Try: No Bake Lemon Icebox Pie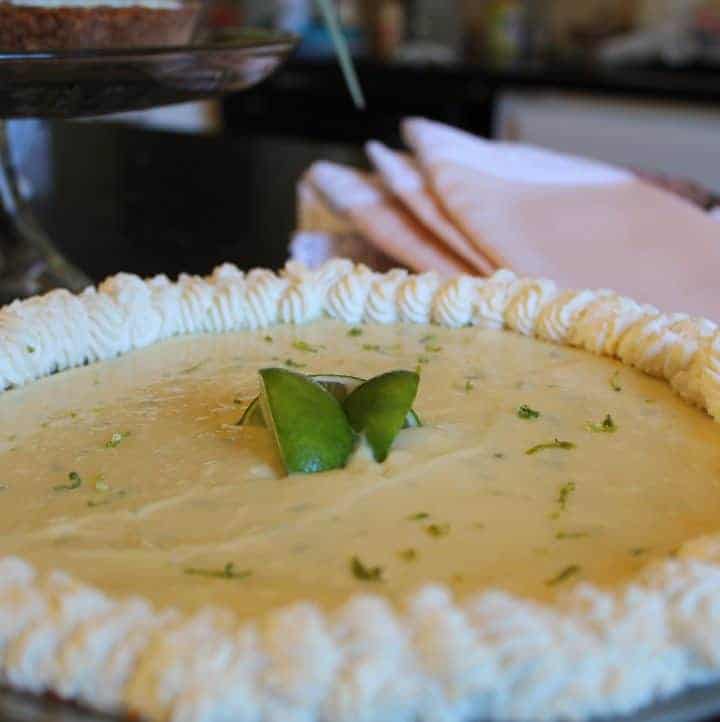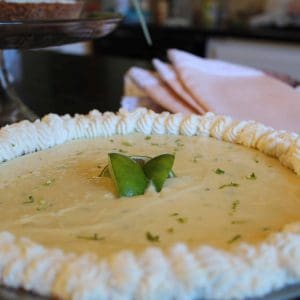 No Bake Lime Icebox Pie
A Southern classic, refreshing lime icebox pie that requires no baking or eggs! Foolproof and delicious every time!
Print
Pin
Rate
allow time if making crust:
15
minutes
Ingredients
Crust
8

whole

graham crackers

(broken; usually one pkg.)

2

tablespoons

sugar

5

tablespoons

butter

(melted)
Filling
1

cup

lime juice

1

tablespoon

lime zest

1/4

cup

sugar

1/3

cup

instant vanilla pudding mix

1 1/4

teaspoon

gelatin

(unflavored)

8

ounces

cream cheese

softened

14

ounces

sweetened condensed milk
Instructions
Prepare Crust
Preheat oven to 350º F


Melt butter in small saucepan

In food processor, combined broken pieces of graham crackers and sugar; drizzle in melted butter

Pour graham cracker mixture into 9 inch pie plate; press graham cracker mixture into the bottom and sides of the pan

Bake on middle rack for 12-15 minutes; remove from oven and allow to cool before filling
Prepare Filling
In the food processor, combine all ingredients and pulse until it reaches a smooth consistency

Scoop filling into cooled graham cracker crust; cover with plastic and refrigerate for 2-3 hours

Prior to serving, garnish with whipped cream and lime slices