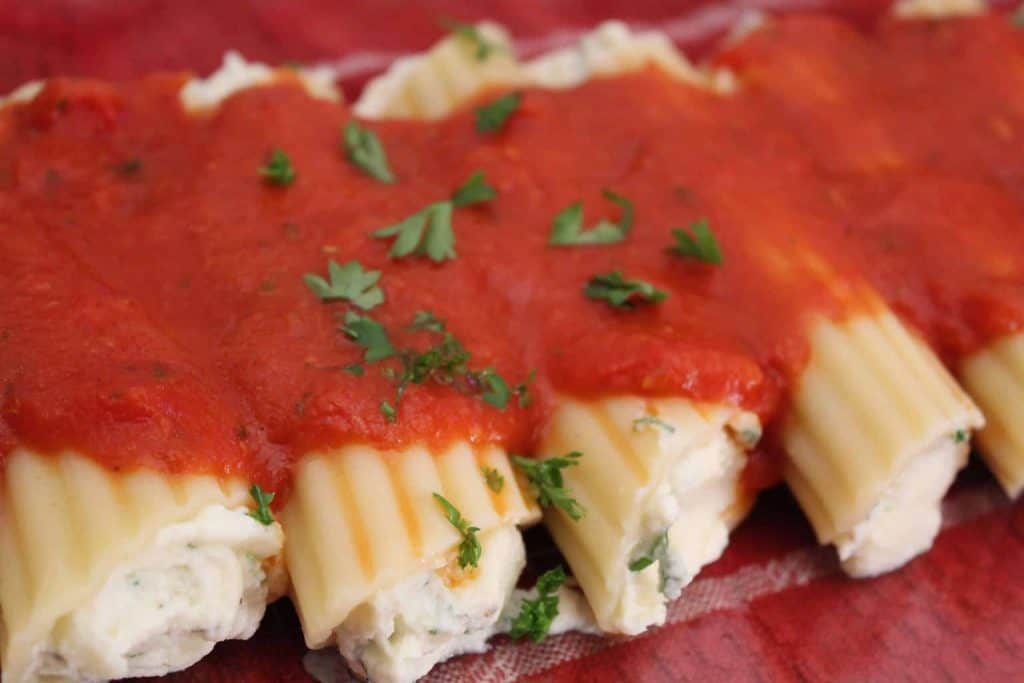 Manicotti
Manicotti is an American-Italian dish that consists of ricotta-stuffed pasta shells served with a red pasta sauce. This is an ideal "Italian" dish for vegetarians or for those who prefer a lighter fare. There's a bit of confusion around the difference between Manicotti and Cannelloni, but it's really simple.
What's the Difference Between Manicotti and Cannelloni?
In short, it's all about the type of dough used for the tubular shaped vessel. In Italy, Manicotti is referred to as a type of light crepe that is filled with cheese, beef, chicken or a combination. Conversely, Cannelloni is a more dense, tubular pasta, also filled with deliciousness.
In America, many think the term Manicotti usually implies a cheese filled tubular pasta and Cannelloni refers to a meat filled tubular pasta. In either case, we're wrong. It's all about the dough…Manicotti is a stuffed, light crepe and Cannelloni is a firmer, tubular pasta. If you need more confusion, Cannellini is a bean…
And now that we've cleared that up, let's move onto this "Manicotti" recipe:)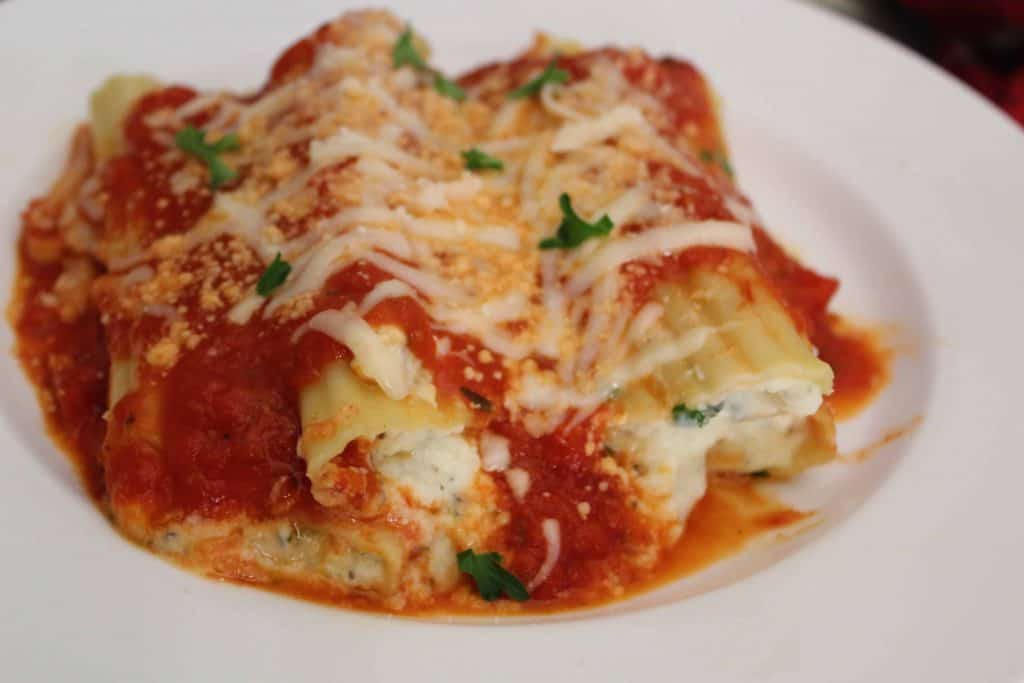 Is Manicotti Difficult to Make?
What looks like a labor intensive dish is actually very simple. First, make the San Marzano sauce, then make the cheese filling. Boil the noodles and allow them to cool a bit. Pipe the cheese filling into the tube shaped pasta, top with sauce and bake 15 minutes. It takes about 30 minutes in all.
What is Ricotta Cheese?
Ricotta cheese is a mild, fluffy cheese that consists of the whey proteins from the cheese-making process.
What is the Best Way to Stuff the Tubular Shaped Shells?
One of the easiest ways to make Manicotti is by piping the cheese into the shells.  Place the cheese mixture in a piping bag (or plastic storage bag), snip the corner and squeeze the cheese filling into both ends of the shell.

Can Manicotti Be Made in Advance?
There are a couple of ways to make this delicious family favorite in advance. The first is to assemble the dish in its entirety, cover and refrigerate. The second way is to make the sauce, cheese filling and boil the noodles. Store separately in air tight containers in the fridge. On the day of serving, allow the cheese mixture to come to room temperature, fill the shells, re-heat the sauce, assemble the dish and bake.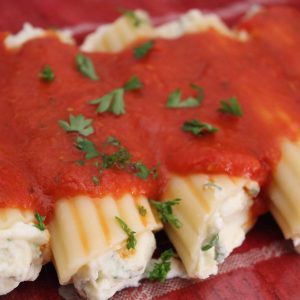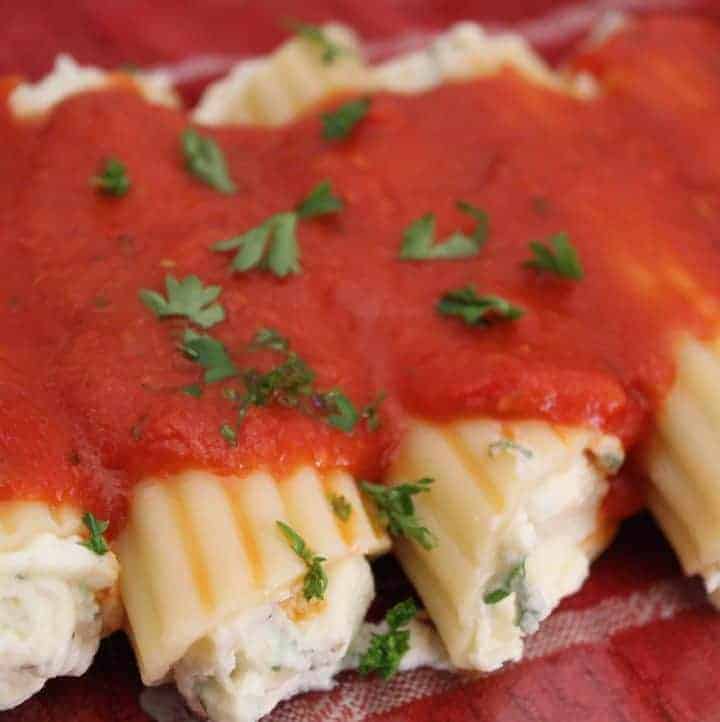 Print Recipe
Manicotti
Fluffy ricotta cheese stuffed pasta shells with a savory San Marzano pasta sauce
Servings:
14
stuffed pasta tubes
Ingredients
1

package

Manicotti Shells

(14 shells to a package)

3-4

cups

San Marzano

pasta sauce (see recipe notes)
Cheese Filling
30

oz.

whole milk Ricotta cheese

2

whole

eggs

lightly beaten

2

cups

mozzarella

, divided (1/2 in cheese mixture; 1/2 on top if desired)

1

cup

Parmesan cheese

1

tablespoon

fresh parsley

, finely chopped

2

fresh basil leaves

, finely chopped

1

teaspoon

black pepper
Instructions
Prepare the sauce (see notes)

Bring a large stockpot of water to boil;

Make cheese filling: Add all ingredients into medium bowl; combine well

Place manicotti shells into water; cook for 7 minutes

Place drained shells onto wax paper and allow to cool

Put cheese mixture into piping bag or zip bag; snip corner; pipe filling into both ends of each shell

Lightly grease a 9 x 13 baking dish; place stuffed shells in baking dish

Pour a little sauce over shells

Bake for 10 minutes; remove from oven; add mozzarella cheese; place back in oven until cheese melts; garnish with fresh parsley and/or basil
Craving More Like This?