San Marzano Pasta Sauce is a rich, savory and somewhat sweeter flavor than other tomato sauces.  This is due to the Italian beauty, the San Marzano tomato, which hails from the base of Mt. Vesuvius.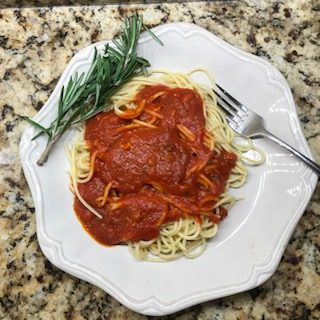 San Marzano Pasta Sauce
A taste of Italy in your own kitchen! San Marzano tomatoes make the most authentic pasta sauce.
Ingredients
2

28 oz. cans

San Marzano Italian Tomatoes

whole or diced

1

can

tomato paste

1

tablespoon

olive oil

good quality

1

cup

onion

finely chopped

4

cloves

garlic

finely chopped

1

teaspoon

nutmeg

ground

1

15 oz. can

beef broth

2

tablespoons

Italian herbs

dried - OR -

1/4

teaspoon

of each: parsley, thyme, oregano, rosemary, sage and marjoram

SEE RECIPE NOTES

1/2

teaspoon

salt

-or to taste

1/2

teaspoon

pepper

-or to taste

1

teaspoon

crushed red pepper

optional
Instructions
In a dutch oven, on medium temperature, add oil and onion; saute until onions are translucent

Puree tomatoes in food processor to desired consistency

Add pureed tomatoes to onions

Allow tomatoes to cook down for about 10 minutes then add broth and tomato paste

**If using dried herbs, add them now, along with the garlic and nutmeg

**If using fresh herbs, just add garlic and nutmeg for now

Allow sauce to simmer for 15 minutes; taste and season with salt and pepper;

Add fresh herbs and allow to cook for 5 minutes

Serve over warm pasta or refrigerate up to 5 days
Recipe Notes
San Marzano tomatoes are so mild and flavorful, you could really do without any herbs if you prefer. 
Do not cook tomatoes in a cast iron skillet; the acidity interferes with the iron and gives off an unpleasant flavor.
Fresh herbs make a big difference in most recipes, but if you're garden hasn't bloomed yet, dried will work as well. The ratio of fresh to dried is 3:1. If a recipe calls for 3 tablespoons of fresh, you'll need 1 teaspoon of dried (3 teaspoons = 1 tablespoon). 
Dried herbs are more potent than fresh, thus the 3:1 ratio. You'll want to add fresh herbs at the end of the cooking time; add dried at the beginning of cooking time.