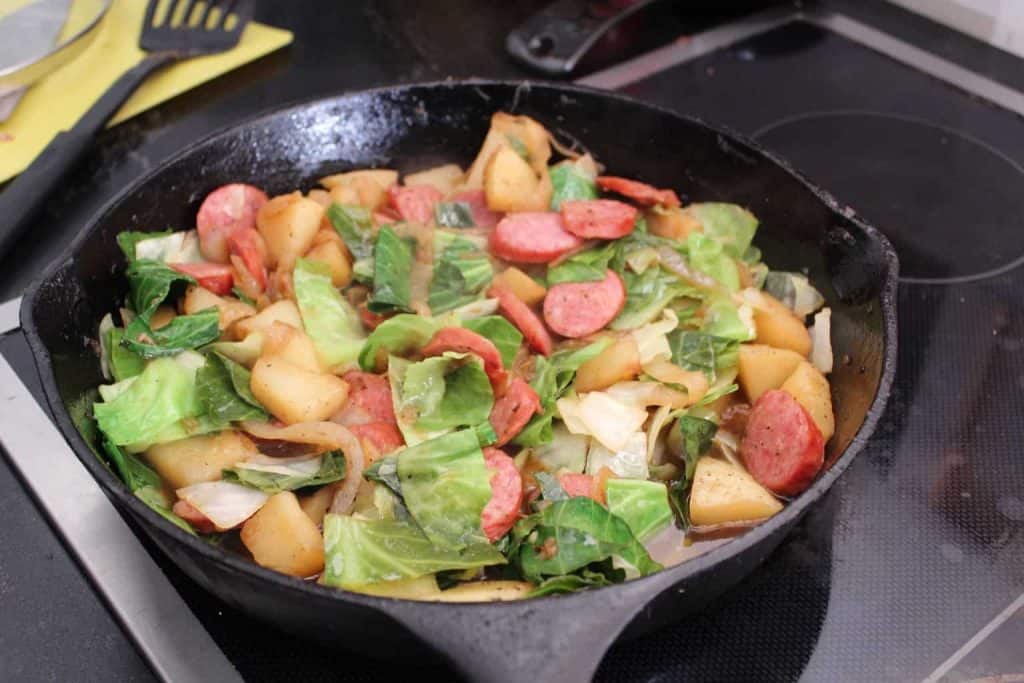 Pennsylvania Dutch Skillet Supper
This one-pan Pennsylvania Dutch Skillet Supper recipe is often considered, Irish, German or just plain ole American. My family has this one-dish-dinner on a monthly basis for as long as I can remember and our ancestors are French and Irish…go figure.
The beauty of this skillet supper is that it's quite filling and cost efficient. This recipe used 1/2 link sausage, one large Yukon gold potato, 1/2 small head of cabbage and 1/2 a large onion which provided four hearty bowls full of Pennsylvania Dutch Skillet Supper!
How Do I Make Pennsylvania Dutch Skillet Supper?
Saute onions
Add in cabbage, potatoes and sausage
Pour in a little beef or vegetable stock
Allow to simmer until the potatoes are tender (about 20 minutes).
What Kind of Sausage Should I Use for Pennsylvania Dutch Skillet Supper?
You can use beef, turkey or Keilbosa sausage for this recipe. Kielbasa is a Polish pork sausage; in the United States, we often refer to it as smoked sausage.
Can I Substitute Russet Potatoes for the Yukon Gold Potatoes?
Yes, but keep in mind that this dish will simmer a little while and russet potatoes are less waxy and more fluffy than Yukon gold potatoes. When cooking potatoes in a dish like this (or a soup/stew), use a waxy Yukon gold or Red potato -they will not disintegrate under heat. Russets have a tendency to disintegrate, creating a thicker, potato-based broth.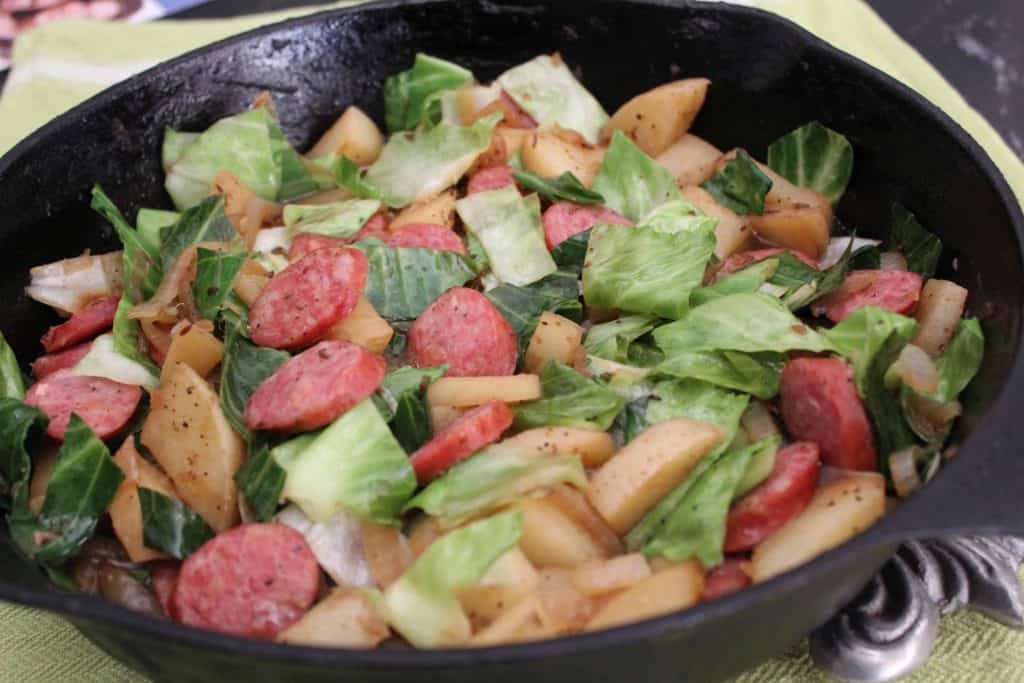 Do I Need to Cook the Sausage First?
Generally speaking, smoked sausages and Kielbasa are already smoked and sealed in their packaging. In this case, simply add the sliced smoked sausage to the skillet and allow it to warm up while the potatoes cook!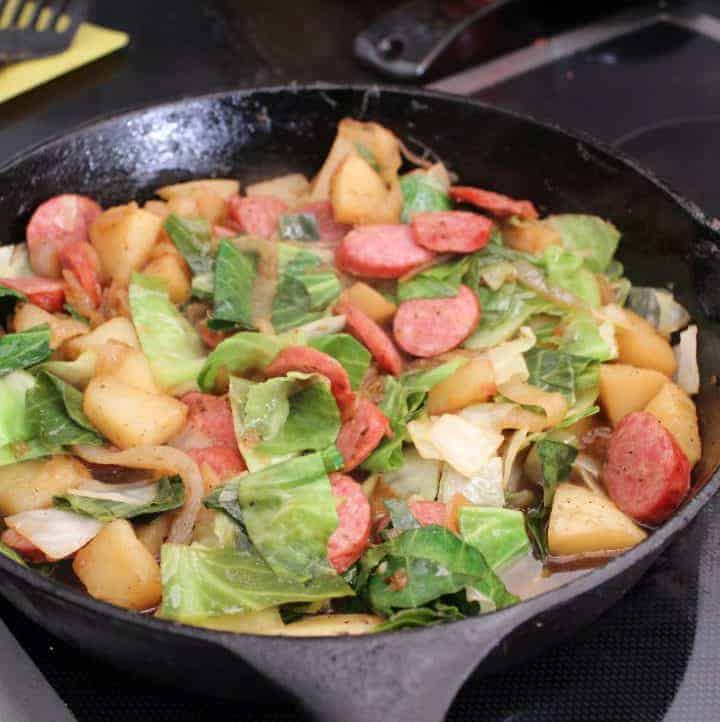 Pennsylvania Dutch Skillet Supper
Smoked sausage cooked with onion, cabbage and Yukon gold potatoes in a beefy broth.
Print
Pin
Servings:
4
medium servings
Ingredients
1

package

smoked sausage, or Keilbosa

sliced

1/2

large

yellow onion

sliced

1/2

medium

head of cabbage

sliced

1-2

large

Yukon gold potatoes

diced

1

tablespoon

oil

1

tablespoon

caraway seed

2

cups

beef broth
Instructions
In a cast-iron skillet, add oil; bring to medium heat and add onions and caraway seeds

Add cabbage, potatoes and smoked sausage; combine well

Add beef broth; cover and allow to cook until potatoes are tender

Season with salt and pepper to taste
You might like Italian Skillet Supper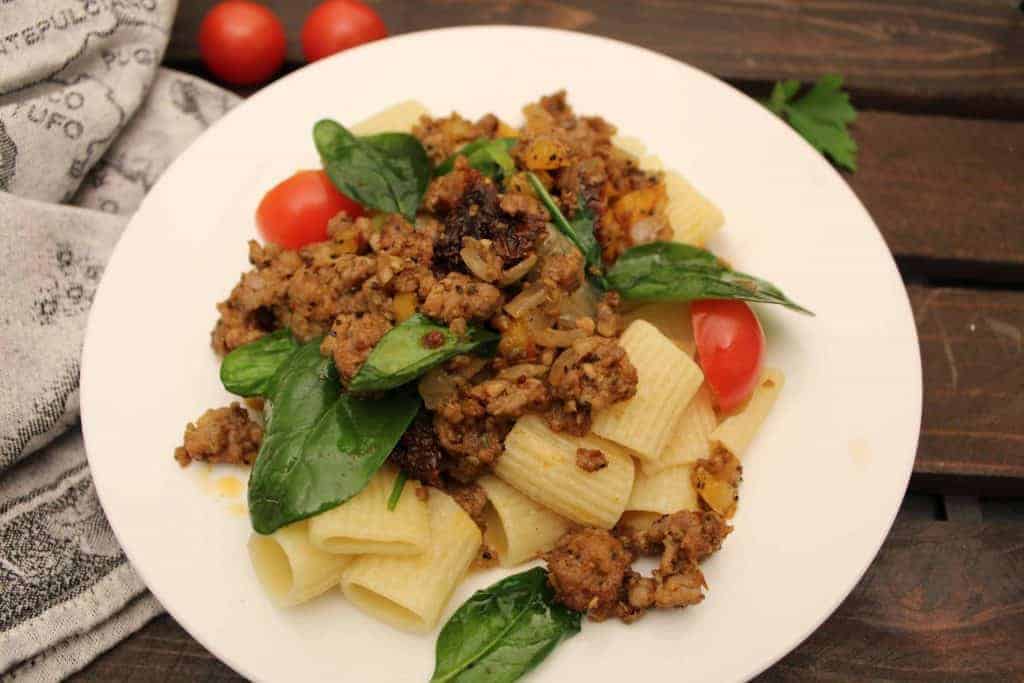 Cowboy Skillet Supper!