You'll love these ooey-gooey Texas Pecan bars! Crispy pecans nestled in a creamy caramel-esque sugary concoction on a crispy crust!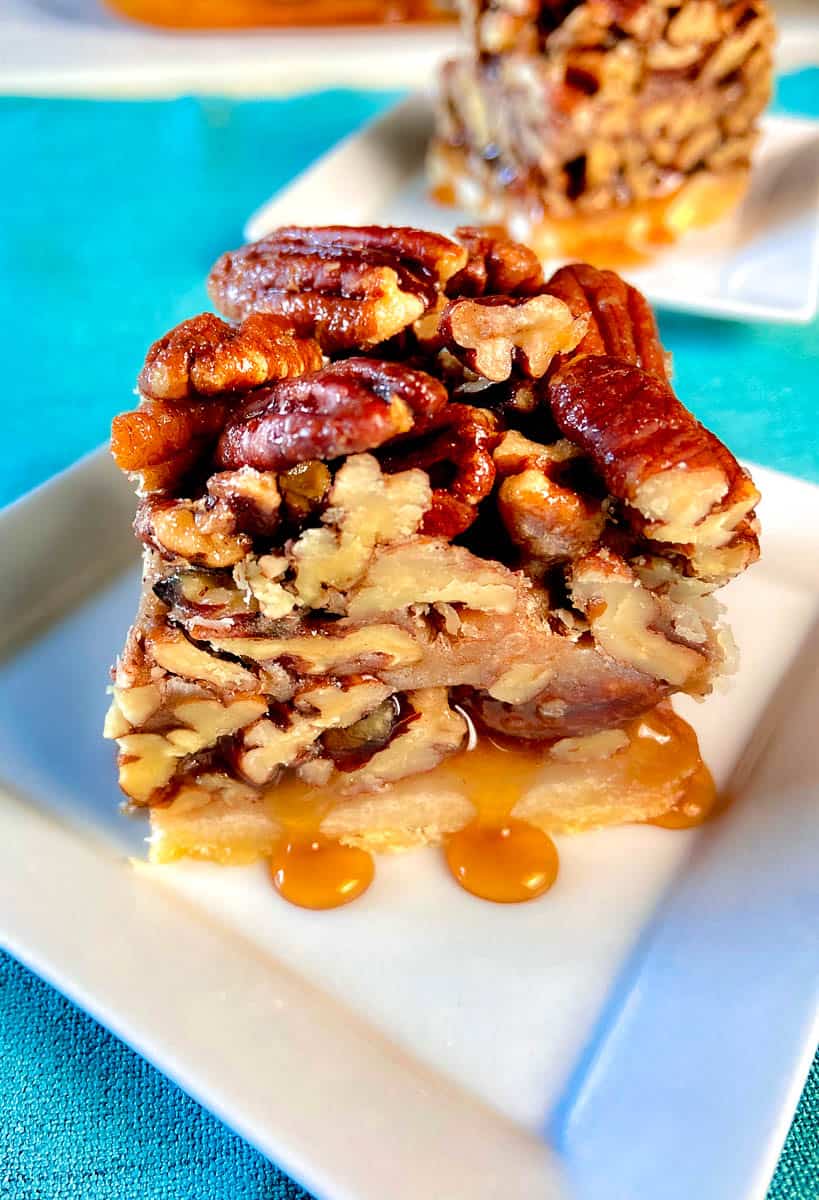 Pecans are the official State nut of Texas and this recipe allows you to share these beauties in a tasty treat! This is perfect for when you don't want a whole piece of pecan pie, but want a little tasty pecan dessert.
Jump to:
Why you'll love this recipe!
Pecan bars are pretty easy to make and use simple ingredients you probably already have in your kitchen.
No pre-baking the crust- combine the ingredients, press it into the pan and top it with the pecan mixture
Simple ingredients - nothing fancy or gourmet
Perfect 3 bite-snack size-no need to eat a whole slice of pie
The consistency of these pecan bars is similar to a pecan pie, but the crust is not like a pie crust; it's more like a Pecan-Sandy-cookie...
Here's what you'll need
Pecans - I like chopped pecans for these easy pecan bars
Vanilla extract
Corn syrup - for best results, use Karo light corn syrup (not dark Karo syrup)
Spray oil and aluminum foil
All-purpose flour
Sugar
Brown sugar
Butter
Salt - if you use unsalted butter, you'll need to add ½ teaspoon of salt to the crust and pecan bar batter

You can use salted or unsalted butter; if you use unsalted, you'll need to add ½ teaspoon salt to both the crust and pecan topping
Here's how to make Texas Pecan Bars
Prep the baking pan with foil and coat generously with spray oil; set aside.
Make the crust, roll it out on the counter and massage it until it's a little like dough, then put it in the pan and press it into the corners and bottom.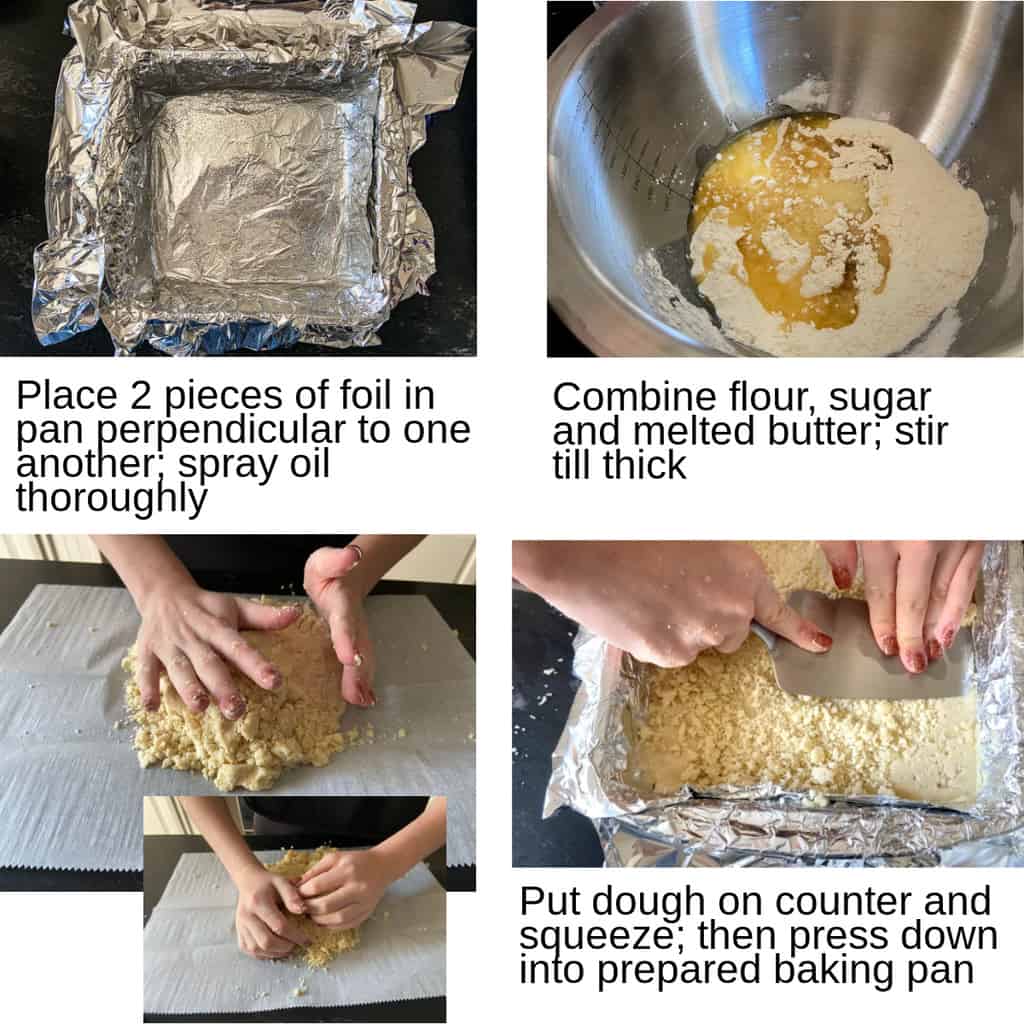 Make the pecan bar topping; working in batches, add topping to pan, spread it all around (try to keep it level on top)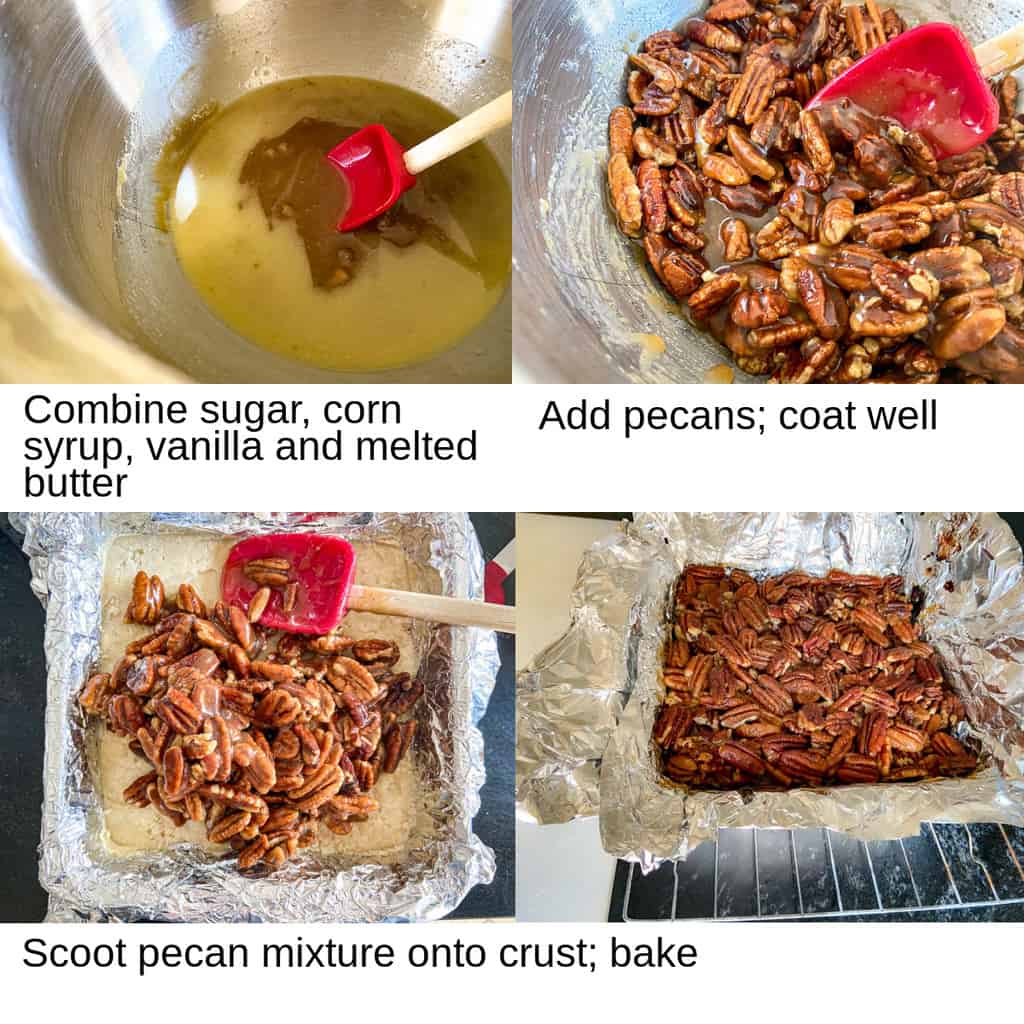 I found the trickiest part of this recipe is getting the pecan bars out of the foil. The corn syrup filling inevitably spills over to the sides in the pan and sticks to the foil, so be sure to spray the foil thoroughly with oil.
Here's what you need to know
READ THESE TIPS THREE TIMES BEFORE YOU START...these tips are based on my experience and if you follow them, your Texas Pecan Bars will come out beautifully!
Preparing the pan
Line the baking pan with two sheets of foil or parchment paper, placed perpendicular in the pan (you should have about a 1" overhang; this is so you can easily lift it out of the pan
Place one sheet in the pan; spray it with oil thoroughly; place the other sheet on top of the first foil sheet; spray thoroughly
Try to make the foil lining as smooth as possible; the corn syrup will seep into any wrinkles and stick to the foil
Ingredients
Corn syrup - Karo brand makes Light and Dark versions; get the Light. Note: they also may a "lite" reduced calorie version...sorry, but we're going all out on this one...don't get the reduced fat corn syrup
If you use pecan pieces instead of pecan halves, you can get away with 4 cups of pecans instead of 5; (pecan halves are bigger and taking up more volume when measuring)
Pan Size and Baking
This recipe uses an 8" x 8" metal pan and yields 16 pecan bars that are 2" x 2" inches.
If you use a 9" x "13 baking pan, cut the bars into 2" x 2 ½" inches and you'll get about 24 bars.
Metal baking pans are recommended over glass (metal cools faster and ensures nice sharp edges)
Place it on the middle rack in the oven
Removing from pan
If the foil sticks to the sides or bottom of the pecan bars, (and it probably will), simply use a sharp paring knife to remove the foil
Slicing
For best results, refrigerate, remove from fridge, slice it while it's cold, then let it come to room temperature and serve
For a super clean cut, use a large, sharp knife
Place the knife edge straight down into the pecan bars; don't use a "sawing" motion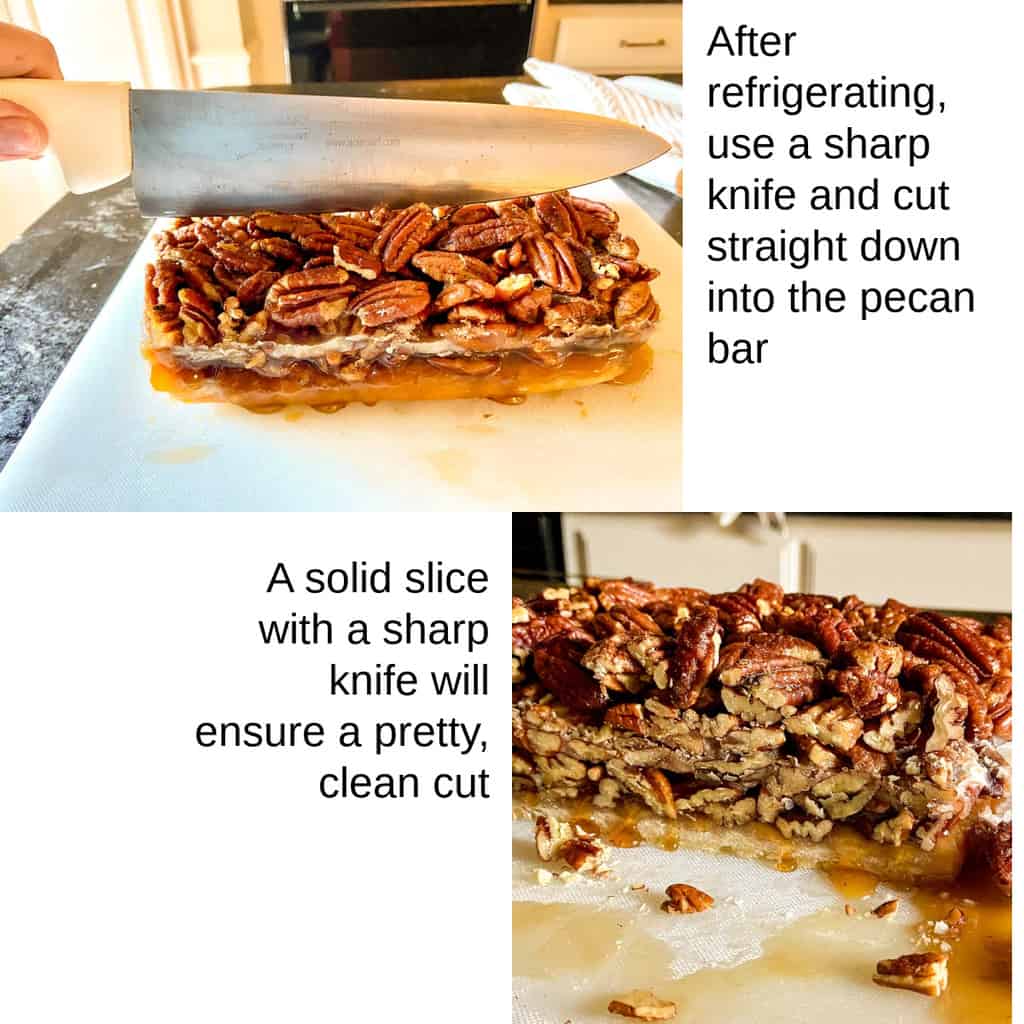 Storage
For best results, store in refrigerator for up to 5 days. When ready to serve, slice while it's a bit chilled, then allow to come to room temperature before serving.
The beauty of these pecan bars is that they're sweet, but not too sweet. Just enough to satisfy your sweet tooth but not send you into sugar shock.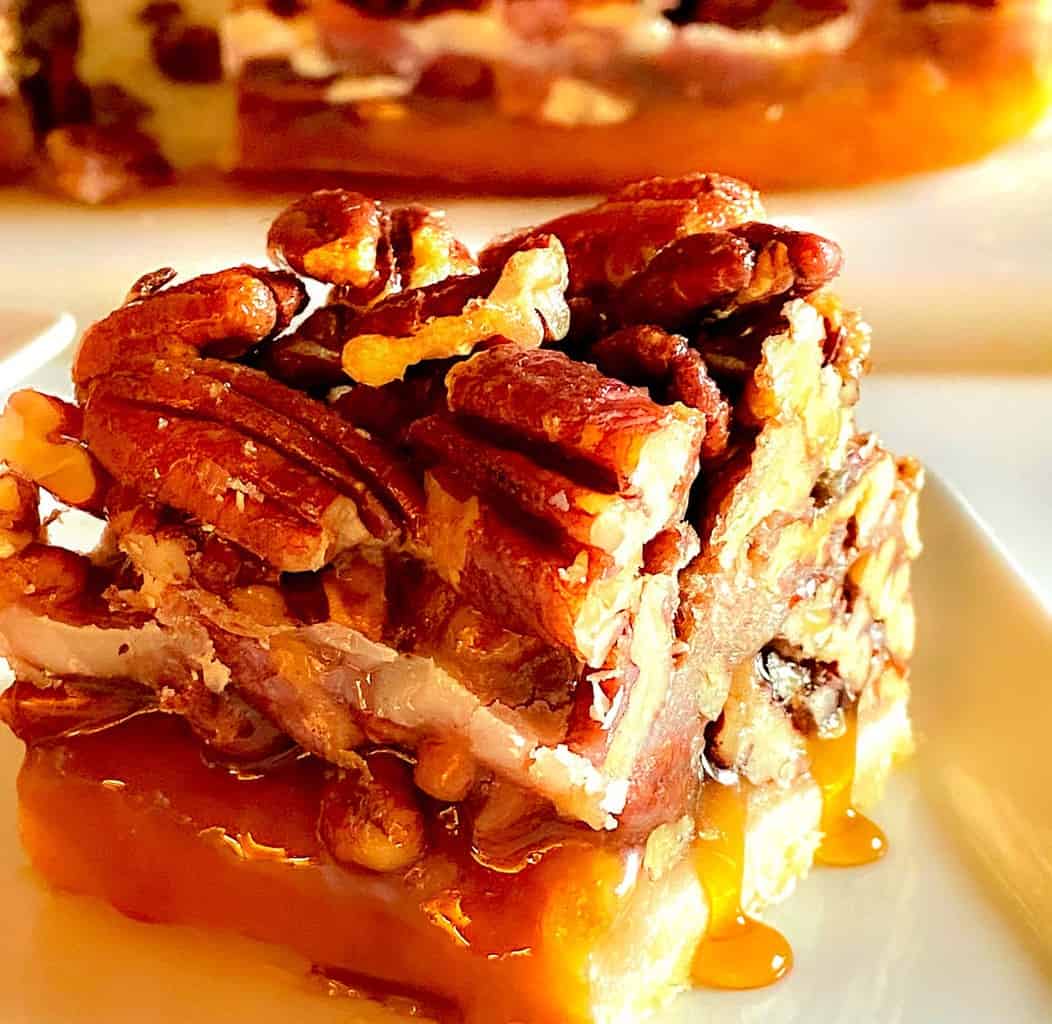 Texas Pecan Bars also make a lovely hostess gift! Wrap the entire square in pretty paper (line it with parchment) and put a bow on it! Your hostess will love you for it!
Related recipes
If you make this recipe, please scroll down and leave a rating and comment! I love to hear from you! Thank you!
📋 Recipe
Texas Pecan Bars
Ooey-gooey Texas Pecan bars loaded with pecans nestled in a sugary concoction!
Print
Rate
Ingredients
Crust
1¾

cups

flour

all-purpose

½

cup

sugar

1

stick

butter

salted, melted
Pecan Topping
1

cup

brown sugar

packed

¾

cup

light corn syrup

1¼

teaspoon

vanilla extract

5

cups

pecan halves

See Recipe Notes

1½

sticks

butter

salted (See Recipe Notes), melted

oil

spray oil for pan preparation
Instructions
Prep
Place foil or parchment paper in metal baking dish; spray lightly with oil; set aside

Melt butter in a small bowl; set aside
Prepare the Crust
In a mixing bowl, combine flour and sugar and melted butter

1¾ cups flour,

½ cup sugar,

1 stick butter

Stir until dough begins to form; turn dough out onto counter;

Squeeze dough together and place in prepared baking pan

Spread dough out and press down into pan

Use a spatula to level crust and press into corners
Make the Pecan Topping
In a large mixing bowl, combine topping ingredients; mix well

1 cup brown sugar,

¾ cup light corn syrup,

1¼ teaspoon vanilla extract,

5 cups pecan halves,

1½ sticks butter
Add the Pecan Topping and Bake
Working in batches, add pecan mixture to the top of the dough; gently press coated pecans into corners; spread pecan mixture evenly; repeat process until the entire pecan mixture is in the pan

Bake uncovered on middle rack for 25-30 minutes at 350ºF

When the mixture is bubbly throughout, remove pan from oven; allow to cool a few minutes then refrigerate for at least 1 hour

Once the center is cooled, gently pull the foil out of the pan and place on cutting board

Gently peel foil from pecan bars and slice

Allow to sit at room temperature about 10-15 minutes before serving
Notes
Pan Size:
This recipe uses an 8" x 8" dark metal pan and yields 16 square bars that are 2" x 2" inches
If you don't have a square pan, use a 9" x 13" baking pan; note: the pecan bars will be thinner and you'll get about 24 bars; each 2" x 2 ½"inches
Pecans:
If you use pecan halves, use 5 cups; if you use pecan pieces, use 4 cups
Butter:
If you use unsalted butter, add ½ teaspoon of salt to both the crust and pecan topping
Removing from pan and slicing:
If the foil sticks to the sides or bottom, (and it probably will), simply use a sharp paring knife to slice away any sticky foil
For best results, refrigerate, slice it while it's cold, then let it come to room temperature and serve
For a super clean cut, use a large, sharp knife
Place the knife edge straight down into the pecan bars; don't use a "sawing" motion or the pecans will crumble
Nutrition Estimate
Serving:
1
bar
Calories:
513
kcal
Carbohydrates:
47
g
Protein:
4
g
Fat:
37
g
Saturated Fat:
11
g
Cholesterol:
38
mg
Sodium:
140
mg
Potassium:
162
mg
Fiber:
3
g
Sugar:
33
g
Vitamin A:
459
IU
Vitamin C:
1
mg
Calcium:
41
mg
Iron:
2
mg