Southwestern Tortilla Soup is perfect as an appetizer or entree!
Southwestern Tortilla Soup is always a welcome addition to any gathering and it only takes a little time to make it! There are a couple of ways to cut time on this recipe, so read the recipe notes first, please!
This hearty bowl of soup doesn't really need a partner or side-kick because its soo filling. If you want, you might have a cup with a quesadilla or with a beef fajita!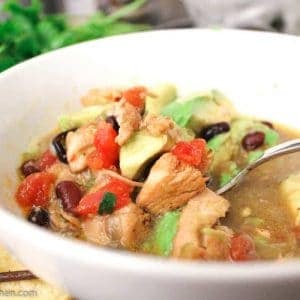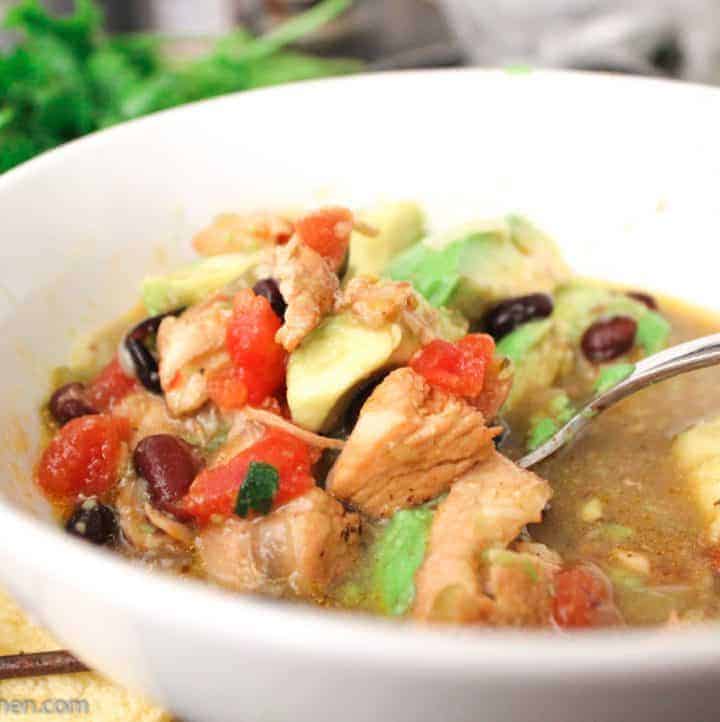 Print Recipe
Tortilla Soup
The flavors of the Southwest in one bowl! Savory chicken nestled in a aromatic blend of broth, cilantro and cumin.
Ingredients
2

lbs.

chicken

see recipe notes

48

oz.

chicken broth

1

can

Rotel tomatoes

(buy 2 boxes of chicken stock/broth)

1

small can

diced green chiles

1

pkg.

corn tortillas

see recipe notes

1

pkg.

Sazon Goya Seasoning

see recipe notes

1

can

black beans

drained (optional)

1

can

sweet yellow corn

drained (optional)

1

bunch

cilantro

2

avocados

sliced

1

medium

yellow onion

diced

2

tablespoons

ground cumin

divided, see recipe notes

2

tablespoons

chile powder

see recipe notes

1

tablespoon

oil
Instructions
First Things First - Cook The Chicken
There are a couple of ways to cook the chicken-bake, saute or boil.

If you want shredded chicken in your soup, bake it. If you want cubed chicken in your soup, saute it on the stove. I don't recommend boiling the chicken because it gets watered down and rubbery:(

Bake the chicken: season lightly with salt, pepper, cumin and chile powder; place in a lightly oiled baking dish, covered, and bake until the chicken is at 165ºF internal - OR-

Saute the chicken on the stove: cut the raw chicken into cubes, place cubes in a big bowl, add seasonings, toss, and add to hot skillet

Add oil to stockpot on medium heat; add onions and cook till tender

Add Rotel tomatoes, green chiles, and half of the chicken broth

Take three tortillas and tear them into small pieces; add them to the stockpot and bring up the heat till they dissolve

Add cooked chicken to the stockpot

If you have the Sazon Goya seasoning, add half a packet ; stir it in, reduce heat, cover and let the soup cook for about 10 minutes; taste for seasonings; you may want to add more cumin, chile powder, or the other half of the package of Sazon Goya seasoning

If you don't have the Sazon Goya seasoning, add 1 tablespoon of ground coriander to the soup and an additional 3 torn corn tortillas; let it cook till the tortillas are dissolved, then taste. If you like it, move on. If you don't, add more coriander, salt, etc.

If you want it spicier, add more chile powder;

If you want it saltier, add more salt

If you don't have Sazon Goya seasoning, add one more tortilla (torn into pieces); cover and allow to simmer
Optional Additions
Black Beans: if you want to add black beans, drain a can and rinse them; add them about 10 minutes before serving; always taste and adjust seasonings after you add anything to the soup

Sweet Corn: if you want to add sweet corn, drain a can and rinse; add the corn about 10 minutes before serving; always taste and adjust seasonings after you add anything to the soup

Slice avocado; chop cilantro; plate and garnish
Fried Tortilla Strips (optional)
While your soup is simmering, put 1/2 cup vegetable oil in a skillet on medium high heat

Take four tortillas and cut them into fine strips; place tortilla strips into hot oil; remove and place on paper towel; garnish soup with fried tortilla strips
Notes
I like to use a combination of white and dark meat; I usually us one large chicken breast and 6-8 chicken thighs (skinless)

If you use chicken thighs, you may have to pull the meat off the bone...just sayin...

Corn tortillas: you'll put 3 tortillas into the soup; reserve the remainder for frying tortilla crisps (optional)

Ground Cumin: you'll sprinkle a little on the chicken and put the rest into the soup; feel free to adjust the amount according to your preference

Chile Powder: sprinkle a little on the chicken and put the rest into the soup; start out light, add more if you want it a bit more spicy

If you add beans or corn, you may have to add more broth
Want crunchy tortilla strips on top? No problem! Just heat some oil in a heavy bottom skillet, cut the tortilla into strips (I use kitchen shears) and fry them till they're golden brown. Drain the tortilla strips on paper towels and salt lightly…
[contact-form][contact-field label="Name" type="name" required="true" /][contact-field label="Email" type="email" required="true" /][contact-field label="Website" type="url" /][contact-field label="Message" type="textarea" /][/contact-form]