If you're looking for a "wow" factor at your next celebration, this Flaming Banana Split is THE TICKET!
Who doesn't love a gooey banana split with hot fudge, cherries, nuts and whipped cream? But when you set that baby on fire, the party begins!
And no, the fire department will not come to your house! The flame ignites and subsides pretty quickly so you gotta move fast!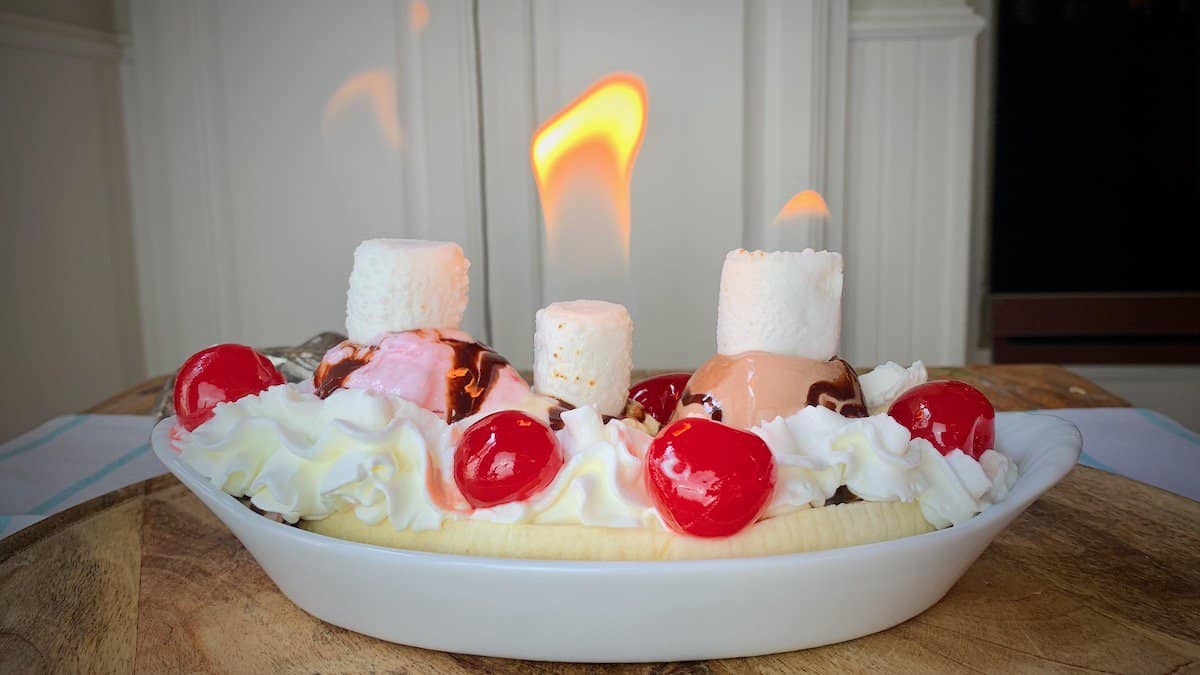 Flambé desserts have always been popular - tableside flambe was super popular in the 50's and is still available at some of your finer restaurants. We're talking Baked Alaska, Bananas Foster and Cherries Jubilee. There's just something special about flaming ice cream, right?
You'll love this recipe
This is not a recipe for children to make! Adult supervision is required. The marshmallows ignite quickly, so do NOT allow any children near the flame.
Simple ingredients- nothing fancy
Perfect for celebrations and kids LOVE this
A unique alternative to the traditional lit birthday cake
Here's what you'll need
Bananas, ice cream (I use chocolate, vanilla and strawberry) but you can use whatever combination you prefer. Hot fudge, whipped cream, maraschino cherries, chopped nuts (optional), large marshmallows and lemon extract.
The lemon extract is the secret ingredient that ignites the marshmallows, creating a brilliant, but short-lived flame-just long enough to impress your friends!
How to make it
First, a note: don't worry about what type of bowl or dish you serve the Flaming Banana Split in because the fire doesn't burn that long and it never gets low enough to touch the serving dish. Any type glass, ceramic or metal serving dish will suffice.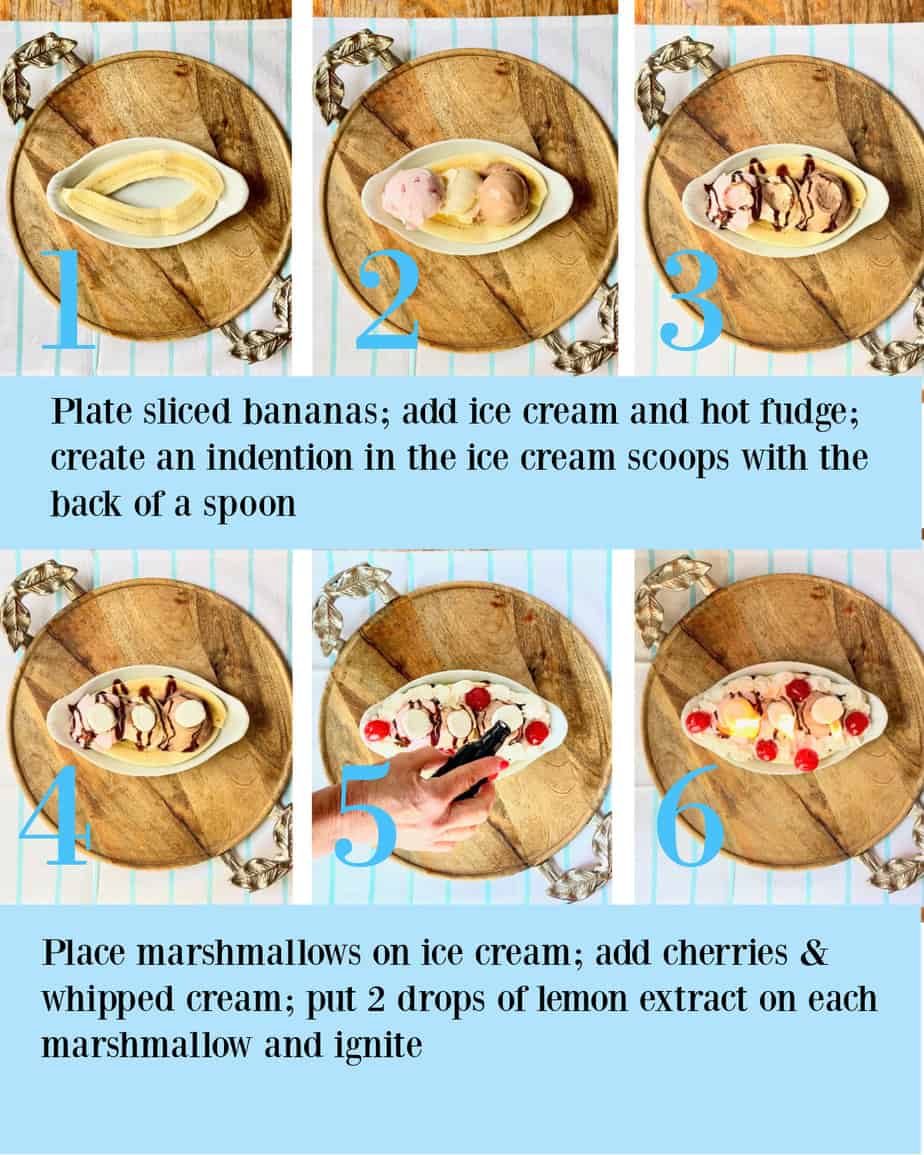 Assemble the banana split as you normally would: bananas, ice cream, and so on. Use the back of a spoon and create a little hole or indentation in the top of each scoop of ice cream. Place the marshmallow on the ice cream.
Drizzle 2 drops of lemon extract onto each marshmallow, then light with a long-handled lighter. (Do not use a short lighter or a match. The lemon extract is highly flammable and it's best to use a lighter with a long handle.)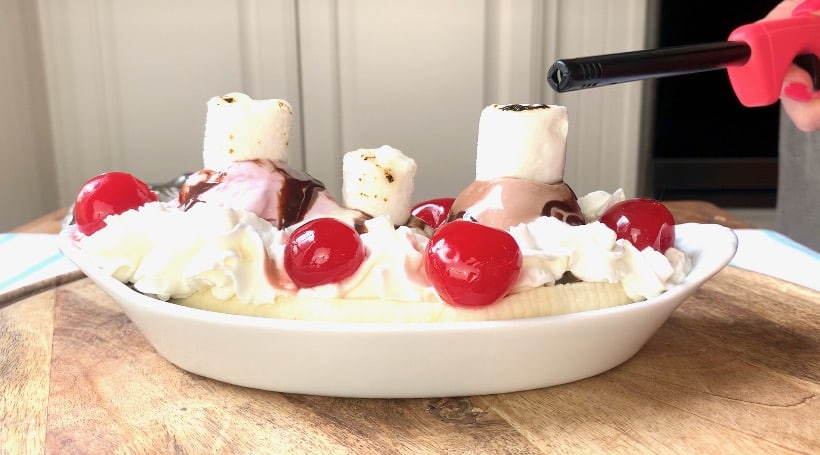 Immediately light the marshmallows and get the camera rolling! The flames will rise quickly, then subside just as quickly, so if you need to get that "wow" photo shot, be ready.
Blow the flame out before the marshmallows begin to toast too much. You can eat the marshmallows or remove them. The lemon extract flavor will still be on the marshmallows, so if you don't like lemon, just remove them from the Flaming banana split and dig in!
Variations
You can use this flambe technique on other desserts as well! Try it on a hot fudge sundae or with any special occasion dessert.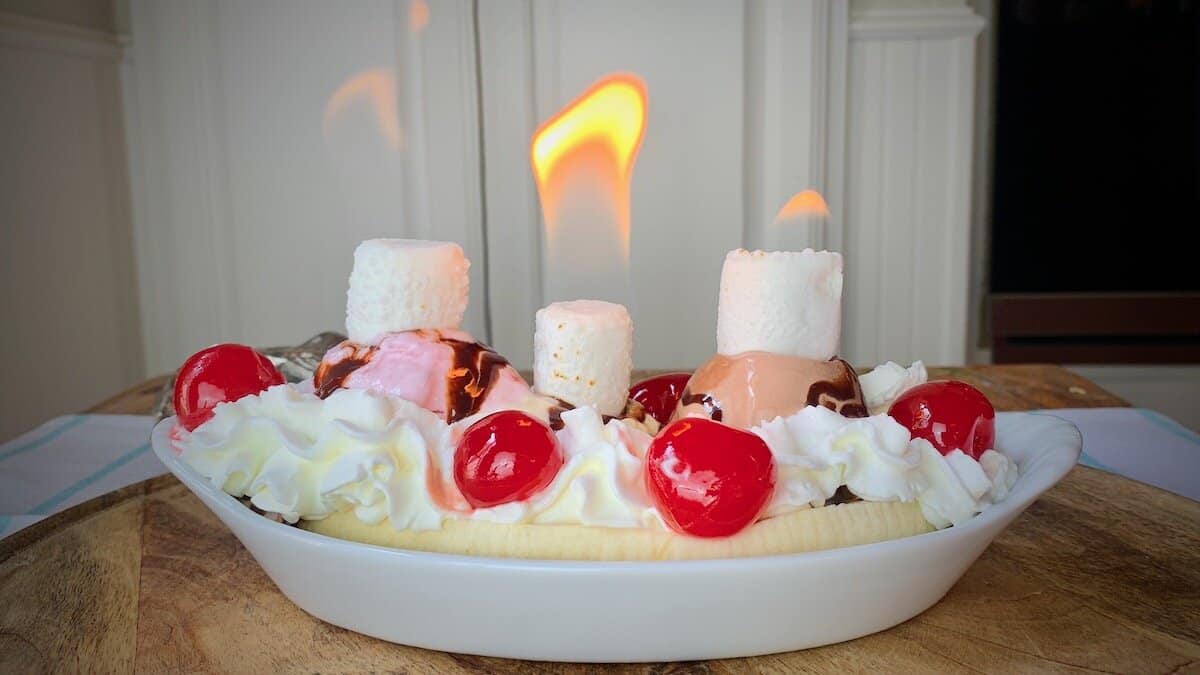 Make this Flaming Banana Split for any special occasion or just because! It's fun, delicious and always a crowd pleaser!
More desserts
If you make this, please scroll down and leave a comment and rating! I love to hear from you! Thank you!
📋 Recipe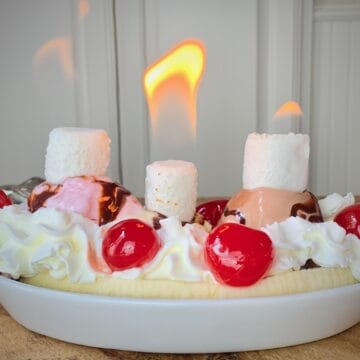 Ingredients
1

whole

banana, sliced lengthwise

ice cream of your choice

3

tablespoons

hot fudge

3

tablespoons

chopped nuts (optional)

¼

cup

maraschino cherries

1

cups

whipped cream

3

large marshmallows

6

drops

lemon extract
Instructions
Slice banana in half and place in dish

Add ice cream, hot fudge, cherries, nuts and whipped cream

Use the back of a spoon and make a small indention on the top of each scoop of ice cream; place a marshmallow in the indention

Drop 2 drops of lemon extract on each marshmallow; immediately ignite with a long handled lighter or butane torch

Blow out flame, remove toasted marshmallows and enjoy!
Notes
Adult supervision required!
This flaming dessert should be monitored by an adult at all times. Do not allow children to light the marshmallows. They ignite very quickly.
Nutrition Estimate
Serving:
1
dessert
Calories:
519
kcal
Carbohydrates:
85
g
Protein:
5
g
Fat:
19
g
Saturated Fat:
11
g
Polyunsaturated Fat:
1
g
Monounsaturated Fat:
6
g
Cholesterol:
46
mg
Sodium:
221
mg
Potassium:
267
mg
Fiber:
4
g
Sugar:
60
g
Vitamin A:
439
IU
Vitamin C:
1
mg
Calcium:
121
mg
Iron:
1
mg