Why pay $6 for a jar of mayonnaise? Afterall, it's a simple emulsion of egg yolks, vinegar and oils! Use this easy homemade mayonnaise recipe and you'll never buy store-bought again!
If you've never attempted to make mayonnaise, you'll be surprised how easy it is! The smoothness and rich flavor of homemade is second to none!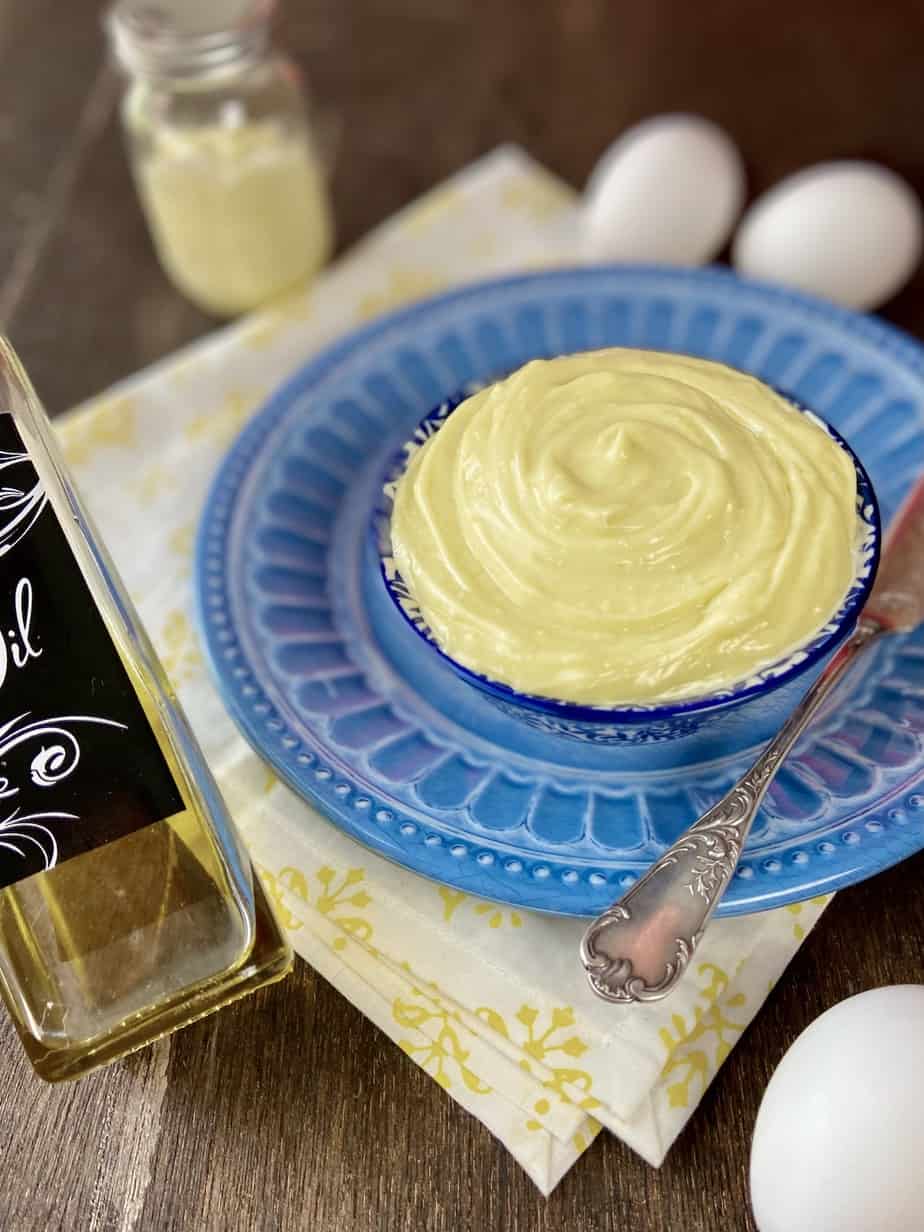 No matter if you're on Duke's mayonnaise or Hellman's mayonnaise team, I think you'll be surprised how delicious this mayonnaise recipe turns out - you'll want to make enough to add to your chicken salad, egg salad and pimento cheese!
Why this mayonnaise recipe works
Simple ingredients - room temperature raw eggs, fresh oils (vegetable oil, canola oil, avocado oil) and a good olive oil, vinegar, salt and a dash of white pepper (optional).
Cost efficient - in today's economy, this homemade mayonnaise recipe costs much less than $6 to make!
A very basic recipe that requires fresh eggs and the best oil you can find.
Without going into a dissertation on the food science behind mayonnaise, let's first agree that a basic mayonnaise recipe is an emulsion - a combination of ingredients that don't typically don't mix well: oil and water, oil and vinegar are both good examples. Vinaigrettes, Hollandaise and Bearnaise sauces are emulsions, just like mayonnaise.
The egg yolk and vinegar (or lemon juice) are both water-based, so you'll want to combine these first.
When you use room temperature egg yolks and fresh oils, the proteins and lecithin molecules in the eggs shrink and become smaller which allows them to bind with the oil molecules. As a result, you have a smooth yolk mixture which in turn, results in a great mayonnaise recipe!
Jump to:
The best oils to use for a homemade mayonnaise recipe
There are a various types of oil you can use to make the best mayo: vegetable oil, canola oil and plain olive oil are my recommendation.
Keep in mind, the type of oil(s) you use will be the predominant flavor in your mayonnaise, so if you use extra virgin olive oil, avocado oil or an infused oil, this will be the dominant for stronger flavor in your mayonnaise. If you don't want an olive oil taste to your mayonnaise, just use plain olive oil.
I use a combination of vegetable and olive oil in a 2:1 ratio. One cup vegetable oil and a half-cup olive oil.
Ratio of oil to liquids
In a mayonnaise recipe, the eggs are considered to be "liquid" because they're water based, as are any mustard and juices you add (lemon juice, lime juice or vinegar.) The ratio of oil to liquids is roughly 3:1.
This means you'll combine in a blender, food processor, with a hand mixer or in a stand mixer- 3 parts of oil to 1 part egg yolk + vinegar + mustard (if you use it)
If you use a combination of oils: the recommended ratio is 2:1. Two parts plain oil (vegetable or canola) to 1 part olive oil. Keep in mind that the oils must be fresh!
The size of the egg
Some recipes call for whole eggs (including the egg whites) and some call for just the egg yolks. The mayonnaise recipe may say, "3 extra large egg yolks"- but what if you don't have extra large eggs?
The answer is to separate the room temperature eggs, then measure in a glass measuring cup the volume of the egg yolks. If 2 large egg yolk mixture turns out to be ⅓ of a cup, then you'll combine that with 1 cup of oil.
Methods for making mayonnaise
The key to making a creamy homemade mayonnaise is to combine the ingredients well with a whisk, whether it be by hand, with an immersion hand blender, in a stand mixer or a hand mixer, or the food processor. The quickest way is to use a food processor.
Blenders and mixers take a little longer, but usually result in a smooth consistency with a rich sheen; food processors work equally as well - you just have to make sure you don't over pulse the mixture to ensure the mayo won't break.
With any of these methods, you'll want to use a medium-high speed for initial whisking, then turn the mixer to a slow speed when adding in the oil.
How to make it
Important note: You must bring the raw eggs to room temperature. This is key because: 1) they separate better and 2) they emulsify better. Room temperature ingredients emulsify better than cold ingredients.
Separate the eggs after they're reached room temperature and place them in mixing bowl or food processor. Add vinegar to eggs and whisk for a few minutes on high speed until combined. Drizzle in oils; taste for salt, pepper and more vinegar.
Troubleshooting Broken Mayonnaise
There's a number of reasons your mayonnaise breaks, or separates:
Cold eggs - your egg yolks weren't warm enough; to fix this, place whole eggs in a bowl of warm tap water for a few minutes, then resume recipe
Too much oil - the ratio of oil to eggs is imperative. If you added too much oil, incorporate a yolk or two, slowly, into the sauce. Again, make sure the egg yolk is not cold.
If your mayonnaise turns into a runny mixture, you've either used cold eggs, too much oil, didn't combine the yolks and vinegar first, or you've whisked them too long. You can remedy this by incorporating more egg yolks, but really, if this happens, it's best just to start over.
Storage
You'll want to make this in small batches of this basic recipe due to the lack of preservatives and eggs. Mayonnaise you buy at your local grocery store has different ingredients than homemade - and these "additives" extend the shelf life of mayonnaise. This basic mayonnaise recipe will be safe to eat for up to 7 days when refrigerated properly.
I put my own mayonnaise is a wide mouth mason jar and make sure the seal is tight to avoid it turning rancid. Make sure your refrigerator is 40°F. If the refrigerator is too cold or too warm, the mayonnaise will separate.
Do not freeze your own homemade mayonnaise or store-bought - the egg yolks don't like it.
Raw Egg Safety
Eggs are notorious for Salmonella, but the likelihood of contracting an egg with Salmonella is slim. To guarantee an egg is free of Salmonella, it need to be at least 140° F degrees internally.
The vinegar in this mayonnaise recipe "cooks" the egg to the safe and recommended temperature of 140° degrees. Or you can pasteurize your own eggs in the microwave.
FAQ's
What kind of oil works best?
I like to use a combination of vegetable or canola and plain olive oil in a 2:1 ratio. 2 parts vegetable/canola to 1 part olive oil.
What size of egg yolk?
The size of the egg yolks doesn't matter, it's the volume of the egg yolk that matters. Separate your eggs and put the yolks in a glass measuring cup. The yolks should be ⅓ the volume of your oil.
How long does homemade mayonnaise last?
Homemade mayo will last up to 7 days in the refrigerator, provided it's in an airtight container and your fridge is set at 40°F
Can I freeze mayonnaise?
No. Egg yolks don't like the freezer.
Variations
One of the best ways to "dress up" this mayonnaise recipe is to add herbs. You can add fresh or dried herbs, but keep in mind, fresh herbs have a shorter shelf-life (2-3 days) versus dried herbs. Another option is to add dried herbs to individual servings of mayonnaise.
For example, if you're making a chicken salad and want a basil flavor, take enough homemade mayo out of your storage jar and add the fresh basic to that, then make your chicken salad or tuna salad. Herbs you might consider: dill, basil, tarragon, sage.
More related recipes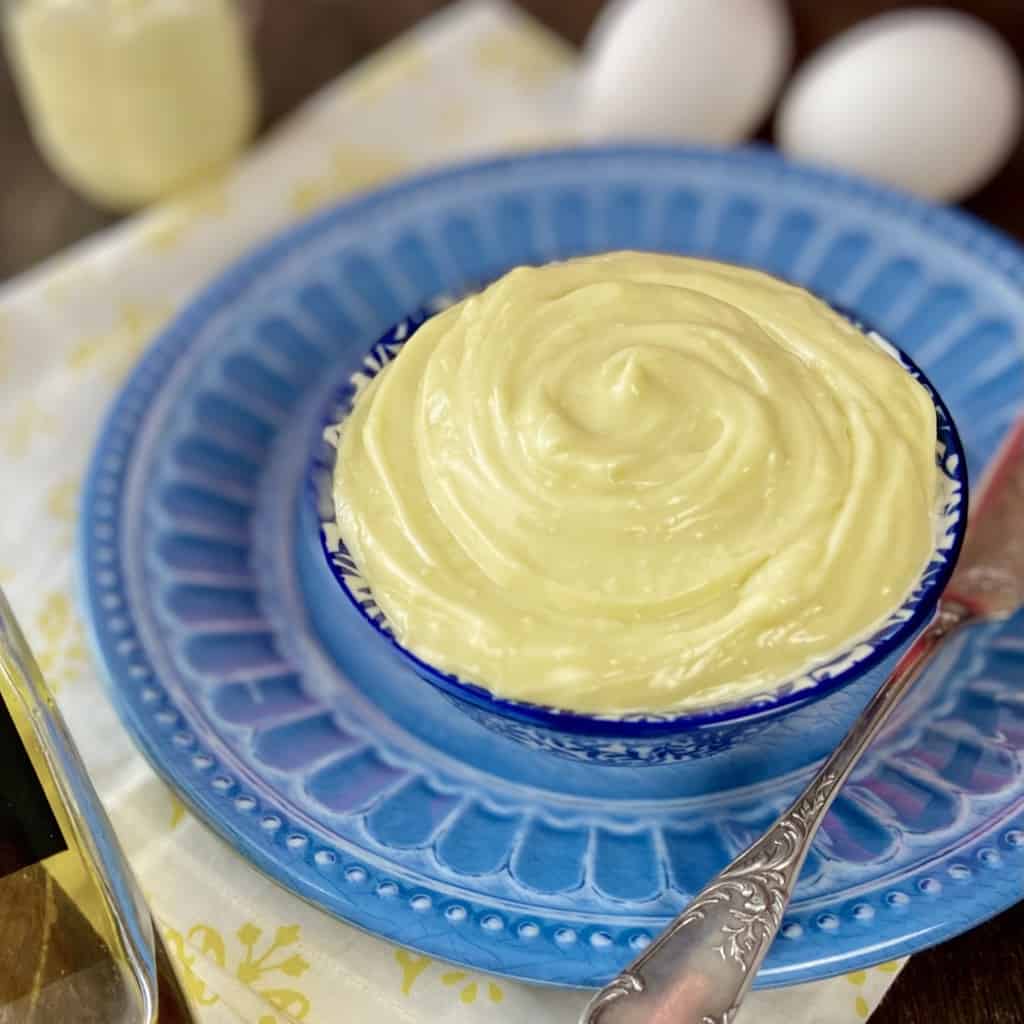 📋 Recipe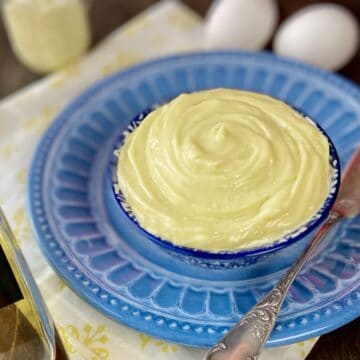 Mayonnaise Recipe
Homemade mayonnaise recipe requires only a few simple ingredients!
Print
Rate
Ingredients
3

large

egg yolks, room temperature

1

cup

vegetable oil

½

cup

olive oil

2½

tablespoons

distilled white vinegar

½

teaspoon

salt

pinch

ground white pepper (optional)
Instructions
Bring whole eggs to room temperature; separate and place yolks in food processor or mixing bowl

In a 2 cup measuring cup, add 1 cup vegetable oil and ½ cup olive oil; set aside

Add vinegar to eggs and whisk on high for a minute or so

While food processor is on high, drizzle in oils in a steady stream until mixture begins to thicken; once mixture forms a thick, ribbon-like consistency, it's done

Season for salt and pepper (optional)
Notes
Make sure your eggs are room temperature and your oil is fresh
Add the vinegar to the egg yolks and whisk for a few minutes, then drizzle in the oil.
Nutrition Estimate
Serving:
1
cup
Calories:
1527
kcal
Carbohydrates:
1
g
Protein:
4
g
Fat:
170
g
Saturated Fat:
27
g
Polyunsaturated Fat:
69
g
Monounsaturated Fat:
67
g
Trans Fat:
1
g
Cholesterol:
275
mg
Sodium:
595
mg
Potassium:
29
mg
Sugar:
1
g
Vitamin A:
368
IU
Calcium:
35
mg
Iron:
1
mg