You'll be amazed how quickly this easy Microwave Peanut Brittle comes together and it requires no candy thermometer!
It takes only 10-minutes to make this deliciously crunchy, buttery and nutty brittle.
I initially thought making homemade peanut brittle would be an all-day candy-making event, but I was pleasantly surprised how quick and easy this recipe came out. The texture and flavor are great!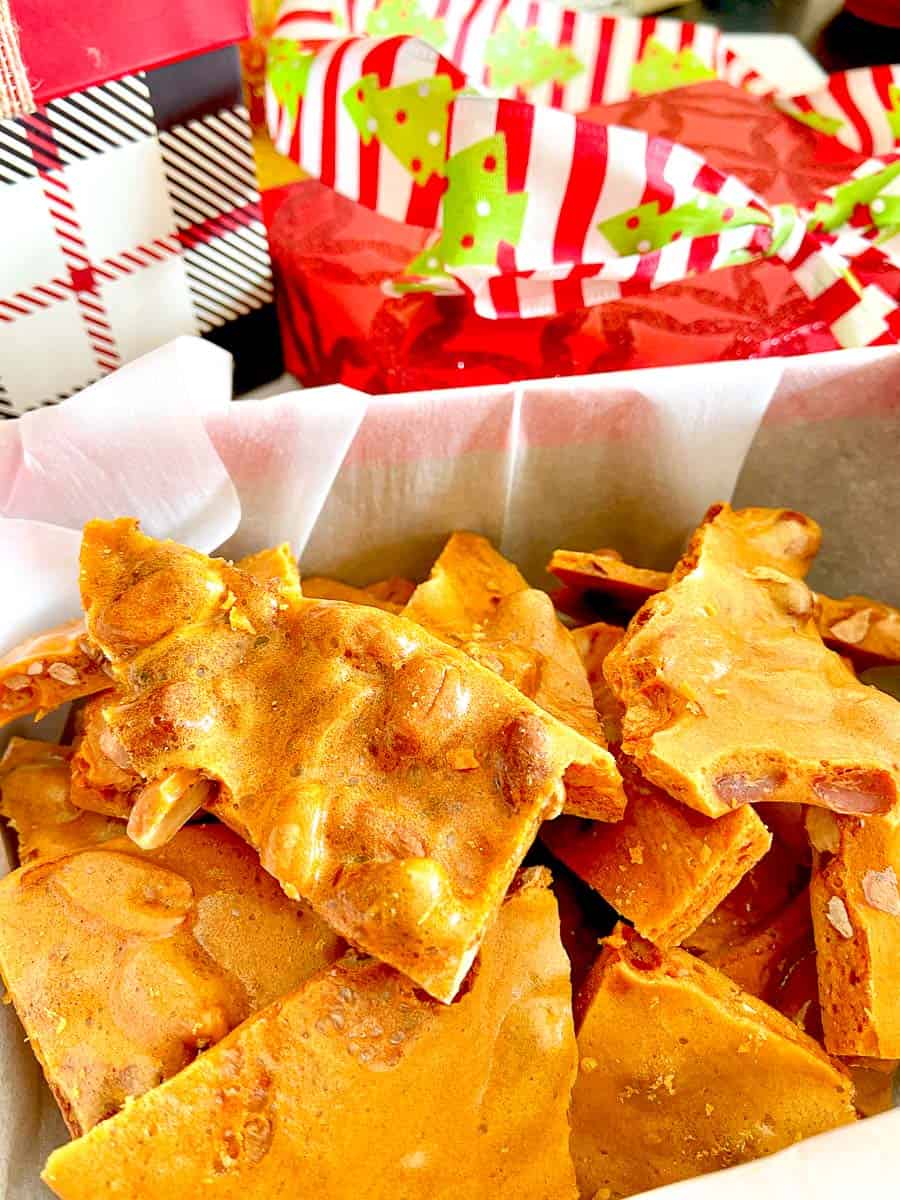 I have to admit, I'm not a big candy-maker. In fact, I can only recall helping my Mom make divinity once or twice about a hundred Christmases ago and all I recall is having to use a candy thermometer which still scares me to this day.
I was a bit skeptical about making candy in a microwave, but I wanted to make some Christmas candy and I wasn't about to attempt divinity, so I attempted this recipe with a bit of hesitation and reserve.
If you've ever had to clean honey, agave nectar or corn syrup out of an oven or microwave, then you understand my fear.
Well, this came out beautifully! It was so easy, I had to share it with you! And guess what...you don't need a candy thermometer!
Jump to:
You'll love this recipe!
Silly Simple - I mean, all you do is mix some stuff, microwave; add peanuts; microwave; add butter and vanilla; microwave...there's really no cooking to it! It's not like traditional candy making and you don't need a candy thermometer either!
The hardest part of making this easy microwave peanut brittle is cleaning the darn bowl! The mixture hardens really fast...I recommend you spray oil in it first.
Light texture - this brittle is light and nutty; you will not break a tooth eating it
Perfect hostess gift - going to a holiday gathering? Make up a batch for your hostess!
Here's what you'll need
Other than the ingredients shown below, I strongly urge you to use a large, microwave-safe glass mixing bowl, preferably one with a handle and pour spout.
It gets super hot, so you'll need a rubber oven mit or one that's really thick.
A note about the Corn Syrup:
I always use Karo™ corn syrup in my candy and pecan pies, but you can use whatever brand you prefer. Karo makes a light-colored and a dark-colored corn syrup.
As of late, they've added a "lite" or "reduced calorie" light-colored corn syrup to their product line. I have never used the 'lite' version so when you go to the store, don't accidentally get the 'lite' light corn syrup!
If you're opposed to using corn syrup, there are substitutions that might work, but I haven't tried any of them, so I can't comment on that.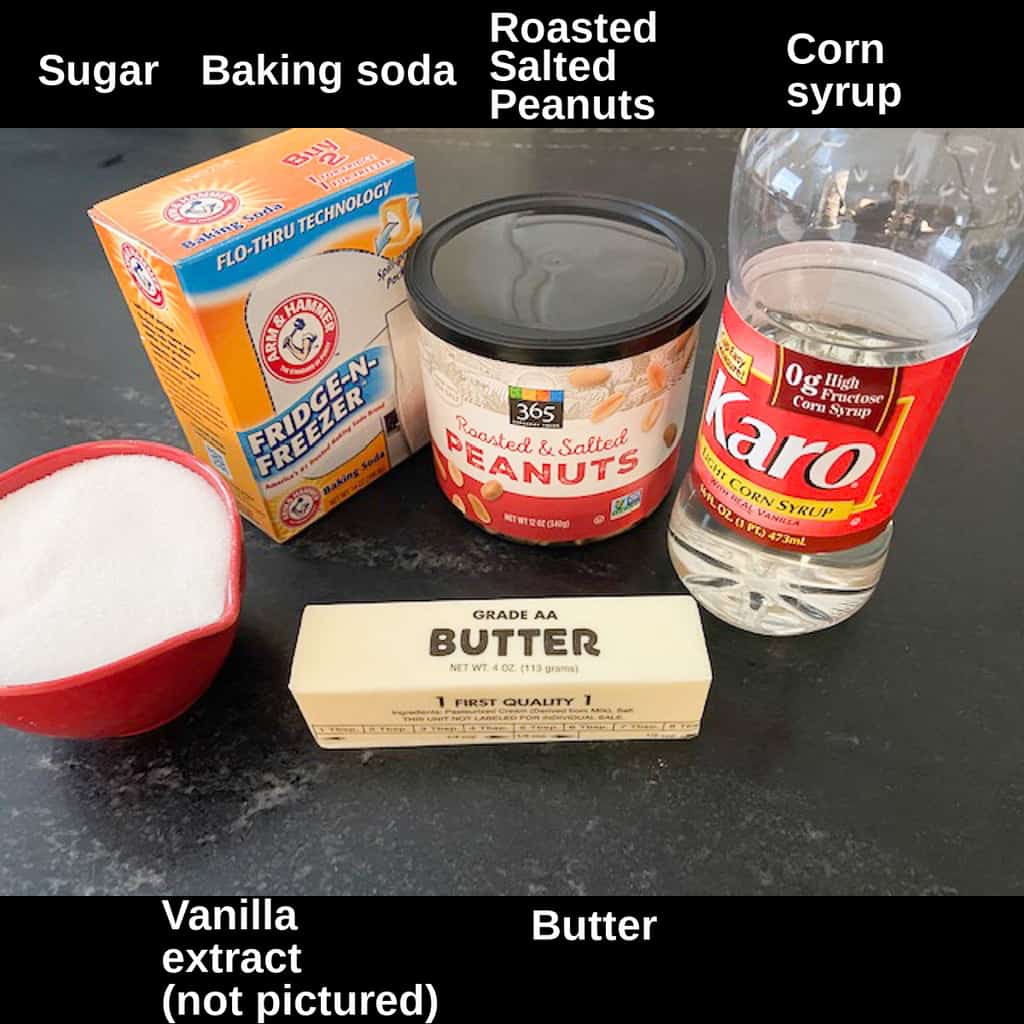 Type of peanuts for brittle
You definitely want to use a roasted peanuts for this homemade brittle recipe. I use canned roasted salted peanuts or Spanish peanuts, also known as redskin peanuts, but you can use roasted almonds, pecans, walnuts, macadamia nuts or whatever roasted nut you like!
If you use Spanish peanuts (the ones with the redskin on them) don't worry about removing the skins. Just dump 'em in the bowl!
You could even add toffee chips if you like!
How to roast peanuts
Just place the nuts in a single layer on a dry baking sheet in a 300ºF oven for about 8-10 minutes. If you buy peanuts in the shell, you can roast them in the shell or shell them first and then roast them.
A note about microwaves:
Just like stove tops and ovens, everyone's microwave runs differently.
This recipe was made in a 1600watt microwave. If yours is older or has less wattage, you may need to increase cook times.
Here's how to make it

The picture below is what it looks like when you add the baking soda--it swells up and bubbles.....quickly pour the peanut brittle batter onto prepared baking sheet......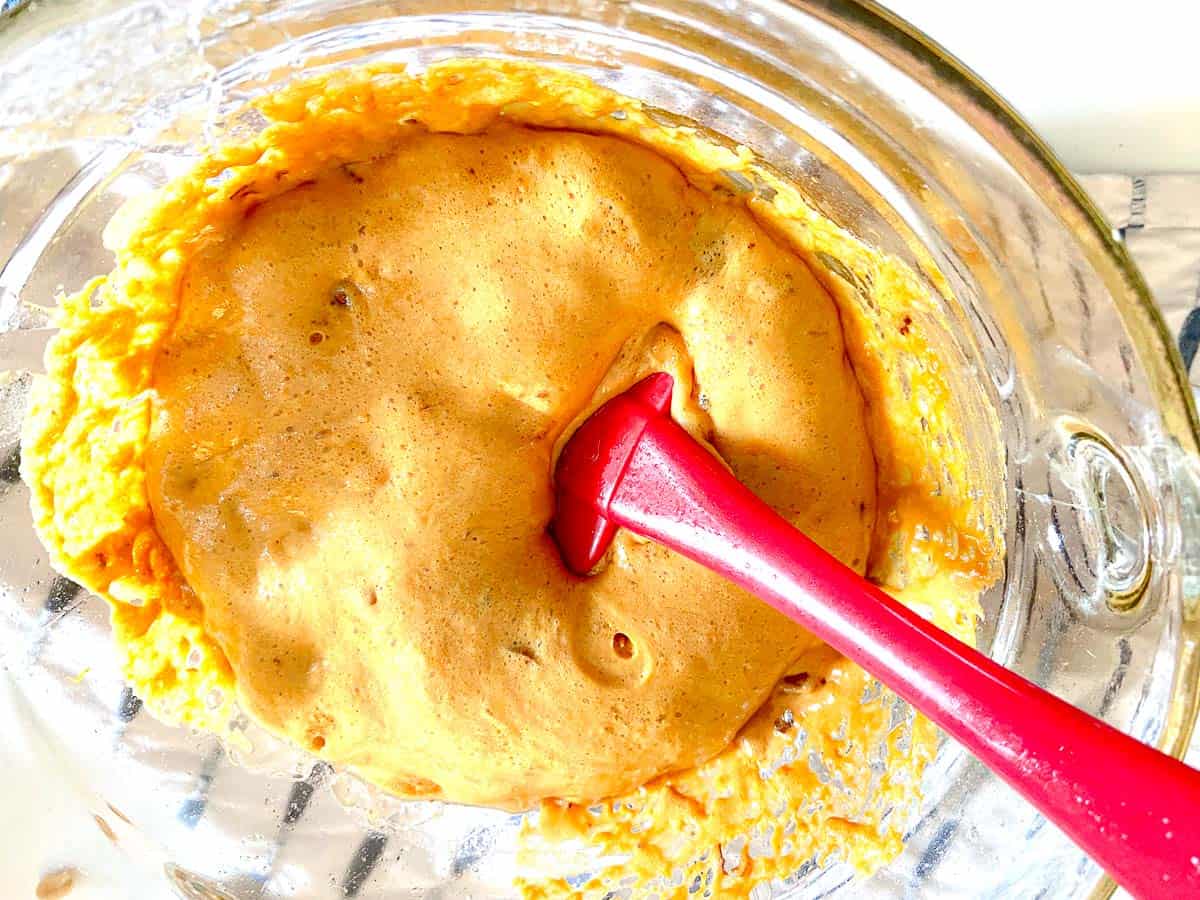 Tilt pan to let mixture spread and thin. (Do not use a spatula or spoon to spread it. Trust me on this.)
Allow to cool at room temperature for about 30-minutes.
When cool, remove from pan, break the peanut brittle into smaller pieces and enjoy!
Tips for making the best microwave peanut brittle:
Start with a large glass mixing bowl, preferably with a handle and pour spout
If you don't have a glass bowl, use a large, microwave-safe bowl
Make sure you have some heavy duty (rubber is recommended) pot holders or oven mits because that glass bowl gets hot
Use fresh baking soda. The baking soda is what keeps the peanut brittle from becoming too dense...you'll crack a tooth if you don't use fresh baking soda:)
When you add the baking soda, the mixture will swell up (that's why you need to start with a big mixing bowl)...spray the bowl with a little oil first...this will help
If you need help spreading the microwaved peanut brittle on the baking sheet, use a lightly oiled spatula
Storage
Keep your microwave peanut brittle in a dry container at room temperature. It should last for 7 - 10 days, but I can't be certain because everyone devours it the first few days. We never have any leftover!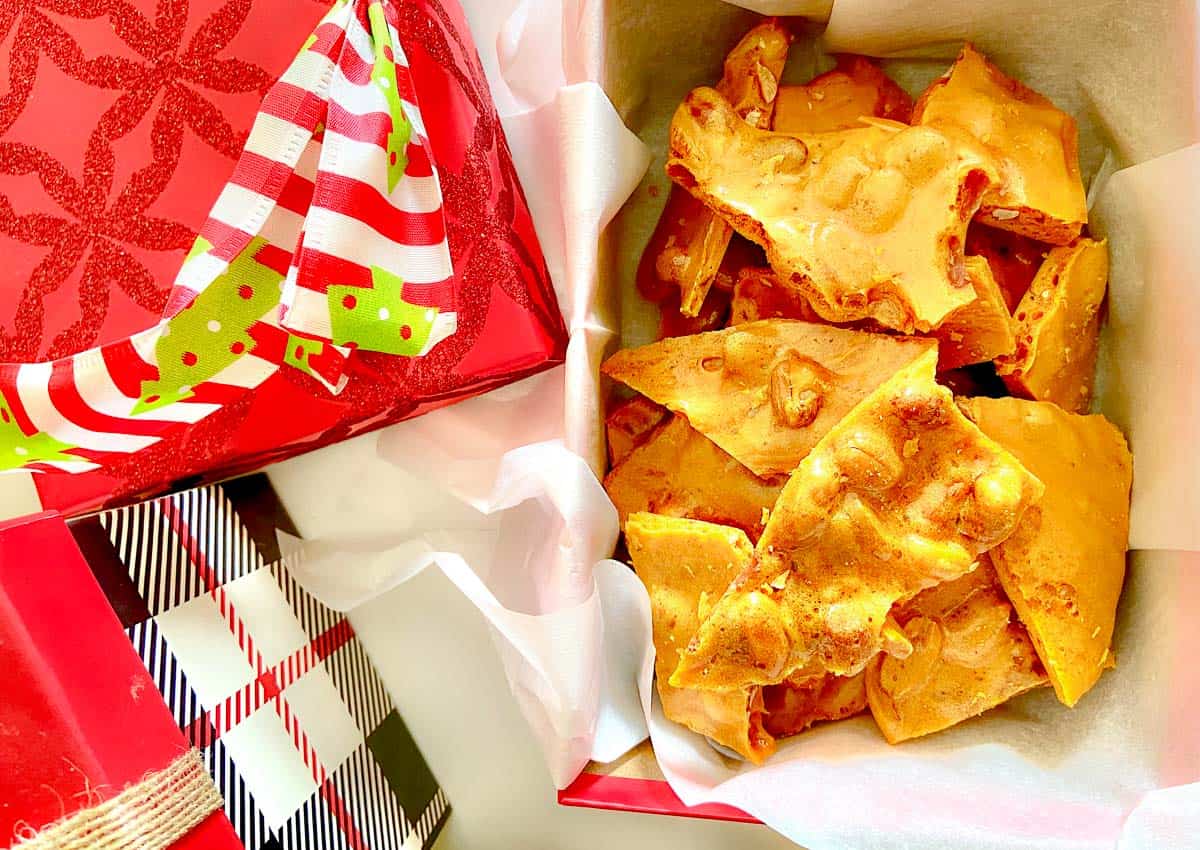 This easy recipe comes together in no time and makes a lovely hostess gift or a nice holiday treat just to snack on!
Try making some of this microwave peanut brittle this year! I think you'll be surprised how easy it is!
Related recipes
If you make this recipe, please scroll down and leave a comment and rating! I love to hear from you! Thank you!
📋 Recipe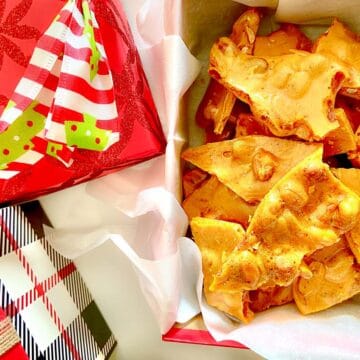 Easy Microwave Peanut Brittle
No candy thermometer required! Quick, easy and delicious homemade peanut brittle in minutes!
Print
Rate
Equipment
Microwave, parchment paper (not required, but helpful)

Glass mixing bowl with handle and pour spout (microwave safe; spout and handle because it gets super hot)

Oven mits (bowl gets really hot)

Spray Oil

Spatula
Ingredients
1

cup

sugar

, granulated

½

cup

corn syrup

, light (not dark); I use Karo brand

1¾

cups

peanuts

, roasted and salted

2

teaspoons

butter

1½

teaspoons

vanilla extract

1

teaspoon

baking soda

spray oil

, for baking sheet, mixing bowl and/or spatula
Instructions
Prep baking sheet with parchment or silicone baking mat (if you don't have either, spray oil or butter a baking pan); set aside

Lightly spray inside of microwave-safe mixing bowl with oil

Add sugar and corn syrup to mixing bowl; cook in microwave on high for 3-4 minutes; remove (it's HOT); stir with lightly oiled spatula

1 cup sugar,

½ cup corn syrup

Add peanuts; microwave 2 minutes until the mixture is golden brown; remove (See Recipe Notes)

Add butter and vanilla; microwave 1-2 minutes; remove and stir with lightly oiled spatula

2 teaspoons butter,

1½ teaspoons vanilla extract

Add baking soda and combine using lightly oiled spatula; quickly pour mixture onto prepared baking dish

Tilt pan to spread out the peanut brittle into a thin coat

Allow to sit at room temperature for 30 minutes

Remove from baking pan and break into small pieces
Notes
Oil or butter a baking pan (you can also use a silicone baking mat or oiled parchment paper) and microwave-safe mixing bowl first
If possible, use a glass mixing bowl with a handle
This recipe was made in a 1600 watt microwave- using the HIGH setting.
Just like stove tops and ovens, everyone's microwave runs differently. If yours is older or has less wattage, you may need to increase cook times or reduce the power level.
After you add the peanuts and put the bowl back into the microwave, keep an eye on it! The recommended time is 2 minutes on high, but if the mixture starts to turn really brown or you smell roasted peanuts, take it out!
Once you add the baking soda, the mixture will swell. At this point, you're gonna need to work quickly...stir the mixture quickly with a lightly oiled spatula and immediately pour it onto a prepared baking sheet
Nutrition Estimate
Serving:
1
cup
Calories:
2825
kcal
Carbohydrates:
376
g
Protein:
72
g
Fat:
134
g
Saturated Fat:
24
g
Polyunsaturated Fat:
44
g
Monounsaturated Fat:
59
g
Trans Fat:
1
g
Cholesterol:
22
mg
Sodium:
2380
mg
Potassium:
2000
mg
Fiber:
23
g
Sugar:
331
g
Vitamin A:
250
IU
Calcium:
283
mg
Iron:
6
mg