Scandinavian almond cake with butter rum glaze is easy to make and oh so yummy! The warm glaze over the warm cake is a perfect dessert anytime!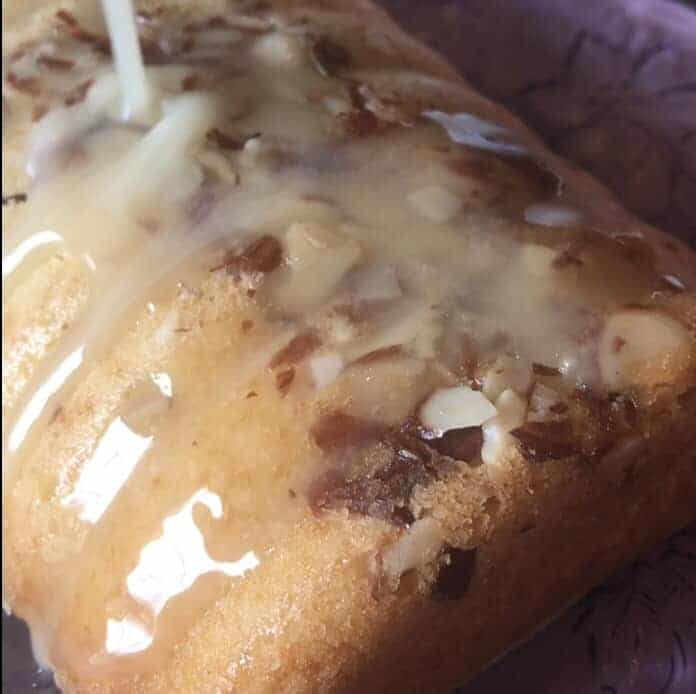 Almond cake is arguably a northern recipe. No one knows if the Swedes or Finns brought it to the States, but each claims responsibility and has their own spin on this popular and traditional Scandinavian dessert.
What makes it so unique is not only its flavor, but the elongated pan it's baked in–it's a  beveled pan and each bevel is just enough for one slice. There are recipes out there for rum cake, but this isn't a rum cake, it's an almond cake with a rum glaze. Instead of using vanilla extract, like you would in a rum cake, this recipe calls for almond extract.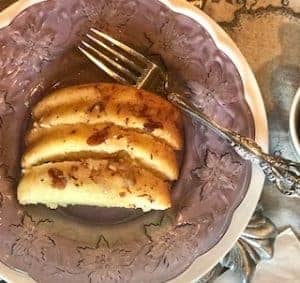 Do I Have to Use the Rum Butter Glaze?
No. The almond cake can be made without a rum butter glaze. Just use melted butter and pour it over the warm cake. Another option is to make a butter glaze and add a little powdered sugar to the butter; stir well, and serve warm over the cake. A third option is to eliminate the glaze altogether and just sprinkle some powdered sugar on top.
Can I Make the Almond Cake in a Regular Cake Pan?
Yes. Lightly oil and flour the pan first, then pour in the cake batter. If you're going to use a Bundt pan, double the recipe; otherwise, the cake is too flat and not very appealing.
---
Almond cake is also a perfectly light dessert for year-round events: wedding/baby shower, brunch or a sweet addition to a wine and cheese tasting party! If you want to make individual cakes, simply follow the instructions, but make them in a muffin pan!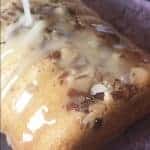 Print Recipe
Scandinavian Almond Cake with Rum Glaze
Traditional Scandinavian Almond Cake with a warm rum butter glaze.
Ingredients
Cake Ingredients
1

cup

sugar

1

whole

egg

1 1/2

teaspoons

almond extract

2/3

cup

milk

1 1/4

cups

flour

1/2

teaspoon

baking powder

1

stick

butter

melted

4

oz.

almonds

sliced
Rum Butter Glaze Ingredients
1

stick

butter

melted

1/4

cup

water

1

cup

sugar

1/2

cup

dark rum
Instructions
Spray baking dish with cooking spray; add almonds to baking dish

In a large bowl, combine sugar, egg, almond extract and milk; combine well

Add flour, baking powder and melted butter to sugar/egg combination

Pour batter into baking dish and bake for 40-50 minutes or until the edges are golden brown

Allow cake to cool in pan for 20 minutes; gently remove and plate

Serve with warm rum butter glaze
Glaze Instructions
Add all ingredients to sauce pan and heat until sugar is dissolved; pour over almond cake
[wonderplugin_video iframe="https://youtu.be/oGc802jGYf8″ lightbox=1 lightboxsize=1 lightboxwidth=960 lightboxheight=480 showimage="https://www.smartypantskitchen.com/wp-content/uploads/2018/06/Rum-Glazed-Almond-Cake.jpg" videowidth=400 videoheight=200 keepaspectratio=1 videocss="position:relative;display:block;background-color:#000;overflow:hidden;max-width:100%;margin:0 auto;" playbutton="https://www.smartypantskitchen.com/wp-content/plugins/wonderplugin-video-embed/engine/playvideo-64-64-0.png"]