Quick, easy and refreshingly cool, Greek Yogurt Dip, also known as "Tzatziki Sauce," is perfect for hot summer days and is ready in 10-minutes!
This healthy Tzatziki sauce recipe hails from the Middle East and is a perfect dip with Naan bread, Pita bread or chips, crisp veggies or crackers, and you can also use it as a sauce for fish, chicken, beef, lamb.
It's a great sandwich condiment, too! Just slather a Gyro sandwich with a good coating of this greek yogurt dip and Opa!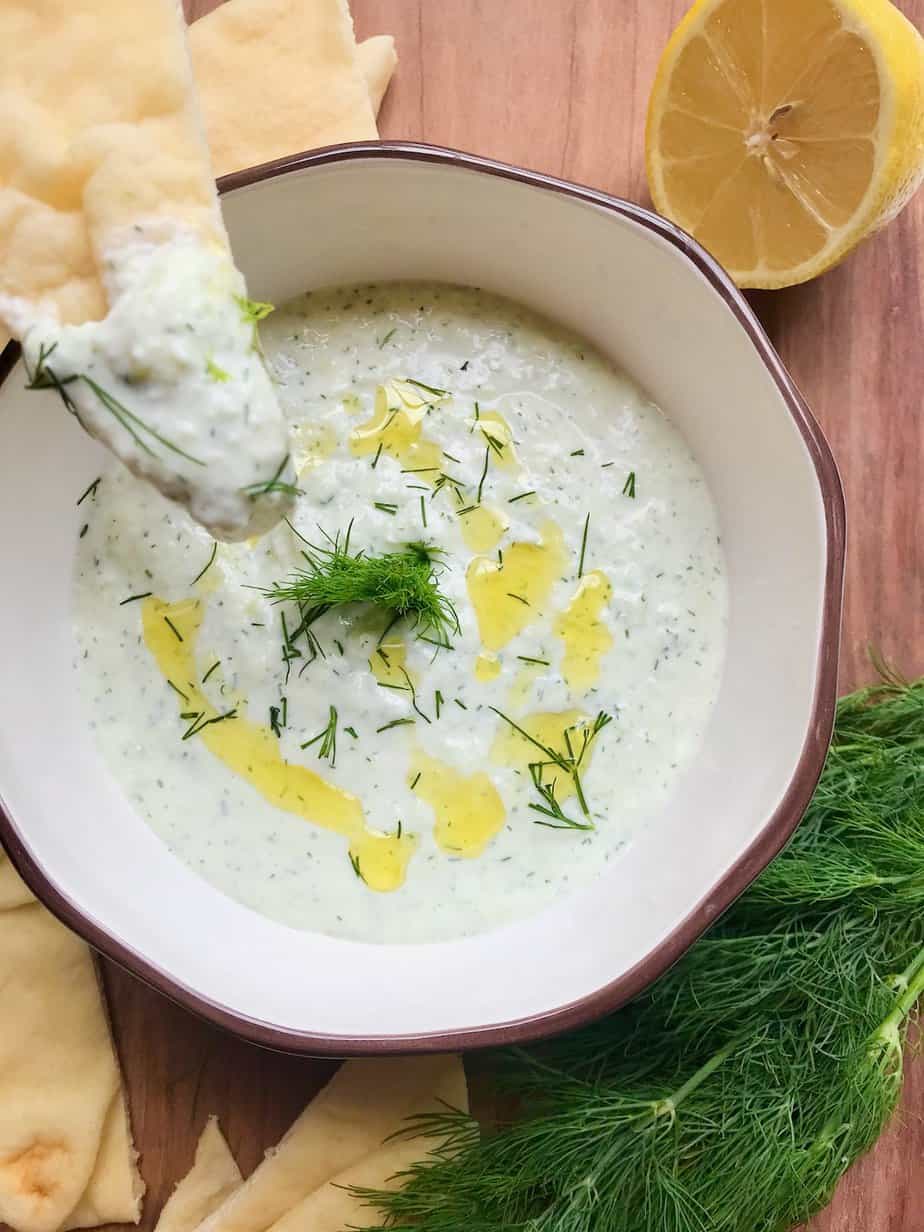 You'll typically find this yogurt-based dip served in Greek restaurants - usually served with dolmas, hummus, Greek salad, and Naan bread or pita chips.I make this low fat Greek dip every summer...there's just something about the cooling effect of crisp cucumbers, combined with cool, creamy yogurt, fresh dill, fresh lemon juice and a hint of garlic!
Why you'll love this recipe!
This refreshingly light cucumber-yogurt recipe can be made as a sauce or dip-make it as thick or thin as you like!
Quick and Easy Dip- it takes about 10-minutes to make and is a perfect "no cook" party dip!
Simple ingredients - made with real ingredients - no fillers, preservatives or additives - just plain yogurt, dill, garlic, fresh herbs, lemon and cucumber
Low-fat and all-natural - a healthy food! No dried dip mixes or ingredients you can't pronounce; a healthier alternative to the premade greek condiments you'll find in the grocery store.
One of my favorite ways to serve this creamy sauce /dip is with sliced pita bread, Naan bread, or fresh veggies! It's also fabulous as a cucumber sauce for fish or chicken!
Here's what you'll need
This refreshing Mediterranean yogurt dip comes together in no time with a few simple ingredients! You'll need a food processor or a very sharp knife. I've found a seedless cucumber, also known as an "English cucumber" works best, but you can use a regular cucumber if that's all you can find at the grocery store.
Cucumber (use 1 regular cucumber or ½ of a long English cucumber); remember to squeeze out any excess moisture first!
Plain Greek yogurt -use full- fat, or whole milk Greek yogurt authentic Tzatziki sauce; it results in a creamier consistency, great for dipping; plus that, Greek yogurt is a strained yogurt, so there's no extra liquid.
Minced garlic - I used about 4 medium garlic cloves; you can use minced garlic or garlic powder- just start with small increments and add to taste
Olive oil-you'll want a high-quality olive oil; you can use extra virgin olive oil or just plain olive oil; do not use olive oil blends as they cast off a weird taste
Fresh dill weed- fresh herbs are best, but you can use dried dill weed; if you use dried, use a third less than fresh dill
Fresh lemon juice and a little lemon zest for garnish- I do not recommend using lemon concentrate
Salt and pepper to taste-table salt or sea salt works great in this dip, as does ground black pepper or white ground pepper. If you use white pepper, use it sparingly, as it is much stronger than black pepper.
Note: some recipes use sour cream, but I've found the sour cream doesn't lend itself to a truly great Tzatziki sauce and it emits excess liquid. You can use non-fat Greek yogurt if that's your personal preference, but for the best and most authentic cucumber yogurt sauce, you'll want to stick with whole fat plain Greek yogurt.
How to make Greek Yogurt Dip
Peel and slice cucumber and place into food processor. Pulse 5-6 times; remove and strain in a paper towel or kitchen towel to remove any extra moisture.
In a medium mixing bowl, combine chopped/drained cucumber, Greek yogurt, fresh dill weed, garlic powder and lemon juice; combine well and place mixture in food processor.
Pulse the food processor a few times, until the cucumbers have broken down into small pieces. While pulsing the mixture, drizzle in a teaspoon of olive oil; add more or less to get the desired consistency; place in serving bowl, taste for salt
Garnish with a few sprigs of fresh dill weed and lemon zest. Serve with pita chips, pita bread, Naan bread or tortilla chips.
Recipe tips
This recipe yields about 1 cup of dip and uses ½ of an English cucumber; if you can't find a seedless English cucumber, use a whole regular one...
I've found the best way to peel a cucumber is with a potato peeler
A food processor makes this Greek yogurt dip recipe quick and easy!
Dried herbs are stronger than fresh. If you use dried dill weed, use about 1 tablespoon instead of 3 tablespoons of fresh dill weed
Make this cucumber-dill dip as creamy or chunky as you like
Greek yogurt is thicker than traditional yogurt; if you use traditional, start with ¾ cup of yogurt; add more until you get the consistency you like. I do not recommend using nonfat yogurt.
Recipe FAQ
Can you freeze Tzatziki sauce?
Yes, provided it's securely wrapped in an airtight container. I do not recommend freezing simply because the texture changes.
How long can I store Tzatziki sauce in the refrigerator?
For best results, store securely covered sauce in the refrigerator for up to 5 days. Consistency will change slightly, so you'll need to stir it well before serving.
Variations
Want a spicy Greek yogurt sauce? Add a splash of Louisiana hot sauce, sriracha sauce or a hint of cayenne pepper or chili powder
Want a tangy yogurt sauce? Add more fresh lemon juice, a hint of lime juice or white vinegar
Want a Greek salad dressing? Thin with a little water and serve over a crisp Greek salad with red onion, fresh mint and chopped Kalamata olives!
This easy Tzatziki sauce is great for "cucumber tea sandwiches"! Remove the crust from white bread, cut the bread into quarters, place a teaspoon or so of the sauce on the bread; garnish with a little fresh dill and enjoy!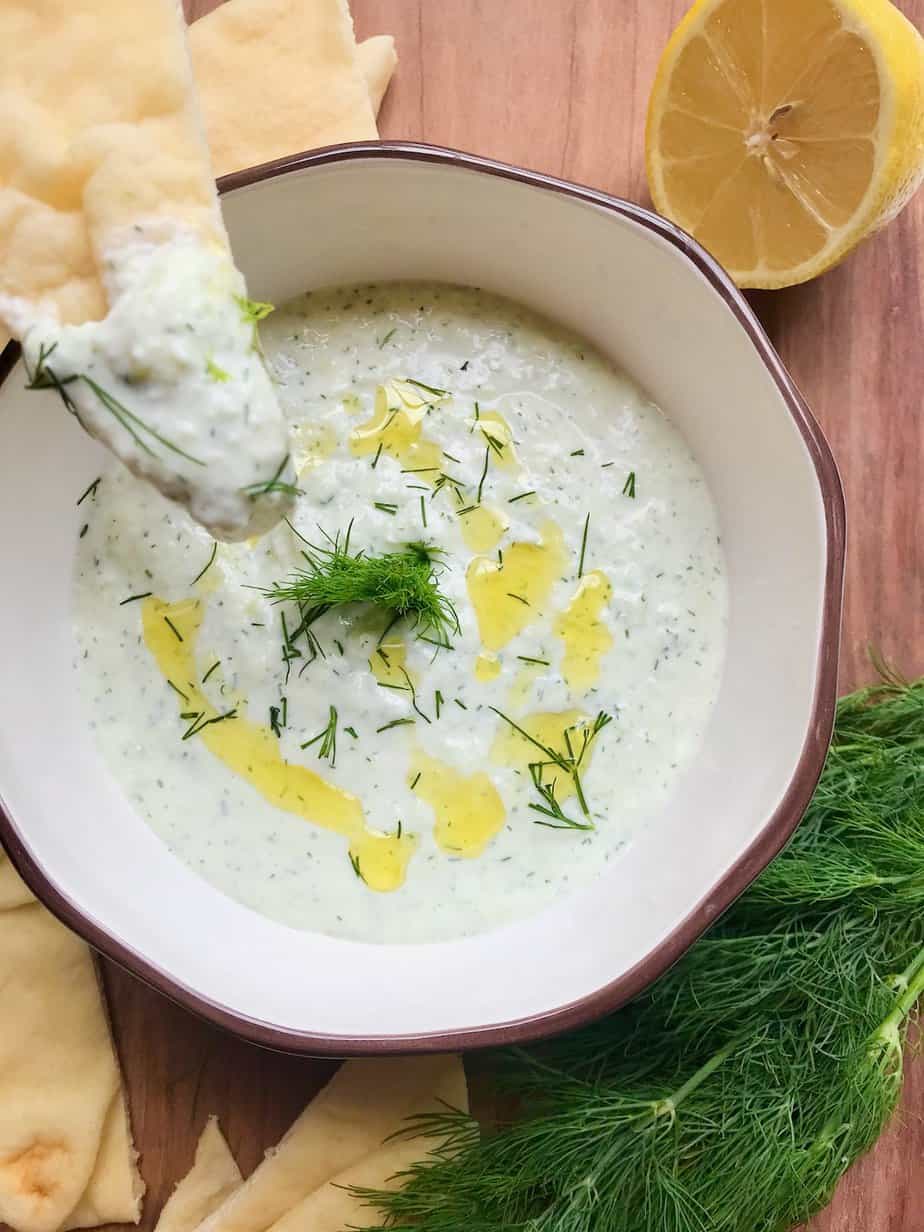 Storage
Greek Yogurt Dip will hold up well in the fridge for about up to a week, provided it's covered well and in an airtight container. Freezing is not recommended. When ready to serve, give it a thorough stir, pour the greek yogurt dip into a pretty serving bowl and allow to come to room temperature. Garnish with fresh dill weed and or a thin slice of cucumber.
You'll find a great Tzatziki sauce with just about every Greek meal. I like to serve this yogurt dip with naan or pita bread, raw veggies, dolmas or or as a sauce with fish. It also pairs beautifully with lamb.
Related recipes:
If you make this recipe, please scroll down and leave a comment and rating. I love to hear from you!
📋 Recipe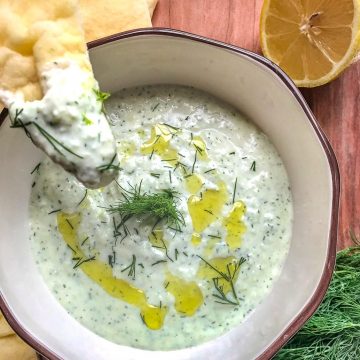 Greek Yogurt Dip (Tzatziki Sauce)
Greek Yogurt Dip with cucumber, fresh dill weed, Greek yogurt, lemon and a hint of garlic.
Print
Rate
Ingredients
1½

cups

Greek yogurt

plain, whole fat ; 12 ounces)

1

large

cucumber

peeled, pulsed in food processor); or ½ an English cucumber; strain the cucumber in a paper towel

3

tablespoons

fresh dill weed

see recipe notes

4

minced

garlic cloves

see recipe notes

1

teaspoon

fresh lemon juice

1

teaspoon

olive oil

high quality

salt and pepper to taste

see recipe notes
Instructions
Peel cucumber; slice and place slices in food processor; pulse 5-6 times

Remove cucumber from processor and place in paper towel; squeeze out excess water

Add strained, chopped cucumber and remaining ingredients to medium mixing bowl; combine well

1½ cups Greek yogurt,

3 tablespoons fresh dill weed,

4 minced garlic cloves,

1 teaspoon fresh lemon juice

Return cucumber mixture to food processor; drizzle in 1 teaspoon olive oil; pulse until well combined; taste for salt and pepper (see recipe notes about pepper)

1 teaspoon olive oil,

salt and pepper to taste

Pulse to desired consistency; give it 2-3 quick pulses, if you want it thinner, pulse it a few more times; cover and refrigerate until ready to serve
Notes
English cucumbers are larger than regular (slicing) cucumbers and they're also seedless; if you don't have an English cucumber, use a regular slicing cucumber
This recipe uses ½ of an English cucumber; if you don't have an English cucumber, use a whole "regular" cucumber; try to remove most of the seeds
Garlic - if you don't have fresh, use minced or garlic powder; just start adding it in small increments until you get it to your liking
No lemon? Substitute with a smidgen of white vinegar
Salt and pepper - if you want to add either, I recommend using a smidgen of salt and a pinch of ground white pepper (white pepper is stronger than black pepper, so GO EASY on the pepper)
Want to thin the sauce? Whisk in a little water
Nutrition Estimate
Serving:
1
cup
Calories:
259
kcal
Carbohydrates:
20
g
Protein:
33
g
Fat:
6
g
Saturated Fat:
1
g
Cholesterol:
15
mg
Sodium:
116
mg
Potassium:
804
mg
Fiber:
2
g
Sugar:
14
g
Vitamin A:
294
IU
Vitamin C:
12
mg
Calcium:
384
mg
Iron:
1
mg