Rice and Beans is a one-dish Southern menu item you'll find in every restaurant and home south of the Mason-Dixon Line. It's a comfort food that is delicious, healthy, and filling, usually served with cornbread, sweet onion and a glass of sweet tea.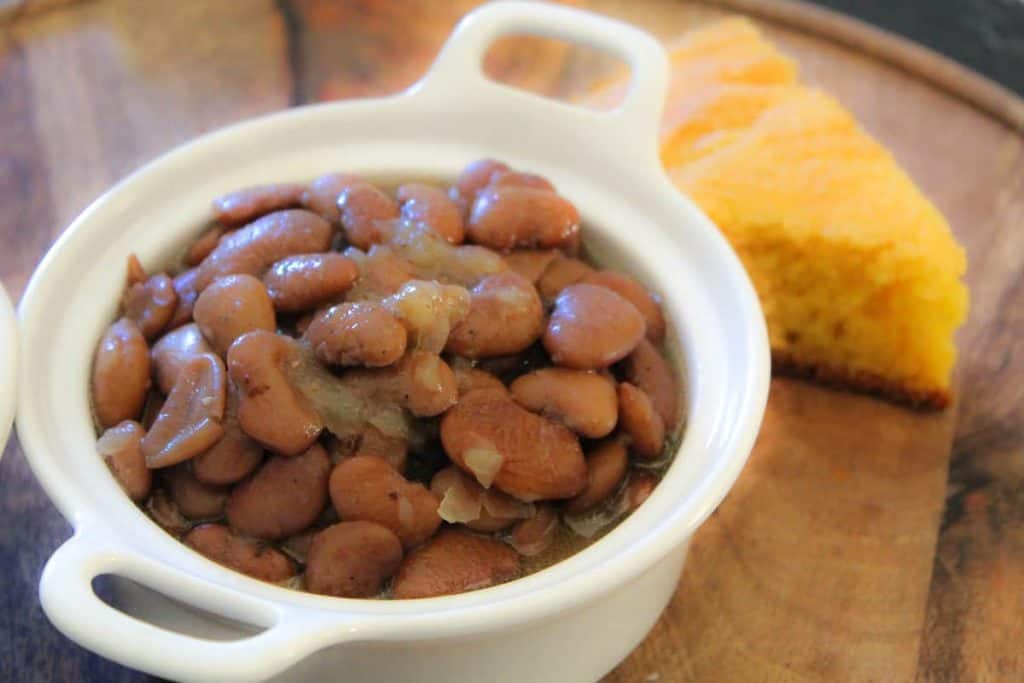 Monday was laundry day. You see, before the miraculous invention of the automatic washing machine, laundry was done by hand. It took every minute of the day to get all the clothes and linens hand-washed and hung up. There just wasn't time to tend to a hot stove preparing supper, so a pot of self-cooking beans was the solution.
Southern women put a big pot of beans on the stove every Monday morning and set out to wash, dry and hang the laundry on the clothesline. Rain or shine.
Rice and beans were Monday's supper. The rest of the week, folks would eat them as a side dish until they were gone. They were cheap, filling and served a purpose, sometimes out of necessity.
We now know more about the powerful nutritional value of this combination, and welcome a bowl of rice and beans out of health and dietary concerns. Plus that, if the beans are prepared and cooked correctly, they are absolutely delicious!
What Type of Beans Should I Use?
Southern rice and bean recipes usually consist of  red kidney or pinto beans because the two beans have basically the same nutritional and flavor profiles. Kidney beans are a little larger than pinto beans and often a darker color. Another popular Southern bean is the navy bean, which a small cousin to the Great Northern White bean.
How Do I Season Pinto Beans?
Most Southern rice and bean recipes call for some type of added fat. It gives the beans flavor and binds the seasonings and spices to the beans while flavoring the broth (or water.)
Season beans with cooked bacon, smoked ham hock, or ham. If you're using bacon, cook the bacon, and add it and the grease into the beans. If you're using leftover ham or a smoked ham hock, simply add it to the beans at the beginning of the cooking process.
How Do I Season Beans for Vegans and/or Vegetarians?
Southern tradition calls for adding a salty protein to the beans while they're cooking. Bacon and smoked ham hock are favorite choices. However, if you want vegan or vegetarians rice and beans, season the beans with salt, pepper, garlic and onion. Another option for that smoky-meat substitute is Liquid Smoke.  Liquid smoke is gluten-free, with no additives or preservatives and is vegan. It is generally on the grocery aisle with the barbecue sauces.
.
3 Ways To Eliminate Gas from Cooked Pinto Beans
Some people prefer not to eat beans due to the side effects of the oligosaccharides–those pesky complex carbohydrates that can cause temporary digestive discomfort and gas. The best way to prevent gas in beans is:
Soak the beans in lightly salted water overnight, or
Soak the beans in lightly salted water for at least two hours; bring the beans to a rolling boil in lightly salted water for about 10 minutes, then simmer until tender, or
Take an over-the-counter formula like Beano® prior to eating beans; Beano® prepares the digestive system for the oligosaccharides and eliminate any gastric distress
When to Salt Pinto Beans?
The most controversial issue regarding beans is when to add salt. Some say not till the end, others say at the beginning, and some say add salt in intervals.
The science behind this has to do with calcium and magnesium ions in the bean's skin. Soaking beans in lightly salted water allows the salt to seep into the beans, replacing some of the ions, and resulting in a softer bean.
Conversely, soaking beans in unsalted water causes them to swell too fast and burst. So, the salt acts not only as a seasoning agent, but as a protectant for the bean skin.
This recipe calls for 1/4 cup of table salt; 2 tablespoons of table salt for soaking and the remainder if the beans are salty enough for you.
What Kind of Rice Do I Use for Southern Rice and Beans?
The traditional rice used in this favorite Southern dish is long-grain white rice, however brown rice is an excellent alternative and a healthier version. Any type of rice works great in this dish, such as Jasmine or Basmati, but these rices have a different flavor than white or brown rice and alter the flavor profile of the dish.
Rice and Bean Variations
If your Northern friends won't eat plain Rice and Beans, consider dressing-up the beans with these options:
Add a protein such as smoked sausage or ground beef/turkey; this gives a hearty "American" spin to plain beans
Add barbecue sauce, maple syrup or ketchup to the beans; converts plain beans to barbecue beans
Add diced green chiles, a can of Rotel tomatoes and cilantro ;gives beans a "Southwestern/Mexican" flair
Add diced, fresh jalapeno and top with sour cream; spices up the beans "Mexican" style
Rice and Beans are Safe for Diabetics
Beans are complex carbohydrates and have a low glycemic index which means it takes the sugars taking longer to break down. Since it takes longer for the soluble fiber to break down, blood sugar stabilizes and you feel full for a longer period of time.
Rice and Beans Provide Fiber
Beans provide soluble and insoluble fiber, neither which are digested or absorbed into the blood. Insoluble fiber moves quickly through the intestinal tract, balancing the pH levels and removing toxic waste.
Soluble fiber forms a gel when combined with liquid and binds to fatty acids; this prolongs the process of emptying the stomach, thus, sugar is released and absorbed more slowly.
Regardless of the method of preparation, a bowl of rice and beans is a complete protein with no fat, cholesterol or gluten. Safe for diabetics and good for everyone all the way around!
Try these other Southern favorites!
Southern Cornbread      Classic Meatloaf       Southern Fried Catfish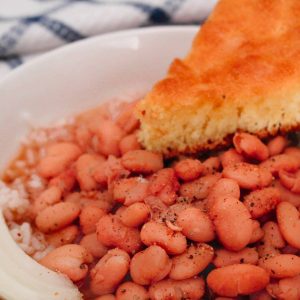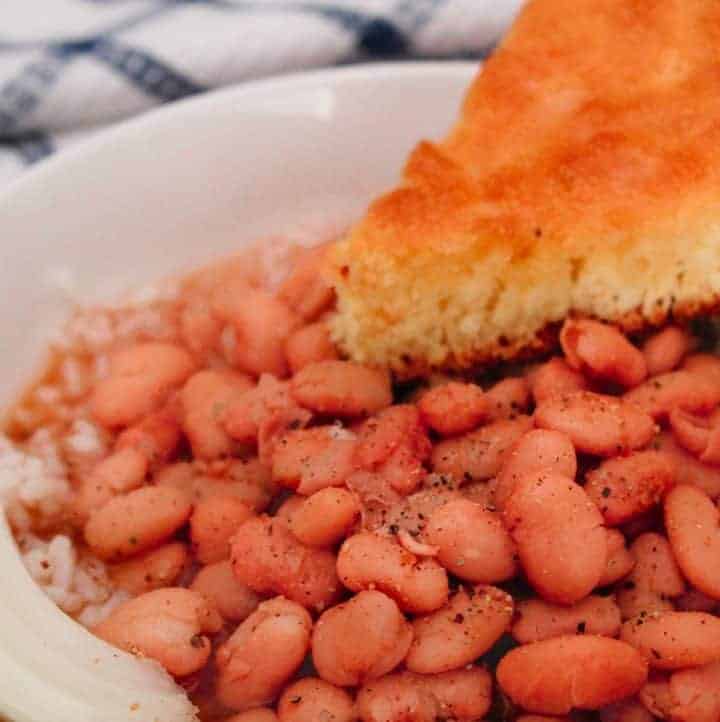 Southern Rice and Beans
Rice and Beans is a one-dish Southern menu item you'll find in every restaurant and home south of the Mason-Dixon Line. It's a comfort dish that is delicious, healthy, and filling, usually served with cornbread, sweet onion and a glass of sweet tea.
Print
Pin
Total Time:
2
hours
5
minutes
Servings:
12
about cups cooked beans
Ingredients
1

lb.

dried pinto beans

8

cups

water or broth

1/4

cup

table salt

2 tablespoons for soaking; remainder is for taste

2

tablespoons

onion powder

or 1 cup fresh, diced onion

2

tablespoons

garlic powder

2

cups

rice

, brown or white rice

hamhock

optional

salt and pepper to taste
Instructions
No Soak Method
Place them in a large Dutch oven on the stove top; cover with water and 2 tablespoons salt; bring to a rapid boil; boil for 15 minutes, turn off the heat and put a lid on the beans

After one hour, bring the beans back to a hard boil for 10 minutes; add onion, garlic, pepper and any other variations (see recipe notes); lower heat and cook on low heat till beans are tender; additional water or broth may need to be added during the cooking process; taste for seasonings and adjust accordingly
Soak Method
Rinse and drain beans; place them in a large bowl, add 2 tablespoons salt, cover with water; cover bowl with plastic wrap and allow beans to soak overnight

The next day, place the beans and soaking water in a large Dutch oven; add water to cover beans by about 2 inches; add onion, garlic and other variations (see Recipe Notes); cook on low for 3-4 hours, until beans are tender; taste for seasonings and adjust accordingly
Slow Cooker Method
Place beans, 2 tablespoons of salt, and other variations (see Recipe Notes) in slow cooker and cover with water; cook on low 8 hours
Rice Preparation
Add water and rice to saucepan; bring to boil

Reduce heat to simmer, cover rice and simmer until rice is fluffy
Notes
Rice and Bean Variations
If your Northern friends won't eat plain Rice and Beans, consider dressing-up the beans with these options:
Add a protein such as smoked sausage or ground beef/turkey; this gives a hearty "American" spin to plain beans
Add barbecue sauce, maple syrup or ketchup to the beans; converts plain beans to barbecue beans
Add diced green chiles, a can of Rotel tomatoes and cilantro ;gives beans a "Southwestern/Mexican" flair
Add diced, fresh jalapeno and top with sour cream; spices up the beans "Mexican" style