What is it about drive-through chicken tenders?
It seems like every day, or at least six times a week, my daughter wants to go to a certain fast-food chicken restaurant that is closed on Sundays and shall remain nameless.  I don't get it. Hell, it's just fried chicken! And with so many being conscious about eating healthier, eliminating fried foods, etc., how come this place is always packed?
I got tired of dropping six bucks a day on their fried chicken tenders, so I told my daughter we'd just make some at home and she can heat them up whenever she wants one. Naturally, that didn't suit her because, well….now my sweet tea doesn't taste like their tea…I give.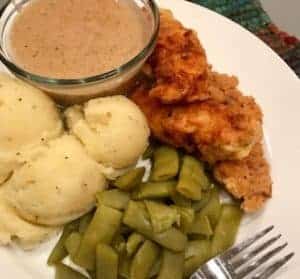 Now these tenders do see a bit of oil, but they aren't deep fried, so you can feel a little better about eating them once in a while. My husband could eat this meal every night. Meat, potatoes and green beans.
WHY?
Chicken is one of the more lean animal proteins, besides pork. Recall that we need essential fats Omega's 3 and 6? Well, animal protein provides us with just about all the Omega 6 we need.  If you eat animal protein, chances are you probably don't need an Omega 6 supplement as much as you need an Omega 3 supplement. Here's an example: my husband eats animal protein at least twice a day (lunch and dinner) and rarely eats fish, so he definitely needs to consider an Omega 3 supplement. (I'm not big on supplements, but if that's the only way I can get enough Omega 3 in him, then that's how we do it).
HOW-TO
Chicken tenders are the tenderloin of the chicken breast. When they're pre-packaged in the store, the butcher or poultry plant has removed the tenderloin from the breast. That's why they're generally more expensive than a whole chicken breast, however, If you want, you could use a whole chicken breast.  Just cut it in half lengthwise and pound it down with a meat cleaver until it's about 1/4 inch thick. The thinner the chicken, the quicker it cooks and the more tender the meat.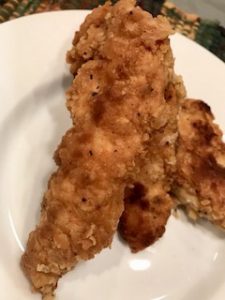 These are perfect for a quick snack or as an entree. If you prefer, you can cut the chicken into bite size pieces, dredge them in egg and flour and bake them at 375 degrees. They can easily be re-heated by wrapping them in foil and placing them in a 250 degree oven.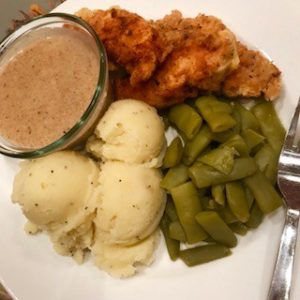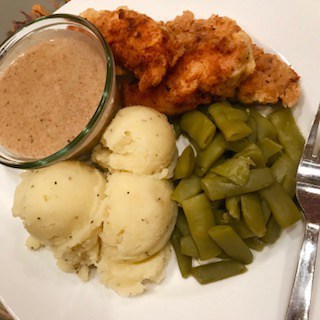 Print Recipe
Homestyle Chicken Tenders
Chicken tenders are always a favorite as an entree or snack! The best thing of all is they're easy to make and you know exactly what you're eating! No preservatives, no fillers...just good old homemade chicken tenders!
Ingredients
1

package

chicken tenders

(allow 2-3 tenders per person)

2

cups

flour

3-4

whole

eggs

slightly beaten

1

tablespoon

paprika (smoky; not sweet)

1/2

cup

oil (canola or vegetable)

not olive oil

salt

pepper
Instructions
Lightly salt and pepper chicken tenders

In a heavy bottom skillet, add 1/2 cup oil and bring to medium heat

In one flat bottomed bowl (I use a pie plate) add lightly beaten eggs

In a second flat bottomed bowl, add flour, 1/2 teaspoon salt, 1 teaspoon pepper and paprika; combine with fork

Dredge chicken tender in egg, then flour and add to hot skillet. Do not turn chicken until one side is completely done; (check it by lifting up an edge with a fork to see if it's browned)

Repeat dredging tenders in egg, then flour; work in batches; do not overcrowd the skillet

Once one side of the tenders is browned, flip it over and brown the other side

Use a thermometer to ensure chicken is 165 degrees internally

Place on paper towel to remove any residual oil
Notes
Chicken tenders are the tenderloin of a whole chicken breast, however, you can make this dish with chicken breasts, too. Just slice the breast in half lengthwise and pound with a meat cleaver until the breast is about 1/4 inch thick.
Want chicken nuggets? Cut the chicken into bite size pieces
If you're making nuggets for a big group, place the egg/floured nugget on a foil lined baking dish and bake at 375 degrees for about 15 minutes; be sure to flip them during the baking time
The usual condiments are ketchup, a ranch-type dressing, barbecue sauce or honey mustard dressing