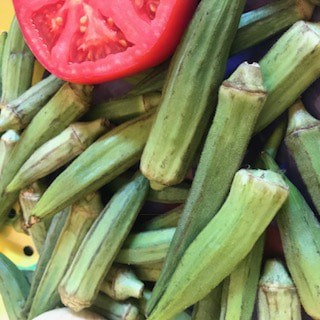 Okra is a natural thickening agent, most often used in gumbos, soups and stews. Here's how to avoid cooking a slimy okra.
---
Rinse the okra and pat dry with a paper towel. Then, spread okra out onto a flat surface and salt heavily. The salt absorbs some, but not all additional moisture from the okra. Once you are ready to cook the okra, make sure your water, or sauce is almost boiling.
Shake some of the salt off of the okra and place it in the hot liquid; cover and allow to cook for about 2-4 minutes. Then,  remove lid and turn the heat to low, allowing the okra to continue to cook; check the tenderness of the okra with a fork; once tender, remove and serve.
What If I'm Using Frozen Okra?
If you're using frozen okra for a soup, stew or gumbo, simply rinse the okra first then add it to the dish. However, if you're using frozen okra to serve with stewed tomatoes or by itself, rinse the frozen okra then pat dry; add salt and allow to sit for 5 minutes. Then, bring your liquid to a high heat, shake the excess salt off of the okra, and place it in the cooking pan.
You might try Stewed Tomatoes and Okra!