Tzatziki Sauce-Traditional Greek Dipping Sauce
On any given day, I imagine myself basking in the sun on a rooftop in Santorini overlooking the Aegean Sea…sipping on a fabulous glass of wine, and snacking on warm, freshly baked pita bread with fresh olive oil, kalamata olives, feta cheese and Tzatziki sauce… naturally I'm thin, wearing a designer bikini (with a less-than-there cover up), large "movie-star" sunglasses and a wide-brimmed designer hat–all while sporting a tan only the maker's of Ban de Soleil could provide.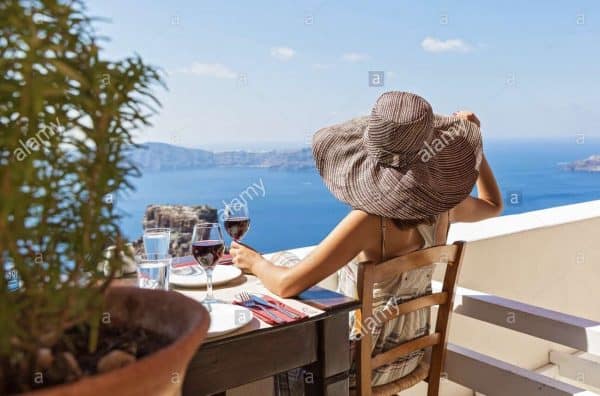 oh. but wait…I'm not there. I'm in my robe, researching Tzatziki sauce. Wishing I were in Greece.
Interestingly enough, I've scoured every fine-dining, Michelin-rated restaurant in Greece looking for this traditional Greek sauce on the menu and I'm not having much luck. Perhaps Tzatziki sauce isn't served in fine dining restaurants? Or, maybe it's reserved to local "pub-like" restaurants? Maybe it's a "no-brainer" meaning that it's served automatically in Greece (like we serve chips and salsa at Mexican restaurants here in the US?)
In any case, I've never been to Greece and while it is on my bucket list, I must improvise until I get there, so I make Tzatziki sauce and daydream.
What is Tzatziki Sauce?
Tzatziki sauce, "tsatˈzi´ːkee", is a yogurt based sauce/dip that contains cucumber, garlic, dill, sometimes mint, often found in Greek and/or Greek-American restaurants. It's commonly presented as an appetizer, served with dolmas, pita, Gyros or calamari, or with skewered lamb, or chicken.
Do I Have to Use Greek Yogurt for Tzatziki Sauce?
Greek yogurt is strained more than conventional yogurt, making it a thicker consistency. I've made this recipe with non-Greek yogurt and it didn't turn out so well. Greek yogurt is the best choice.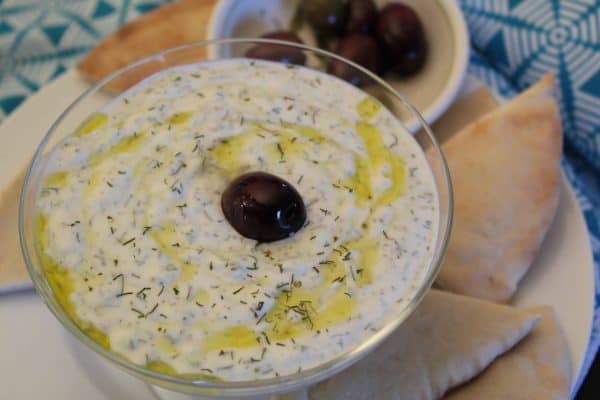 This dip/sauce works great with pita bread, but consider dipping bell peppers, carrots, celery of kalamata olives in the Tzatziki sauce, particularly if you're trying to cut back on carbs!
Should I Use Fresh or Dried Dill?
Either fresh or dried dill can be used in this sauce, but keep in mind that dried herbs are more potent than fresh. If you want to substitute one tablespoon of dried dill with fresh, then you would use 3 tablespoons of fresh dill.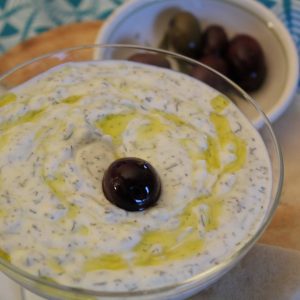 Print Recipe
Tzatziki Sauce
Creamy and tangy yogurt sauce with hints of cucumber, garlic and dill.
Refrigerate and Allow to Rest
30
mins
Ingredients
1½

cups

Greek yogurt

plain

1

large

regular cucumber or 1/2 an English cucumber

peeled and shredded (or pulsed in food processor)

1

tablespoon

dill

dried (see recipe notes if using fresh dill)

1

tablespoon

garlic

minced

1

teaspoon

vinegar

white

½

teaspoon

ground pepper

salt to taste

1

teaspoon

olive oil

high quality
Instructions
Peel cucumber; shred cucumber on fine using either a cheese grater or food processor

Place cucumber in paper towel and squeeze excess water

Place cucumber in a medium bowl; add remaining ingredients; combine well; cover and refrigerate for 30 minutes

After allowing the dip to rest, remove from fridge, stir, and drizzle a high quality olive oil on top; garnish with kalamata olives; serve with warm pita or naan bread
Notes
This recipe uses dried dill; however, if you use fresh dill, you may need to use more because dried herbs are stronger and more potent than fresh.
No vinegar? Add a squeeze of fresh lemon juice instead!

English cucumbers are larger than regular (slicing) cucumbers and they're also seedless; if you don't have an English cucumber, use a regular slicing cucumber

Pushing back on the carbs? Try this delicious sauce with sliced red, yellow or green bell peppers, carrots, celery or kalamata olives!
If you're going for a Greek-themed dinner, you might like Mediterranean Lamb Loins!