Even though nobody in my family will eat fish, they ate this Tilapia with Avocado Sauce! It's really quick and easy to make, and healthy. And the best thing is that you can make this avocado sauce even if the avocado's aren't quite ripe! Just pop it in the food processor and you're done! I served tilapia with a side of roasted corn, pico de gallo and fresh asparagus…yummy and healthy!
WHY? 
Tilapia is a mild-tasting, freshwater fish that provides us with a host of vitamins and nutrients: selenium, phosphorous, and off the charts in B1 and Vitamin D; it also provides Omega 3 essential fatty acid (EFA), but not nearly as much as salmon.
HOW-TO?
Tilapia:
Soak tilapia in fresh lime juice for about 20 minutes. Then, in a heavy bottomed skillet, add 1 tablespoon oil and bring to medium heat; place fish in pan and let cook for about 8 minutes; flip and cook another 4-8 minutes until fish is done in the middle. Pour warm avocado sauce over fish, top with pico de gallo and enjoy!
Roasted Corn: No need to fire up the grill
In a big bowl, soak corn in milk. WHAT? MILK??? Yes! The sugars in the milk permeate the corn kernels, resulting in a caramelized roasted corn. Heat a heavy bottomed (cast iron) skillet on medium high heat, put the corn in the skillet and let it roast; turn the corn to make sure all of the kernels are roasted. Then, stand the corn on end and using a sharp knife, slice off the roasted kernels.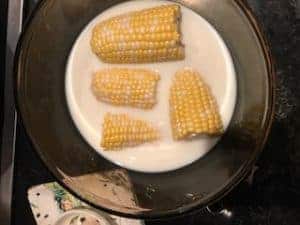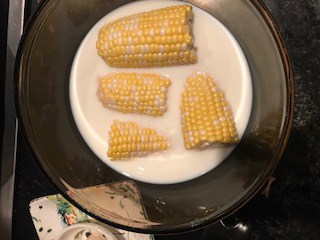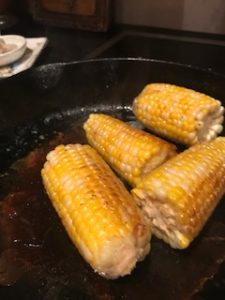 Avocado Sauce: 
In a food processor, puree avocado with oil, onion and garlic; chill and serve as a dressing or warm and serve as a sauce.
Print Recipe
Avocado Dressing
Light creamy avocado sauce works well as a salad dressing or an accent for fish!
Ingredients
3

tablespoons

mayonnaise

3

cloves

garlic

1/4

cup

onion

3

tablespoons

lime juice

1

avocado

, peeled and pitted

1

cup

oil

salt and pepper to taste
Instructions
In a food processor, pulse all ingredients EXCEPT oil

Slowly drizzle oil into food processor while pulsing to obtain desired consistency of sauce

Cover and chill for 15 minutes for dressing; for sauce, heat in a saucepan and serve over fish
Notes
Avocado sauce can be served as a dressing or a sauce for fish, tacos or steak