Duchess Potatoes are an elegant and impressive way to serve mashed potatoes! Small swirls of creamy potato with a light toasted topping makes the perfect side dish for meatloaf!

These swirled rounds of potato were created by chefs in the 19th century to encourage people to eat more potatoes. Before this creation, potatoes were thought to be peasant, or "lowly" foods. So, some chef decided to incorporate egg yolks, butter and swirl them onto a baking dish; thus, the delicate Duchess Potato was born.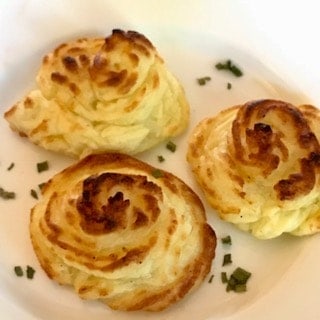 Anyone Can Make Duchess Potatoes
If you can make mashed potatoes, then you're on your way to mastering the Duchess! The tricky part is learning how to pipe them into a beautiful, swirly form without them falling.
What Type of Potato Should I Use for Duchess Potatoes?
Russet potatoes are most commonly used for this recipe because they are light and fluffy when cooked, making them easy to mash, (or press through a food mill) with no lumps. You can use golden, or Yukon potatoes but these waxy potatoes are more difficult to mash into the fine form you'll need when you get ready to pipe the potatoes through a pastry sleeve.
Tips for Successful Duchess Potatoes
After you've boiled and drained the potatoes, begin mashing potatoes into a fine, fine texture. Once you've gotten the lumps out, add the butter and cream. Allow the potatoes to cool a bit before you add the egg yolks, or the eggs will cook. Make sure you use enough egg yolks–they stabilize the potatoes and keep them pretty:)
Next, season to taste. I've found a really good potato has a lot of pepper, so if you're going to use a lot of black pepper, be sure it's ground finely. (Do not use white ground pepper! White ground pepper has more heat than black and it will detract from the creamy, buttery flavor of the potato!)
Place the potato mixture in a pastry bag with a star tip; the bigger the better. Begin to swirl the potato in a circle, forming a large base, and narrowing the circle as you move up. The potatoes will fall a bit due to the heat, so be sure to make them tall.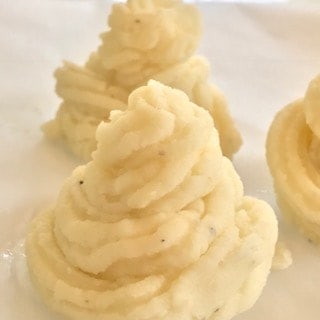 Once potatoes are piped, refrigerate them for about 20 minutes.
In the Broiler
Put the potatoes on a rack near the top of the oven. The baking mentality here is "hot and fast" so the Duchess Potatoes won't wilt. Some people put an egg-white wash on their potatoes to encourage browning. You can do this ONLY if you're potatoes are very cold before going into the oven; otherwise, when applying the egg-white wash, you ruin the pretty pastry design… They brown just fine without the egg wash.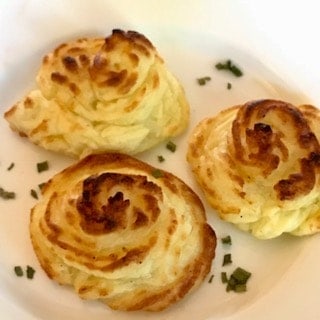 How Do I Serve Duchess Potatoes?
These beauties can be stand alone side-dishes, or served on top of a Shepherd's Pie or other casserole!
Can I Make Duchess Potatoes Ahead?
Yes, simply prepare and pipe the potatoes onto a buttered baking dish and refrigerate. About 15 minutes before you're ready to serve, place them in the oven under the broiler and keep an eye on them. Serve immediately.
---
Not ready to pipe potatoes yet? Try making Potato Dauphinoise!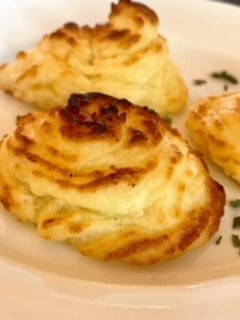 Duchess Potatoes
Classic French piped, baked potatoes with a rich buttery flavor and a hint of crispy exterior!
Print
Pin
Rate
Ingredients
2

lbs.

potatoes

Yukon gold, peeled and cubed**

4

tablespoons

butter

divided; plus 1 tablespoon to coat baking sheet

4

egg yolks

¼

teaspoon

nutmeg

salt & pepper to taste

finely ground black pepper

¼

cup

heavy cream
Instructions
Place potatoes in boiling water; reduce heat to medium and cook for 15 minutes, or until fork-tender

Once potatoes are tender, drain and allow to cool for about 10 minutes

Place warm potatoes back into large pot; using a fine-grade potato masher, mash potatoes until smooth

Add butter, cream and nutmeg to smooth potatoes; combine well; taste for seasonings (add more salt and finely ground black pepper if needed). Allow potatoes to cool a while before adding egg yolks!

Add egg yolks to potato/butter mixture; combine well
Using a pastry bag with a star-tip, add potatoes to pastry bag
Start piping potatoes onto buttered baking sheet in a small circle, slowly moving upward; repeat process until all potatoes are piped onto sheet. (You may need two or three baking sheets, depending upon size of oven.)

Refrigerate piped potatoes for about 20 minutes, until firm.

Preheat oven to 500ºF (or broil setting)

Once potatoes are firm, place piped potatoes into hot oven and broil until the top and scalloped edges are light golden brown

Plate and serve immediately
Notes
Allow the potatoes to cool a bit before you begin piping, otherwise, the potatoes will spread, instead of standing 
Make Duchess Potatoes ahead of time; cook potatoes and refrigerate; about an hour before you're ready to serve them, remove them from refrigerator and allow to come to room temperature. Once at room temperature, pipe potatoes onto buttered baking dish and bake at 450º F for 8-10 minutes, or until tops and scalloped edges are golden brown. 
** When peeling potatoes, after skins are removed and potato is rinsed, place potato in clean water. Make sure the potatoes are covered in water; this prevents discoloration.