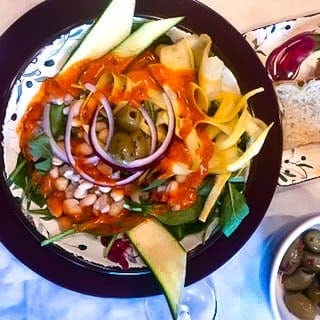 Spicy Mediterranean Salad with Calabrian Dressing
Spicy Mediterranean Salad with Calabrian Dressing is a copycat recipe from the restaurant chain Zoe's Kitchen. It's delicious as a side or entree and is loaded with vitamins and nutrients from whole grains, legumes and vegetables.
Mediterranean salad offers an enormous amounts of fiber, vitamins, nutrients and antioxidants. Based on fresh spinach and spicy arugula, the salad provides maximum health benefits and flavor. The dressing is what really kicks this dish into the next league offering an unexpected punch of heat and sweet!
What Ingredients Are In Mediterranean Salad?
The base of the salad consists of tender baby spinach and spicy arugula. Other items are:
Garbanzo beans
Whole grain farro
Cannellini beans
Summer squash
Zucchini squash
Red onion
Spicy Calabria dressing
What is Calabrian Dressing?
Calabrian dressing is an oil and vinegar-based salad dressing that contains hot Calabrian peppers and sweet red Pepperazzi peppers.
How Hot are Calabrian Peppers?
Calabrian peppers are small red hot peppers grown in Calabria, Italy. On the Scoville Heat Index, Calabrian peppers fall into the 25,000- 40,000 range. The Scoville Heat Index ranges from 0 (green bell peppers) to 16,000,000 ( pure capsaicin). For comparison, jalapeno peppers are in the 2,500 – 8,000 range.
Where Can I Buy Calabrian Peppers?
These spicy peppers are usually found in the pickle, olive, pepper section of the store. The Pepperazzi and
Salad Ingredients
farro (long grain, semi-pearled)
 red onion, sliced
cannellini beans, chilled
garbanzo beans, chilled
 yellow squash, sliced or ribbon-style
 zucchini, sliced or ribbon-style
fresh, raw spinach
fresh, raw arugula
Calabrian Salad Dressing Ingredients          Servings: 1 cup
6 Calabrian or Pepperazzi™ brand peppers
¼ cup olive oil
2 tablespoons vinegar
½ teaspoon salt
½ teaspoon black pepper
Recipe Directions for Spicy Mediterranean Salad
Rinse and cook farro; SEE RECIPE NOTES
Rinse beans and refrigerate for 20 minutes
Prepare onion, zucchini and squash; rinse and cut in slices or ribbons (using a potato peeler)
Meanwhile, in a food processor, combine all dressing ingredients; puree until smooth
Allow dressing to rest for a while; SEE RECIPE
Plate 1 cup spinach and ½ cup arugula; place one cup farro on greens; add about ¼ cup of each bean; add squash, red onion and 3 olives; lightly drizzle dressing over salad
How Do I Cook Farro for the Mediterranean Salad?
Cooking farro: Bring 4 cups water to boil; add one cup farro; stir and allow to come to boil again; cover and reduce to simmer until liquid is absorbed; once farro is done, rinse and spread over baking sheet; season with salt and refrigerate for about 20 minutes
Dressing: The heat of the dressing intensifies upon resting; taste it after the resting time; if you want to add more heat, start by sriracha in ½ teaspoon increments; adjust salt according to taste preference
Craving More? You might like Caesar Salad, Fried Chicken Salad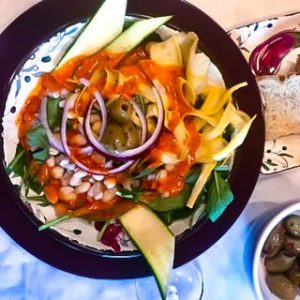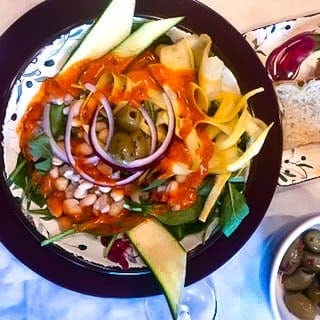 Print Recipe
Spicy Mediterranean Salad
Spicy Mediterranean Salad is a meal in itself, loaded with grains, squash, farro and a zippy Calabrian pepper dressing!
Ingredients
Salad Ingredients
1

cup

farro

long grain, semi-pearled

1/2

onion

sliced

1

cup

cannellini beans

rinsed, drained and chilled

1

cup

garbanzo beans

rinsed, drained and chilled

3

medium

yellow squash

sliced

3

medium

zucchini

sliced

4

cups

raw spinach

rinsed and dried

2

cups

arugula

chopped
Dressing Ingredients
6

Pepperazzi™ brand peppers

4

cups

liquid

water or vegetable broth

1/4

cup

olive oil

2

tablespoons

vinegar

salt and pepper to taste

2

teaspoons

Sriracha sauce

use in 1/2 teaspoon increments to taste
Instructions
Rinse and cook farro; Bring 4 cups water to boil; add one cup farro; stir and allow to come to boil again; cover and reduce to simmer until liquid is absorbed; once farro is done, rinse and spread over baking sheet; season with salt and refrigerate for about 20 minutes

Rinse beans and refrigerate for 20 minutes

Prepare onion, zucchini and squash; rinse and cut in slices or ribbons (using a potato peeler)

Meanwhile, in a food processor, combine all dressing ingredients; puree until smooth; ADD SRIRACHA SAUCE IN 1/2 teaspoon increments; it is spicy!

Allow dressing to rest at room temperature for a while; re-taste dressing to determine if it needs more sriracha sauce

Plate 1 cup spinach and ½ cup arugula; place one cup farro on greens; add about ¼ cup of each bean; add squash, red onion and 3 olives; lightly drizzle dressing over salad