Southern Inspiration
I saw a video the other day of a popular food blogger showing how to make sweet tea….WHAT? Everybody knows how to make sweet tea, don't they? Apparently not, because this blogger got like a zillion "likes" from that one little recipe.  And then, I thought to myself, "well, if they don't know how to make sweet tea, they probably don't know how to cook purple hull peas, homemade cornbread, banana pudding or know the difference between a store-bought tomato and a Jacksonville tomato" and my list went on and on…and then I got to thinking…
---
About 25 years ago, I was in a Boston, Massachusetts' restaurant and I ordered iced tea. The waitress looked at me like I was crazy! "Iced tea?" she asked.  Calmly, I replied, "Yes. It's tea with ice in it, generally served very sweet." So, they brewed some tea, poured it in a tea cup, put ice in it and served it to me–in a tea cup…ugh…no sugar.
I had to add a few sugar packets to the semi-cold tea. (The sugar just crystallized on the bottom of the glass. Also, stevia wasn't even a thing back then.) Anyway, I drank it and asked for a refill…which I was charged! "WHAT? Nobody charges for tea refills! It's like coffee…nobody charges for coffee refills!" In hindsight, I must have had led a somewhat sheltered 'food life' and didn't recognize nor appreciate regional culinary customs.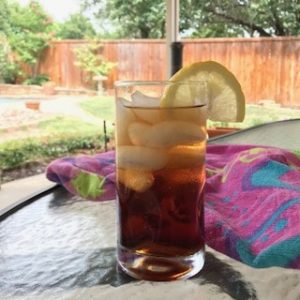 Dining with Others
Then I remembered a story a friend of mine told me about dining in a fine restaurant in Atlanta, Georgia, with a business colleague from Up North. Apparently, the out-of-towner was embarrassingly rude to the server. So, my dear friend, in all her Southern Charm, left a gracious tip and a note apologizing, "My sincere apologies; obviously, my friend was not raised on sweet-tea." That story gets me every time:) There are other things about being from the South that others Just-Don't-Get. For example, peas.
My Minnesotan husband won't touch them. I could live off peas, cornbread and sliced tomatoes, but he won't even look at them. He's not a food snob, he's just "not from around here"; he Just-Doesn't-Get-It. He wouldn't dare touch a pimento cheese sandwich, either. Bless his heart. I love him dearly, but every summer I find myself cooking two dinners: one for him (meat and potatoes) and one for me (peas, cornbread, tomato, onion and a glass of sweet tea).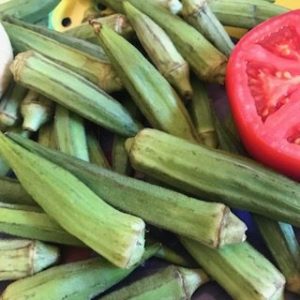 Bless Her Heart
I'll never forget the time I took my mother-in-law to the Farmer's Market in downtown Dallas (when it was good). We were walking in Shed #2, where the local farmers were sampling their beautiful fruits and vegetables, and we came across the booth hosted by the famous farmers out of Canton, Texas. Their spread was unbelievable! Huge tomatoes, black-eyed peas, purple hull peas, speckled butter beans, new potatoes, cucumbers, blackberries, blueberries and okra to name a few. I was in hog heaven and it was a sweltering 109 degrees outside with no breeze. I didn't care…I quickly pulled out my dollar bills and started pointing to every item, "one of each, please," and then my dear mother-in-law said, "what's this?" holding up a small wicker basket containing okra. Good Lord, I nearly fell out in the floor… "it's okra," I said, with somewhat irritated Southern Charm.
Being from Minnesota, she'd never seen, eaten, nor cooked okra. Bless Her Heart. As I filled my trunk with fresh produce, we continued to talk about "the okra". How best to cook it, how my Grandmother cooked it, the flavor, texture and how it was a staple in Gumbo. WHOA!!!! Hang On Nellie!!! GUMBO??? "What's Gumbo?," she asked…luckily, there was a nearby Mexican restaurant where we could pop into and I could have a cold beer, calm down, shake the question marks from my brain. With extreme and difficult self-induced patience and the utmost Southern charm, I explained Gumbo over a plate of horrible nachos. (She knew what those were, by the way:)
The Tomato Capital of the World
A few years ago, my friend and I drove half way across the state of Texas to The Tomato Capital of the World-Jacksonville, Texas, to pick up a box of tomatoes. Now that may sound crazy to you, but they really are The Best Tomatoes In The World.
Let me preface this by saying these folks take their tomatoes seriously. All throughout the town are huge concrete tomatoes. The town arena is named, "The Tomato Bowl". Heck, even the police department and local Whataburger have a logo'd concrete tomato out front.
Jacksonville is in East Texas, where the red-dirt is Mother Nature's secret recipe for delicious produce. Seriously, anything that comes from that soil tastes like heaven; simply indescribable. Jacksonville is a relatively small town, established around 1850 and originally known as Gum Creek. To get there,just take Highway 69 south from Tyler.
For years, it has been known as The Tomato Capital of the World, and every June, the town holds a Tomato Fest which consists of locals and hundreds of out-of-towners making the pilgrimage to this one East Texas Town, all for The Jacksonville Tomato.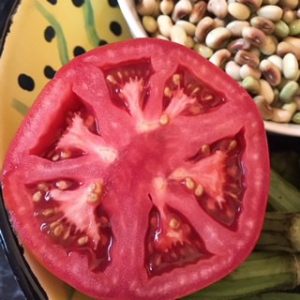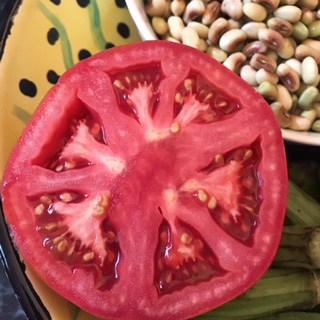 The Infamous Tomato Contest
Jacksonville's reputation as The Tomato Capital of The World has been undisputed and rightly so…until one fateful June in 2013. The town of Crystal Springs, Mississippi had contacted the town of Jacksonville in order to buy some of the large concrete tomatoes that appear on every street corner in Jacksonville. You see, Crystal Springs, Mississippi is a tomato-town, too. They were doing a beautification project for their town and they wanted to know where Jacksonville got their concrete tomatoes.  Well, both town's leaders got together and began to swap tomato-history stories. They thought it would be fun and beneficial to both towns to conduct a friendly contest to determine which town was actually The Tomato Capital of the World. (Just so you know, roughly 80% of tomatoes in Texas are from Jacksonville.) Anyway, this friendly contest pitted the fruit into 3 categories:  Largest Tomato, Best Plate of Three and Best Taste. Jacksonville took home the Largest Tomato award, Crystal Springs took home Best Taste, and it was a tie for Best Plate of Three.
Well, you won't believe this…and you won't find this published anywhere but, I have it from a highly reliable Jacksonville source what actually happened went like this:
In June, 2013, the town leaders of Crystal Springs, Mississippi and Jacksonville, Texas met in Shreveport, Louisiana to conduct the Tomato Contest on live television.  There were hundreds in the audience and outside the news station, chanting and enjoying the friendly rivalry. The contest was going on and the results were read–incorrectly. Yep. Think Academy Awards. Jacksonville actually won the 2013 Tomato Contest by 1 point. However, with the live audience and all the hoopla and cheering, this one Jacksonville leader handled the situation with her Southern Charm. She let it slide.
The annual competition continued for the next two years, until 2015, and naturally, Jacksonville won the contest both years. Now, rather than continue the friendly rivalry, Jacksonville has expanded it's Tomato Fest to include a Farm-to- Table event, the first being this year, where local farmers provided an evening of fabulous food accompanied with entertainment and merriment. I didn't get to go this year, but I am definitely planning on attending June 2019, which will be the 35th Annual Jacksonville Tomato Fest. And if you can't make it to Jacksonville, they'll ship tomatoes to you, right up until September or so!  Just contact the nice folks at the Jacksonville Chamber of Commerce to order some.
So, I got long winded there, but back to the original thought of some folks not knowing how to make sweet tea, or other Southern staples. I thought, "who better than me to share my Southern recipes?" I mean, I'm no culinary genius, but I do know my way around a kitchen.
These are some of my all-time, favorite recipes; they're really simple, but simply delicious. And next time you find yourself in a predicament where your guest has no clue how lucky they are to be sitting at your table, with a glass of sweet tea, and a plate of Purple Hull peas,  Southern cornbread, Classic Meatloaf or Stewed Tomatoes and Okra, well, just Bless Their Hearts with all the Southern Charm you can muster.
---
Craving more Southern Recipes? You might like Classic Chicken Spaghetti ,  Peach Cobbler , Classic Pot Roast or True Texas Chili