I used to frequent an independent restaurant in the neighborhood where I grew up called "Gershwins". It was a local hot-spot where you could drop in, have a glass of wine and an appetizer, chat with the regulars and of course, listen to a piano player
I took my Grandmother Rozie there for lunch on her 73rd birthday. Her tooth fell out while she was eating a roll. But we had the most amazing appetizer…a Beggar's Purse…..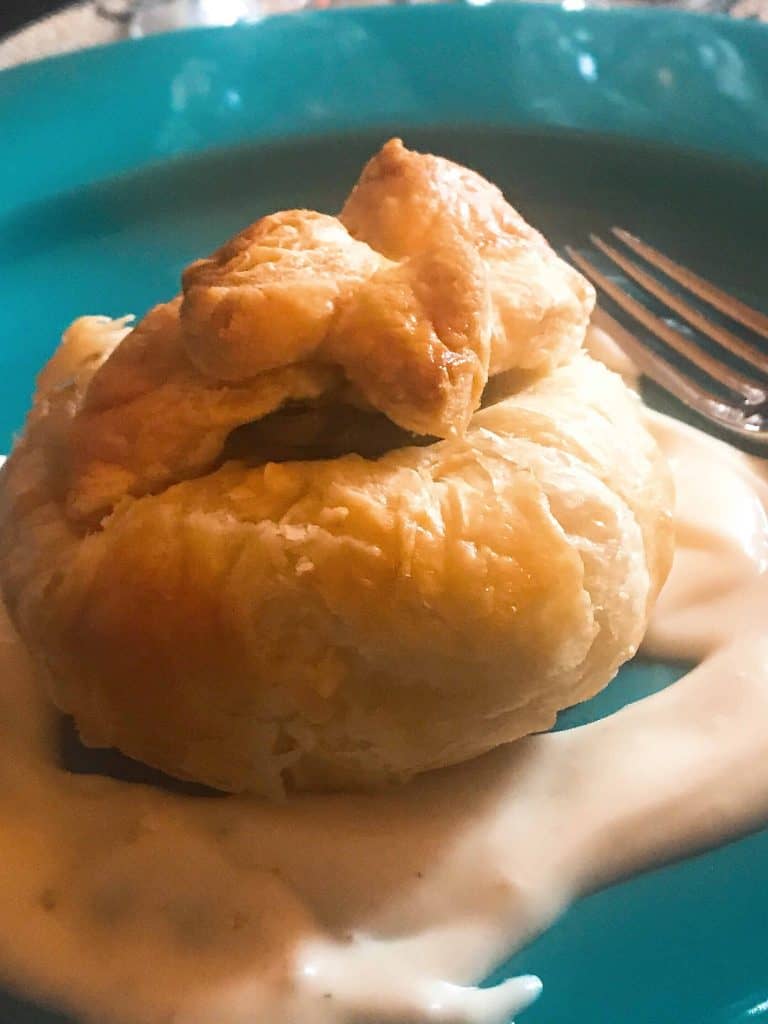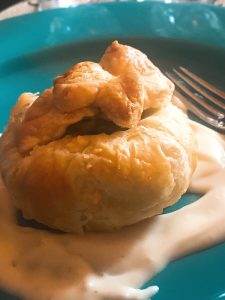 A beggar's purse is basically a puffed pastry filled with anything…it can be sweet, filled with berries, or savory – filled with meat. Think of it as a bundled up crepe, but with a fluffier pastry. I had never made one before, so I researched recipes and came up with one that is pretty darn good.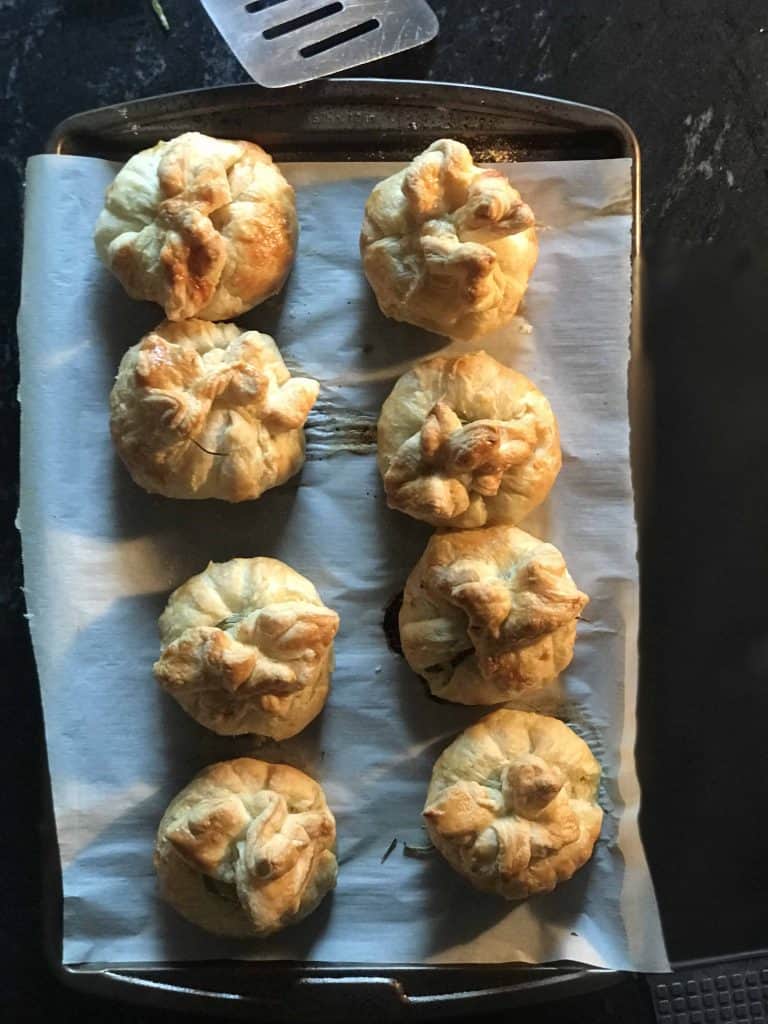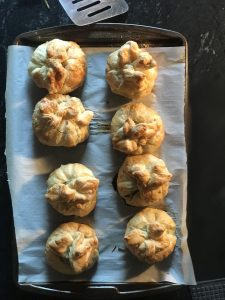 The thing that makes this Beggar's Purse so yummy is the fresh shrimp and crab meat, plus the wine cheese sauce. Combining the rich and tangy flavors of the sea with a mildly sharp cheese is just like heaven in a box–or a little 'purse'.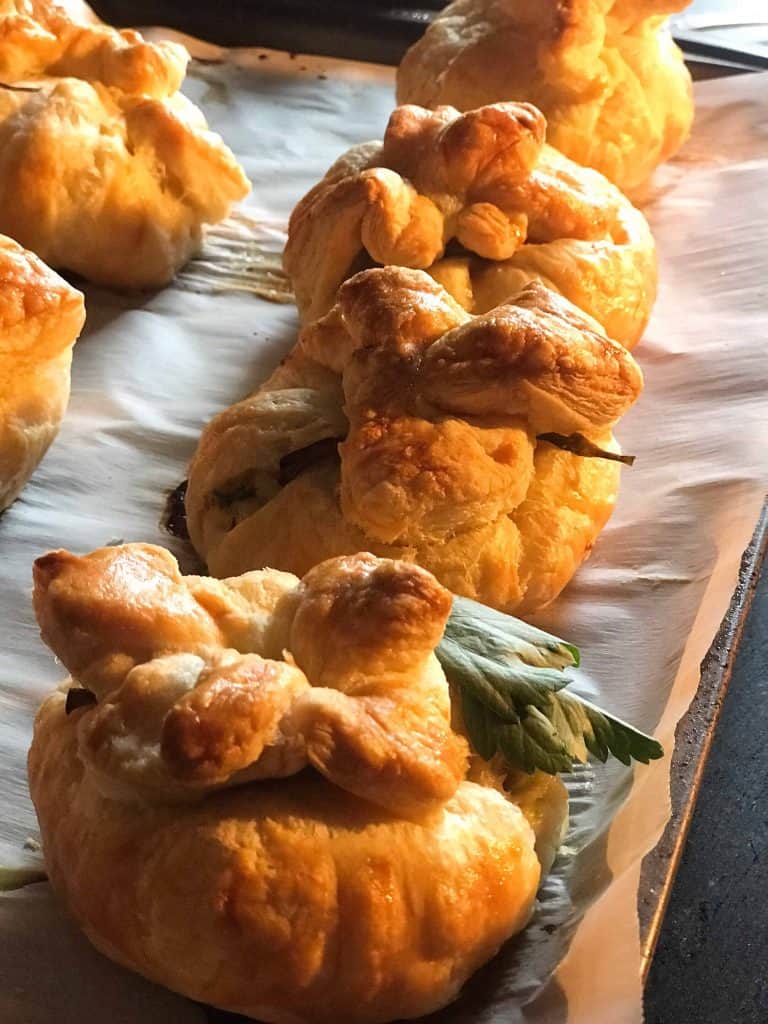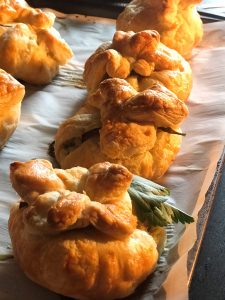 I was so afraid of the pastry part… I don't excel in baking..but I took on the challenge and have learned that this is a pretty impressive vessel for anything…shrimp, beef, poultry, you name it. Use your imagination with this steadfast method! And if you're having a large gathering and want to impress, make the filling in advance; freeze, then thaw at room temperature, fill your purse, and bake…
See you in the kitchen!    
Shrimp and Crab Beggar's Purse
Puffed pastry filled with fresh shrimp, lump crab meat and a savory wine cheese sauce!
Print
Pin
Rate
Servings:
8
Beggar's Purses
Ingredients
Filling
1/2

lb.

fresh shrimp

shell on

6-8

oz.

fresh lump crab

drained

3

scallions

1

stalk

celery

1

large

lemon
Sauce
1/4

cup

cornstarch

3

cups

heavy cream

1/4

cup

milk

1

tablespoon

vinegar

1/3

cup

dry white wine

2

cups

Swiss cheese

shredded

1/4

teaspoon

salt

1/4

teaspoon

pepper
Pastry Preparation
1

box

puffed pastry

(two sheets)

1

whole

egg

1

cup

flour

flour surface
Instructions
Filling Instructions
Bring 6 cups water to boil; add shrimp (with shells on); cook for five minutes or until shrimp are bright pink

Remove shrimp; allow to cool; peel and devein

Place drained crab meat, shrimp, scallions and celery in food processor and pulse to a fine consistency; add 1/2 teaspoon salt; 1/2 teaspoon pepper; juice from 1/2 lemon; set aside
Sauce Instruction
Whisk together milk and cornstarch; add wine to saucepan and bring to boil until it has reduced to about 1 tablespoon

Stir cornstarch/milk mixture into saucepan with wine

Add heavy cream; stirring constantly, bring to boil

Add cheese and vinegar to cream mixture, stirring constantly until cheese has melted

Add one cup of sauce to shrimp/crab meat mixture; combine well; set aside
Beggar's Purse Assembly
On a floured surface, roll puffed pastry out; cut into quarters; using a rolling pin, lightly roll dough out until it has expanded about 1/2 inch all the way around

Place 1/3 cup of shrimp/crab mixture in center of dough;

Pull corners up and tuck in sides, pinching dough to make a "neck" for the purse; secure neck with a strand of scallion or chive

Place purses on baking sheet lined with parchment paper

Lightly beat egg and add 1 teaspoon water to egg

With a pastry brush, coat each purse with egg wash

Re-heat cheese sauce; plate pastry and drizzle with warm sauce
Notes
This recipe calls for a dry, white wine, however, you can substitute clam juice for the wine if you prefer
Serve this savory Beggar's Purse with fresh fruit, or a simple green salad