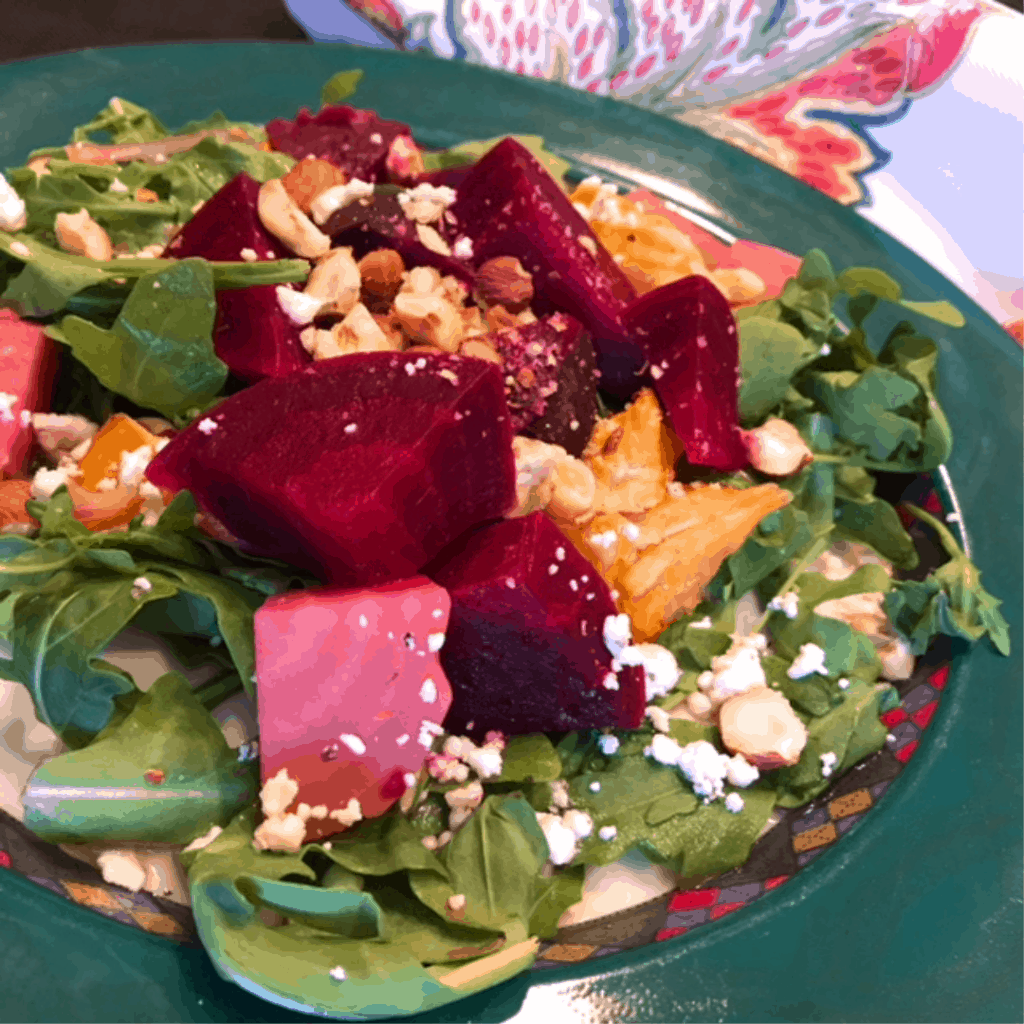 Roasted Organic Beet Salad
Before you say, "I don't like beets" try this Roasted Organic Beet Salad. It will totally change your opinion of beets because of the roasting process combined with the addition of citrus and herbs. Your taste buds will explode with the flavor/texture combination of sweet, tangy, savory, crunchy and spicy!  This fabulous salad has it all and is perfect year-round.
What Type of Beets Should I Use in Roasted Beet Salad?
Genetically Modified Organisms (GMO's), also known as "bio-engineered" foods are quite controversial. Beets, also known as sugar beets, have gotten a bad rap in the past due to the fact that most of us tried them as kids and hated them and, in U.S. crops are one of the most genetically modified.  There's a plethora of information, legislation and argument for the Pro's and Con's of GMO's. In light of this, this author recommends certified organic beets.
Beets are Nutritious
Beets are believed to offer some healthy benefits including lowering the risk of cardiovascular disease and acting as an anti-inflammatory, and while most of these studies have not been definitively proven, some beet facts are true: Beets offer a big dose of Vitamin C and fiber; other nutrients include iron, Vitamin B6 and magnesium. Beets are inherently low in fat, cholesterol and calories.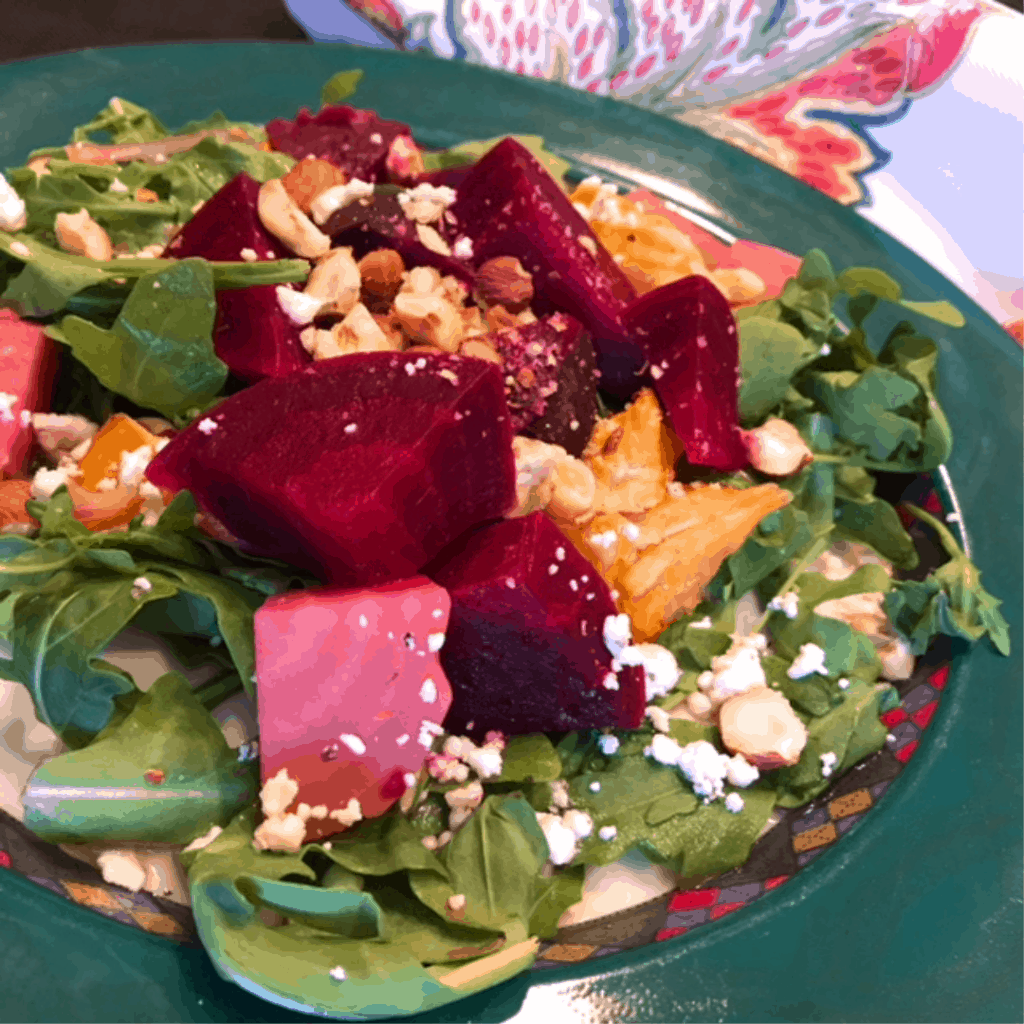 Outside of the spicy arugula, sweet beets, crunchy roasted hazelnuts and creamy feta, the sweet and tangy salad dressing is what sets this salad apart from others. It's a mild combination White Raspberry Balsamic Vinegar, malt vinegar (or red wine vinegar), sugar and a pinch of salt.
If your grocer doesn't carry White Raspberry Balsamic Vinegar, feel free to contact The Grapevine Olive Oil Company and they can send you some! They carry a wide array of imported and domestic oils and vinegars infused with raspberry, chocolate, garlic–you name it!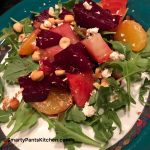 Print Recipe
Sweet and Tangy Beet Salad
You'll rethink beets once you have a bite of this sweet and tangy beet salad!
Allow beets to cool
10
mins
Servings:
4
side salads/2 entree
Ingredients
2

large

red beets

clean and remove stems

1

large

Chioggia beet

clean and remove stem

1/2

red onion

sliced

1

can

mandarin oranges

drained

1

bag

fresh arugula

1/2

cup

dry roasted hazelnuts

course chopped

1/2

cup

feta cheese

crumbled

2

tablespoons

white raspberry balsamic vinegar

2

tablespoons

red wine or malt vinegar

1

tablespoon

sugar

salt and pepper to taste
Instructions
Dressing Preparation
In a medium saucepan, heat red wine or malt vinegar and sugar until sugar is dissolved

Combine vinegar/sugar combination with white raspberry balsamic vinegar; set aside
Beet Preparation
Wrap whole beets in foil and place in oven; bake 45 minutes

Place oranges and onions in a bowl; pour a little of the dressing over them and refrigerate for 10 minutes

Once beets are cooked, remove from oven, unwrap foil and allow to cool

Once beets are cooled, peel and cut into small quarters (DO NOT place beets directly on counter top; they will stain!!! You might want to wear gloves, too!)
Plating Instructions
Plate arugula, then add beets, orange and onion mixture, nuts and cheese

Pour remaining dressing over salad; salt and pepper to taste
Notes
Say you hate beets??? Not after you try this delicious version!
Substitute hazelnuts for walnuts or pecans