You don't have to be German to enjoy a soft chewy pretzel!

This past weekend was the 42nd Annual Muenster Germanfest in nearby Muenster, Texas. I didn't go, but it made me think of pretzels. It also reminded me that I attended the festival around 1982 with friends. Then, I worked at a small, restaurant/pub called Cozy Oaks, in Denton, Texas. I schlepped burgers, beers, sandwiches and salads there for about three years and made lifelong friends.
Pretzel Memories
Everyday, around 5:30, the then Mayor of Muenster, Leo Hess, and some of his buddies would come in and have a beer. Cozy Oaks was the only restaurant in Denton that served bottled beers from around the world. We served Kirin from Japan, Beck's from Germany, Heineken from the Netherlands, Sapporo from Tokyo, Negro Modelo and Corona from Mexico, and more. If I recall, the Mayor of Muenster always had a Coors Light…go figure! Anyway, he invited all of us to attend the Annual Muenster Germanfest one year; and being free of adult responsibility, we piled up in the car and drove to Muenster. What a fun day it was! We drank German beer and ate pretzels, strudels, cheeses, danced, and had a big time out in the middle of nowhere…Muenster, Texas…population 1500 (today!)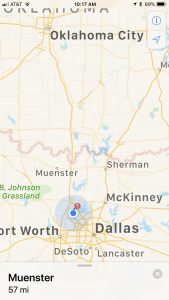 The festival was founded in 1976 and even in 1982, it was still a relatively small event; you could walk the grounds and run into people you knew. Today, I hear the festival has moved to a large park and attracts thousands to the three-day event. And even though I'm not German and I didn't go to the Muenster Germanfest, I still thought about pretzels…all week. So I made some.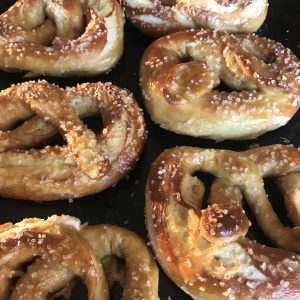 …