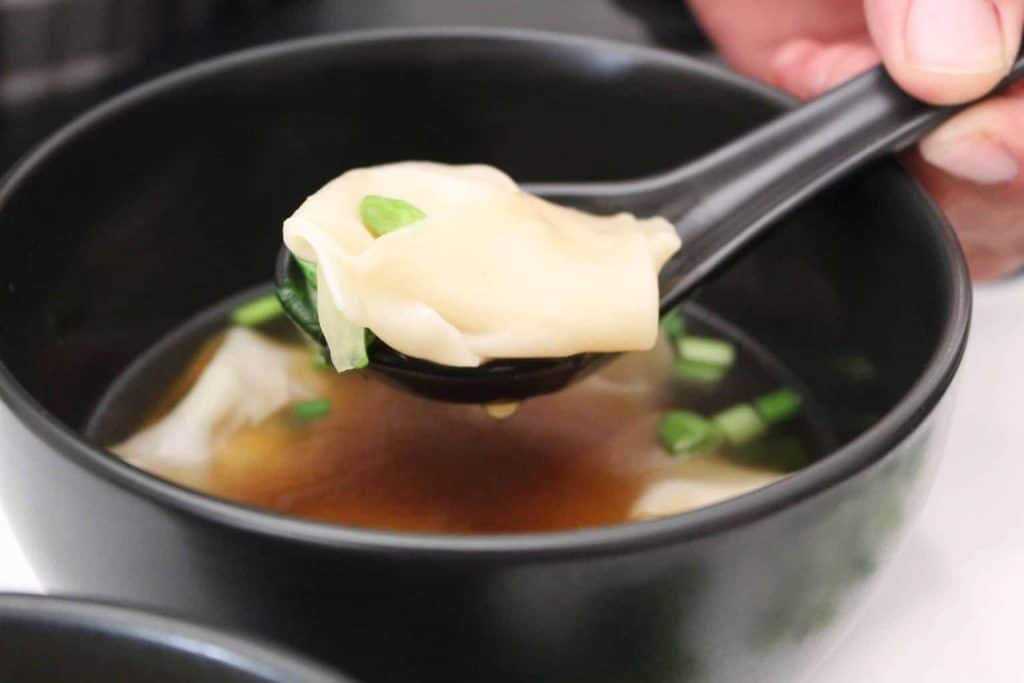 Wonton Soup is a delicious and easy soup to make and it's low-fat, too!
Wonton soup is staple menu item at many Asian restaurants and is usually served as an appetizer. The wonton often contains a protein (pork, shrimp or chicken) and usually accompanies the light chicken broth with green onions. It's actually a very simple soup to make!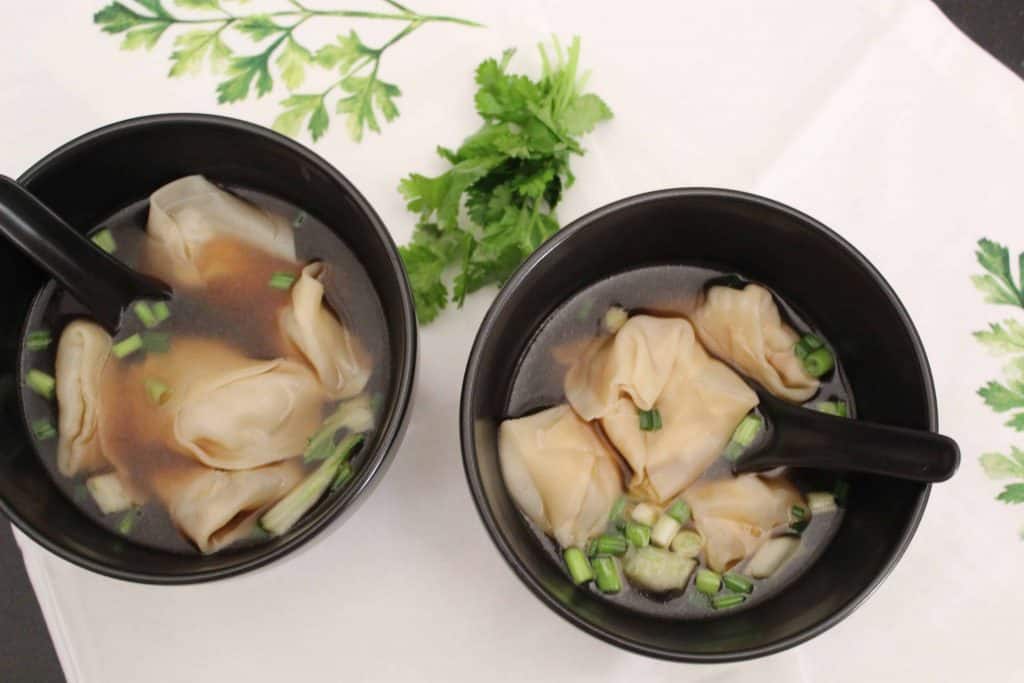 A bowl of homemade wonton soup is perfect if you're trying to lose weight, on a detox diet, or just simply hungry but not starving. Both the broth and wontons can be made ahead and re-heated on a moment's notice.
What Is A Wonton?
A wonton is a small pastry made of wheat flour, water and eggs. They're typically filled with a protein (pork, chicken, shrimp), that is formed by hand and boiled.
Are Wontons Gluten-Free?
Generally speaking, wontons are not gluten-free; however, there are gluten-free wonton wrappers available in some stores, or you can use spring roll rice paper.
Are Wontons Vegan?
No. Traditional wonton wrappers are made with egg. There are vegan wonton wrappers available. Here's one brand that is gluten-free and vegan.
What's The Difference Between a Wonton and an Egg/Spring Roll?
Wontons are generally smaller and are boiled, whereas egg and spring rolls are typically filled then fried.
Can I Make Wonton Soup in Advance?
Yes! Make the broth and form the wontons ahead of time; refrigerate the broth and freeze the uncooked wontons. When you're ready to have a bowl of soup, bring the broth to a boil then add the wontons. Allow wontons to cook for about 6-8  minutes.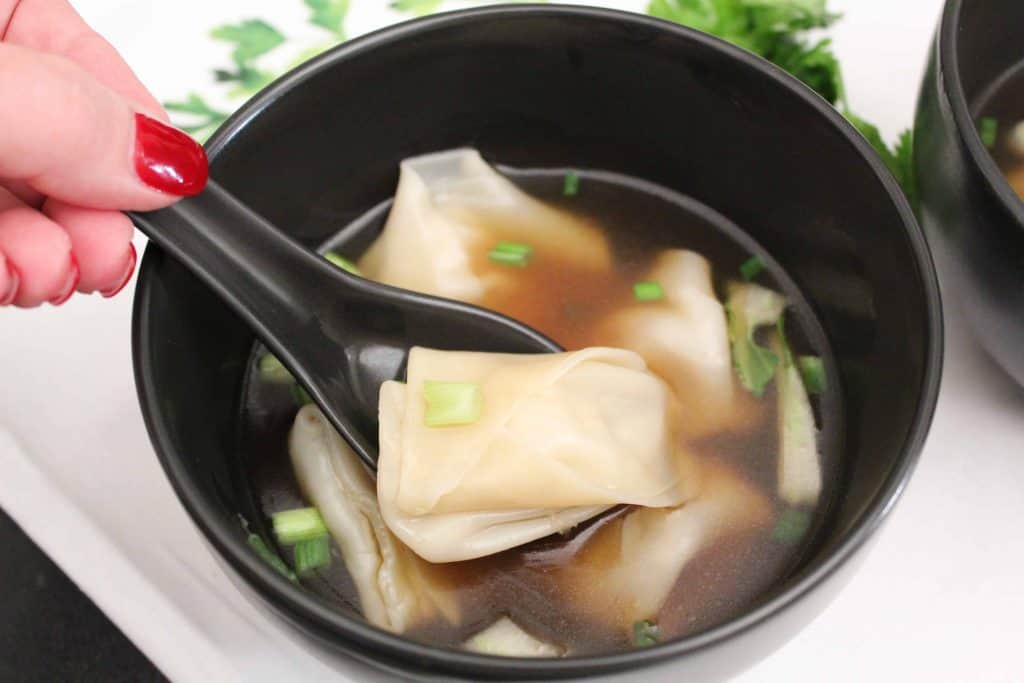 Do I Cook the Filling Before Putting it on the Wonton Wrapper?
No. I realize it sounds weird, but the protein filling (pork, shrimp, chicken) is not cooked prior to putting it in the wrapper. Now that sounds dangerous, huh? Here's why you do not cook the filling first: 1) the protein toughens when pre-cooked and makes shaping the wonton difficult and 2) there's only 1 teaspoon of filling in each wrapper, which cooks to a safe temperature in boiling water and for the exact amount of time (4 minutes).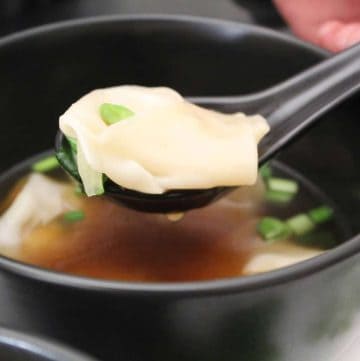 Wonton Soup
Light and flavorful chicken-based soup with homemade wontons dumplings, green onion, cilantro and bok choy.
Keyword:
Clear Chinese Soup, Won Ton Soup, Wonton Soup
Ingredients
Broth
32

oz.

chicken broth

1 1/2

tablespoons

soy sauce

1/2

teaspoon

sesame oil

1 1/2

tablespoons

Chinese cooking wine

4

green onions

2 for soup; 2 for garnish

3

cloves

garlic

peeled and mashed

1

slice

fresh ginger

(small piece)

1

tablespoon

sugar

pinch of salt

1/2

cup

bok choy

chopped; bite size

1/4

cup

cilantro

chopped (for garnish)
Won Tons
1

lb.

ground chicken, pork, or shrimp

1

pkg.

wonton wrappers

1

tablespoon

fresh ginger

grated

3

green onions

chopped

2

tablespoons

Chinese cooking wine

1

tablespoon

soy sauce

1/2

teaspoon

salt

1/4

teaspoon

pepper

1

tablespoon

sesame oil

1

small bowl of water
Instructions
Broth Instructions
Add all ingredient to large stock pot and bring to medium high heat

Allow to cook for 15 minutes; prior to serving, remove ginger and garlic pieces

Taste for seasoning; add salt if desired

Garnish with green onion and/or cilantro
Wonton Instructions
In a medium bowl, combine all ingredients

Pulse mixture in food processor until it's a paste-like consistency

Bring a large pot of water to boil

Place wonton wrappers on clean surface; add 1 teaspoon of meat mixture in the center of each wrapper

Using your finger, spread a thin line of water on all edges of the wonton wrapper

Fold wonton into a triangle; using wet fingers, press the edges together

Wet fingers again and gently fold two corners of the wrapper together

Once all wontons are shaped, add to boiling water

Boil for 4 minutes; using a slotted spoon, remove wontons and place them in serving bowl; pour broth over wontons

Garnish with additional green onion and/or cilantro
Recipe Notes
You might want to add more ingredients to this soup:

chopped mushrooms
bamboo shoots
bean sprouts
chopped water chestnuts
This soup goes great with homemade Chinese Sticky Ribs!