There's nothing better than a big bowl of True Texas Chili
The saying, "things are bigger in Texas" is true when it comes to making a piping hot, authentic bowl of True Texas Chili. There's just no way to make chili for one or two. When you're making this genuine bowl of goodness, you're gonna need to make a lot because folks love it and they always want seconds and thirds.
Trust me on this one…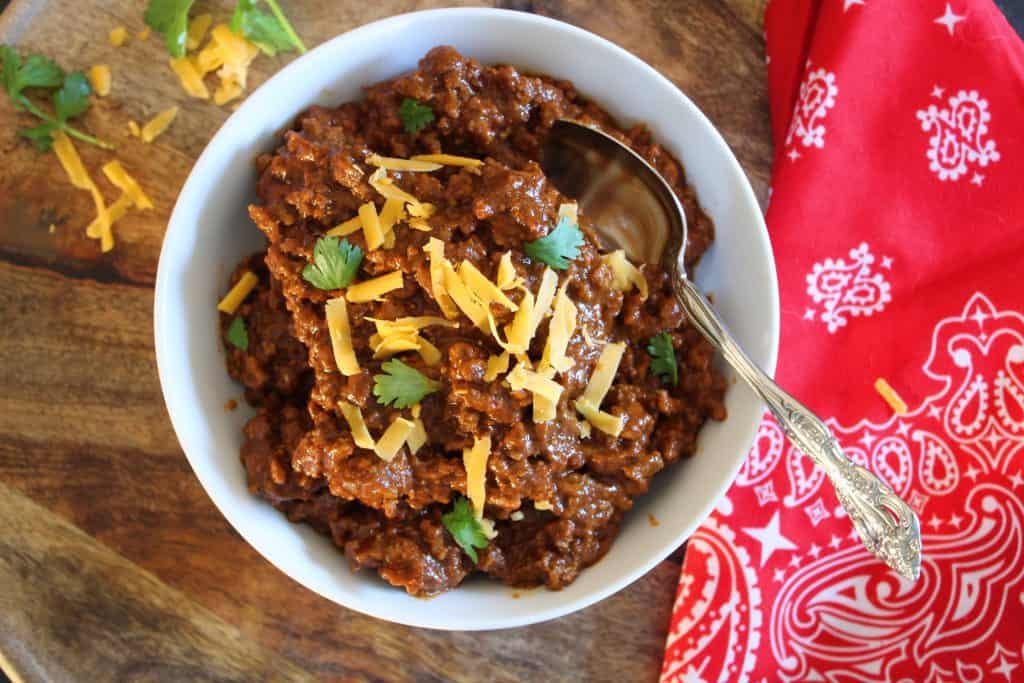 Chili Cook-Offs are quite a competitive sport in Texas…and you thought we were fanatics only about football? In Texas,  on any given weekend, you'll find some town hosting their annual Chili Cook-Off. The Grandaddy of all Cook-Offs is the Original Terlingua International Championship Chili Cook-Off held the first weekend in November in Terlingua, Texas. Here, you'll find some of the stiffest competition around for a good bowl of red!
What Kind of Beef Should I Use?
I usually us an 80/20 or 70/30 ground beef; I find the fat gives the chili a little more flavor; however, if you prefer a leaner chili, you can use a 90/10 ground beef, ground sirloin, or ground turkey.
If you use a ground beef with a higher fat content, just place the cooked beef in a colander over the sink and shake it; DO NOT rinse it!  Then, return the beef back to the stock pot and continue on…
Beans or No Beans?
Ugh. This is a constant source of pain for cook's everywhere… some are adamant about "no beans" others use pinto, kidney or black beans. It's up to you. Beans add fiber and that's a good thing. But traditionally, it does not have beans.
Can I Add Other Ingredients?
Yes! Sometimes, it's fun to take this recipe and add a can of stewed tomatoes and green chiles, or jalapenos. I've even heard of some adding green bell peppers and a can of drained corn!
Cornbread is frequently served with chili or, you can put some Fritos® in the bottom of the bowl and then you've got Frito® Pie!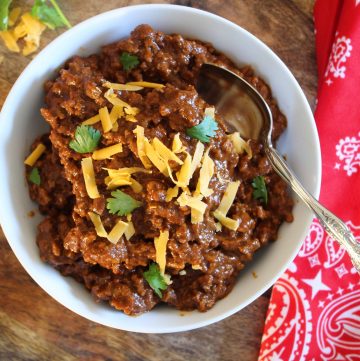 True Texas Chili
Chili the right way! Flavorful, easy to make and never enough! Make a big batch of True Texas Chili for your family and friends!
Course:
Main Course, Side Dish
Ingredients
2-3

lbs.

ground beef

1

medium

yellow onion

chopped

1

10 oz.

can of tomato sauce

1

small can

diced green chiles

1

28 oz.

can of red enchilada sauce

1

tablespoon

ground paprika

smokey

3

tablespoons

ground cumin

3-6

tablespoons

ground chili powder

start with 3; add more after chili has rested

1/2

teaspoon

cayenne pepper

1

package

Sazon Goya (Coriander and Annatto seasoning)

1

tablespoon

oil

salt and pepper to taste
Instructions
In a large Dutch oven, add oil and onions and cook on medium high heat, until onions are tender

Add beef to onions and cook until beef is browned all the way through

Drain mixture and put back into Dutch oven

Add tomato sauce, green chiles and dry seasonings

Add water if you prefer a thinner consistency

Allow to cook on medium heat for at least 20 minutes

Add salt and pepper to taste

Turn off burner and cover chili; let stand for 30 minutes

After chili rests for awhile, heat it back up and re-taste it; this is when you can add more cumin or chile powder.
Recipe Notes
If you prefer a hotter version of Texas Chili, add more chili powder
If the chili is too spicy for you, add a dollop of sour cream on top, or a lot of cheese