Spaghetti Squash Stir-Fry
Spaghetti squash has been around forever, but now, as we begin realize its nutritional value, it is being incorporated into many different dishes! This recipe is a spin on beef stir-fry…enjoy!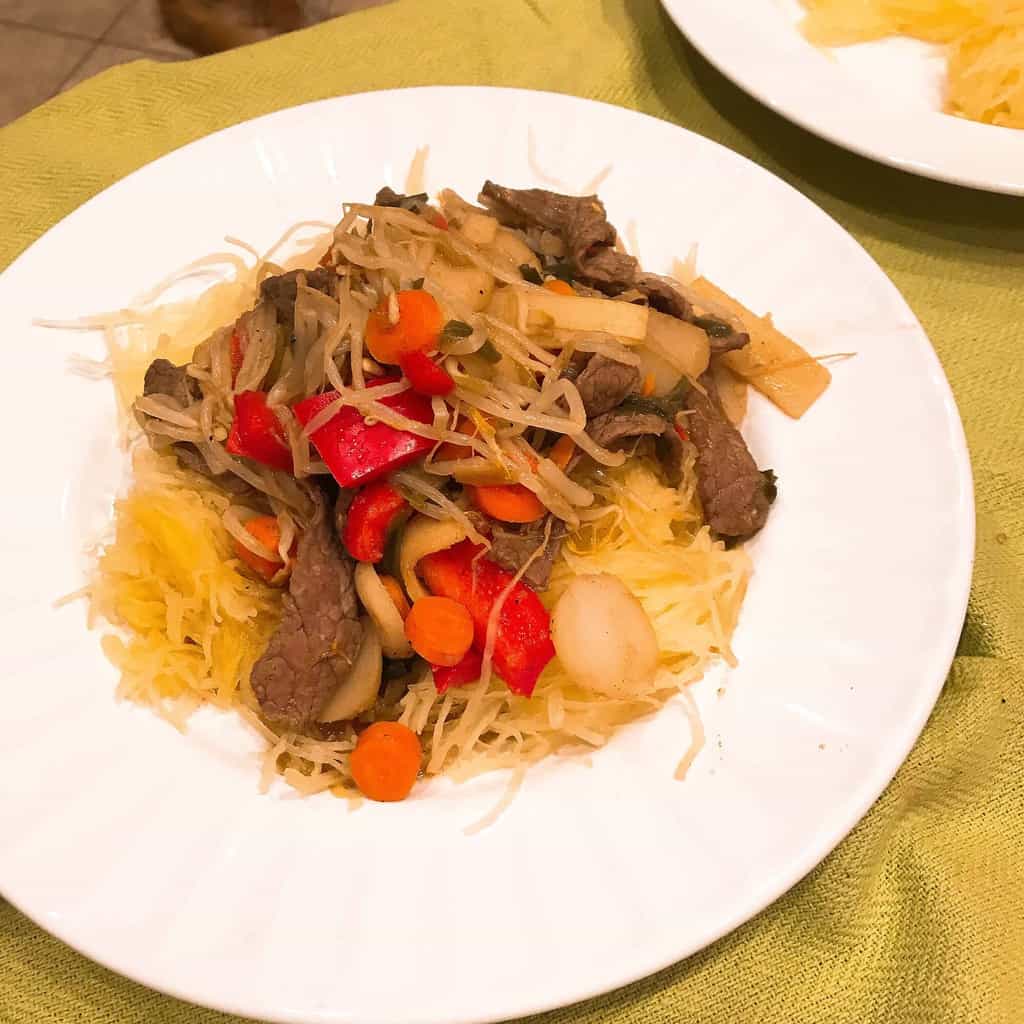 Same Squash – Different Country
Although the term "spaghetti" squash makes one think "Italian", this versatile squash can be used in any type of ethnic meal. For instance, if preparing for an Indian cuisine, use cardamon, turmeric, coconut milk, etc. Mediterranean, consider adding fresh tomatoes, eggplant, oregano, basil or sage.
Nutritional Values
Squash is naturally low-fat, gluten and cholesterol-free. One cup of squash provides ample doses of both Omega 3 and 6, as well as a mega dose of vitamins A and C. The content of vitamin A relative to daily values is over 450%! Vitamin A enhances antioxidant levels, as well as skin and vision support. Vitamin C comes in second with approximately 80% of daily value. Squash is also high in those minerals we take for granted such as folate, magnesium, potassium and phosphorous.
This recipe offers additional vitamin and minerals through the inclusion of red bell peppers, carrots, bean sprouts, water chestnuts and beef. Water chestnuts provide flavanoid antioxidants, as well as about 10% of the daily values of copper, manganese, riboflavin and vitamin B6. Bean sprouts are naturally high in fiber, low-fat, cholesterol and gluten-free, and provide an ample amount of vitamin C. Red bell peppers provide a large amount of vitamin C, and carrots provide cartenoids and beta-carotene. Beef provides Omega 6, protein, potassium and calcium.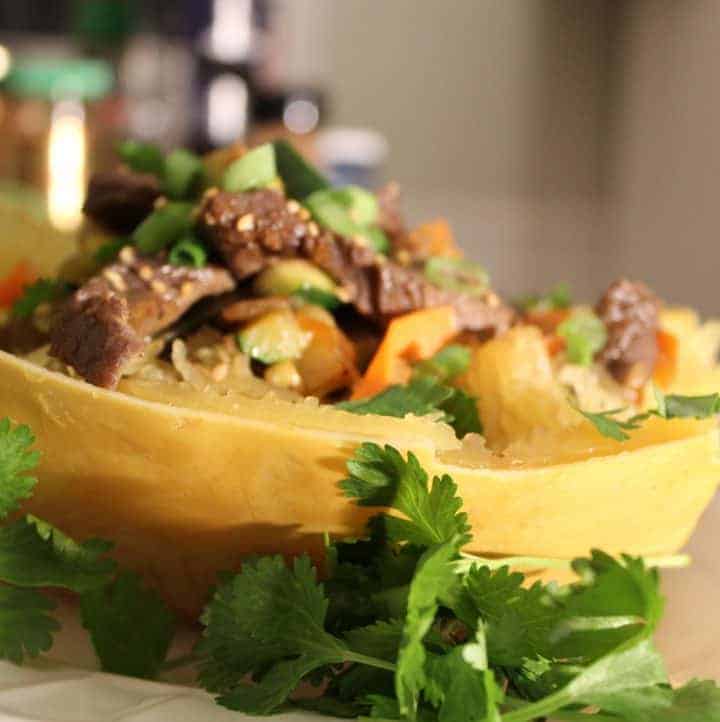 Spaghetti Squash Stir Fry
Spaghetti Squash is an excellent substitute for fried rice in this stir-fry dish!
Print
Pin
Rate
Spaghetti Squash takes an additional:
35
minutes
Servings:
4
entree servings
Ingredients
1

spaghetti squash

1-11/2

lbs

flank steak

sliced

1

zucchini

sliced into matchsticks

1

yellow squash

thin slices

1

can

water chesnuts

drained

1

can

bamboo shoots

drained

2

carrots

sliced or shaved

1

tablespoon

toasted sesame oil

Tamari or Soy Sauce- to taste

Tamari is Gluten-Fre

1/2

medium

onion

sliced

1

teaspoon

sesame seeds

(optional)
Meat Marinade Ingredients
1

teaspoon

hoisin sauce

1

teaspoon

oyster sauce

1

teaspoon

ground chili paste

1

teaspoon

Chinese Five Blend

1

teaspoon

salt

or to taste

1

tablespoon

soy or tamari sauce

1

tablespoon

Chinese cooking wine

not rice wine vinegar
Instructions
Squash Preparation
Blanch squash: Place entire squash in dutch oven and add water almost to cover squash. Bring to medium-high heat. Turn squash occasionally with tongs to ensure entire squash is submerged in hot water). Using tongs, remove squash when outer shell is tender (soft enough to slice with a sharp knife).

Once squash is tender, remove from water with tongs, allow to cool

After squash has cooled, cut lengthwise

Remove seeds with a spoon

In a baking dish, place both halves of squash cut-side down; add 1 inch water to pan. Place in oven for 35 - 40 minutes

Once squash halves are done, take a fork and scrape out the "spaghetti" looking strings. Put them in a bowl; lightly salt and pepper
Meat Preparation
Before blanching the squash, combine meat marinade ingredients and sliced meat in a plastic bag and refrigerate for 30 minutes.

In a big skillet, heat 1 teaspoon of sesame oil; add steak and marinade to oil and seer until browned; remove from skillet, slice into bite sized pieces and set aside covered with foil
Vegetable Preparation
In the same skillet on medium-high heat, add onions, carrots, and squash; allow to cook until semi-tender; add cooked beef back into skillet, allow combination to cook a bit; taste for seasonings

Cook the entire combination on a relatively high heat, but not for long. You want the vegetables to be somewhat crunchy.

Plate spaghetti squash or use the shell as the serving vessel; top with meat and vegetables;

Add Tamari or Soy sauce to taste; garnish with scallions, cilantro and sesame seeds
Notes
Enhance the nutritional value of this dish by adding mushrooms; cook them with the onions
Add snow peas, broccoli or baby corn