Rice and beans is a staple dish in the South,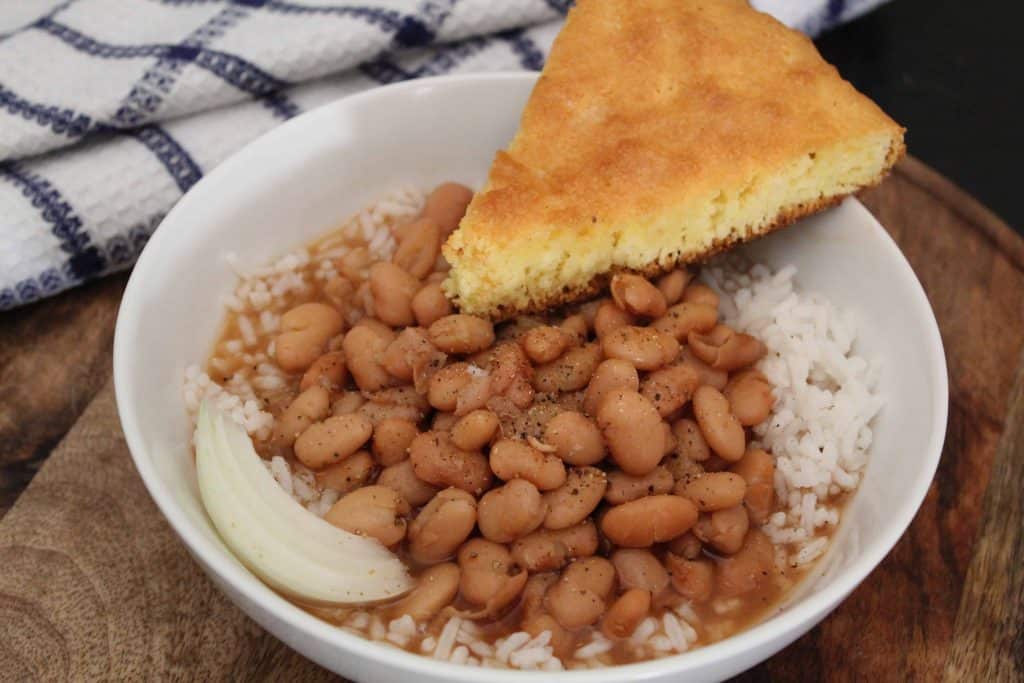 but it's no surprise that many restaurants are adding this to their menu due to the health benefits of the combination.
What's A Complete Protein?
Did our ancestors realize the composition of these foods actually results in a complete protein? Both rice and pinto beans are supplemental, or incomplete proteins. Each is abundant and deficient in an essential amino acid. However, when combined, the nutrient profiles of these foods work synergistically in producing a complete protein.
How are Rice and Beans a Complete Protein?
The human body produces twenty-two amino acids, however there are nine essential amino acids that must be gained through diet: histidine, isoleucine, leucine, lysine, methionine, phenalalanine, threonine, tryptophan and valine. In the case of rice and beans, lysine is abundant in beans, but deficient in grains.
On the other hand, grains are high in methionine, and beans are not, so it's a trade-off. The combination of certain supplemental foods will "complete" the essential amino acid formula, thus providing a complete protein. Other combinations of food are complete proteins–lentils and barley, peanut butter and whole grain bread, legumes with nuts/seeds and raw spinach with almonds.
Plant based complete proteins include soy, quinoa, hemp seeds, buckwheat and amaranth. Soy based foods that are complete proteins include tofu, tempeh and seitan.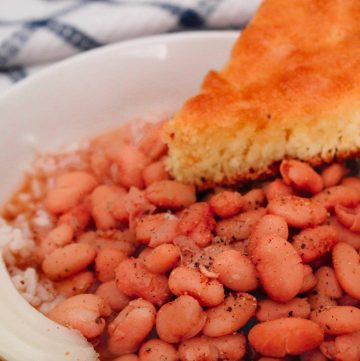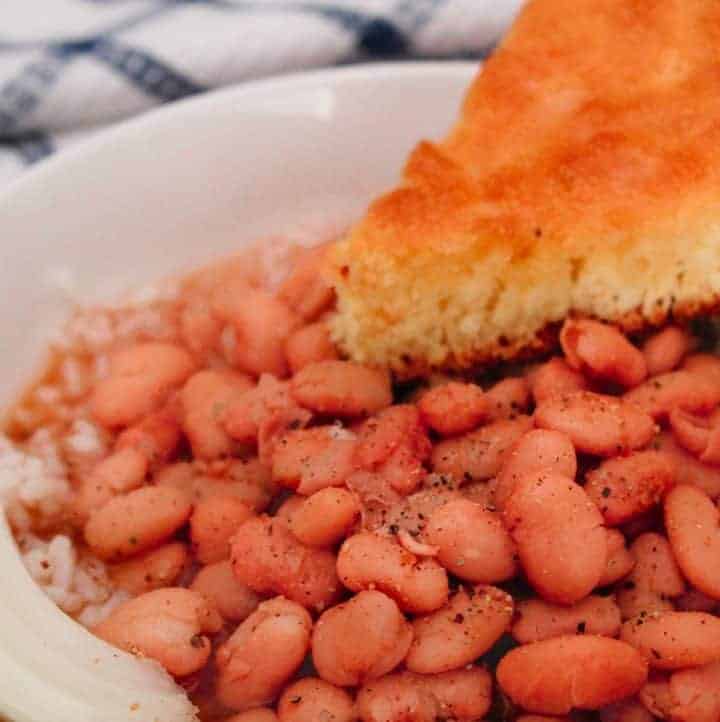 Southern Rice and Beans
Rice and Beans is a one-dish Southern menu item you'll find in every restaurant and home south of the Mason-Dixon Line. It's a comfort dish that is delicious, healthy, and filling, usually served with cornbread, sweet onion and a glass of sweet tea.
Course:
Main Course, Side Dish
Cuisine:
American, Southern
Servings
:
12
about cups cooked beans
Ingredients
1

lb.

dried pinto beans

8

cups

water or broth

1/4

cup

table salt

2 tablespoons for soaking; remainder is for taste

2

tablespoons

onion powder

or 1 cup fresh, diced onion

2

tablespoons

garlic powder

2

cups

rice

, brown or white rice

hamhock

optional

salt and pepper to taste
Instructions
No Soak Method
Place them in a large Dutch oven on the stove top; cover with water and 2 tablespoons salt; bring to a rapid boil; boil for 15 minutes, turn off the heat and put a lid on the beans

After one hour, bring the beans back to a hard boil for 10 minutes; add onion, garlic, pepper and any other variations (see recipe notes); lower heat and cook on low heat till beans are tender; additional water or broth may need to be added during the cooking process; taste for seasonings and adjust accordingly
Soak Method
Rinse and drain beans; place them in a large bowl, add 2 tablespoons salt, cover with water; cover bowl with plastic wrap and allow beans to soak overnight

The next day, place the beans and soaking water in a large Dutch oven; add water to cover beans by about 2 inches; add onion, garlic and other variations (see Recipe Notes); cook on low for 3-4 hours, until beans are tender; taste for seasonings and adjust accordingly
Slow Cooker Method
Place beans, 2 tablespoons of salt, and other variations (see Recipe Notes) in slow cooker and cover with water; cook on low 8 hours
Rice Preparation
Add water and rice to saucepan; bring to boil

Reduce heat to simmer, cover rice and simmer until rice is fluffy
Recipe Notes
Rice and Bean Variations
If your Northern friends won't eat plain Rice and Beans, consider dressing-up the beans with these options:
Add a protein such as smoked sausage or ground beef/turkey; this gives a hearty "American" spin to plain beans
Add barbecue sauce, maple syrup or ketchup to the beans; converts plain beans to barbecue beans
Add diced green chiles, a can of Rotel tomatoes and cilantro ;gives beans a "Southwestern/Mexican" flair
Add diced, fresh jalapeno and top with sour cream; spices up the beans "Mexican" style
Craving More? Check out Veggie Burger or…