Fresh purple hull peas become available only once a year, in June. I recommend you buy a bushel, divide into 1 lb. servings and freeze. This way, you can enjoy them year round. Most often, shelled peas have already been rinsed; if so, do not rinse the peas again prior to freezing!
Peas are a Southern staple, especially in the summer! Considered 'peasant food' by some, we love our peas and cornbread! Here's a tried-and-true, non-fancy recipe that will yield the best tasting purple hull peas you've ever eaten! In fact, since they're available fresh only once a year, you might want to buy a bushel, divide them up into 1 lb. storage bags and freeze them.
What are Purple Hull Peas? 
Purple hull peas are a cousin to the black-eyed pea, and both are members of the "cow pea" and "Southern pea" categories. Some people refer to them as "field peas", but technically, field peas are much smaller, almost like a lentil.
What's the Difference Between Black-eyed and Purple Hull Peas? 
The basic difference between a purple hull and black-eyed pea is the texture and flavor. Black-eye's look brown with a black center and tend to have a grainy texture with a somewhat bland flavor. (This is why people add bacon, pork, or onions to their black eyed peas!)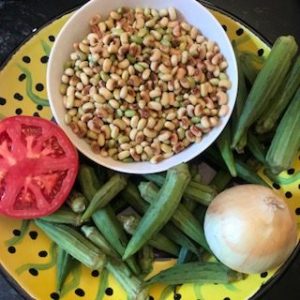 Purple hulls are actually a pale green with a deep purple center. Their texture is smooth and creamy and their flavor is savory, nutty and notable.
Where Can I Purchase Purple Hull Peas?
You can usually find purple hull peas at a local farmer's market; however, if you don't live near one, here are a few resources for ordering purple hull peas:
Sides Pea Farm: Canton, Texas
Farmer's Market of Grapevine: Grapevine, Texas
Ed Lester Farms: Coushatta, Louisiana
How Much is a Bushel of Peas?
A bushel is a volume measurement which is equivalent to about 20 – 26 lbs. A bushel of peas is about 10 lbs. of shelled peas.
Can I Substitute Purple Hull for Black-eyed In Recipes?
Absolutely! In fact, you can serve purple hulls on New Year's and have equally good luck all year long!
Purple Hull Peas
Purple hull peas are similar to black-eyed peas, but with less granular texture and much more flavor!
Course:
Entree, Side Dish
Servings
:
1
lb. might serve 4
Ingredients
1

lb.

purple hull peas

shelled and hulled

6-8

cups

water

pinch of garlic or onion powder

optional

salt and pepper to taste
Instructions
In a large stockpot, add peas and 6 cups of water; enough to cover peas

Bring to boil for 10 minutes; if a foam appears, use a spoon and scrape it off

Reduce heat to low, add about 3-4 more cups of water; cover and allow to cook

Once peas are tender, season to taste; remove from heat and allow to sit for about 10 minutes (this allows the juice time to season and thicken somewhat)

Serve with cornbread and sliced tomatoes
Recipe Notes
Shelled peas can be frozen provided they are in a tightly sealed storage container
Do not rinse peas prior to freezing! This will cause them to sour and go bad
Substitute water with chicken or vegetable broth