Philly Cheesesteak is best when it's homemade with tender strips of seasoned sirloin, nestled in a bed of grilled onions and bell peppers, and topped with gooey provolone cheese!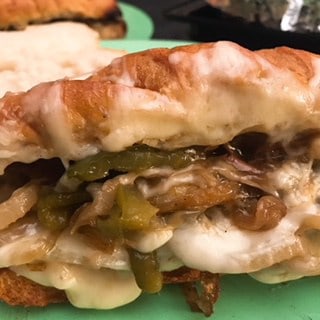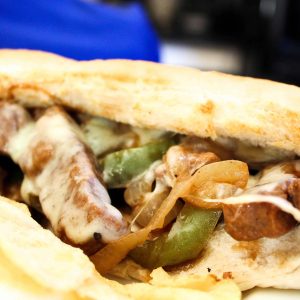 Print Recipe
Philly Cheesesteak Recipe
Tender seasoned beef strips with caramelized onions, bell peppers and provolone.
Servings:
2
hoagie sandwiches
Ingredients
1⅓

lbs

sirloin

cut into strips

1/2

pkg.

Beefy Onion Soup Mix

dry mix

2

cups

water or beef broth

2

tablespoons

olive oil

2

tablespoons

Worcestershire sauce

1

large

yellow onion

cut into thin strips

1

medium

green bell pepper

cut into thin strips

6

slices

provolone cheese

2

Hoagie sandwich buns
Instructions
In a large skillet, heat oil on medium heat; slice bell peppers, beef and onions

Add beef strips, sliced onion and bell pepper; cook until meat is lightly browned (no visible pink)

Once sirloin is browned, add beefy onion soup dry mix and Worcestershire sauce; combine well

Add enough broth or water to cover meat; (about 2 cups); reduce heat to medium-low

Cover and cook on medium-low for 40 minutes

Using a slotted spoon or tongs, remove the beef, peppers and onions and set aside
Sandwich Assembly and Cheese
Place hoagie buns in foil and bake for 10 minutes--until soft and warm

Slice hoagie buns lengthwise leaving one side uncut; place meat, then onions, then bell peppers. Place cheese on top.

Place sandwiches under broiler just until cheese melts.

Remove from oven and enjoy!
Notes
The sirloin for a Philly cheesesteak can also be made in a crock pot; just season the meat, add dry onion mix, Worcestershire sauce and cover with water. Cook on low for about 3 hours.
How Do I Make a Philly Cheesesteak Sandwich?
The ingredients in this homemade Philly cheesesteak sandwich are simple: tender strips of beef, cooked onion, bell pepper and provolone cheese.
Saute onions and peppers; set aside
Cook beef until it's brown
Add broth and cooked vegetables to beef and cook until meat is tender
Warm hoagie buns (wrapped in foil)
Place beef and onions on bun, top with cheese and
Place under broiler until cheese is melted
What Is the Best Type of Beef for a Cheesesteak Sandwich?
Most sandwiches are made with either strips of:
rib-eye
sirloin
skirt steak
What Type of Bread Should I Use?
A hoagie bun is the traditional choice of bread, but you can use any thick, white bread. Bouille,  Submarine, or "hero" rolls also work great for a delicious homemade Philly cheesesteak sandwich.
What Kind of Cheese Goes on an Authentic Steak Sandwich?
Traditional cheesesteak sandwiches use a processed yellow cheese, like CheezWhiz®, however, provolone cheese works equally well and complements the flavors of the beef, peppers and onions.