Mediterranean Meat Marinade and Dressing is a versatile combination of oil, vinegar, spices and herbs that change the flavor profile of meat, potatoes, pasta and salad from mundane to awesome! Simply combine all ingredients in a jar, shake well, then pour over your food of choice! When used as a marinade, refrigerate the marinated food for at least 20 minutes. And remember, the marinade cannot be re-used once it has touched raw beef, pork or poultry.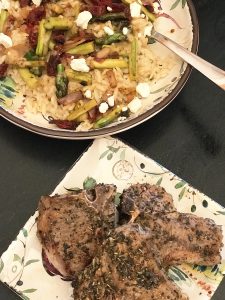 Here, I marinated the lamb loins in the Mediterranean meat marinade and dressing, and I also used it as a sauce for an orzo dish. You can use fresh or dried herbs in this recipe, but remember that dried herbs are stronger than fresh. If you use fresh herbs, triple the amount of herbs. The ratio of dried to fresh is 1:3.
Mediterranean Meat Marinade
Use this tried-and-true marinade on any meat when you're wanting an authentic Mediterranean flavor.
Ingredients
2

cups

olive oil

good quality

1 3/4

cups

red wine vinegar

1

tablespoon

Mediterranean Spice mix

see recipe index

2

tablespoons

garlic

minced

1

tablespoon

parsley

dried

2

tablespoons

dill

fresh
Instructions
Combine all ingredients and stir vigorously; use as a marinade or dressing for salads or pasta.
Notes
As a marinade:
Combine all ingredients; place meat, veggies, or potatoes in a plastic bag
Pour marinade into plastic bag; massage until all ingredients are coated
Refrigerate for at least 20 minutes; rotating the plastic bag in intervals
As a dressing:
Combine all ingredients and mix well; refrigerate for 20 minutes
Keep a jar of Mediterranean Seasoning Mix mix in your pantry!