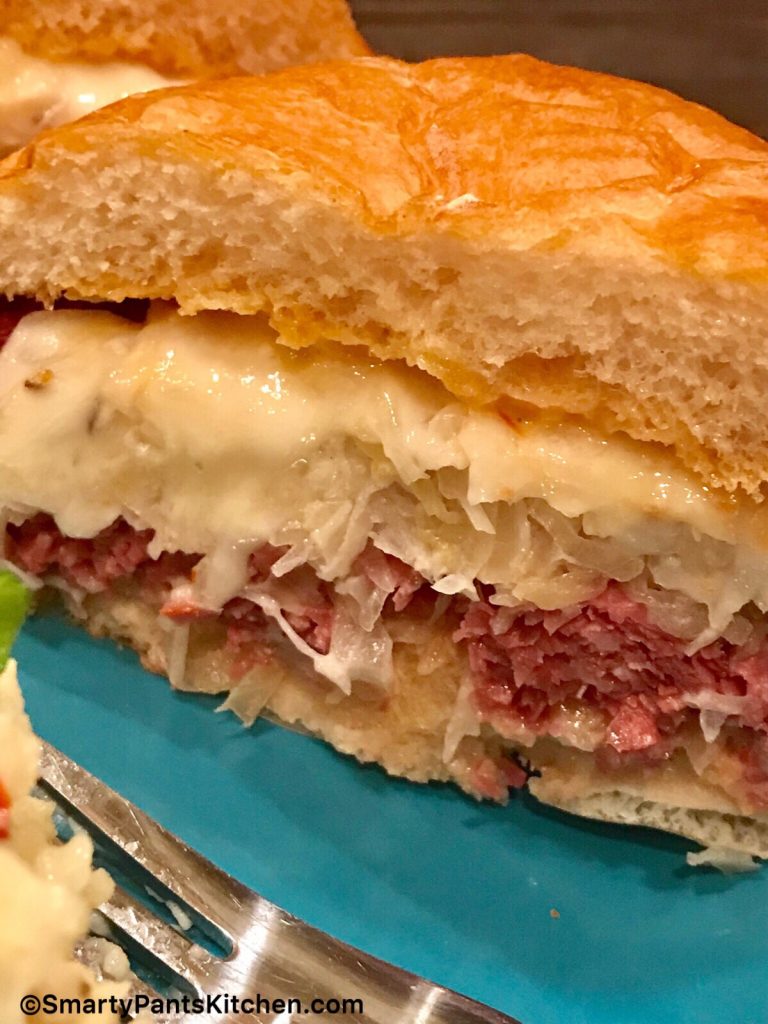 Hot pastrami sandwich is a tasty, delicious and filling weeknight dinner! This recipe takes about 10 minutes to make, so there's no need to hunt down a New York deli!
Pastrami and corned beef are often used interchangeably and are often the primary ingredient in a Reuben sandwich.
Pastrami is brisket meat that has been cured and smoked.
What is the Difference Between Pastrami and Corned Beef?
Both are cured brisket meats that has been brined; pastrami gets smoked and tends to be a bit drier than corned beef gets boiled which gets boiled.
What's a Reuben Sandwich?
Generally, a Reuben sandwich is made with corned beef, instead of pastrami. Pastrami and corned beef are both cured brisket meat, and are somewhat salty; the addition of tangy sauerkraut adds another flavor level to the pastrami sandwich, and a third flavor-element of Thousand Island dressing provides a slightly sweet taste from the sweet pickles in the dressing.  Then, to top it all off, add the creamy Provolone or Swiss cheese and you've created a mini-masterpiece for dinner! Add some homemade potato salad and
baked beans
and you've got a complete schmorgasboard!
Print Recipe
Hot Pastrami Sandwich
Hot pastrami, caraway-seasoned sauerkraut, creamy provolone cheese with a tangy dressing makes the perfect sandwich!
Ingredients
4

oz.

pastrami

shaved

4

oz.

sauerkraut

2

oz.

Thousand Island

salad dressing

6

oz.

Provolone cheese

sliced

1

tablespoon

butter

1

tablespoon

caraway seeds

2

artisan or Brioche buns
Instructions
Put 1/2 teaspoon of butter on each bottom bun;


Place in broiler for 2 minutes; place top buns along side, but with no butter; remove when slightly brown and set aside


Place 1/2 teaspoon butter in skillet on medium low heat; add caraway seeds and heat for about 3 minutes (until you can smell them toasting)


Add sauerkraut to skillet on low heat; toss and simmer until caraway seeds are well combined into sauerkraut; slide sauerkraut to one side of the skillet

Add pastrami to the other side of the skillet; turn the heat up to medium, tossing pastrami until it is heated thoroughly

Layer bottom buttered buns with dressing, pastrami, sauerkraut, and cheese; return to broiler until cheese has melted

Place top bun on sandwich and enjoy!