This method of cooking ribs, or any meat, is foolproof in retaining moisture and ensuring a tender protein entree. I also have been known to bake my ribs, then grill my peaches on an indoor grill.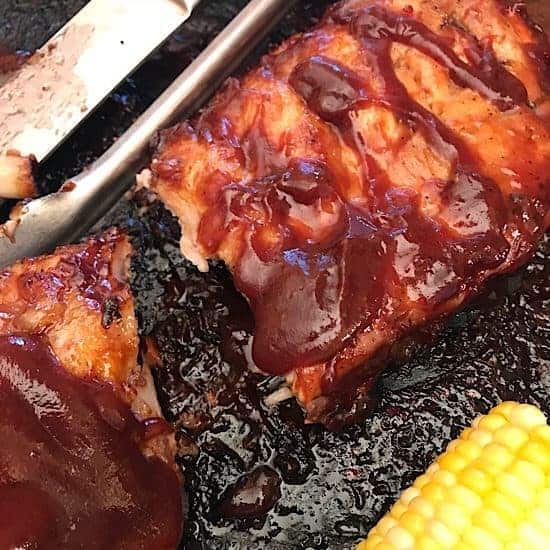 Foolproof Ribs
Marinade and Cooking Time
The good thing about this indoor method of cooking ribs is you cook them low and slow, so the kitchen doesn't heat up and the meat remains nice and tender.
Servings
:
4
depending upon who you're feeding
Ingredients
1

rack

baby back ribs

1/2

cup

orange juice

1/3

cup

liquid smoke

2

tablespoons

chili powder

2

tablespoons

salt

2

tablespoons

pepper

2

cups

barbecue sauce
Instructions
Add 1 tablespoon flour to oven bag; shake bag until flour has coated interior

Add orange juice and remaining ingredients; massage ingredients to coat ribs

Remove from refrigerator; cut slits into the top of the baking bag

Place bag on baking dish; tuck the sides of the bag into the pan so they're not overhanging the baking dish

Bake for 4 hours at 250ºF




Remove ribs from oven; carefully cut away oven bag and slide ribs onto baking dish

Pour barbecue sauce on ribs; coat both sides

Place ribs under broiler to desired crispness

Remove from heat; allow to rest 10 minutes

Slice ribs individually, or in sections (3 ribs per person) with knife.
Recipe Notes
If you don't have four hours to let ribs cook slowly, no big deal! Just turn the oven to 350ºF and cook them for about 50 minutes, or until they've reached an internal temperature of 140ºF