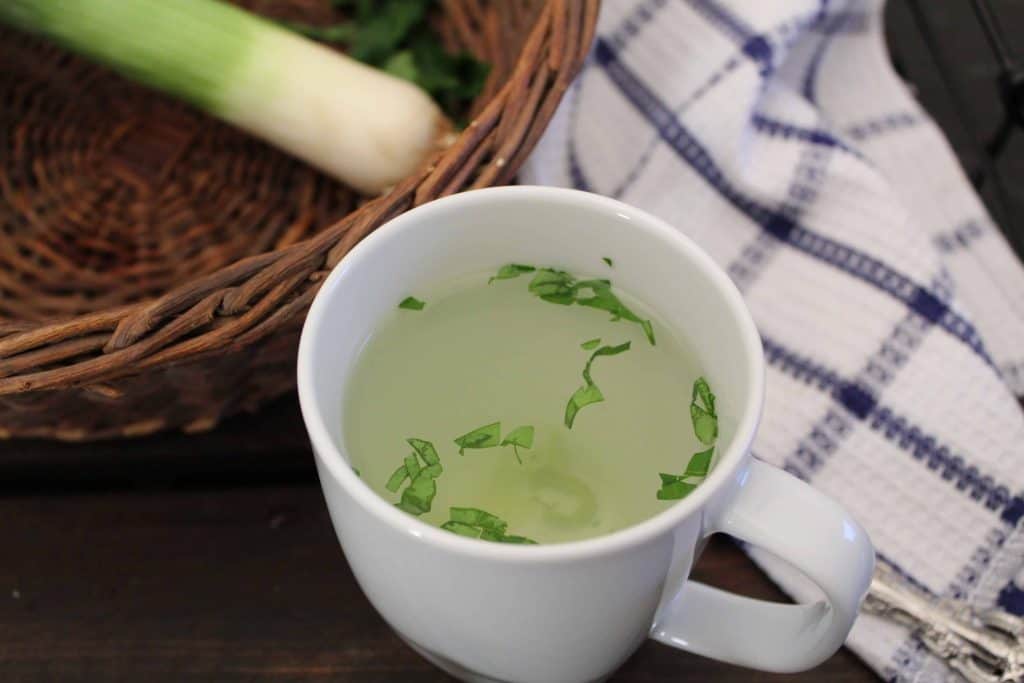 Detoxifying Leek Broth is an easy way to jump start your New Year's Resolution!
Leeks are long green and white stalks that look like huge green onions; in fact, they're in the allium family of vegetables and cousins to onions, garlic, scallions and shallots.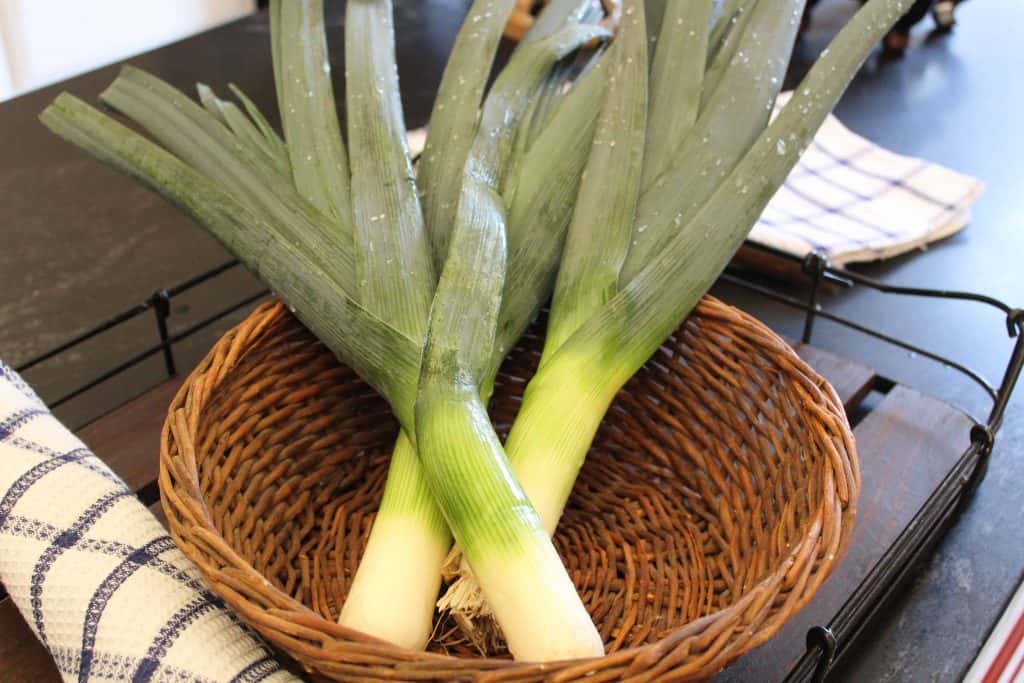 What Do Leeks Taste Like?
They actually have a very nice flavor, much milder and sweeter than an onion. Leeks are naturally low-fat and contain a great deal of vitamins and minerals.
---
This detoxifying leek broth recipe is based on Mireille Guiliano's "Magical Leek Soup." In her book, "French Women for all Seasons", she explains that French women use this magical broth once a quarter to cleanse, detoxify and rejuvenate the body. Her recommendation is to drink a cup of the detoxifying leek broth every 2 to 3 hours, once a quarter, while fasting two days (Saturday and Sunday).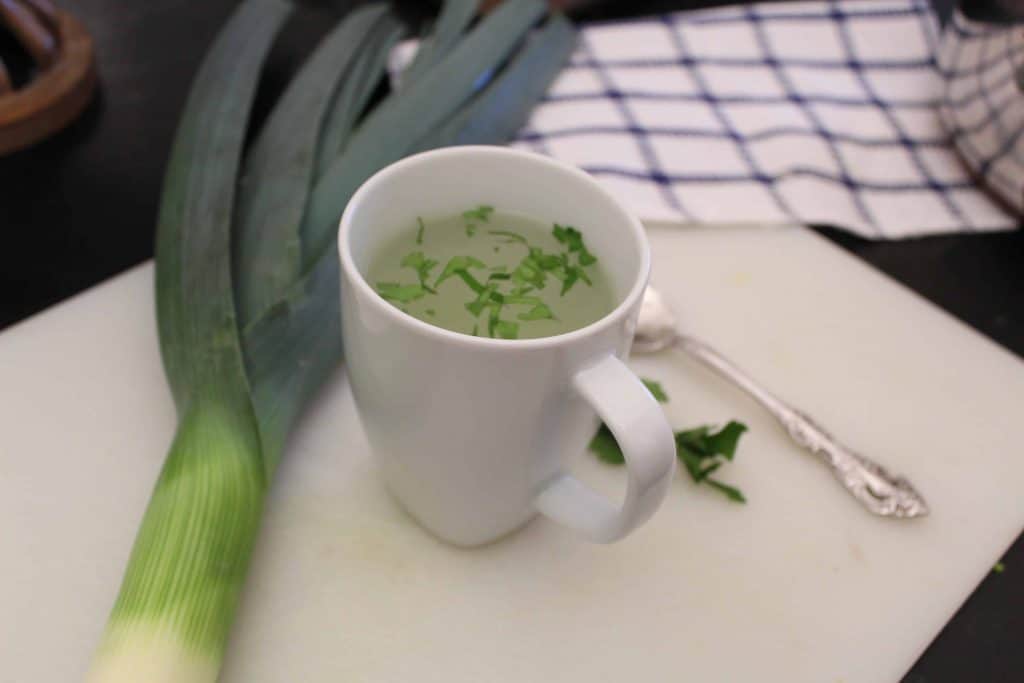 Since many cannot fathom the thought of fasting, I'm suggesting you drink a cup of the leek broth first thing in the morning, two hours before lunch, two hours after lunch and a cup at bedtime. The broth itself is ultra rich in vitamins and nutrients and might be more effective if consumed while fasting; however, fasting is not an option for many, so drinking 4-6 cups a day should offer some of the same medicinal benefits as if you were fasting.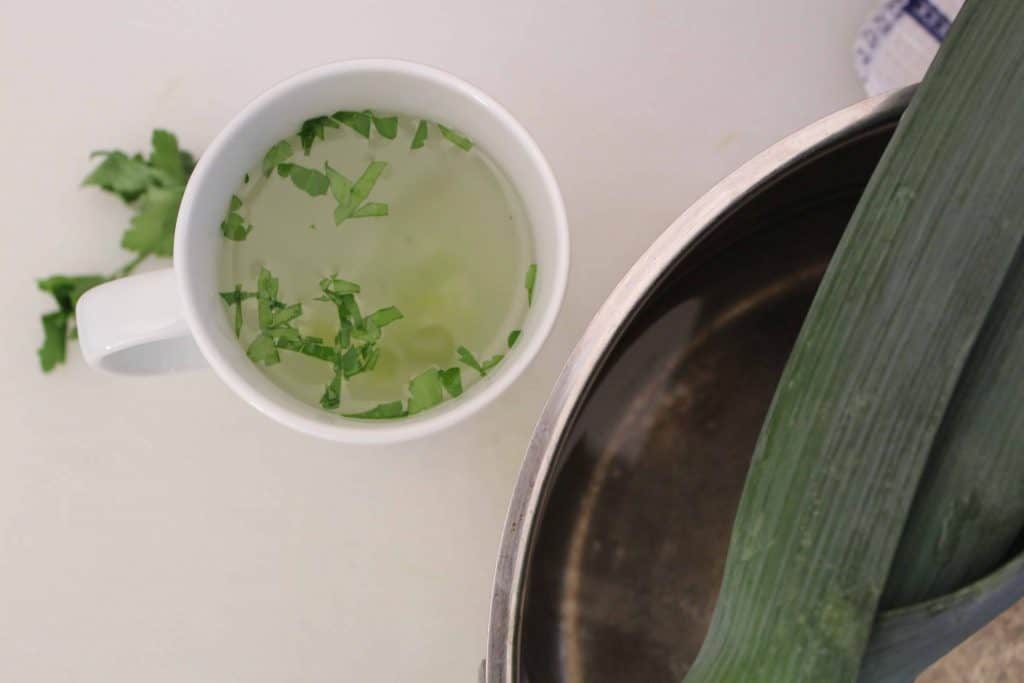 What Should I Eat While on the Detoxifying Broth?
As mentioned earlier, this broth was originally recommended to be consumed for two days while fasting; however, many cannot fast due to various reasons. I recommend you drink the broth before you begin to feel hungry. If you find yourself starving at ten o'clock in the morning or evening, have a cup of leek broth. Your other meals should be light, plant-based if possible. By avoiding high fat and complex carbohydrates, your body will have time to focus on managing the influx of vitamins and nutrients the leek broth offers.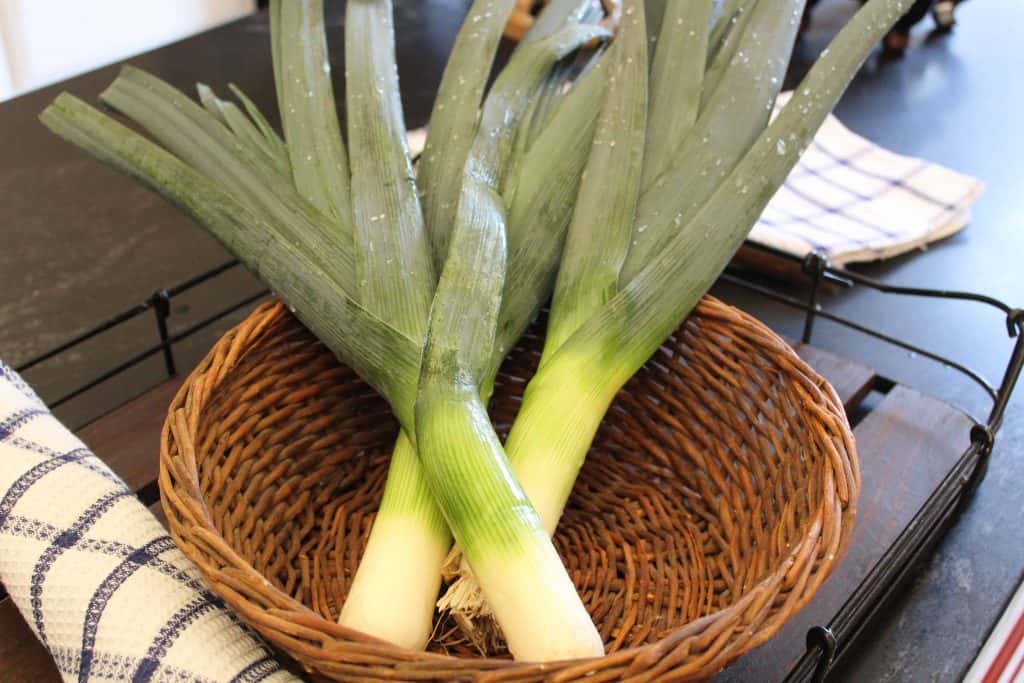 What's the Big Deal About Leeks?
Leeks are considered by some to be one of nature's Superfoods due to their nutrient density ratio. They contribute a significant amount of vitamins A, B1, B2, B3, B9,C and K, and have a number of medicinal properties, including assisting in maintaining cardiac health and blood clotting.
One cup of cooked leeks provides 29% of the required daily amount of Vitamin K. Vitamin K is essential to the body to produce the protein prothrombin, which is important in managing blood clotting and bone metabolism.
Leeks also contain quantities of folic acid, niacin, riboflavin, magnesium, and thiamin. Not only are leeks good for you, they also serve as a mild diuretic due to their sodium-potassium ratio.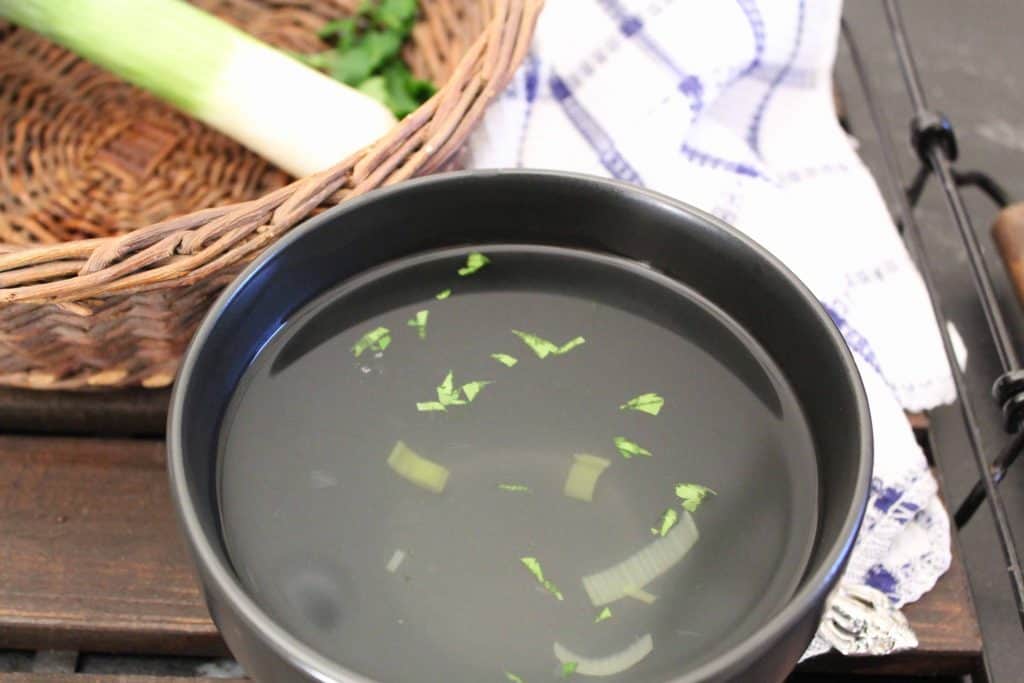 This broth can be consumed hot or warm temperature; I find it tastes better if it's hot. Feel free to add chopped herbs or sliced mushrooms to the broth; avoid adding salt.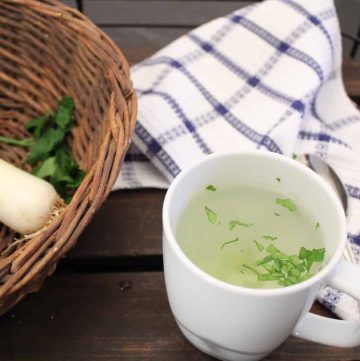 Detoxifying Leek Broth
Nutrient-dense, low-fat, low-calorie leek broth is the perfect way to jump start your diet, shrink your stomach and give your body an influx of vitamins and nutrients!
Course:
Appetizer, Drinks, Soup
Keyword:
Detox Leek Soup, Detoxifying Leek Broth
Servings
:
8
cups of broth
Ingredients
2-3

leeks

(cut, cleaned, chopped)

6 -8

cups

water

1/2

cup

mushrooms

sliced (optional)

1

tablespoon

fresh chopped herbs

parsley, cilantro (optional)
Instructions
Prepare leeks; trim off tips and green leaves

Slice leek stalks into small pieces and place in colander

Place drained leeks onto paper towel and check to make sure all dirt has been removed

Place clean, chopped leeks in large pot; add 6-8 cups of water; cover and bring to boil

Once leeks boil, remove lid and turn heat to simmer; simmer for 30 minutes

Strain leek solids from pot and place aside

Pour hot broth into cup; garnish with sliced mushroom or chopped herbs (parsley, etc.)

Reserve the cooked leeks to either add to the broth or snack on with a little olive oil
Recipe Notes
This recipe is nutrient dense and originally intended to be consumed while fasting; however, many cannot fast due to blood sugar or other issues. If you cannot fast, no problem. Just drink a cup of this broth about every two hours. 

Adapt your meals to include plant-based foods; avoid high fat, complex carbohydrates while consuming the detoxifying leek broth.

This broth can be served hot or at room temperature
If you're trying to eliminate beef while consuming the detoxifying leek soup, you might try my Veggie Burger recipe–bun-free!