Who says dessert must be fattening? Spiced Poached Pears in red wine is an excellent way to offer your guests a light, refreshing and satisfying dessert without all the calories!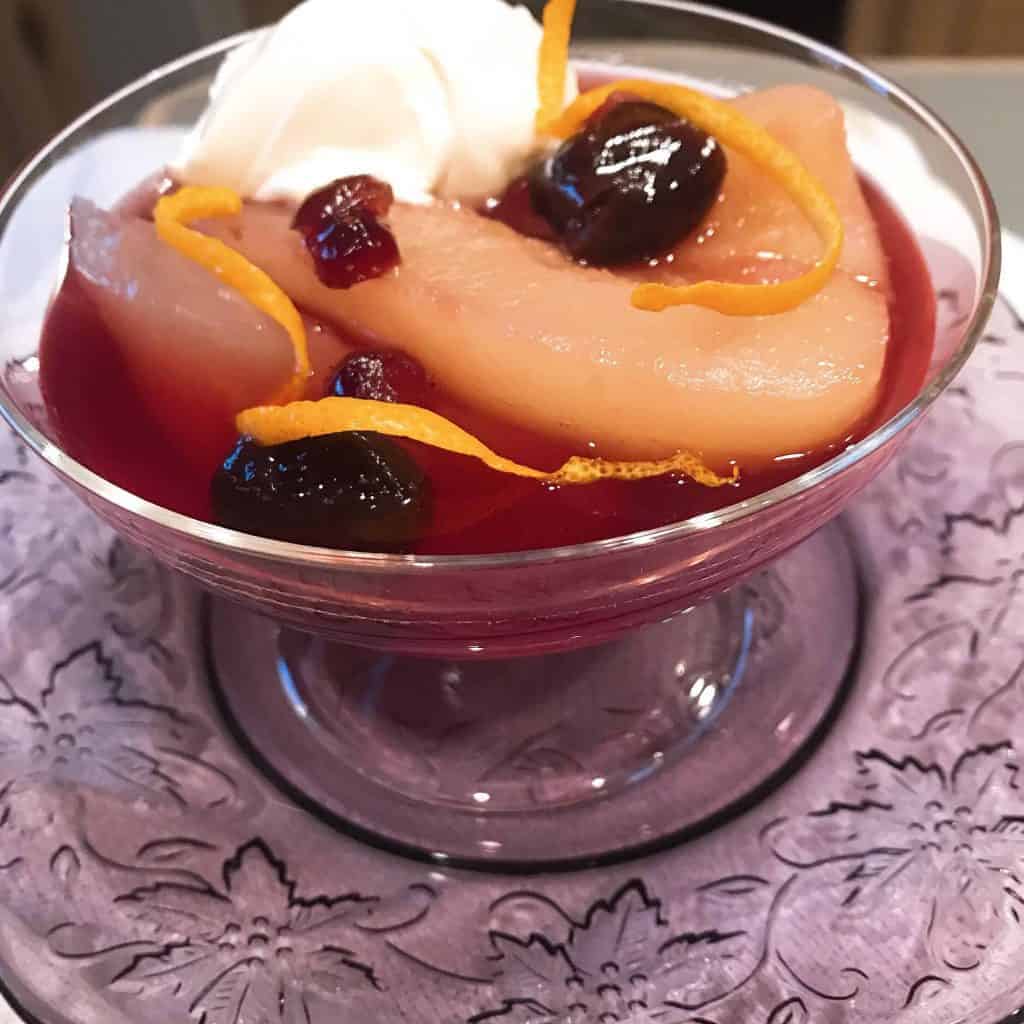 This easy poached pear recipe uses fresh pears infused in a poaching liquid of red wine, spices (allspice, cloves, cinnamon) and vanilla. Add some dried fruit and a scoop of Marscapone, and you've got an elegant and delicious dessert!
Best Pears for Poaching
Ripe winter pears hold their shape best and the best varieties are Bosc, Anjou and Bartlett. Having said that, you can use any ripe pear. Unfortunately, canned pears tend to disintegrate faster than ripe pears.
Which Pears are Sweetest?
While all pears are naturally sweet, some are sweeter than others. The sweetest pear is Comice. Bartlett, Starkrimson and Concord follow in a second group of being very sweet and juicy; however, the Concorde is sweet and crisp. The next group includes the Anjou, Bosc and Seckel. This group is relatively sweet; the Bosc and Seckel are more crisp than juicy. The Forelle pear is the least sweet and somewhat crispy.
Asian pears are rounder than the varieties mentioned above and are much more crispy and crunchy, like an apple. For this reason, salads often feature Asian pears,usually accompanied with bleu or Gorgonzola cheese and walnuts
What is Poaching?
Poaching is a method of cooking, where food is cooked in liquid that is 140 – 180ºF for a short amount of time. This is different from  simmering, where the liquid temperature is just under boiling temperature between 180 – 205ºF and boiling, where food is placed in liquid that is 212ºF.
How to Ripen Pears
Select a pear that is semi-firm to the touch; it should give just a little when you lightly squeeze it. If you purchase fruit that isn't quite ripe, simply place the pears in a paper sack for a day. This "brown-bag" method will ripen the fruit to the perfect consistency for poaching!
How to Make Spiced Poach Pears
A little prep work is necessary to poach pears, but after that, it's super easy!
Use a sharp paring knife and gently remove the skin; create a flat base for the pear to stand
Immediately sprinkle fresh lemon juice over the pears. The acidity of the lemon prevents the fruit from browning (through oxidation) and helps retain a bright color.
The temperature of the poaching liquid should be around 140º-180ºF (below 212ºF, which is boiling)
Simmer the fruit for 15-25 minutes; occasionally drizzle the spice infused liquid over the top of the pears
Place pears in individual serving bowls; drizzle poaching liquid over pears and garnish with dried fruit and a scoop of marscapone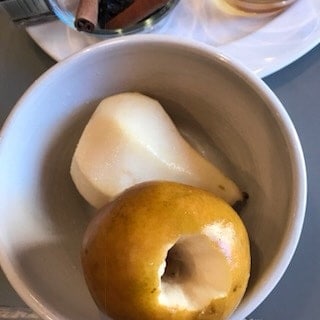 Poaching Liquids
The liquids used in the poaching process vary. Some recipes use red or white wine, while others use apple cider or apple juice. White grape juice is another poaching liquid that works well for spiced poached pears.
Another recipe you might like is peach cobbler!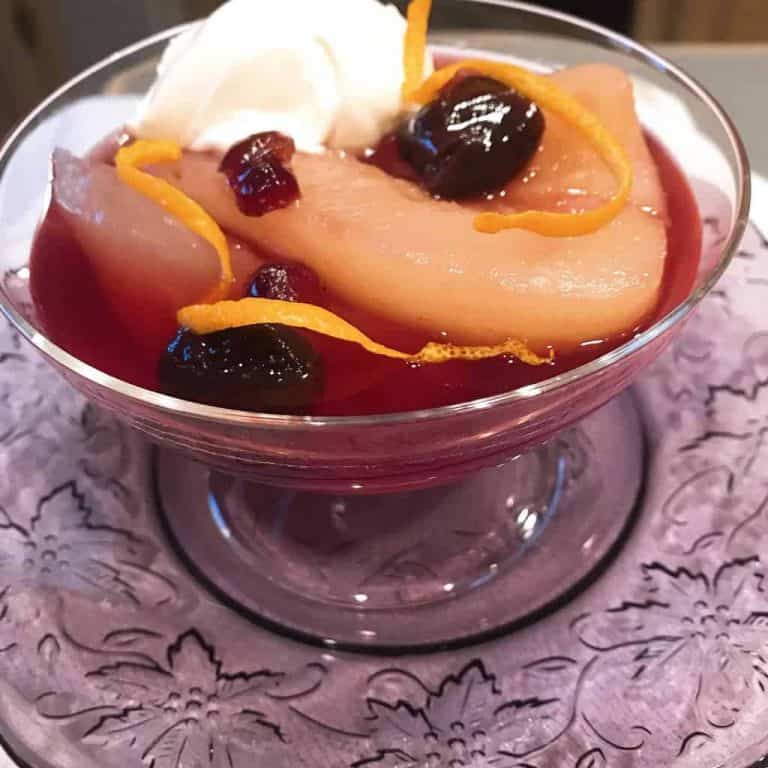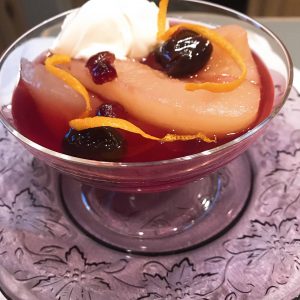 Spice Poached Pears
Spice Poached Pears drizzled with a red wine reduction accented with hints of cinnamon and clove.
Print
Pin
Rate
Servings:
1
pear per person
Ingredients
2

Bosc pears

juice of two large lemons

½

cup

red wine

See Recipe Notes

½

stick

unsalted butter

2

sticks

cinnamon

¼

teaspoon

ground cloves

1

teaspoon

sugar

½

cup

dried fruits

(cranberry, cherry, blueberry)
Instructions
Peel pears, cut into halves or quarters and place in a big bowl; squeeze lemon juice into bowl and coat pears (this keeps them from turning brown)

In a saucepan on medium heat, add butter, wine, cloves, water, cinnamon and sugar; cook until sugar is dissolved

Add pear sections and turn heat to low

Simmer, covered 25-30 minutes, or until pears are tender

Remove pears with slotted spoon and set aside

Bring remaining wine/water mixture to rolling boil; add dried fruit and cook until fruit plumps up

Place pears in shallow bowl; remove cinnamon sticks

Drizzle poaching liquid over pears

Garnish with a spoonful of marscapone cheese and lemon zest
Notes
Substitute red wine with apple juice or apple cider