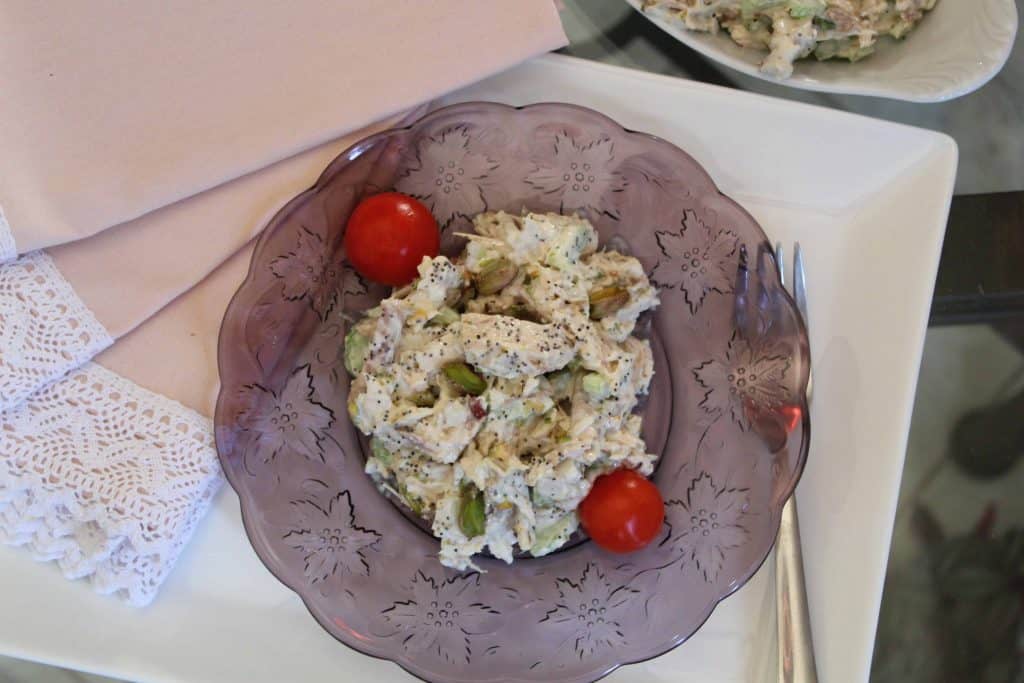 Pistachio Poppy Seed Chicken Salad is the ultimate luncheon menu item, whether it be a business lunch, ladies' luncheon, baby or wedding shower!
This quick and easy chicken salad recipe can be made from baked or broiled chicken or even a deli chicken! It really doesn't matter who cooks the chicken…it's the seasonings that add a bit of "sass" to this traditional luncheon dish.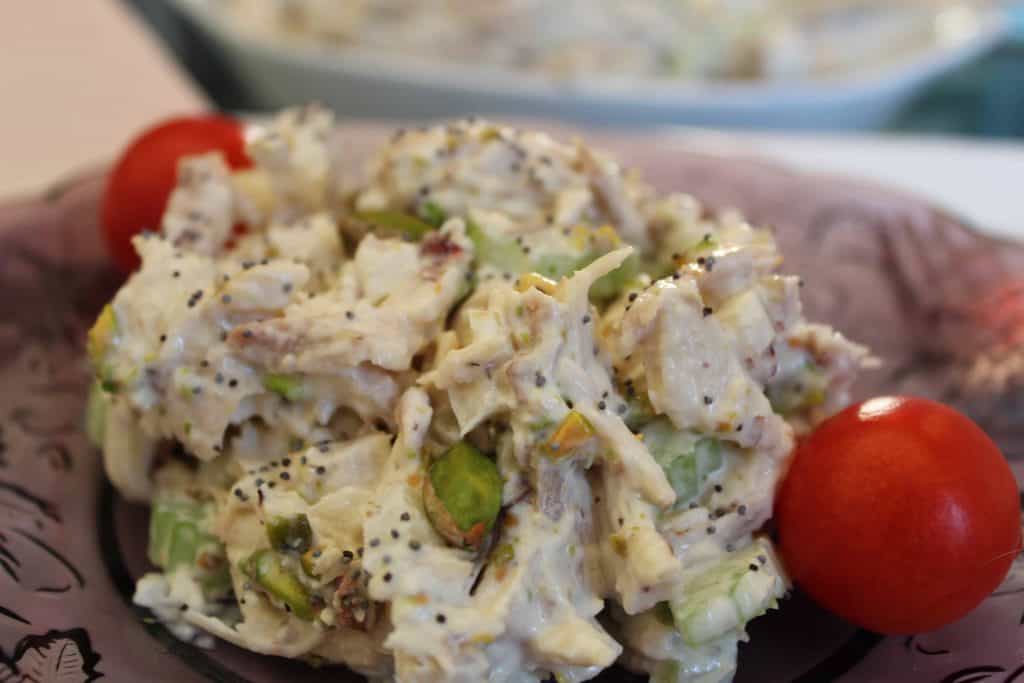 Chicken salad was first introduced to the United States in the late 1800's and by the 1930's, chicken salad was a Southern staple menu item for "Ladies Who Lunch", "Bridesmaid's Luncheons"… (think about the scene in the movie, "The Help", where the town's women were lunching, playing cards and hiding from Celia.)
Back then, if you couldn't afford a fancy wedding reception, your mother or Aunt would make a plate of triangular, crust-less chicken salad finger-sandwiches served with a raspberry lemonade. That's how cool Chicken Salad was back then.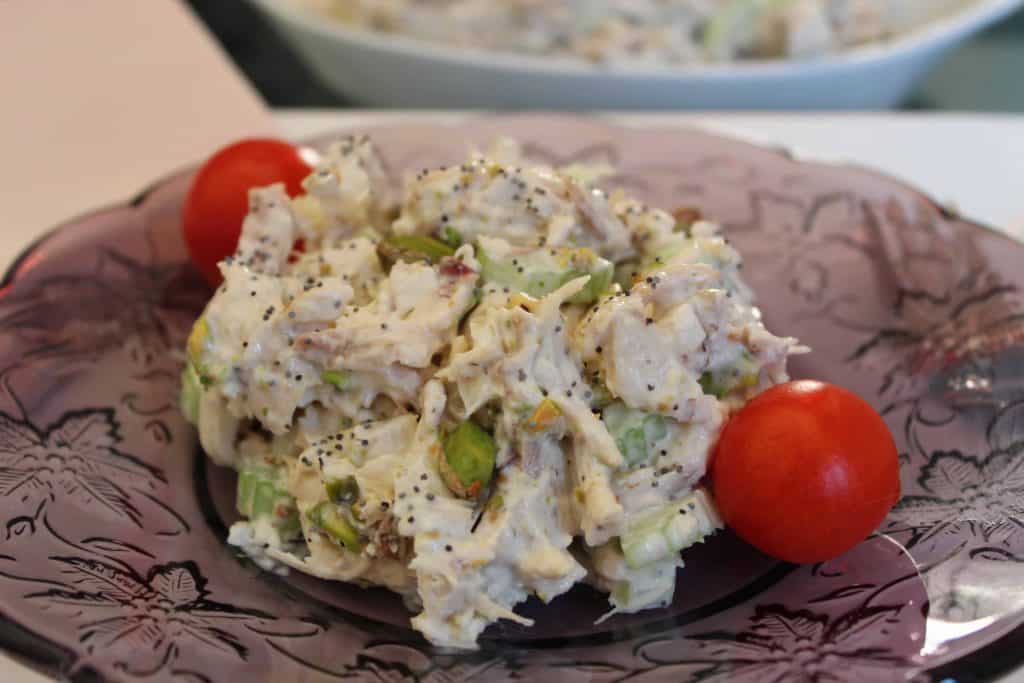 Since, there have been many variations of chicken salad: some with grapes and nuts, others heavy in herbs and lemon; but no matter what, chicken salad is always a welcome addition to the lunch table. Today, it reigns at many a corner or grocery delicatessen but there's nothing better than homemade chicken salad.
Can I Used Canned Chicken for Chicken Salad?
I've tried using canned chicken before and I found it tasted rubbery and salty. To make a really good chicken salad, you have to either cook the chicken yourself, or buy a rotisserie chicken. There's no shame in that these days, but the deli chickens are seemingly getting much smaller, so you'll have to weigh the cost analysis of cooking or buying a chicken, depending upon how many you're planning on serving.
Is Pistachio Poppy Seed Chicken Salad Served Cold or Hot?
This chicken salad is best when served slightly chilled. Combine the dressing with the chicken, then refrigerate for at least 30 minutes, allowing the flavors to marry. Once you're ready to serve, place the chicken salad in a serving bowl and allow to rest at room temperature for 10 minutes.
What Should I Serve with Chicken Salad?
If you're hosting a luncheon, you might want to have a nice tray of mini croissants nearby or a crudités platter offering sliced peppers, olives and cheeses. Water crackers or dark rye bread go with chicken salad, as well. Another addition you might consider is a cup of Southern Tomato Aperitif… it's like a warm, virgin Bloody Mary and pairs well with the chicken salad.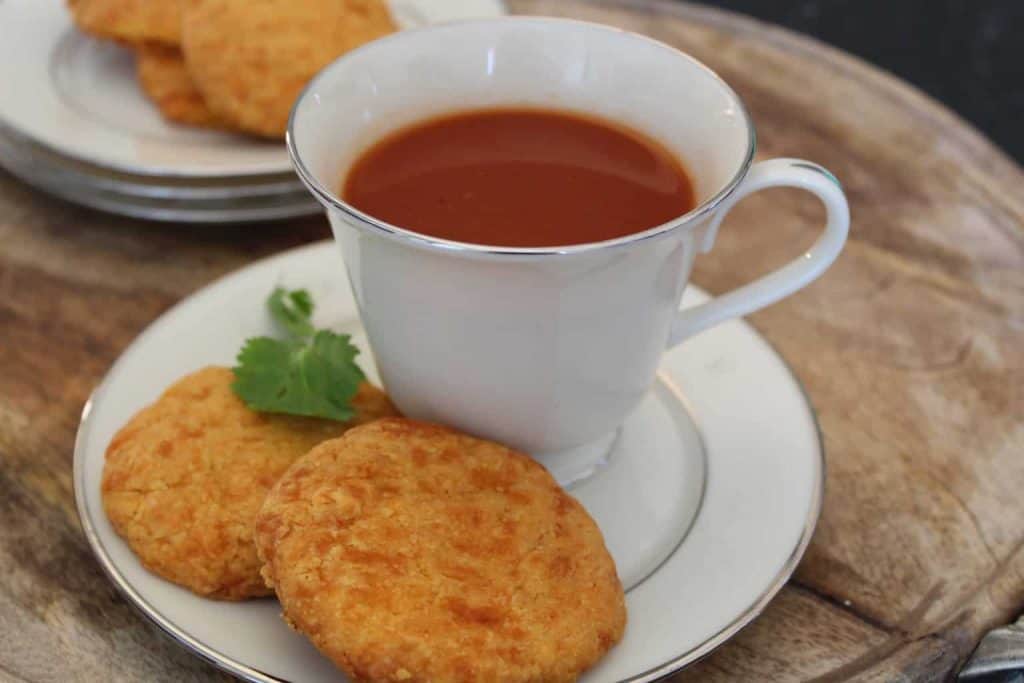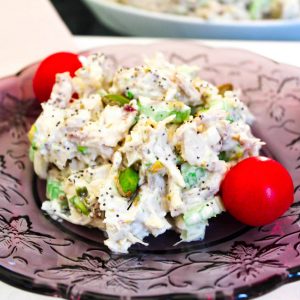 Print Recipe
Pistachio Poppyseed Chicken Salad
Chicken salad with celery, onion, pistachios and poppy seeds in a creamy Dijon-buttermilk dressing.
Ingredients
4

cups

shredded chicken

2

stalks

celery

chopped

1/3

cup

red onion

finely chopped

1/4

cup

pistachios

shelled, finely ground
Dressing
3/4

cup

mayonnaise

1/3

cup

buttermilk

2

teaspoons

Dijon mustard

1/2

teaspoon

white vinegar

1/2

teaspoon

sugar

1/2

teaspoon

salt

1/4

teaspoon

pepper

1

tablespoon

poppy seeds
Instructions
Cook the chicken (see recipe notes) or buy a rotisserie chicken; remove any skin and shred the meat

Place shredded chicken, chopped pistachios, onion and celery in a large bowl; set aside

In a small bowl, combine dressing ingredients

Pour half of dressing over chicken; combine well; add more dressing if desired after it's rested in the fridge

Cover and refrigerate for 30 minutes

Remove from refrigerator; add remaining dressing if desired; let sit for 10 minutes prior to serving
Notes
No buttermilk? Use sour cream, kefir or plain yogurt instead!
Do I Use Dark or White Meat?
You can use dark or white meat in this healthy recipe. Some people like only white meat in their chicken salad while others prefer a combination of the two. Dark meat seemingly has a little more flavor, but it's really up to you and your personal preference.
How Do I Cook Chicken for Chicken Salad?
There are a few methods for cooking chicken:
Bake: Lightly season meat with salt and pepper; place in baking dish and cover with foil; cook at 350ºF until the internal temperature reaches 165ºF
Boil: place chicken in salted water and bring to boil; cook until the center of the chicken parts reach 165ºF
Crock pot: place chicken and water in a slow cooker and cook on low 5 hours
After the chicken is cooked, shred the chicken using two forks. If you elect to use a rotisserie chicken from the grocery store, simply remove the skin and shred the chicken.
How Long Does it Last in the Refrigerator?
Generally speaking, foods last 3-5 days in the refrigerator provided they are covered tightly and stored in an uncrowded refrigerator.
Can I Freeze Chicken Salad?
Unfortunately, mayonnaise does not freeze well and separates when frozen. On the other hand, "salad dressings" (like Miracle Whip), are often used as a mayonnaise substitute because they can be frozen without separating.
[contact-form][contact-field label="Name" type="name" required="true" /][contact-field label="Email" type="email" required="true" /][contact-field label="Website" type="url" /][contact-field label="Message" type="textarea" /][/contact-form]