Philly Cheesesteak sandwiches are a real treat…especially when they're homemade!
My recent travels to North and South Carolina re-introduced me to some foods I'd long forgotten, one being the Philly Cheesesteak sandwich. I had one at The Foggy Rock  in Blowing Rock, NC. and it was delicious! This is my feeble attempt to re-create that delicious sammy!
Where and How Did the Philly Cheesesteak Sandwich Come About?
This hot beef sandwich came about in the 1930's when a hot dog vendor in South Philadelphia decided to grill some beef and slap it on a small loaf of Italian bread. A cab driver passing by caught a whiff of the delicious aroma and…the rest is history. Now, everyone knows that nobody in Philadelphia calls it a "Philly Cheesesteak"–they just call it a Cheesesteak sandwich.
What Type of Beef is Best for a Philly Cheesesteak?
Most sandwiches are made with either strips of rib-eye, sirloin, or skirt steak. The type of meat doesn't really matter as long as it's tender. This recipe simmers strips of tenderloin, then offers a thick gravy to go on the sandwich!
What Type of Bread Should I Use?
Generally speaking, any thick white bread will work. The traditional hoagie bun is what is most often used.
What Type of Cheese Should I Use?
Traditional sandwiches have provolone cheese on them, however, many recipes use Swiss, Cheddar or Colby. Unfortunately, some recipes use a plastic-tasting jarred "cheese", which I do not recommend.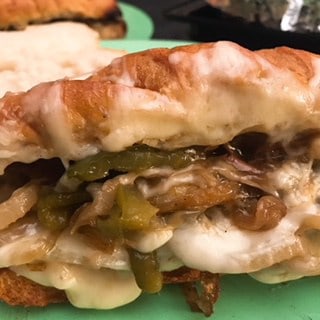 Philly Cheesesteak Recipe
Tender sirloin strips in a rich gravy with caramelized onions, bell peppers and provolone.
Keyword:
Cheesesteak Sandwich, Philly Cheesesteak
Servings
:
2
hoagie sandwiches
Ingredients
1

lb.

sirloin

cut into strips

1/2

pkg.

Beefy Onion Soup Mix

dry mix

2

cups

water or beef broth

1

large

yellow onion

cut into thin strips

2

medium

green bell peppers

cut into thin strips

6

slices

provolone cheese

2

Hoagie sandwich buns

2

tablespoons

olive oil

2

tablespoons

corn starch

1/2

cup

water

2

tablespoons

Worcestershire sauce
Instructions
Meat Preparation
Season sirloin with salt and pepper; cut into thin strips

Heat oil on medium and brown sirloin

Once sirloin is browned, add beefy onion soup dry mix and enough water to cover meat; (about 2 cups); add Worcestershire sauce

Cover and cook on low for one hour

Once meat is super tender, make a slurry with cornstarch. (To make a slurry, combine cornstarch with water, mix well.) Pour cornstarch slurry in the meat skillet, remove lid and allow to cook for about 10 minutes, or until the liquid has thickened.
Onion and Bell Pepper Preparation
In separate skillet, heat 1 tablespoon oil on medium

Add onions to the hot skillet and let them cook down until they are reduced to half the amount (about 25 minutes)

Add green bell peppers to onions, and cook for 20 minutes
Sandwich Assembly and Cheese
Place hoagie buns in foil and bake for 10 minutes--until soft

Slice hoagie buns lengthwise leaving one side uncut; pour liquid over buns, place meat, then onions, then bell peppers. Place cheese on top.

Place sandwiches under broiler just until cheese melts.

Remove from oven and enjoy!
Recipe Notes
The sirloin for a Philly cheesesteak can also be made in a crock pot; just season the meat, add dry onion mix, Worcestershire sauce and cover with water. Cook on low for about 3 hours.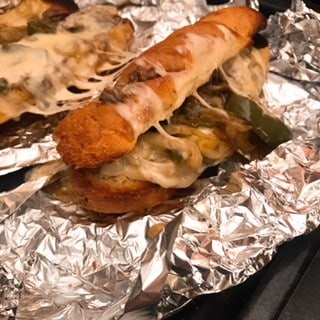 If you like hot sandwiches, you might like my Hot Pastrami Sandwich recipe!
0