Dress up everyday chicken with a light Italian spin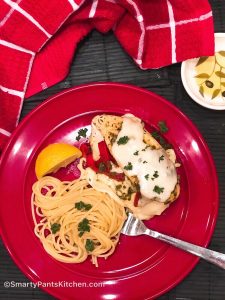 Here's an easy way to get your Italian cravings met without loading up on carbs-Pesto Mozzarella Chicken. This simple dish is quick, easy and doesn't require a red sauce. The one thing it does require is high-quality, fresh mozzarella cheese. I like BelGioioso Pre-Sliced Mozzarella (16 oz. ea., 2 pk.)
because it's already sliced. Slicing fresh mozzarella can be cumbersome…
WHY?
Chicken is a lean protein, and when prepared correctly, can be quite tender and delicious. Our bodies require protein for energy, maintaining homeostasis, metabolism, nerve and brain function and more. Animal proteins provide us with the essential fatty acid Omega-6.
Proteins keep you fuller for a longer period of time. Think about it. If you have a doughnut or bowl of cereal in the morning, say around 7:30 a.m., you're starving in two hours. These items are based on simple carbohydrates that immediately convert to glucose. However, if you have an egg, turkey bacon, or other protein, you'll be slightly hungry around 12:00 noon, aka "lunchtime". The proteins take longer to digest and provide satiety for a longer period of time.
HOW-TO
Pesto Mozzarella Chicken
Pesto Mozzarella Chicken is quick and easy to make and puts a nice, light Italian spin on every day chicken!
Servings:
1
breast per person
Ingredients
2

chicken breasts

1

tablespoon

butter

1

tablespoon

olive oil

1

tablespoon

dried Italian seasonings

1/2

teaspoon

garlic powder

5

oz.

fresh mozzarella cheese

sliced

1/4

cup

roasted bell peppers

from jar

1/3 - 1/4

cup

pesto sauce

from jar

salt and pepper to taste
Instructions
Preheat oven to 350 degrees

Slice chicken halfway through, lengthwise; do not cut all the way through

Season chicken with garlic powder and Italian seasonings

In a skillet, heat oil and butter

Place chicken in the skillet and cook it until it reaches an internal temperature of 165 degrees

Using tongs, remove chicken from skillet

Place pesto, roasted peppers and sliced mozzarella sliced side of the chicken

Add remaining pesto and cheese to top of chicken; cover with foil and bake until cheese has melted (about 15 minutes)
Notes
Pesto Mozzarella Chicken is perfect for a crowd--cook the chicken and refrigerate. Before guests arrive, stuff the chicken breasts, cover them with pesto and cheese; place foil over the baking dish and bake at 350°for 30 minutes.
If you like, add sauteed mushrooms and chopped artichokes to the chicken cavity
Serve with a side of pasta, salad and a glass of Pinot Grigio
After you make this, please let me know what you thought!