Summertime Cobbler is Here!



I remember watching my Grandmother make cobbler. She'd make peach, blueberry, and blackberry cobblers at the drop of a hat and with such ease!
I'd be sitting on the counter-top, watching her mix the flour and other ingredients, waiting impatiently for that warm-baked-sweet-cobbler to be done so I could put a big dollop of vanilla ice cream on top and devour it before my Grandaddy came sniffing around in the kitchen. You see, he liked cobbler, too…and root beer floats.
Every summer, I'd go to East Texas and spend up to two weeks staying with my Grandparents and hanging out with my cousins. Summer was different then. Maybe it's because I'm older, or maybe it's because summer really was different then. 
East Texas Cobbler
There was a real wooden picnic table out in the yard, under pecan trees. And there was a breeze. I don't recall hosing down the yard with toxic chemicals so we could sit out there…we'd just take a newspaper, a watermelon, a salt shaker, a roll of paper towels, and a big knife…oh, and a fly-swatter. We'd have a good ole' time!  There was a water sprinkler we'd sometimes run through, and Grandmother's garden we'd have to help tend to. We'd snap and shell peas, water tomatoes, and make pickles from the cucumbers she grew…endless fun in the kitchen! In the evenings, there were lightening bugs to catch, and sometimes, it would rain baby frogs. Seriously!!! Little bitty frogs that were about the size of a fingernail would come down with the summer rain!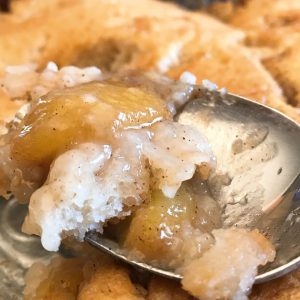 At night, we'd  leave the windows open and be gently lulled to sleep by a breeze, the scent of gardenia's, the sound of 18-wheeler's rolling down Highway 42, and the occasional sound of a train rolling through a nearby town. The perfect backdrop for a peaceful sleep. I haven't slept that well since I was last at their house, probably around 1991.
And the cobbler was always present. Grandmother sometimes used canned peaches (with their juice) and other times, she'd use fresh peaches and make a syrup (boil sugar, water and peaches for a few minutes). After the peach cobbler was gone (usually within two hours), she'd send Grandaddy back to the store to get some blue or blackberries, if she hadn't picked some already. Oh, and another gallon of vanilla ice cream. He never complained about having to go to the grocery store–not once–and I can't get my husband to take out the trash. That's another story. We're talking cobbler, here.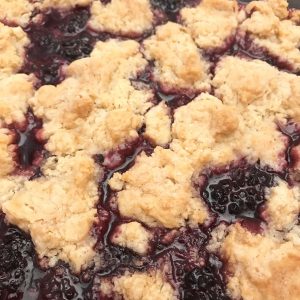 All In The Family
My cousin, Rachel, has one of Grandmother's cookbooks that has a handwritten side note for "Cobbler", but we can't tell if it's for a pie or cobbler…it says, "Cobbler", but after making it, it wasn't what I'd watched her do a million times. Turns out, I didn't follow the hand-scribbled instructions. I called my Mom and she translated Grandmother's hand-written recipe. Grandmother's Cobbler Recipe is not one of those "pour batter" recipes, nor is it a "cake"…It's a firm dough that's snuggled into the fruit juice. It rises and remains somewhat soft and chewy. Ironically, I never saw my Grandmother use a cookbook and I'm wondering why I don't have any of her cookbooks…I have a collection of Southern Living envelopes and Kilgore Bank stationery with recipes scribbled on them…
In a Cook's World
Cobbler dough is about as controversial as the dumplins' in "Chicken and Dumplins", how to make cornbread (sugar or not) or Chili recipes (beans or no beans). This is a topic you do NOT want to bring up with a foodie. It's the same as talking politics or religion at a cocktail party… You've been warned. Grandmother's cobbler batter wasn't cake-like. It wasn't biscuit-like either. It was an ooey-gooey, sweet syrupy mess. And we all loved it! After testing out a few recipes, I think I've found the secret to mimicking her famous cobbler and I am very happy to share it with you!
Print Recipe
Peach Cobbler
Southern style peach cobbler can be made with fresh, canned or frozen fruit. If fresh or frozen fruit is used, you'll want to make a syrup to add to the cobbler.
Servings:
12
people (maybe!!)
Ingredients
4

cups

peaches

(See Recipe Notes)

1 1/2

cups

flour

2

cups

sugar, divided

1 cup for fruit; 1 cup for syrup

1/2

cup

oil

1

teaspoon

baking powder

1

stick

butter

1/2

cup

milk

pinch of salt

2

tablespoons

cinnamon or allspice (optional)
Instructions
Pastry Instruction
Combine flour, oil, milk, baking powder and salt into a bowl; combine well, cover and chill for 10-20 minutes

Remove chilled dough from refrigerator and roll it out on a lightly floured surface; cut dough into strips

Gently press dough into fruit/syrup mixture
Fruit Instruction
Prepare 4 cups fruit (For peaches, peel and slice; for berries, just rinse) SEE RECIPE NOTES

Sprinkle one cup of sugar over fruit; combine well, cover and allow to sit at room temperature for 20 minutes

Once fruit has absorbed some of it's sugar, place fruit, one cup of sugar and one cup of water in a large saucepan add cinnamon/allspice now; bring to boil

Meanwhile, in a 9 x 13 baking dish, add one stick of butter; put the pan in the oven and allow the butter to melt

Pour the warm fruit and juice into the pan with the melted butter

Place strips of pastry dough in a criss-cross fashion over fruit

Bake, uncovered at 350ºF for 45-60 minutes or until dough is golden brown

Serve warm with vanilla ice cream
Notes
If you decide to use canned peaches, get two big cans  and just pour the juice and fruit over the melted butter and resume recipe
Canned fruit is either packed in water or syrup (ugh...high fructose corn syrup)
If you use canned fruit that's in water, you'll want to make the fruit syrup
If you use frozen fruit, you'll want to make the fruit syrup