Non Breaded Calamari Steak Bites are delicious! You're probably most familiar with restaurant versions that are deep-fried and served with a dipping sauce. This recipe uses a Calamari steak-not tentacles-cooked in olive oil, and garnished with fresh tomatoes. The result is light, refreshing, flavorful and carb-free!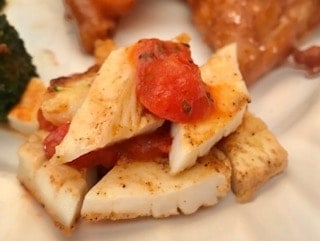 What is Calamari?
Calamari is squid, and most often you'll find it on restaurant menus with the rounds and tentacles served as a fried appetizer with a dipping sauce. I bought a calamari steak, which is a center-cut from the mantles of a large squid. Ironically, it's called "steak" due to its square shape and meaty texture.
After researching "how to prepare Calamari Steak", I notice most of the recipes were "battered and fried." I wanted a leaner, carb-free option, and the result is this easy recipe for non-breaded Calamari Steak.
Where Can I Find Calamari Steaks?
Typically, you'll find them in the seafood department near the butcher shop. If your grocer's seafood department doesn't carry them, you will find them in the frozen food section.
How to Thaw Steaks
Thaw frozen calamari steaks by either allowing them to de-thaw in the refrigerator or, place the bag of squid steaks in a bowl of cold water at room temperature. If you thaw the squid at room temperature, replace the water every 30 minutes to ensure food safety.
What Does Calamari Taste Like?
Calamari is a mild seafood that doesn't taste fishy at all. It's flavor reflects the seasonings it's cooked with, in other words, it takes on the flavor of the ingredients in which it is marinated or cooked.
What is the Texture?
The texture of Calamari is semi-firm, not flaky, and closely resembles the texture lobster or shrimp. Often, calamari rounds are "rubbery", or extra "chewy" due to lack of marination. Acidic marination is critical to the texture of a calamari steak or tentacles.
How Do I Tenderize It?
Some say pounding the steak with a meat cleaver works best, but I haven't found this to be true. Use an acid, like lemon juice, white wine, or vinegar tenderizes the best because the acids break down the protein links in the calamari.
How to Cook a Calamari Steak
Marinate the steak in lemon juice and a pinch of salt
Saute it in a skillet with a little garlic and oil
Garnish with cooked tomatoes and basil
How Do I Prevent the Steak from Curling During the Cooking Process?
One of the best way to prevent curling is to score the steak prior to marinating. Use a sharp knife and cut horizontal and vertical lines in the steak–be careful not to cut all the way through the steak. Do this process on both sides of the steak.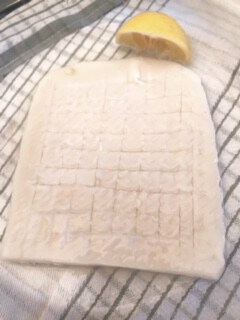 How Long Does it Cook?
Generally speaking, about 3 minutes per side. If you're cooking more than one steak at a time, you might want to cook them 4 minutes per side, depending upon how your stove top heats.
How Do I Serve Calamari Steaks?
You can serve a whole steak, or cut it into bite-sized pieces! Season with lemon and serve over sauteed spinach or kale. Other serving options include:
Calamari Tacos! Tuck seasoned calamari into a warm, flour tortilla and top with pico de gallo and avocado
Incorporate calamari steak bites into a green salad! Fresh, crisp romaine, lightly seasoned with a lemon/dill vinegar dressing, fresh cucumbers and a bit of red onion!
If serving the steak as a whole, consider topping it with stewed tomatoes, a side of lemon pasta and asparagus!
As an appetizer, place chopped calamari on a slice of crostini and top with 1/2 a cherry tomato, a pinch of basil and a little mozzarella!
The options are endless for this fabulous, delicious mollusk…try it out and see what you think! I think you'll be pleasantly surprised!
If you like this recipe, you might like Shrimp and Crab Beggar's Purse or Vermicelli Summer Salad! Or, Creole Shrimp Pasta, Orange Shrimp and Scallop Ceviche or a cup of Leek, Carrot & Artichoke Soup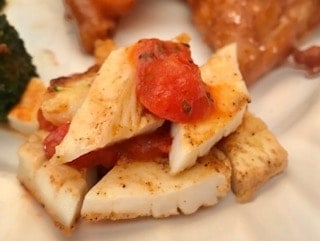 Non-Breaded Calamari Steak Bites
Calamari Steaks are wonderfully versatile, low-carb, low-fat and delicious--and they only take about 6 minutes to cook!
Print
Pin
Rate
Marinating time:
25
minutes
Servings:
1
steak per person
Ingredients
1

whole

calamari steak

3

tablespoons

lemon juice

6

large

tomatoes

peeled, seeded, chopped

1/2

teaspoon

basil

1/2

teaspoon

garlic

minced

salt & pepper to taste

1 - 2

tablespoons

olive oil
Instructions
Rinse calamari steak and pat dry with paper towel

Using a sharp knife, score the steak on both sides in a "plaid" fashion (this keeps the steak from curling up while under heat)

Squeeze fresh lemon juice over steak (both sides); lightly season with salt and pepper; allow to sit for 25 minutes

Meanwhile, 1 tablespoon oil in a skillet on medium heat

Add tomatoes, garlic and basil to tomatoes; allow tomatoes to cook until juice has reduced. Turn heat to simmer and cook the calamari steak.
Cooking Calamari Steak
Heat 1 tablespoon oil in a skillet on medium-to-medium high heat; Place steak in hot oil and do not move it for 3 minutes. (If it starts to curl, just use a potato masher to press down on it.)

Flip calamari after 3 minutes and cook on the other side

Cut steak into bite sized pieces and serve with a dollop of stewed tomatoes.
Notes
Calamari will take on the flavor of whatever it is marinated...if you want a spicy calamari, try cayenne pepper or Tabasco sauce.
If you prefer a beefy flavor, try marinating it in beef broth.
Got Comments or Suggestions? I'd love to hear from you!