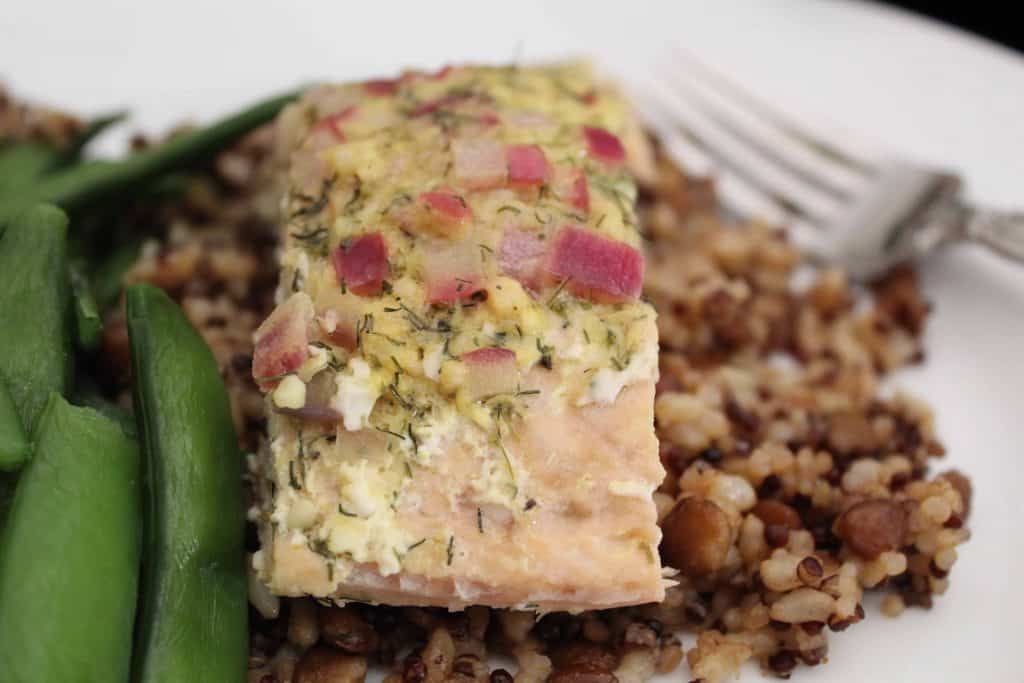 Baked Salmon with Mustard Dill Sauce
Salmon is delicious by itself, but if you need a quick sauce to serve with it, this Mustard Dill Sauce recipe is a sure thing.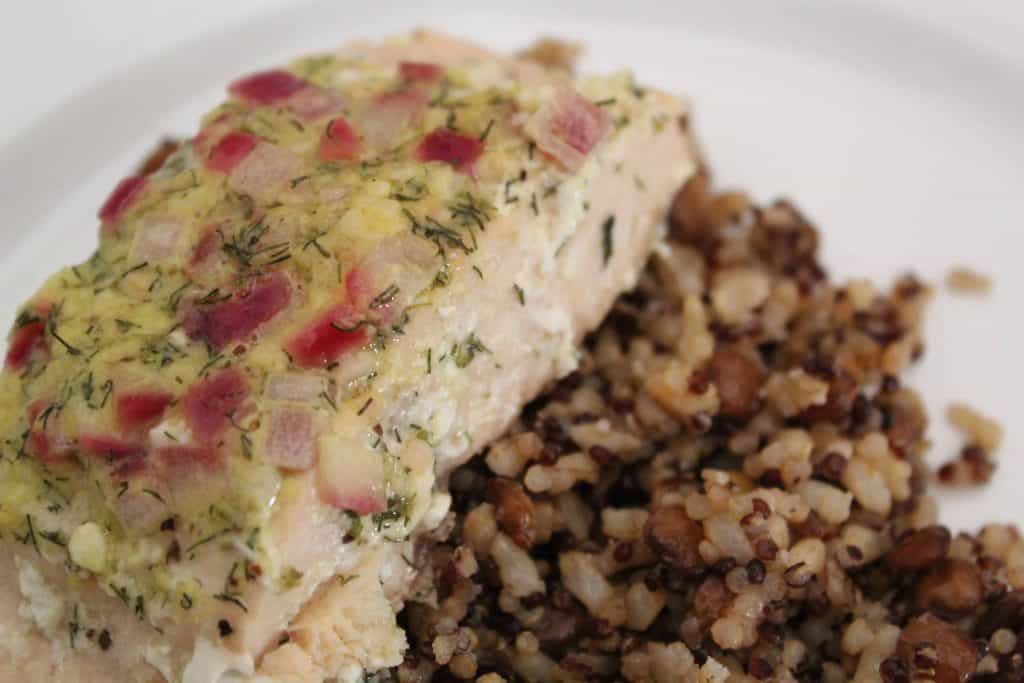 Mustard Dill Sauce consists of butter with chopped sweet red onion, tangy mustard, horseradish, minced garlic and dill. The complexity of the flavors provides just enough interest to the salmon, while not overwhelming the tender, flaky fish.
Even though the base of butter is not so healthy, mustard is actually very healthy, low-fat, low-cholesterol alternative that offers a host of nutrients including selenium, omega-3 fatty acids, and manganese.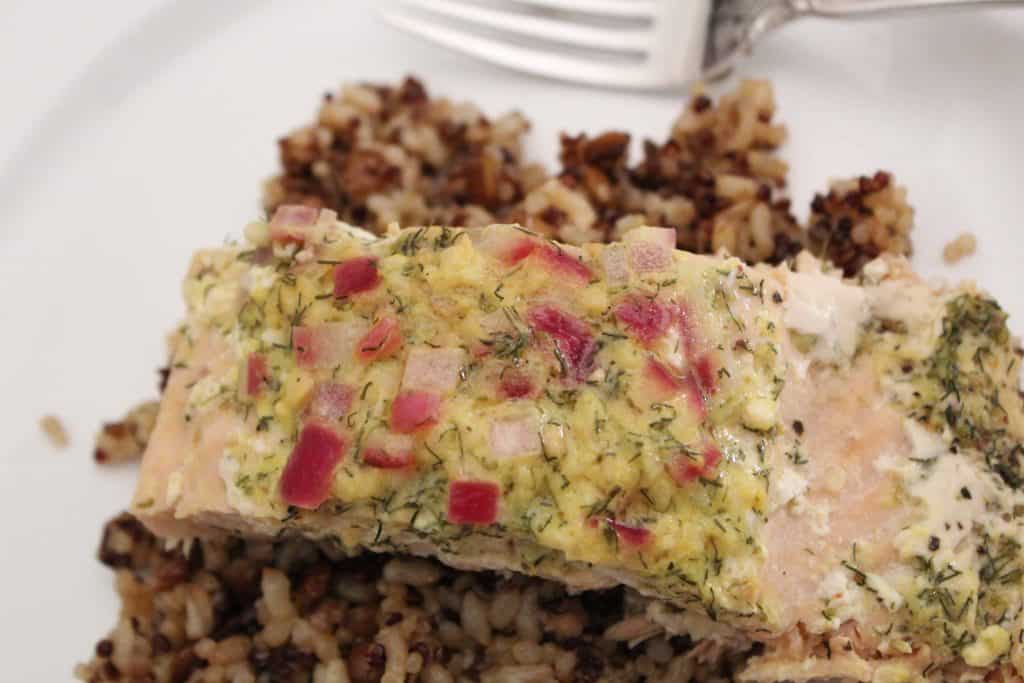 This versatile mustard dill sauce goes well with other types of fish such as  tilapia, sole or trout. It's also a nice sauce for sugar snap peas or green beans.
Doesn't Salmon Contain Mercury?
All fish contain some degree of mercury, due to the nature of their habitat–the oceans. Shrimp, lobster, salmon, catfish and Alaskan Cod are a few fish that have the lowest traces of mercury.
Do Mercury Levels Change if a Fish is Wild or Farmed?
Mercury levels are not determined by how a fish is raised; the mercury levels are a bio-environmental result of the world we live in. Pollution contaminates the air; the pollutants fall into the oceans, and…well, you get the picture. Wild vs. Farmed fisheries compete in many more controversial genres than mercury levels, but mercury level is not one of them.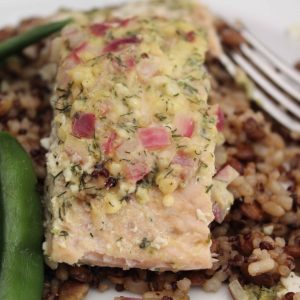 Print Recipe
Mustard Dill Sauce
This mustard dill sauce is mild enough for salmon and can hold its own with chicken as well. Light, flavorful and easy to make!
Ingredients
1

stick

butter

2

tablespoons

dill

1-2

tablespoons

red onion

finely chopped

1

teaspoon

minced garlic

1

teaspoon

yellow mustard

1/2

teaspoon

prepared horseradish

pinch of salt
Instructions
Combine all ingredients in saucepan and heat on medium low, until butter melts;

Pour sauce over uncooked salmon, fish, chicken or steak

Cover protein with foil and bake until done
When making this sauce for baked salmon, simply season the salmon with salt and pepper, and place it on a foil covered baking sheet. Pour she sauce over the fish and bake 350ºF for about 25-30 minutes. If you prefer a very moist fish, wrap the entire fist in foil for the first 20 minutes, then remove the foil from the top of the fish the last 10 minutes. This will allow the fish to brown a little on the top.
Trying to Eat Healthier? You Might Want to Check Out my Skinny Soup Recipes! 
This collection of soup recipes includes a 2-day Detox Soup, as well as five other delicious, all-natural and filling soups anyone can make! Available to you instantly!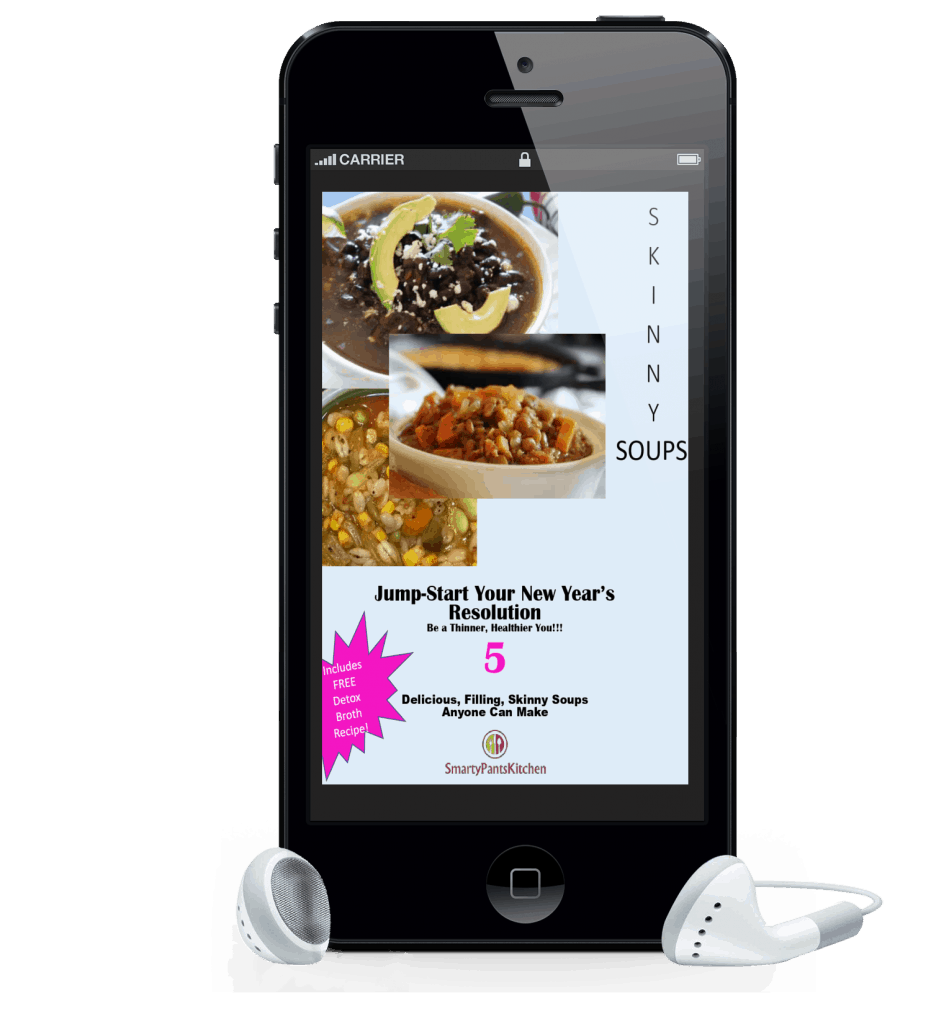 [contact-form][contact-field label="Name" type="name" required="true" /][contact-field label="Email" type="email" required="true" /][contact-field label="Website" type="url" /][contact-field label="Message" type="textarea" /][/contact-form]