Mexican Shrimp Cocktail is a favorite when it's too hot to cook. Fresh seasoned shrimp, nestled in a tomato concoction with avocado, lime juice, cilantro, onion and jalapeno!
Southern island breeze, a cool adult beverage, the sound of the ocean and a light lunch of Mexican Shrimp Cocktail…ahhh. I'm pretty sure this concept was derived from the proverbial island-dish of ceviche, the process of curing raw shrimp in lime and serving it with tomato juice and various accoutrements. Nonetheless, it's a staple menu item in the Southern part of the US.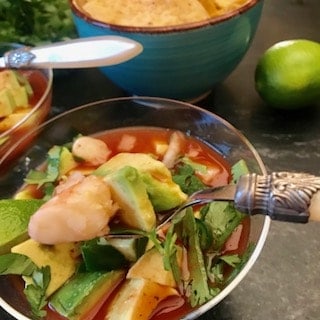 Not too filling, but full of zest and flavor, this dish can be served as an appetizer or a whole meal. It's usually accompanied with crispy corn tortilla chips because some versions are so full of shrimp and avocado, it's more like a dip than anything else. The beauty is that it is quick and easy to make, and is always a crowd pleaser.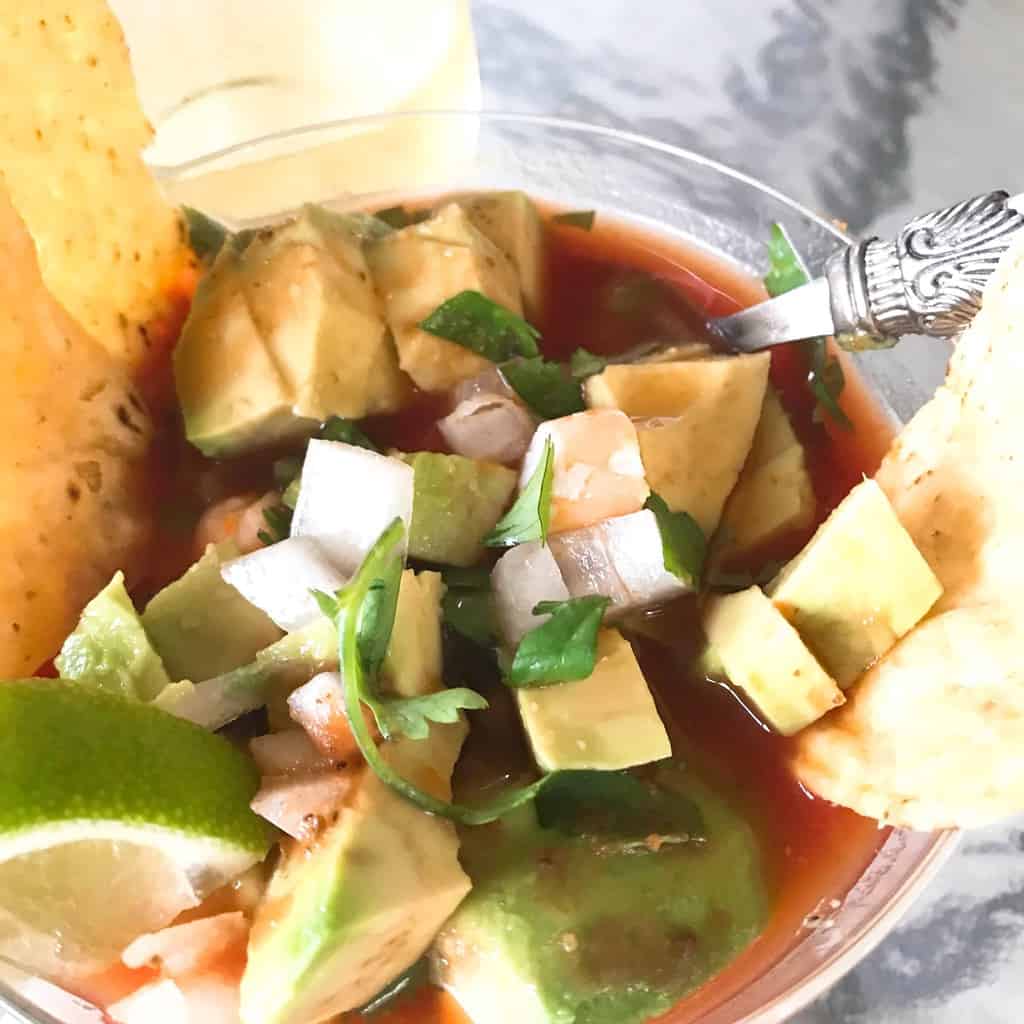 What is The Tomato Base?
You can use whatever tomato juice you prefer. Some like straight tomato juice, some prefer a vegetable juice-blend. Other ideas include using a Bloody Mary mixer of your preference, or even combining a little Clamato juice.
Is there Alcohol in Mexican Shrimp Cocktail?
Generally speaking, no, but you can always add a 1/2 shot of tequila or vodka per serving if the mood strikes you!
Do I have to use Fresh Shrimp?
No. Frozen shrimp works fine. The important thing is to boil the shrimp with a semi-spicy seasoning mix, such as a Creole or Cajun. This gives the shrimp some beautiful flavor and, after you've boiled them, let them sit in the seasoned water (off the heat), then refrigerate them. The result is delicious!
Do the Avocados Need to be Ripe?
Actually, no. Because you are going to dice them and they're going to be served in a juice, a less than ripe avocado is perfect for this dish!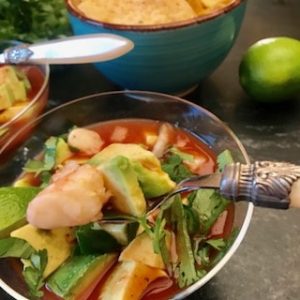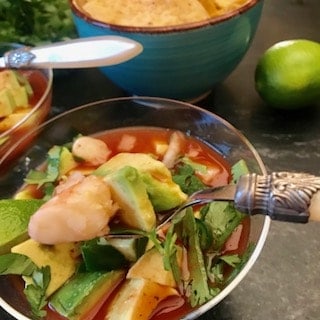 Print Recipe
Mexican Shrimp Cocktail
Seasoned shrimp in a spicy tomato-based juice with fresh avocado, lime, cilantro, onions and jalapeno!
Chill Shrimp and Tomato Juice
30
mins
Servings:
4
6 oz. servings
Ingredients
2-4

cup

tomato juice mixture, chilled

See Recipe Notes

1

lb.

raw Gulf shrimp, cooked

See Recipe Notes

2

large

avocados

1/2 avocado per serving

1

large

jalapeno

finely chopped

4

tablespoons

white onion

finely chopped

4

tablespoons

Creole or Cajun seasioning

2-3

fresh

limes
Instructions
Chill four serving glasses in the freezer

Fill a large stock pot with water and add Creole or Cajun seasoning; bring to boil

Once water is boiling, reduce heat to medium and add raw shrimp with shells on

Allow shrimp to cook for 5-8 minutes; they should be bring pinkish/orange color

Remove stockpot from heat and allow shrimp to sit in seasoned water for 10 minutes

Using a slotted spoon, remove shrimp and place in large bowl; cover and refrigerate for 20 minutes

Meanwhile, prepare tomato base mixture according to taste preference; refrigerate for 20 minutes

Chop cilantro, onion and jalapeno and divide into fourths
Presentation
Using 1/2 avocado per serving, dice avocado and place into chilled serving dish

Remove shrimp from fridge and peel; either keep shrimp whole or dice shrimp; place shrimp in serving dish

Add cilantro, onion, and jalapeno

Squeeze lime juice over entire mixture; garnish with tortilla chips and serve
Notes
Tomato juice can be straight tomato juice, or a combination of juices, like vegetable juice and Clamato, or a spicy Bloody Mary mixer. Mix your tomato juice to your flavoring--you can always add:

salt, pepper, Tabasco, or another type of hot sauce

The amount of tomato juice per serving is a personal preference. I prefer more shrimp and goodies than juice, so this recipe allows for about 1/2 cup tomato juice per serving.
Shrimp: Fresh is best, but frozen is second best. You can either purchase small salad-style shrimp or larger ones. It depends on your budget and if you want to serve whole shrimp in each serving or chopped shrimp.