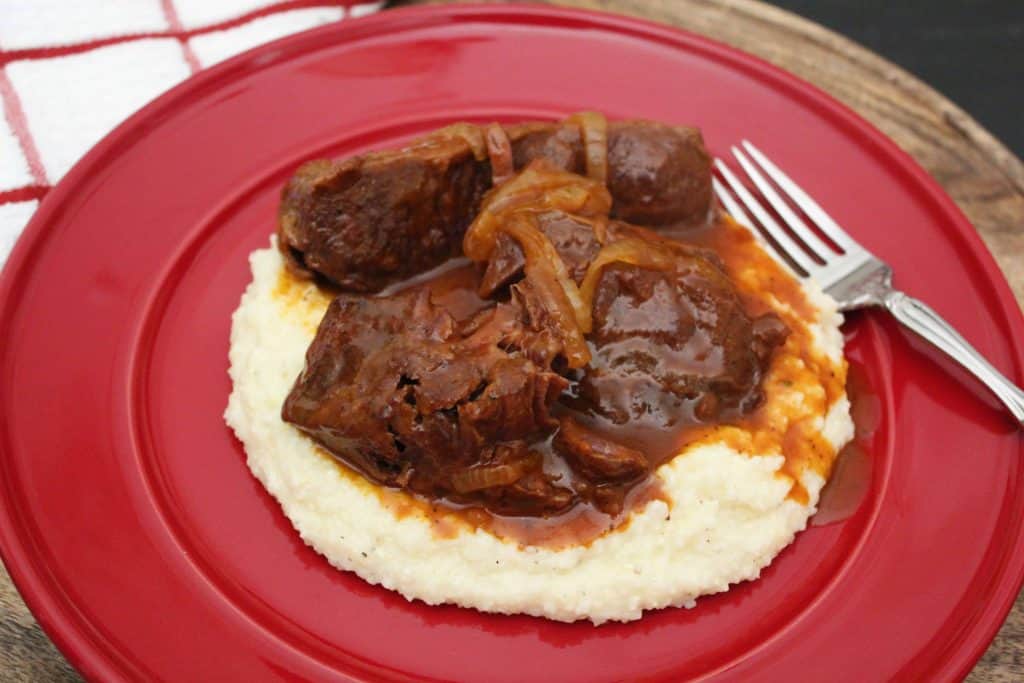 Maple Sriracha Braised Country Style Ribs
Maple Sriracha Braised Boneless Country Style Ribs with grits is probably one of the manliest meals I make–just meat and grits. In fact, I do not know a man who can resist these tender, slow-cooked, meaty ribs, especially with the maple sriracha flavor and the accompanying Smoked Gouda Grits.

Braised short (or country) ribs are easy to make, but do require time. This recipe simmers the ribs on the stove for about 3 hours; you could also make this recipe in a Crockpot® or InstantPot®. Once you've browned the ribs, the rest is relatively hands-free! Just add the broth, seasonings and spices and allow to cook on low!
What Kind of Ribs Should I Purchase for Braised Country Ribs?
Look for beef Short Ribs or Country Ribs in the meat section. Make sure you select beef ribs, not pork.
Also note that country and short ribs are available bone-in or boneless. You can use either for this recipe because the meat tenderizes to the point where the meat literally falls off the bone. Bone-in ribs offer a bit more flavor than boneless, but either one will work fine.
What Is The Difference Between a Short Rib and a Country Rib?
Technically, both short and country ribs are short in length; however, the difference between the two lies in the cut of origin. Short Ribs are cut from the Rib; Country Ribs are cut from the Chuck.
Short ribs are called "short", not because of their length, but because they come from the short plate (highlighted as RIB) of the cow which is located under the front section of the backbone. Short ribs have meat on the top; other types of ribs have the meat between the ribs.

Country Ribs come from the chuck, or shoulder area and yields cuts known for their rich, beefy flavor.

Either short or country ribs work great for this recipe!
What Is Sriracha Sauce?
Sriracha sauce, also known as Rooster sauce, is a hot chili sauce found often in the Asian section of the grocery store. It is quite powerful; this recipe uses only 1 tablespoon. Sriracha sauce can be used in any cuisine and studies indicate the capsaicin in the peppers may be beneficial to the body.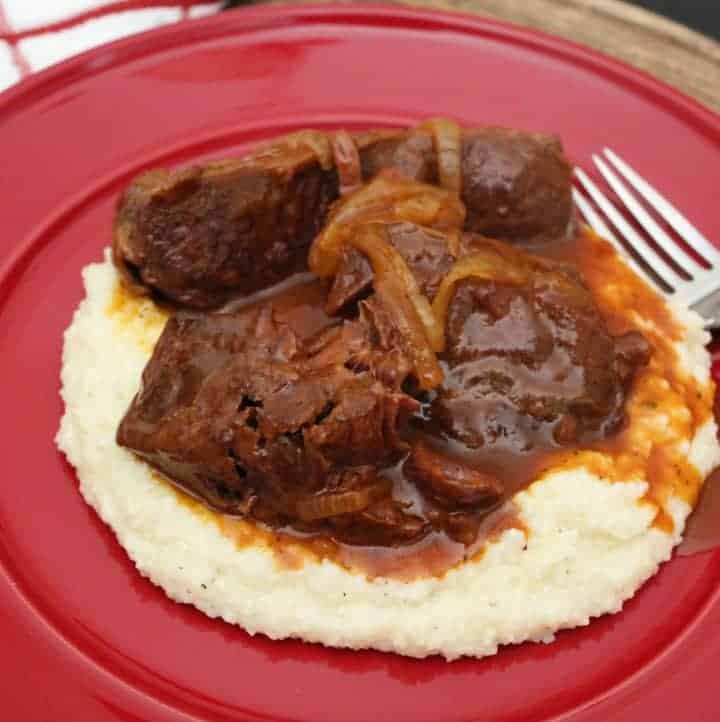 Print Recipe
Maple Sriracha Braised Country Ribs and Gouda Grits
Beefy ribs braised in a savory broth with hints of maple, barbecue and sriracha.
Ingredients
Braising Liquid
3

lbs.

country ribs

1/2

large

onion

sliced

2

tablespoons

oil

3

tablespoons

butter

4

tablespoons

flour

4

cups

beef stock

3

oz.

tomato paste

1/3

cup

maple syrup

1/2

cup

barbecue sauce

1/4

cup

honey

1/3

cup

dry sherry

or red wine

1

tablespoon

marjoram

1-2

tablespoons

sriracha

also known as rooster sauce
Gouda Grits
1

cup

grits

1

cup

heavy cream

6

oz.

Gouda cheese

shredded

salt and pepper
Instructions
How to Prepare and Cook the Ribs: Stove Top Method
In a 6 quart stockpot, add oil and 1 tablespoon of butter; bring to medium heat

Working in batches, place ribs in oil and allow to brown on all four sides; remove and set aside until all ribs are browned

Pour out half of the remaining oil and return stockpot to stove

Reduce heat to medium low; de-glaze with sherry (add the sherry to the beef remnants and, using a wooden spoon, scrape up any reside)

Add 3 tablespoons butter and 3 tablespoons flour; mix together; add sliced onions to stockpot; coat onions with mixture

Add beef stock, tomato paste, barbecue sauce, honey, maple syrup, sriracha, and marjoram; return heat to medium and combine well

Place beef ribs in broth; top with any remaining onions; cover and reduce heat to low; allow to cook for 3 hours

Season with salt and pepper
Grit Preparation (makes 4 servings)
Shred cheese and set aside

Bring 2 cups of water to boil

Add 1 cup quick cooking grits (not instant grits) to boiling water

Add 1 cup of cream to grits; combine well

Add shredded Gouda cheese; stir well; season to taste with salt and pepper; reduce heat to simmer and cover until ready to serve
Slow Cooker Method"
Combine braising liquid ingredients; add to slow cooker; place ribs and onions in cooker

Add water to cover ribs; cook for 8 hours
Nutrition
Craving home cooked food? Try Classic Meatloaf or Fried Catfish!